Get into the swing of the holidays with these Comfy Casual Winter Outfits to have a cozy Christmas. From pieces like sweaters and coats to joggers and slippers, there is something here for everyone in need of a snug wardrobe to keep you warm during these Winter days. Of course, there's no better feeling than cozying up by the fire wearing comfortable clothing while watching a brand new holiday movie. That is why I'm here to give you casual clothing options that happen to be comfortable to enjoy what Christmas is all about.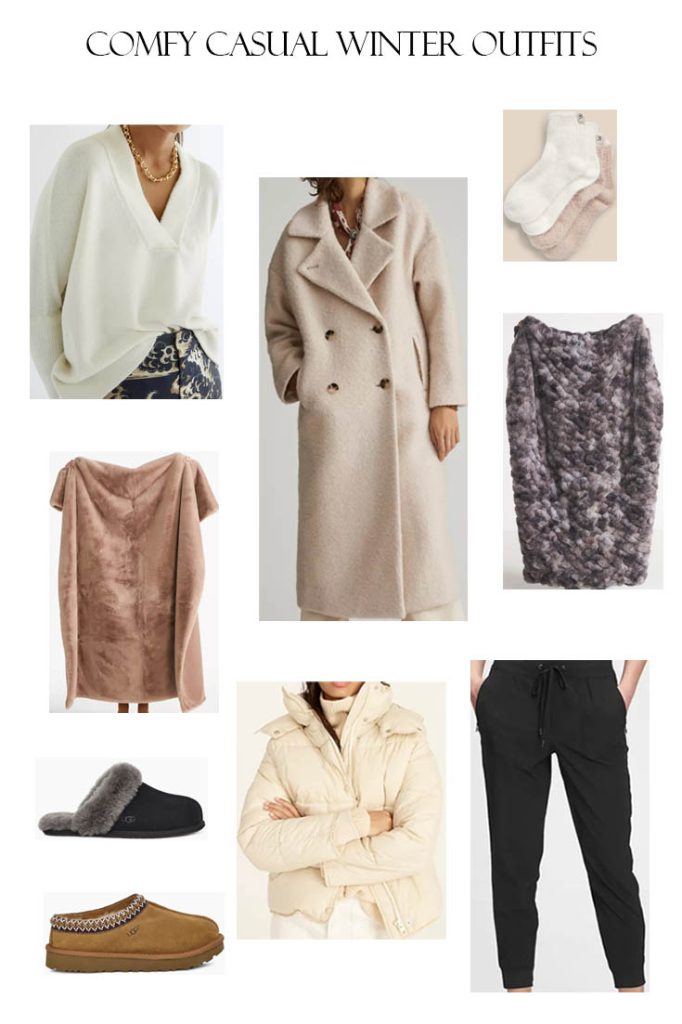 It's officially "treat yourself" season, so come on and take a look at these comfy casual winter outfits to buy something for a friend, loved one, or a little gift to yourself because you deserve it. From anything like UGG slippers and fleece joggers to cashmere sweaters and fuzzy socks, we have it all.
When shopping online or downtown, I always find myself looking for another sweater or a cute pair of fuzzy socks. I mean, you can't go wrong with a stylish sweater that happens to keep you warm. Hopefully, with this collection of comfy casual winter outfits, you can skip the holiday rush house by taking a look at all of the options right on your tablet.
Sweaters
Coats
Joggers
Socks
Slippers
Blankets/Throws
Browse on to see these items!
Comfy Casual Winter Outfits
*This post contains affiliate links
SWEATERS
Is it cold in here? Lucky for you, here are some cardigans, oversized sweaters, cable knits, and a bunch more. Keep warm with this collection of sweaters and dive into the holiday season of gift-giving for others. You can't go wrong with a shirt like one of these. Trust me, I have tons of clothing items in my closet (growing by the season), but I have more sweaters than any other piece. One could say I'm obsessed, but I call it a passion for collecting comfortable clothing for every occasion. Besides, more is always better!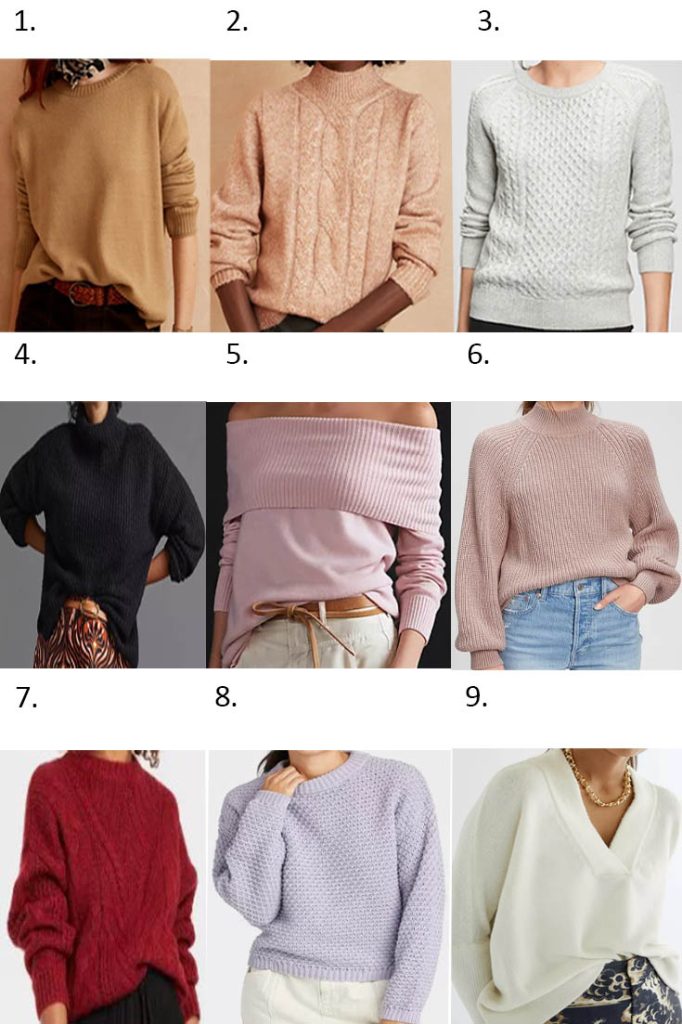 Sources: 1 l 2 l 3 l 4 l 5 l 6 l 7 l 8 l 9
See? I told you there was something here for everyone. So shop now while you can, and grab a few pieces from this collection of comfy casual winter outfits. The great thing about these sweaters is that if you see something you like but not in the color you want, each shirt comes in various colors, patterns, and sizes—that way, your holiday shopping is done efficiently.
COATS
Are you looking for the latest styles of women's jackets and coats? Then, you're in the right place. Shop the best collection of comfy casual winter outfits right here, right now. I'm not the biggest fan of cold weather, but when an adventure awaits, I always attend. Therefore, I need a comfortable jacket that will keep me warm during a hike, city day. You name it. These pieces that I have picked out are perfect for any day hike, city adventure, or day in town!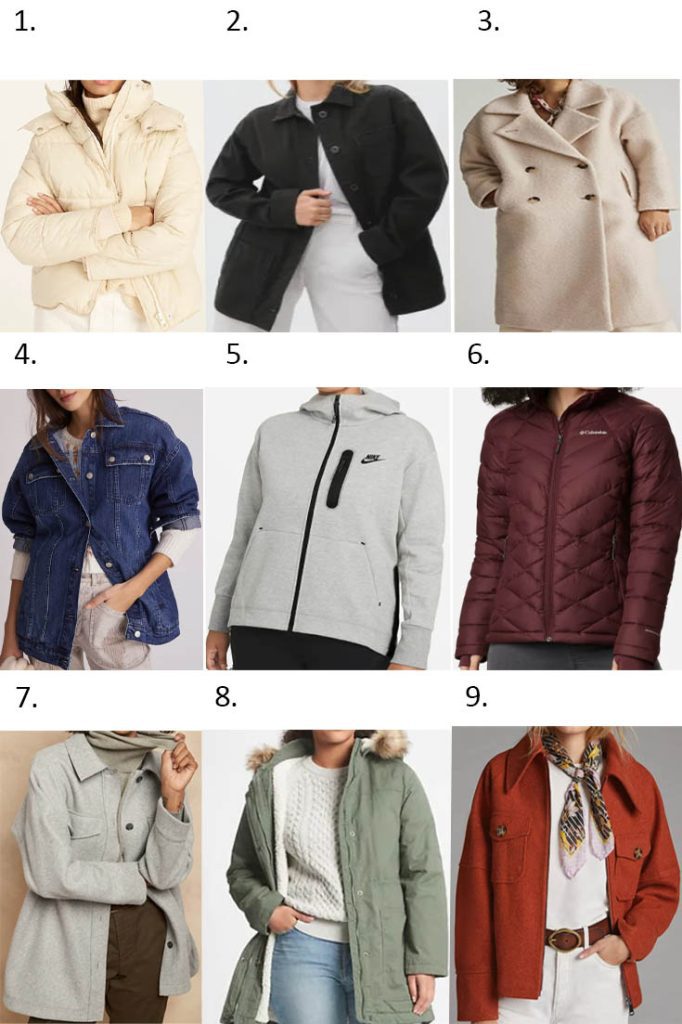 Sources: 1 l 2 l 3 l 4 l 5 l 6 l 7 l 8 l 9
I don't know about you, but these coats look like the perfect item to wear when looking at Christmas lights! Speaking of lights, do you know of a house that goes all out every Christmas with inflatable characters and lights? We have a row of houses called Candy Cane Lane that leave me speechless every season.
JOGGERS
I'm the biggest fan of comfortable sweats, pants, pajamas, and joggers. Some days I don't feel like wearing jeans. Anyone else? Whether I'm cleaning the house or writing a blog post, you'll catch me wearing the coziest pants I own. Feeling comfortable makes me more productive, believe it or not. You never know. Maybe you'll find the perfect pair (or two) of joggers that will make your other pants jealous.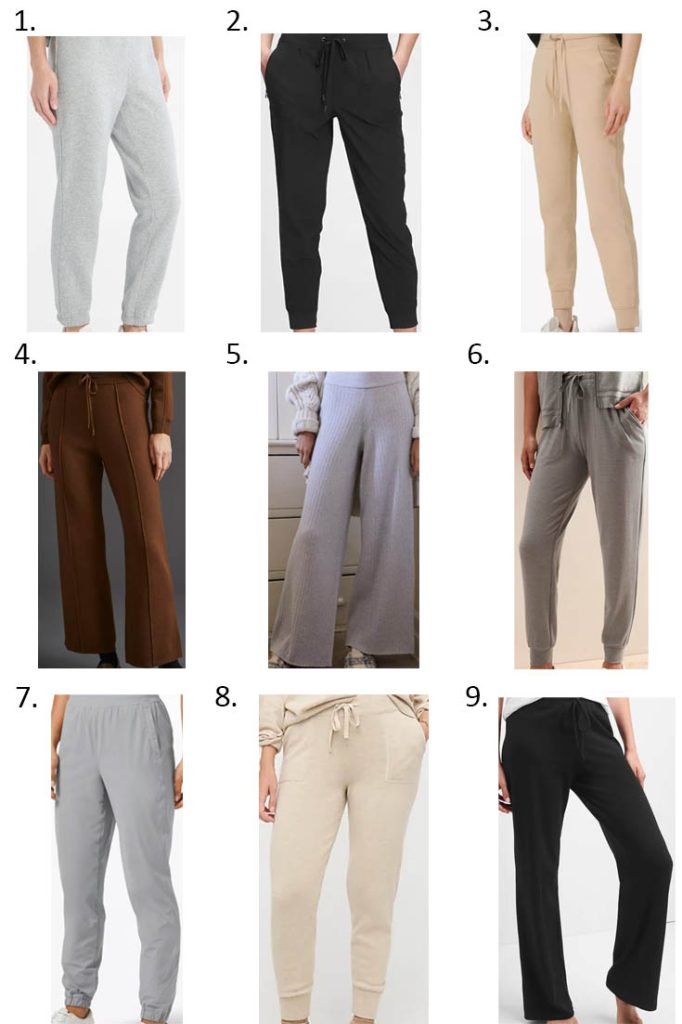 Sources: 1 l 2 l 3 l 4 l 5 l 6 l 7 l 8 l 9
Who said sweats aren't stylish? I can think of a couple of great outfits that include sweats. You can make a pair of joggers look cute while also feeling comfortable. That's my main goal when choosing an outfit, and it has to be cute and leave me feeling cozy. Ever since quarantine, it seemed that most people were wearing their comfiest clothes, well I guess now it's a trend! Take a look at this collection of comfortable casual winter outfits to plan your upcoming wardrobe for the holidays!
SOCKS/SLIPPERS
Slippers aren't just for indoor use, and thankfully they can be worn when running errands! That's the best when the comfiest pair of your shoes can be worn 24/7. Now, I'm not the family with an obsession with slippers. That's my daughter, and it's her #1 choice of shoes. But, do you know someone that prefers comfortable clothing over dressy clothing? You know exactly what to get them for Christmas if you do. Here are some of the best socks to wear with your slippers, along with a couple of pairs of amazing slippers that are not only comfortable to the touch but great gift ideas!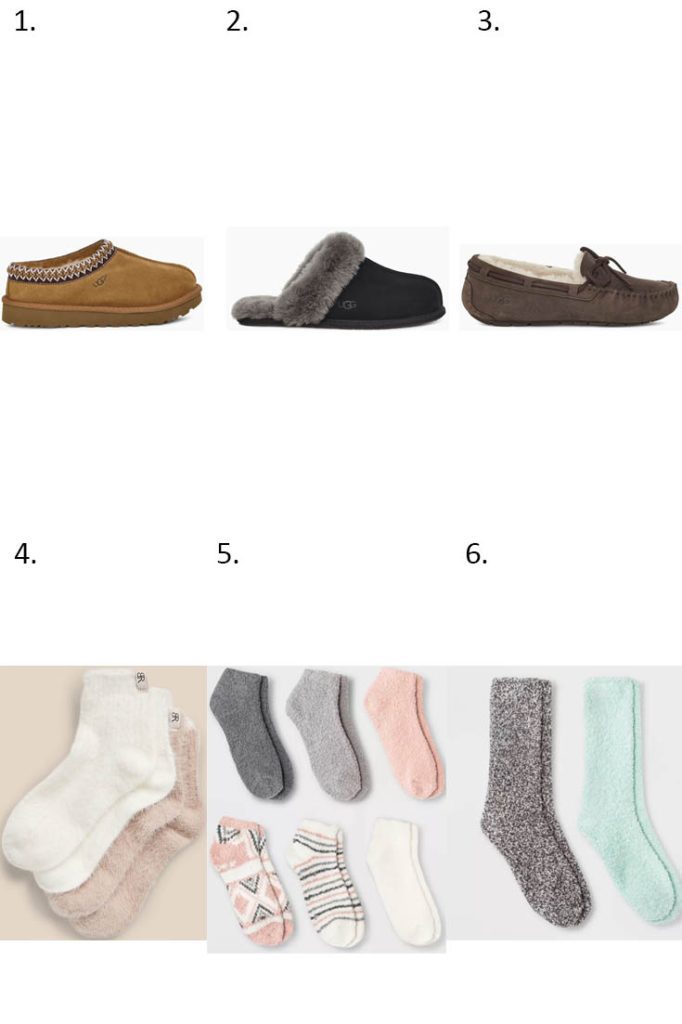 Sources: 1 l 2 l 3 l 4 l 5 l 6
I noticed that I'm even wearing my slippers as I'm writing this. They're that comfortable to the point where I never take them off. Hopefully, you found something that fits your style or the style of a friend, loved one, or family member.
BLANKETS/THROWS
Since I am having so much fun writing this post, I thought I would add an extra section full of the coziest blankets and throws to this selection of comfy casual winter outfits. I am a very picky person when it comes to blankets. My criteria for the blanket have to be: fuzzy, priced well, non-shedding, and of course, faux. I have a few options here that I own and LOVE. I have been on the hunt for the perfect throw to enjoy chill time or movie nights with my family, and I can now say that these are my all-time favorite!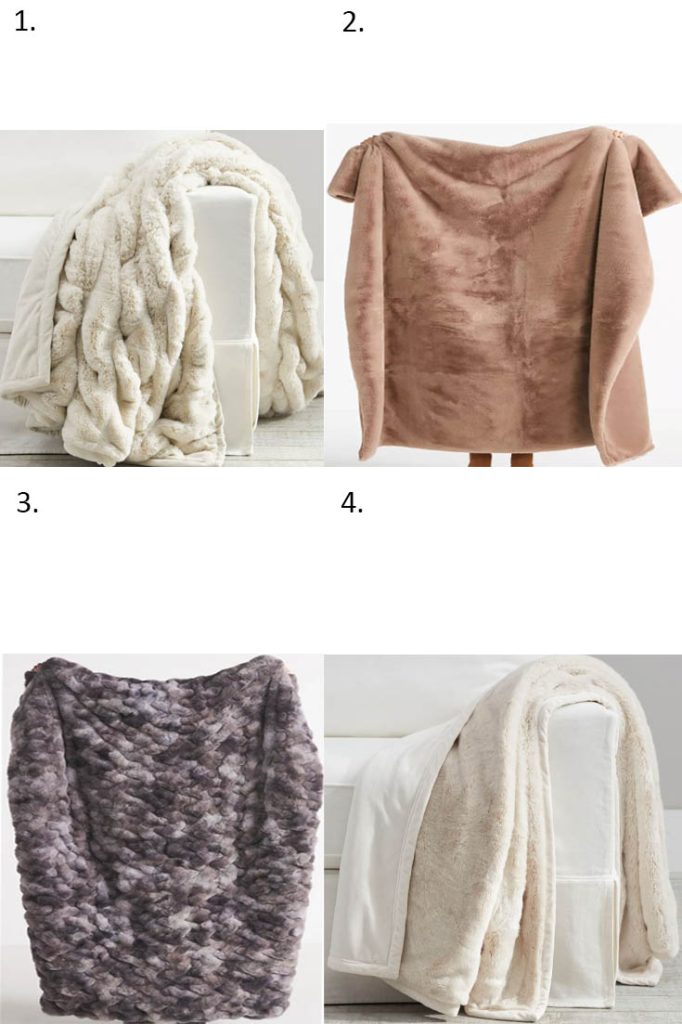 Whether you were looking for a new blanket or not, hopefully, you found something to add to your cart. This time of year is when I'm snuggling with one of these blankets wrapped around me and enjoying the warmth of the cozy fire and the sparkle of the twinkle lights. Sounds picture perfect right? Find out for yourself by checking out these blankets and throws.
Woo hoo! We made it to the end. If you're looking for a gift, a new piece of clothing, or came across this during your daily internet browse on this wonderful Wednesday, I'm glad you're here! Hopefully, you left with a couple of items from this comfy casual winter outfits collection in your cart or found inspiration to create a new look!
WANT MORE POSTS LIKE THIS? HERE ARE A FEW OTHER IDEAS FOR CHRISTMAS
---
Thank you so much for checking out this selection of comfy casual winter outfits. It means a lot. I had such a blast picking out these items, and I hope you found something because I added a few to my cart! Merry Christmas and Happy Holidays!
Have a great Wednesday, everyone,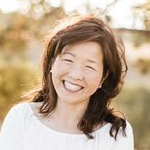 Latest posts by Janine Waite
(see all)