Here is a List of Kitchen Items that I love. I own many of them, and I share my reasons why I love them.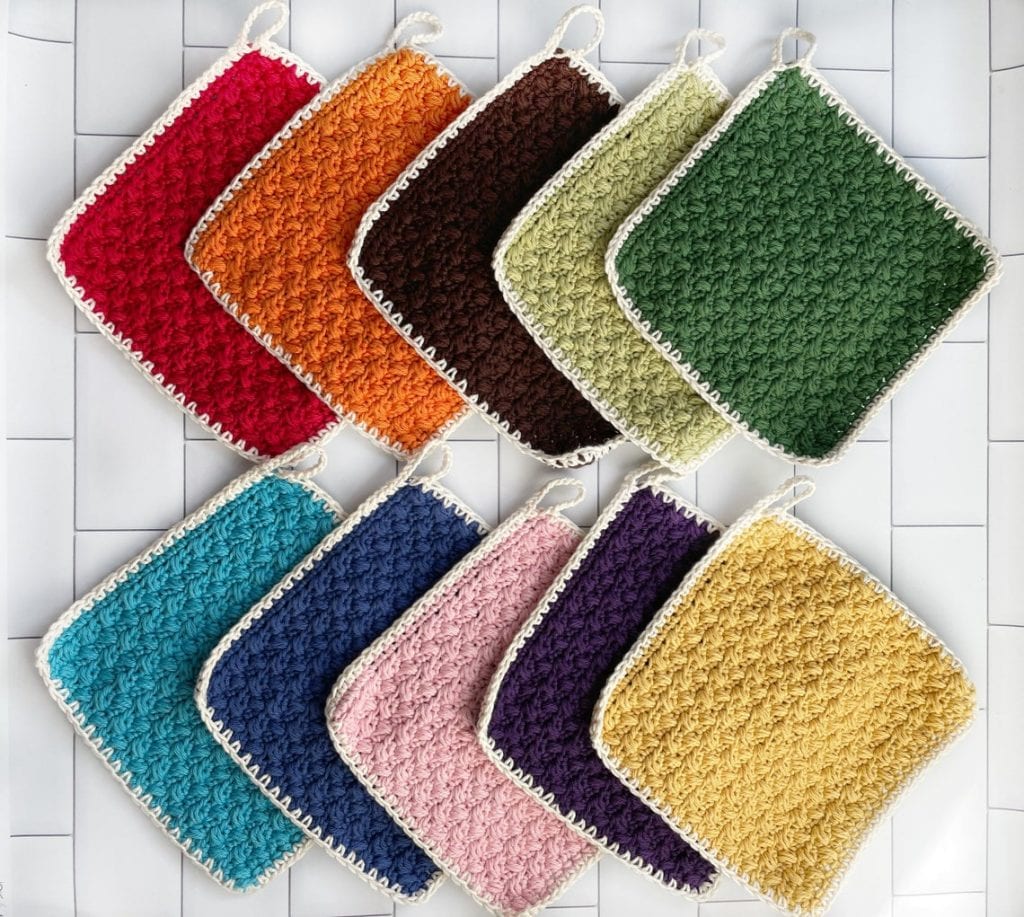 Need a little inspiration in the kitchen? I hear you, cooking 24/7 is wearing you down, so why not add some new items to your home.
A kitchen that is always used and busy needs the best kitchen utensils, containers, and more. I love kitchen accessories.
I guess you can officially call me a gadgeteer. I love small prep bowls, mixing bowls, Kitchen Aid accessories, and more.
If you are like me, I love to have my time in the kitchen to be efficient. So, this means that every accessory needs to do its job quickly and effectively.
I have found a few items over the years, and I'm sharing them in this post. My husband, son, and I love to cook and bake, so we have a passion for kitchen utensils and more.
Today's list is not everything, but just a few of the things that we love.
If you missed some of the Boutique of the Week, then here is a small list:
List of Kitchen Items
This is a modge podge of Kitchen items that I own and some that I have found for you.
KITCHEN TOWELS
*The following post contains affiliate links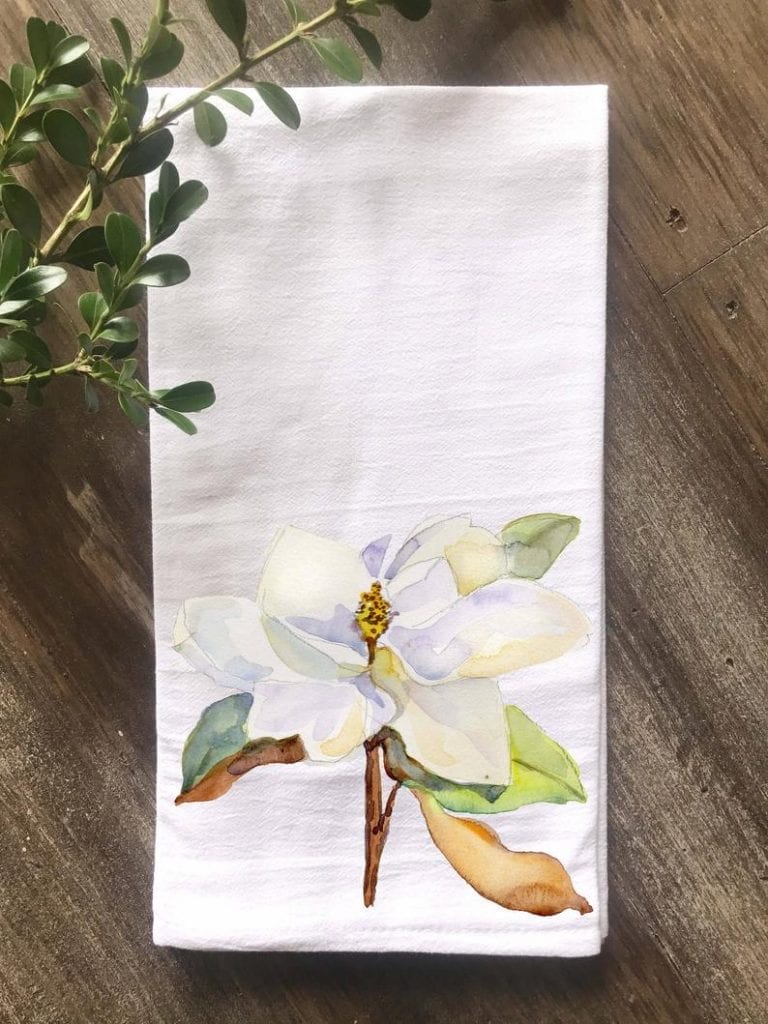 This flour sack/tea towel will add the perfect touch of spring charm to your kitchen décor with this Magnolia Watercolor Floral graphic design!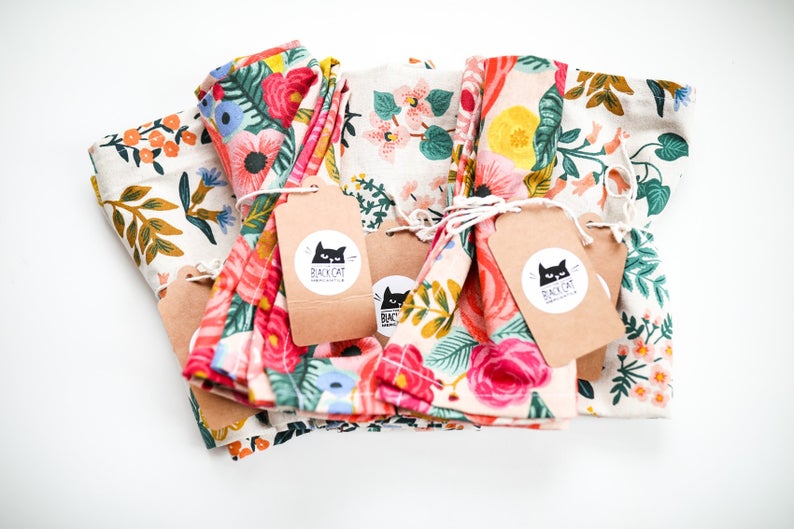 Dress up your kitchen with this cheerful multipurpose canvas tea towel. Hand-cut fabric is hand-stitched into a beautiful canvas tea towel. I just love the way this brightens up any kitchen, drawer or surface!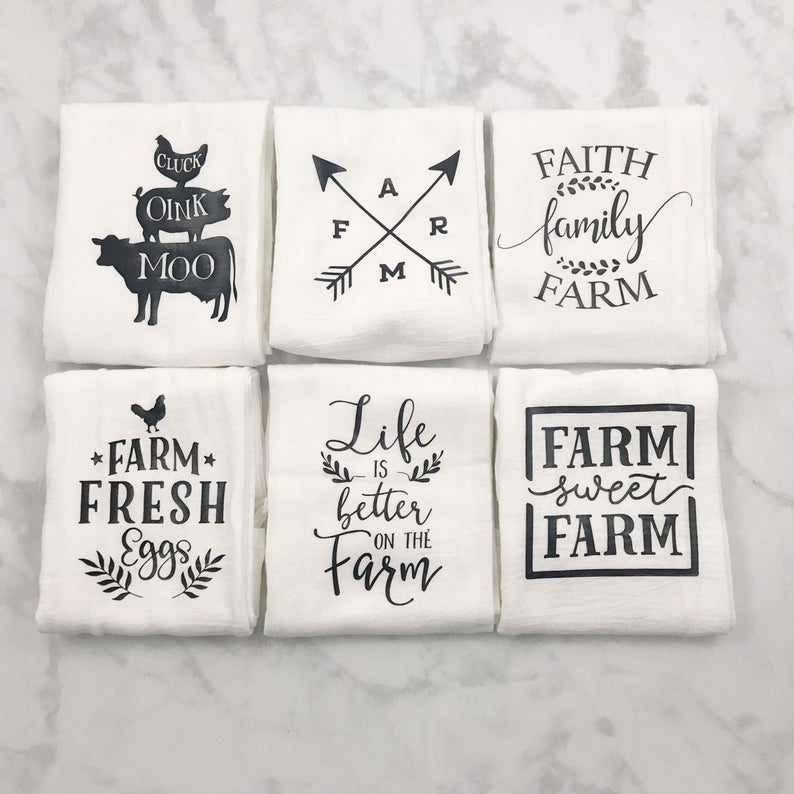 Cute Farmhouse Style Kitchen Towels
These decorative flour sack towels are perfect farmhouse decor! They make perfect gifts for all occasions: housewarming, birthdays, Mother's Day, Christmas, wedding showers, etc.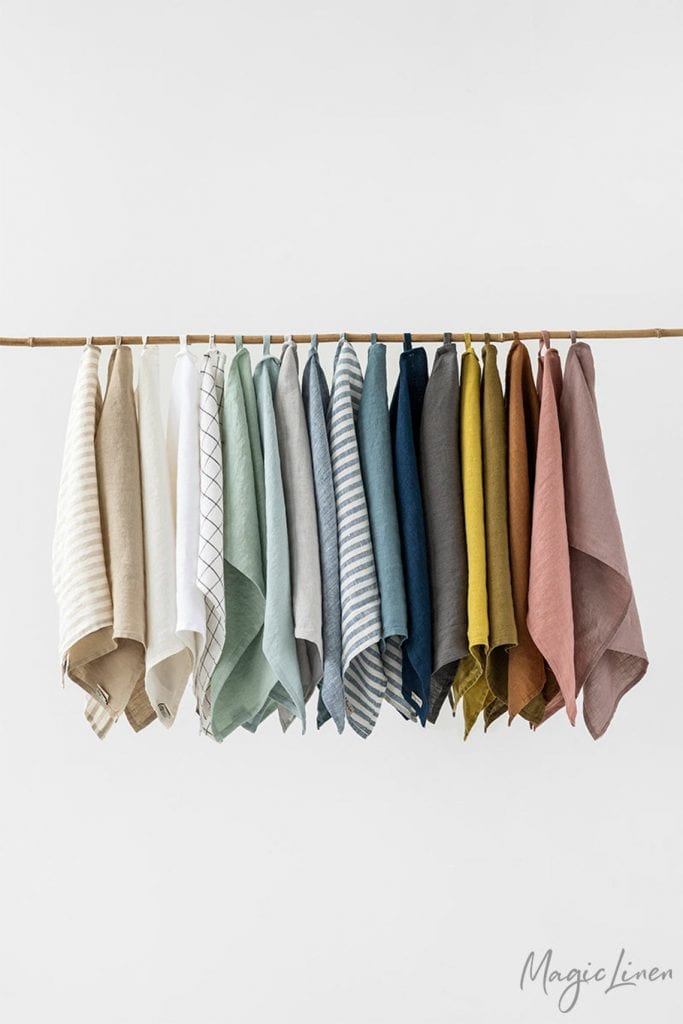 Linen tea towel made from high quality European linen fabric. Keep your kitchen neat and tidy with the help of this absorbent and durable linen kitchen towel. Wash dishes, clean surfaces, and do other chores – linen is so durable and absorbent, it is irreplaceable in any kitchen.
DISH CLOTHS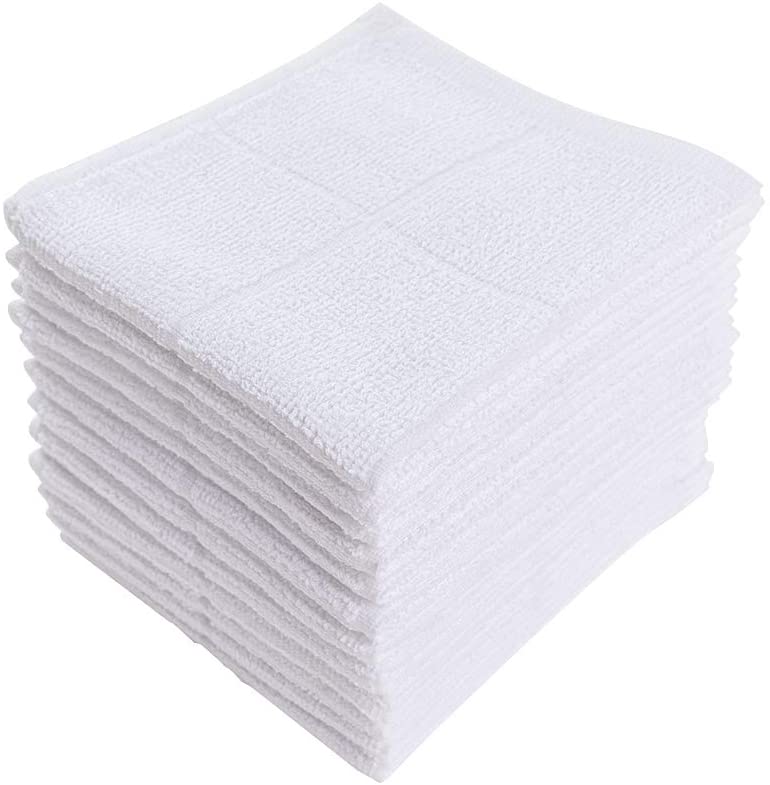 These terry dishcloths are made of high-quality cotton. It feels soft, skin-friendly and has a long service life. Be stained with oil, rinse with clean water, cleanability is strong for clean kitchen option. I own these and love them. If they get stained just soak them in bleach before washing.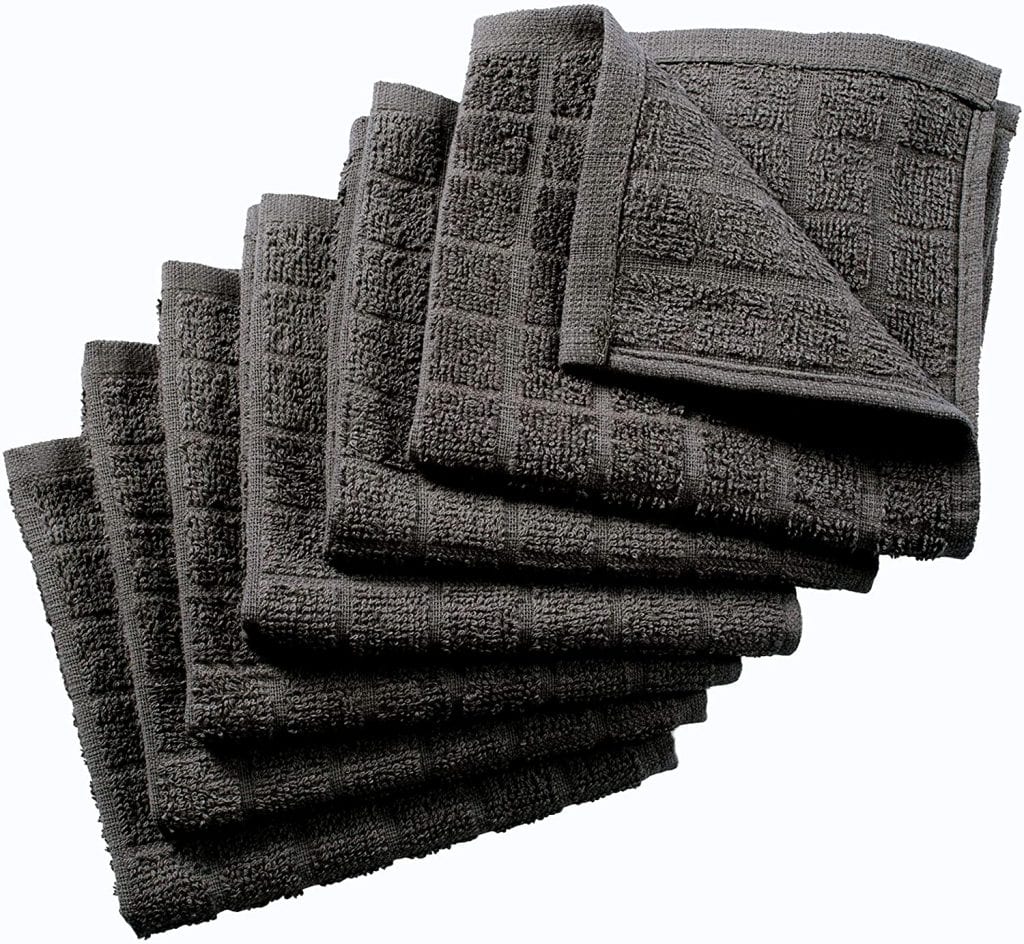 Durable, high quality cotton terry produces a thick, absorbent towel to assist with all your kitchen needs. Measures 12 in x 12 in.
POTHOLDERS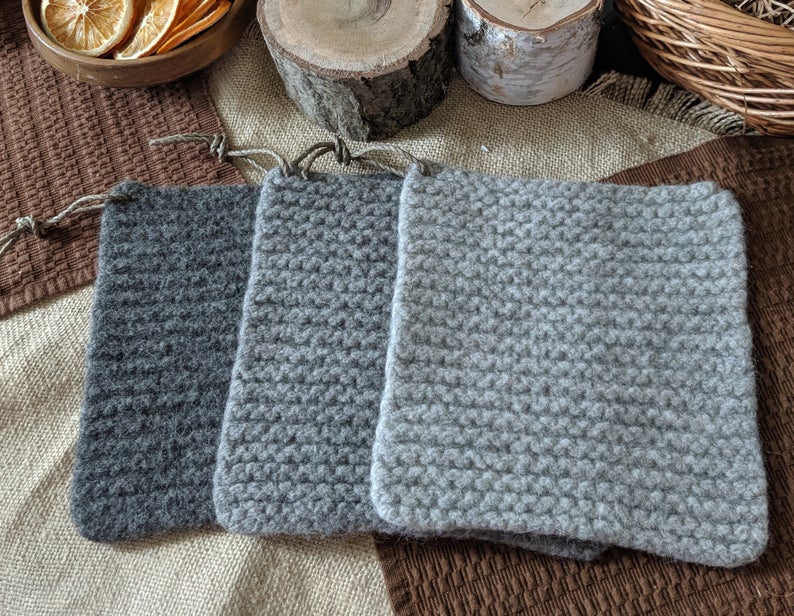 These felted potholder with thick hemp cord for hanging which iremovable if you prefer it without. Hand-knit from a beautiful, natural wool yarn then felted for sturdiness. Each one is approximately 7.5′" x 7.5″.
Can be used as a potholder or trivet/hot pad.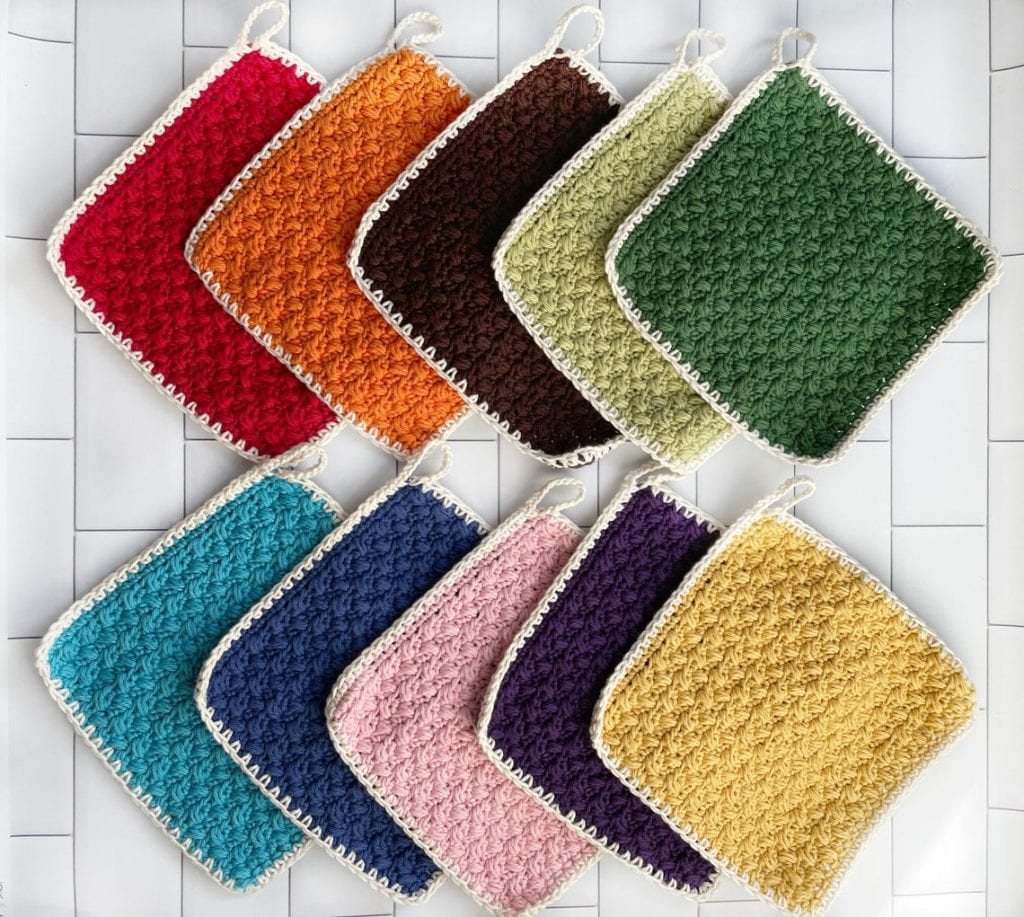 The puff stitch provides style while also providing insulation. Use them as hot pads to protect your table from a hot dish or pot holders. I love the colors they come in!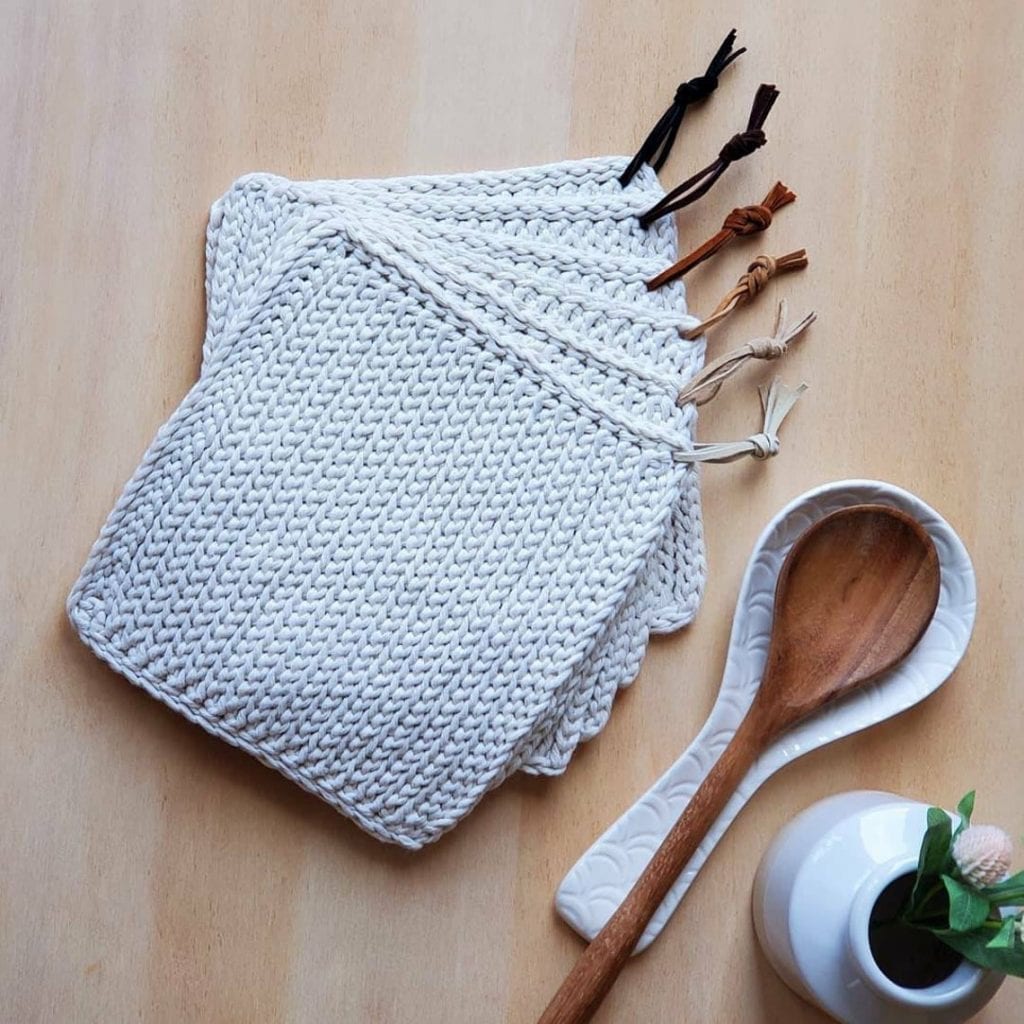 Cotton Potholder with Suede Hook
Made with 24-ply cotton twine, these hand crocheted potholders are thick, durable and totally sustainable. Generously sized, they do double-duty as hot pads for smaller cookware items. Suede hang strap can be removed for laundering.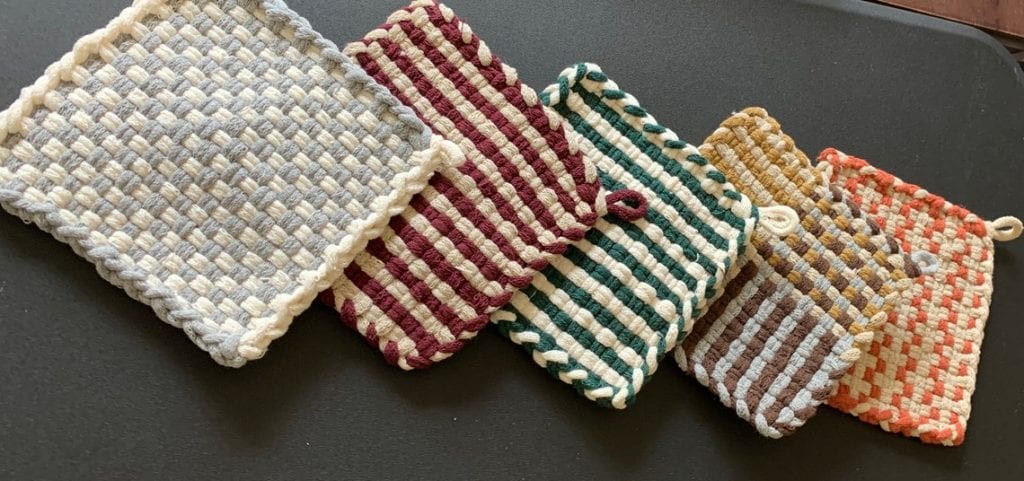 Takes me back to those days of past! Homemade weave loom potholders!
What are your kitchen colors? Choose a number for a special signature colored potholder!
REUSABLE PAPER TOWELS
I love this idea of reusable paper towels. This is a perfect way to replace all those paper products and decrease household waste, while helping to protect the environment!
Ok, it looks like this shop carries quite a few selections of reusable towels, so I'm linking to the shop.
CLOTH NAPKINS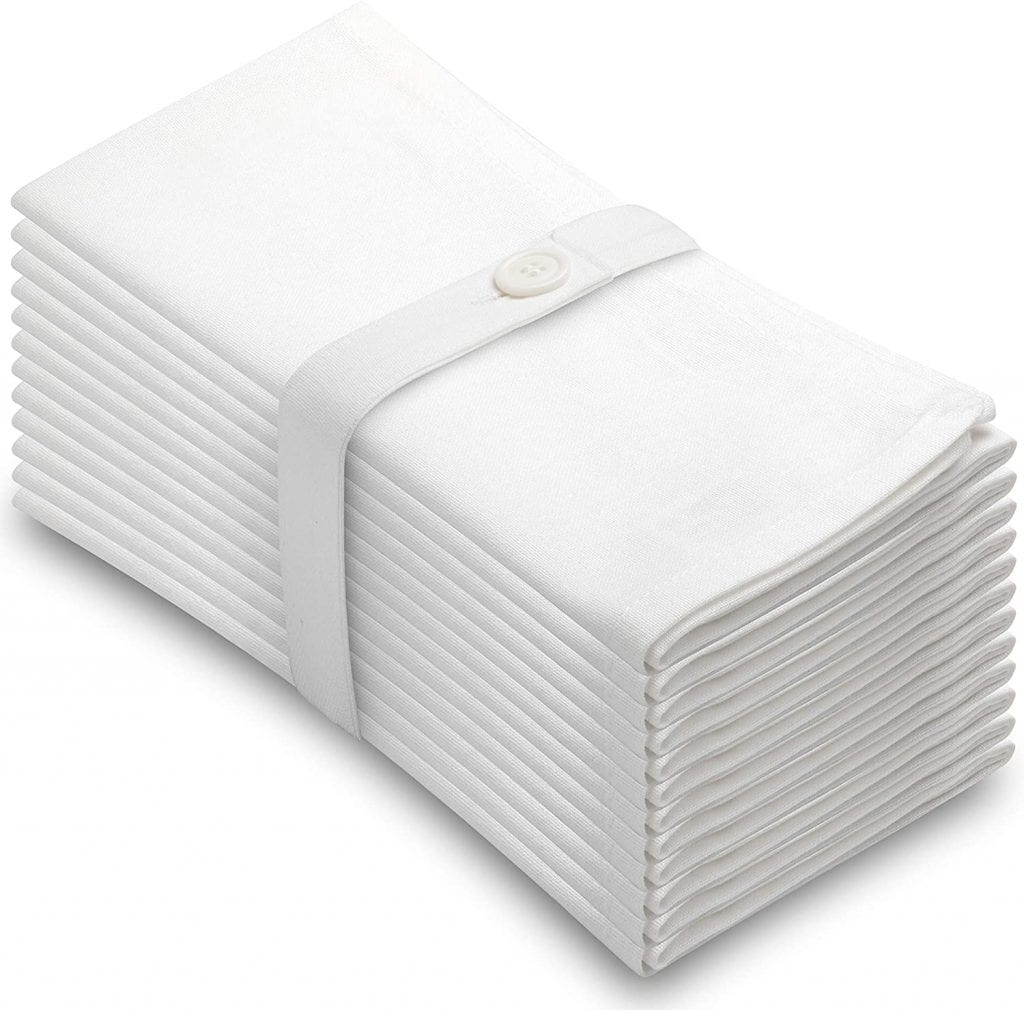 My Favorite All Cotton Napkins
These cloth napkins are made of the finest cotton on earth and woven with cutting edge air jet looms, which enables a tighter weave, satisfying weight, and immaculate finish. By the way, they come in many colors. I have the white and I plan to purchase the black ones too!
PRETTY APRONS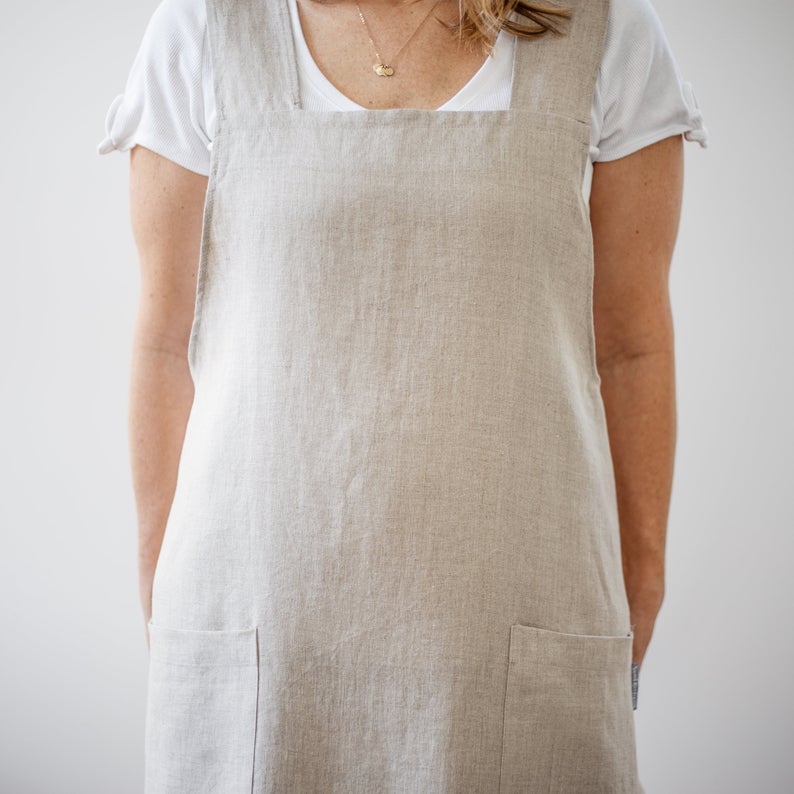 Beautiful Pinafore Linen Apron
These aprons make a perfect gift! All apron designs are customizable. Choose from a design option.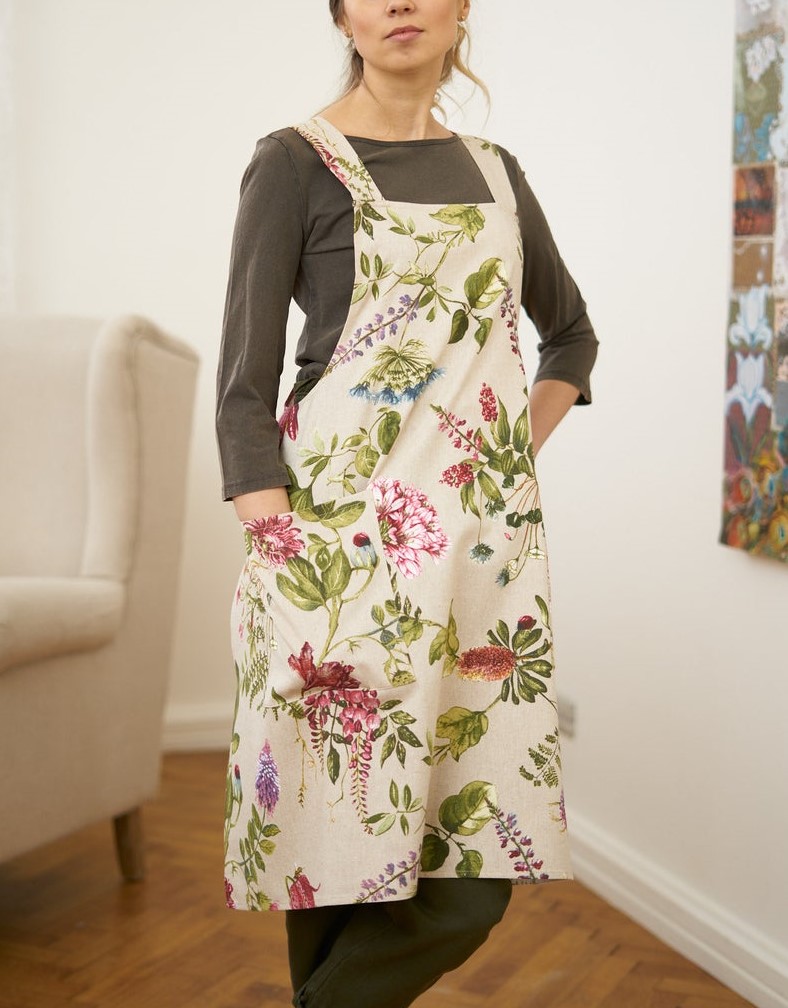 Pretty Green and Purple Floral Apron
Captivating design apron that will brighten up your kitchen experience and bring a festive mood to daily meal preparation. A gorgeous gift for mom, wife, girlfriend and yourself. Splendid outfit for housewife. Wear it and feel like the best chef in your kitchen!
KITCHEN TOOLS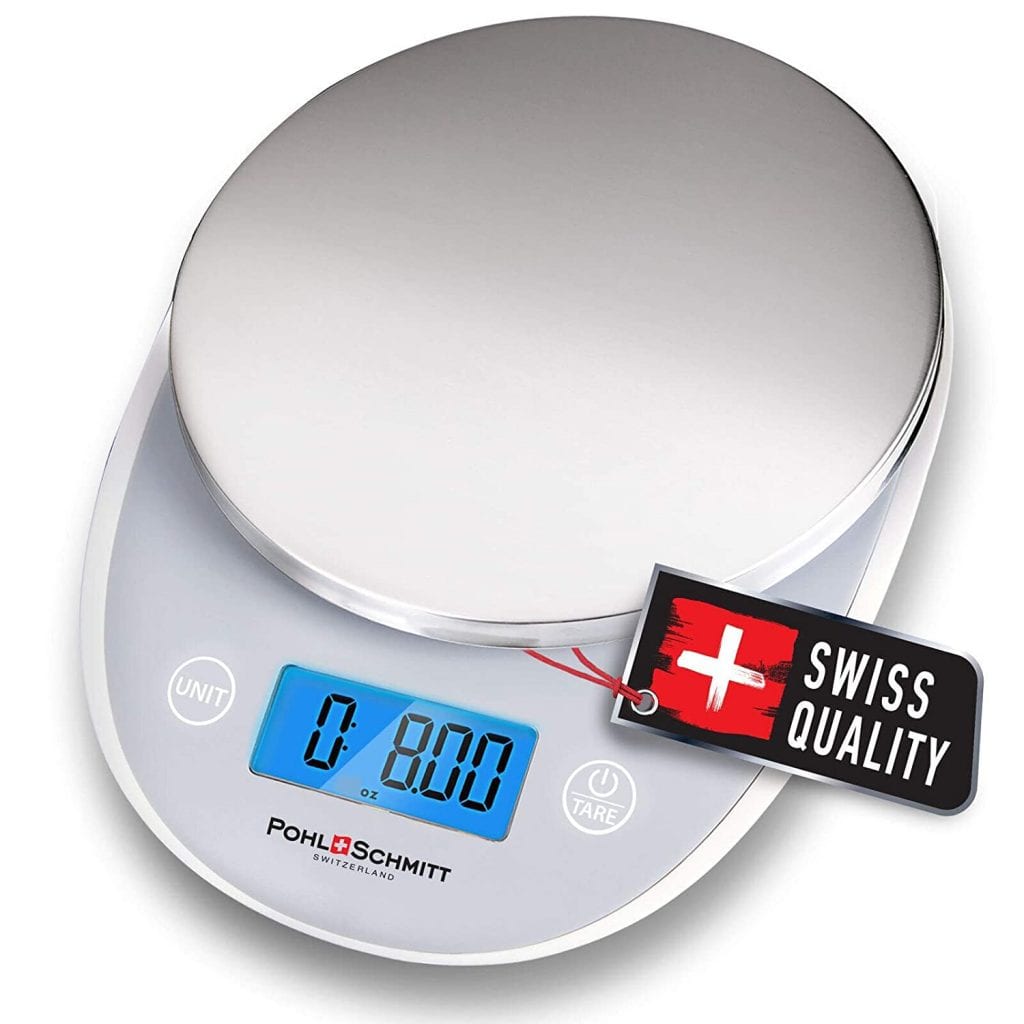 My son broke my old fashion food scale and so he bought me this one. I love it! My baking is so much easier with this scale.
It features multifunctional Measuring – Cooking & baking your favorite meals has never been easier! Prepare and measure your ingredients in no time with our new Pohl + Schmitt digital kitchen scale. With Tare function and Unit button you can easily switch between grams, ounces, pounds, fluid ounces and milliliters.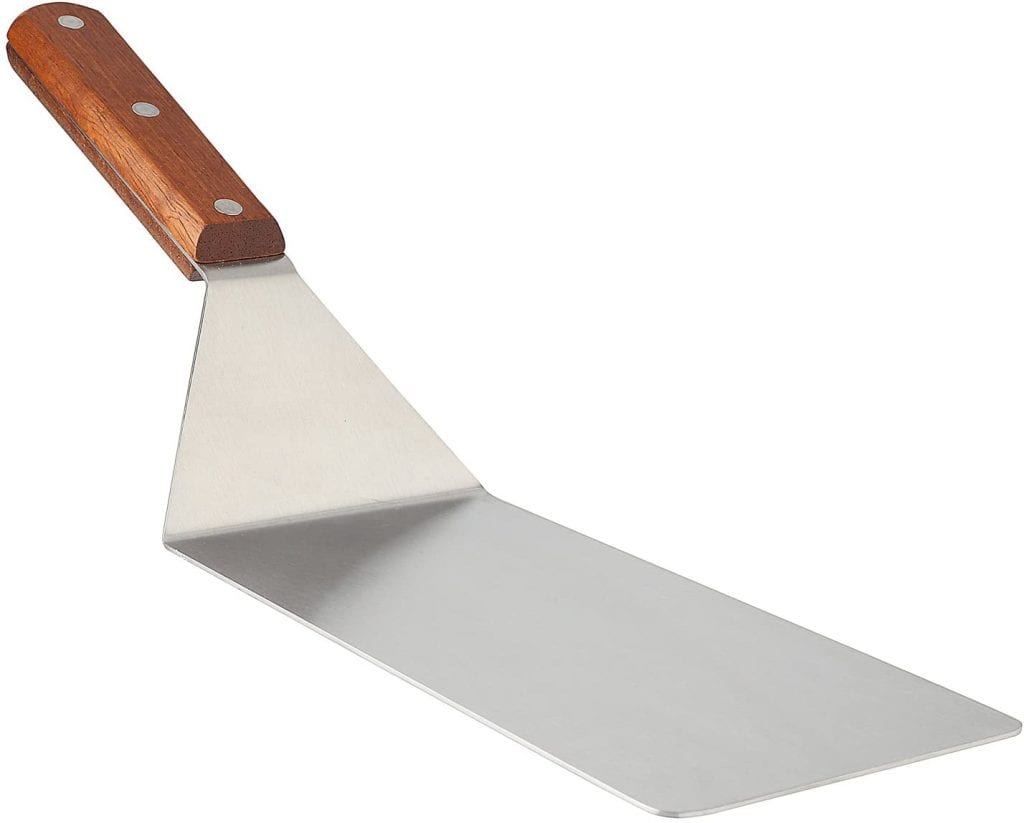 Balanced Stainless Steel Spatula
I bought my spatula from Sur La Table and then they changed the style and it was no longer balanced. So, this looks like a great substitute for the one that I own. I love a spatula that is balanced, this means when you place it down on the counter, it doesn't tip over. This one is balanced too!
This restaurant Griddle spatula spatula is crafted with premium-grade stainless steel that will remain rust-free. The extra strong wooden handle can handle heavy foods like a large piece of meat! Unlike silicone or plastic spatulas that easily bend while flipping your favorite foods

I own an 18/19 Edelstahl soup ladle that is so amazing. This one by Rosle is a close second. The key is to have one that is all one piece of stainless steel. I love that with ours. It stands up in our stockpot, and it doesn't fall into the pot and soup-like my old ladle.

This is the cadillac of peelers. My brother bought one for us and I love it!
This 1.5-Inch-wide blade ideal for peeling long vegetables like carrots. It is made of 18/10 stainless steel with satin finish handle that is sturdy, balanced, comfortable in the hand.
Comes with a lifetime warranty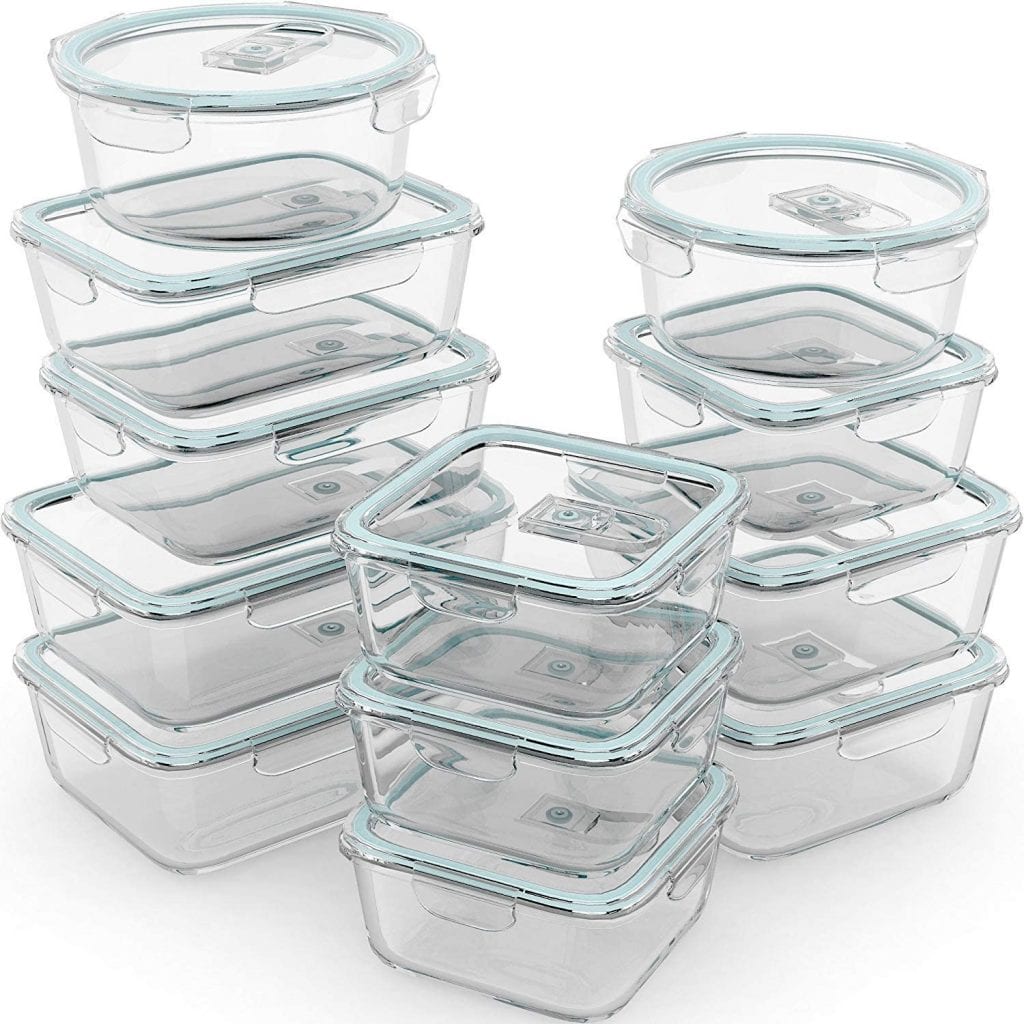 Glass Containers with Air Tight Lids
24 PIECE SET – Most Unique Set. BPA Free, Non-Toxic. Includes 12 Glass Food Storage Containers In Small, Medium And Large Sizes With 12 Lids, Removable Silicone Seal For Easy Cleaning. Stain And Odor Resistant. Perfect Bento ! These glass containers are perfect for storing leftovers or planning ahead with your weekly meal prep
BUILT IN VENT -If you want a container that you can pop directly in the microwave or oven, look for a glass container with built-in vents under the locking lid. This type of lid provides the airtight storage you need to keep your food fresh and the convenience you need to reheat food in seconds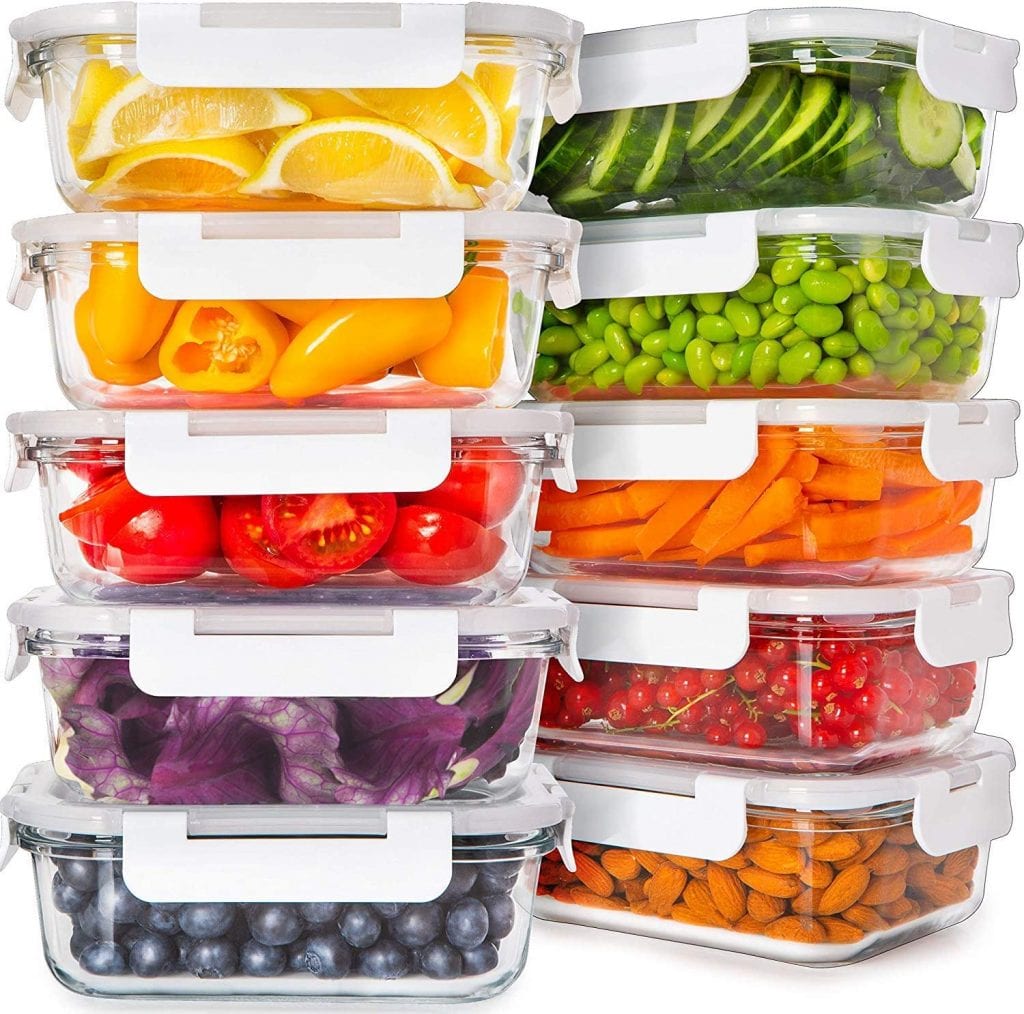 Glass meal prep containers one compartment with SmartestLock locking lids guaranteed leakproof food storage without spills.
Healthier alternative to plastic – our bento box is made from borosilicate glass, which makes them much stronger than other cheaper containers. Borosilicate is the strongest glass available, microwave, oven and freezer-safe (not the lids) and won't break as easily as cheaper alternatives .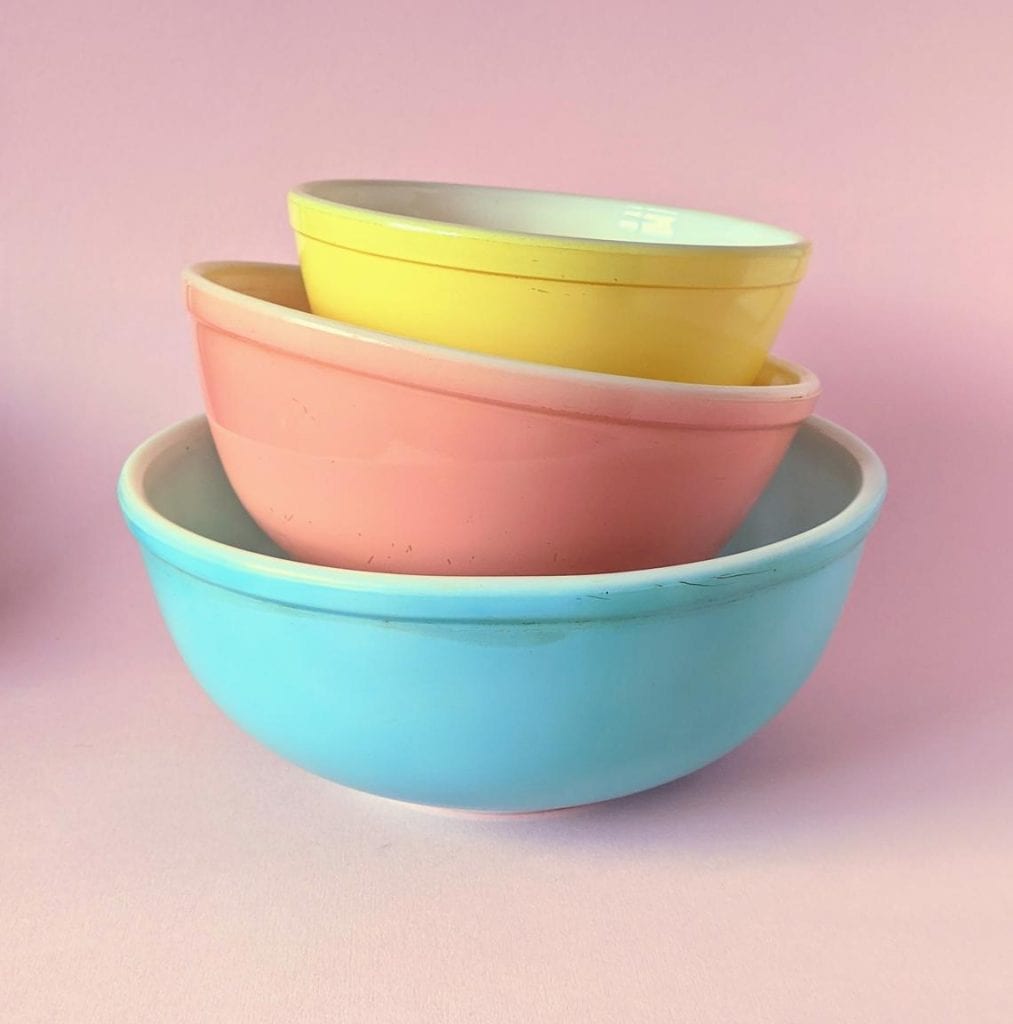 These beautiful mixing bowls in the most perfectly pastel colours, baby pink, turquoise blue and lemon yellow.
These are a great find, made by JAJ Pyrex in England in 1958, they are a set of 3 mixing bowls from the Carnival range.
If you like the Pyrex bowls, here is a whole page of them.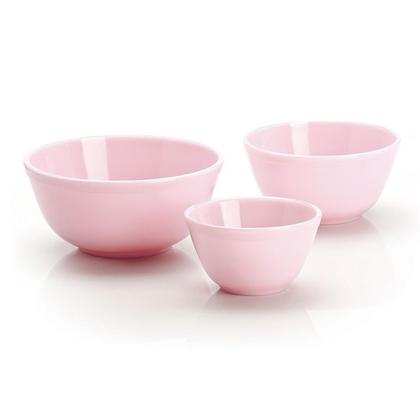 Enhance any kitchen with these high-quality mixing bowls. Go from batter to sauces to serving with different sizes of bowls. This set comes in six beautiful colors.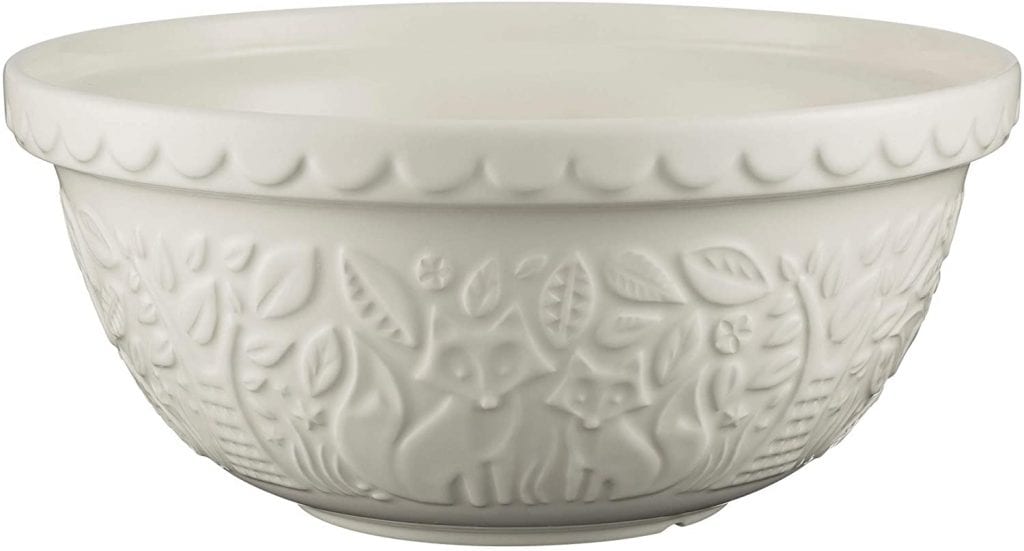 Woodland Forest Mason Cash Mixing Bowl
I own this bowl and I love it! The cute design always makes me smile. I must say that I don't think it should go in the microwave. The glaze on mine cracked and I think someone in the family placed it in the microwave. That is the only criticism I have for this bowl.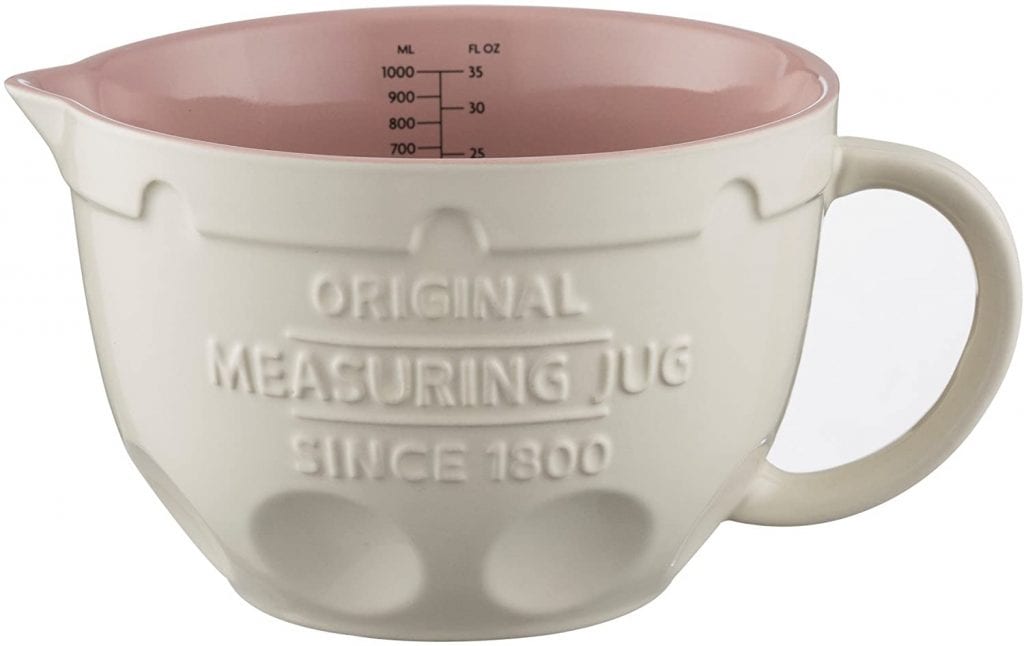 I own one of these and I love it! It is a uniquely-designed 3-in-1 tilting jug from Mason Cash – great for measuring, mixing and pouring
Features a graduated internal measuring scale in both millilitres (ml) and fluid ounces (fluid oz)
Eight separate flat areas/grips around the diameter of the jug allow it to be tilted at any angle for easier and more effective mixing/whisking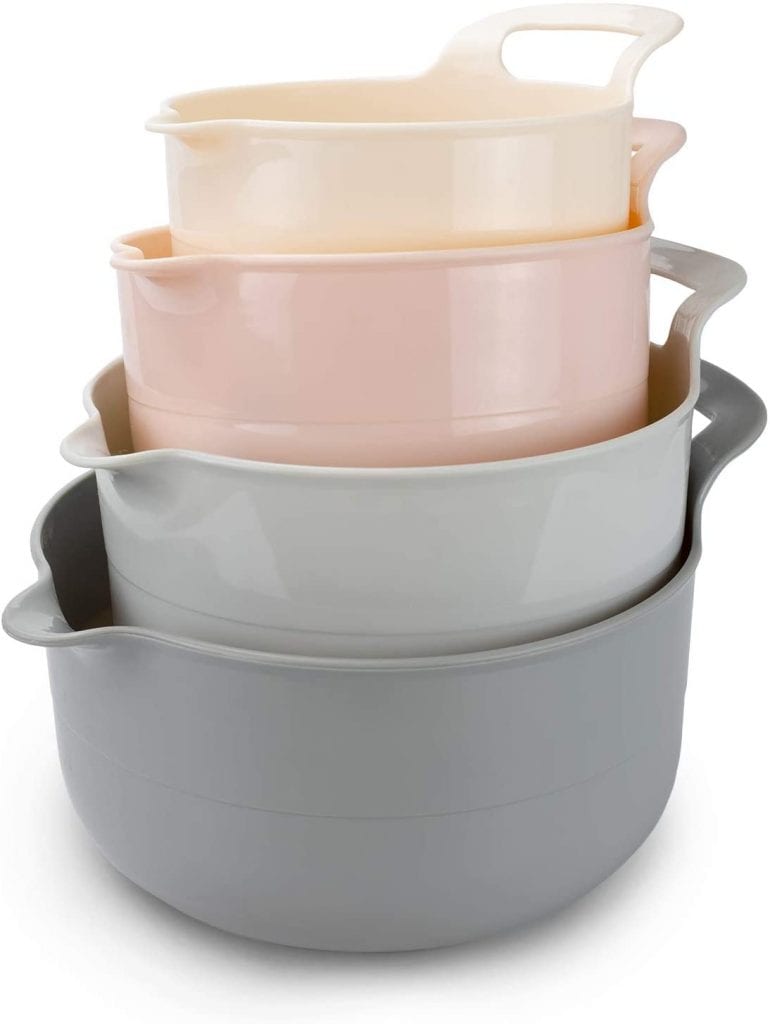 Cook with Color 4 piece mixing bowl set – non slip bowls with pour spouts and handles; easy to clean, sturdy mixing bowls. They are dishwasher safe (top rack) freezer safe, food safe and BPA free mixing bowls – your go to mixing bowl for cooking and baking.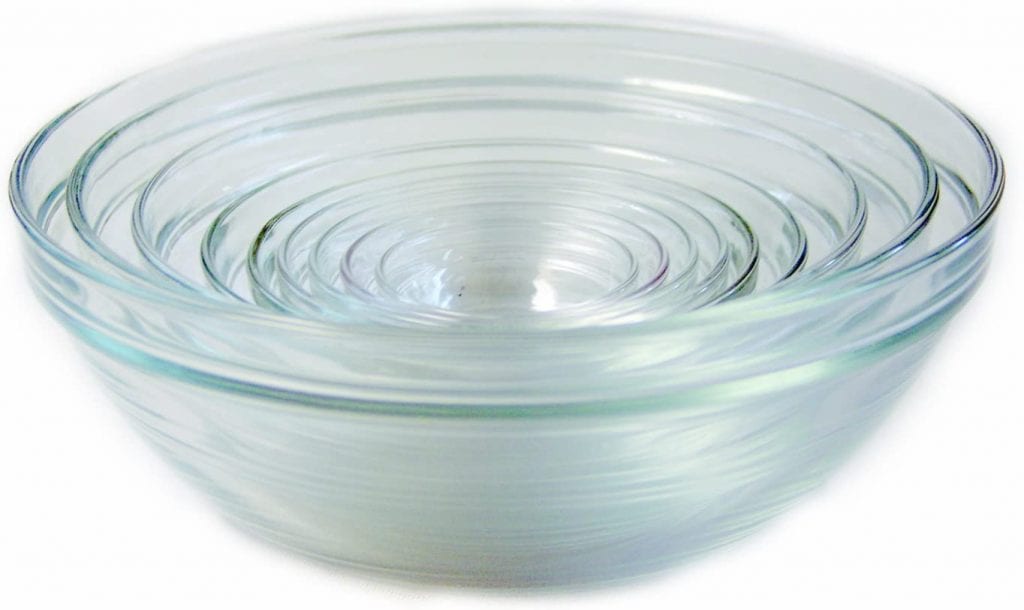 Includes 10 nesting bowls: 1 ounce, 2 ounce, 4 ounce, 6 ounce, 10 ounce, 1/2 quart, 1 quart, 1- 1/2 quart, 2-1/2 quart, 3-1/2 quart. Duralex is 2-1/2 times more resistant to breakage and chipping than normal glass
Well, here a little sampling of my list of kitchen items. Owning amazing kitchen accessories are so key in your cooking and baking experience.
Thanks for joining me for this week's Boutique of the Week.
Cheers,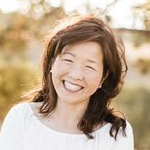 Latest posts by Janine Waite
(see all)