Rifle Paper Co Beautiful Pillows are so unique and beautiful. I love everything that Rifle creates.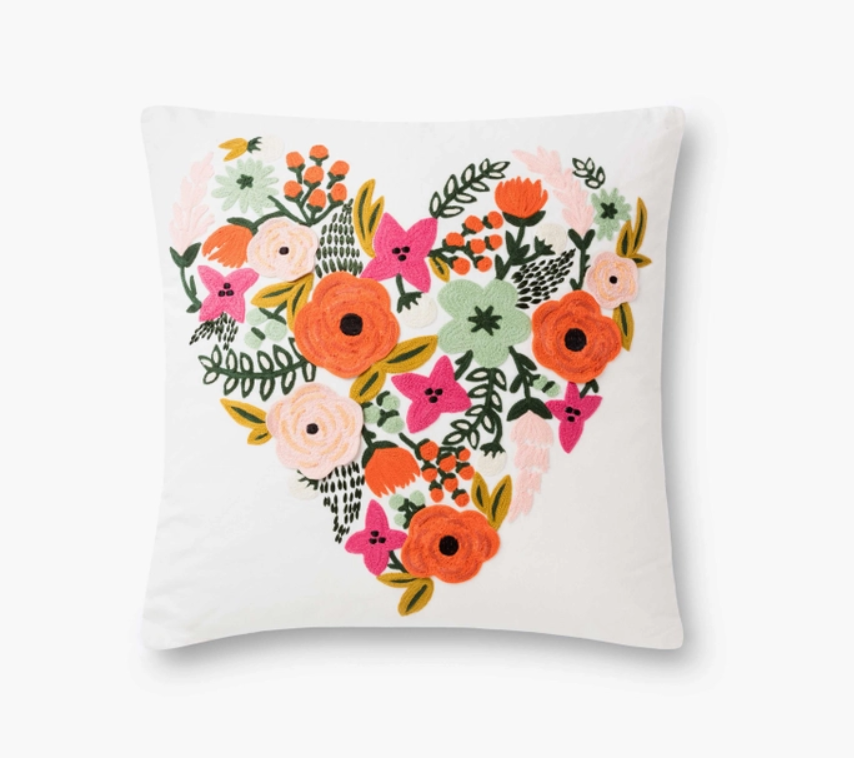 Pillows are among the many things that Rifle sells. They carry pretty party supplies, stationery, prints, fabric, and much more. All the beautiful colors and designs are cheerful and perfect if you want to brighten your home.
If you aren't familiar with Rifle Paper Co, well, here is your first introduction to them. I fell in love with them about seven years ago when I took a girl's trip to San Francisco. My friend Marci and I discovered the cutest boutique store called Lavish. They had a special relationship with Rifle, and their store carried a lot of Rifle paper products.
I guess you could say the rest is history.
I've bought Rifle paper, prints, and phone cases. Next on my list are these beautiful throw pillows.
While I was perusing Etsy for some supplies, Rifle pillows kept appearing in my searches.
It was a sign to share them over here on my Boutique of the Week. Here are a few of some similar posts: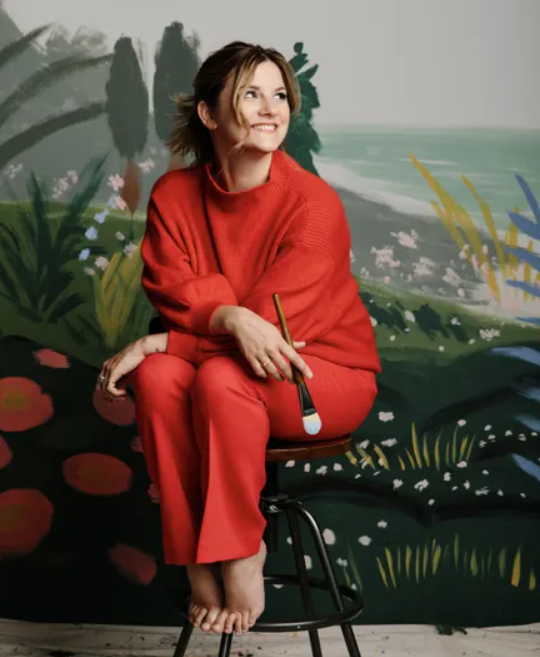 Before we dig in, let's become familiar with the Rifle Paper Company.
You probably have already seen their products in Anthropologie or The Paper Source, and you didn't realize it was them.
According to their website, the company was founded eleven years ago by the husband and wife team, Nathan and Anna Bond. It started with Anna's beautiful wedding invitations, stationery illustrations. Anna's style is unique and beautiful, and they created a brand. On Creative Mornings, she spoke at an event about her artwork. You can find the talk here.
*The following post contains affiliate links
Rifle Paper Co Beautiful Pillows
I'm sharing these throw pillows in their color categories.
PINK PILLOWS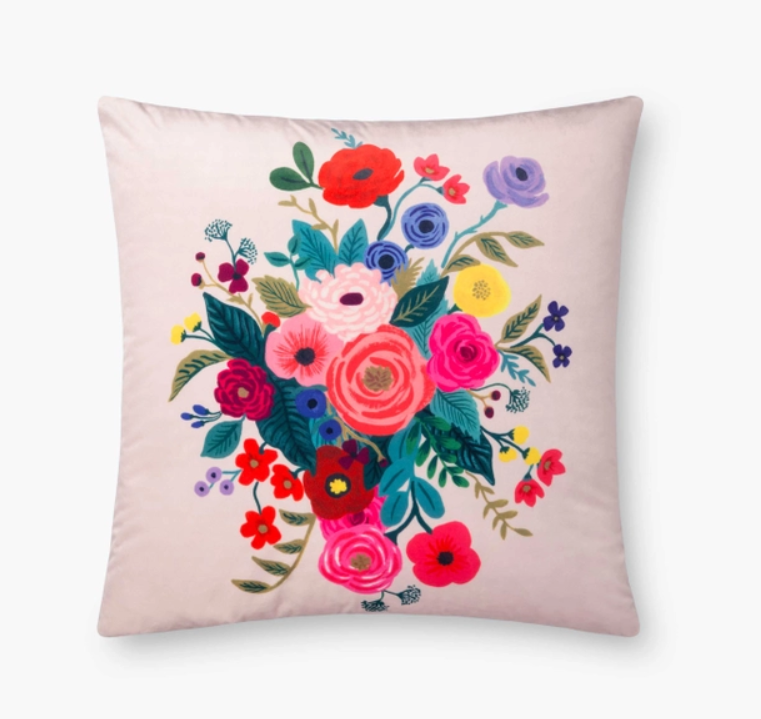 Bring the bright bouquet of Rifle's signature Juliet Rose print to your sofa, chair, or bed. This plush velvet printed pillow is feminine and cheerful, and I have this one in my cart to purchase. I think it will be a perfect addition to my spring decorating.
This 18″x18″ throw pillow cover in Rifle Paper Co.'s fabric Hydrangea in Blush will add a beautiful accent to your home. The back is made with a neutral beige linen-blend fabric with a deep envelope style for easy placement of your pillow insert to compliment the front.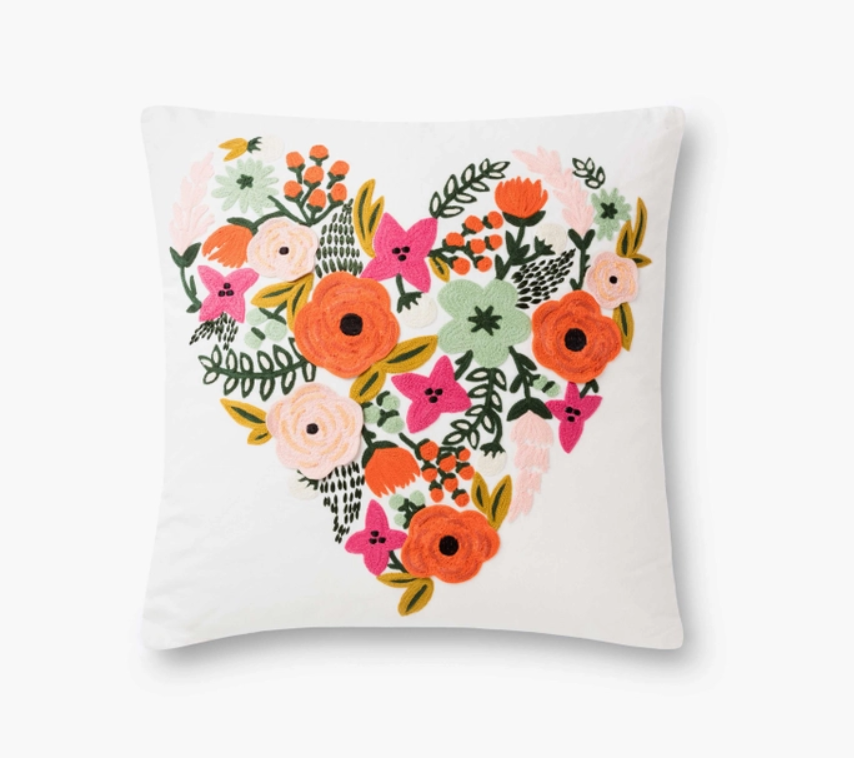 Floral Heart Embroidered Pillow
With colorful crewelwork and applique flowers, our Floral Heart pillow adds a little love to wherever it lives. I love that Rifle is bringing back embroidered pillows.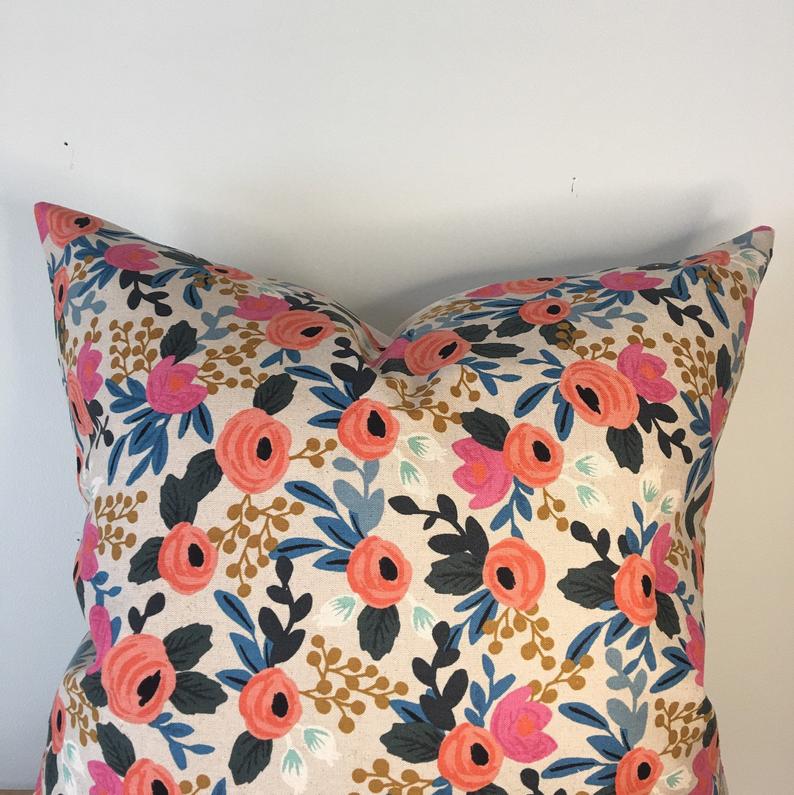 This pretty floral pillow has the signature flower design of Anna Bond. This pillow and all its beautiful colors is the perfect accent to any room.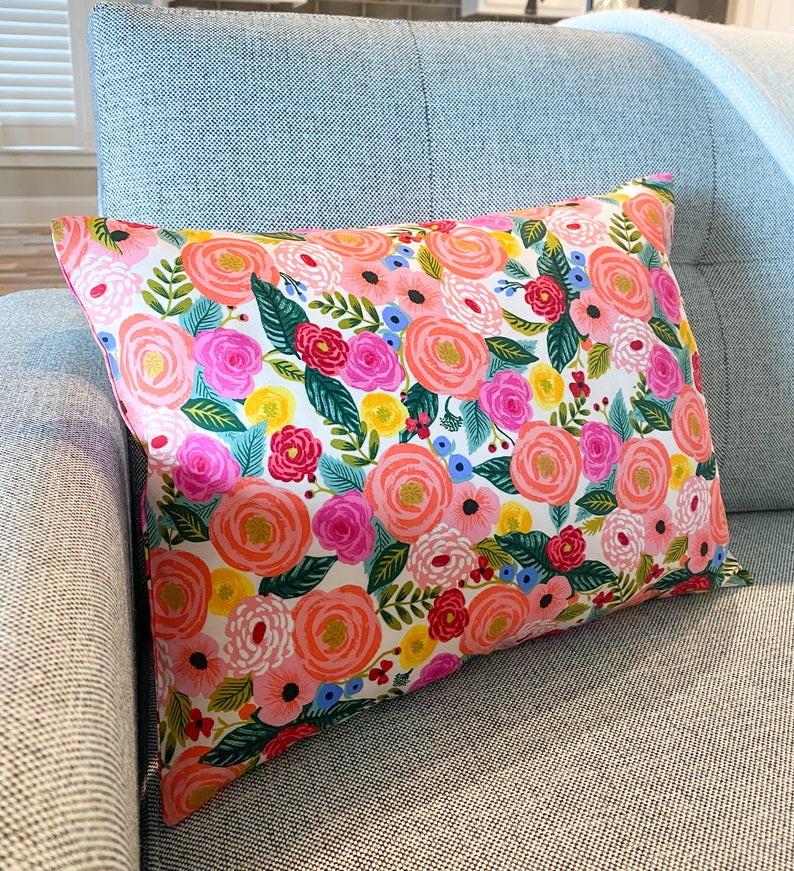 This rayon fabric is soft to the touch, and this print is the stylish pop of color to show off your unique style in your home. This makes the perfect addition to any room and is the wow factor you are looking for.
BLUE THROW PILLOWS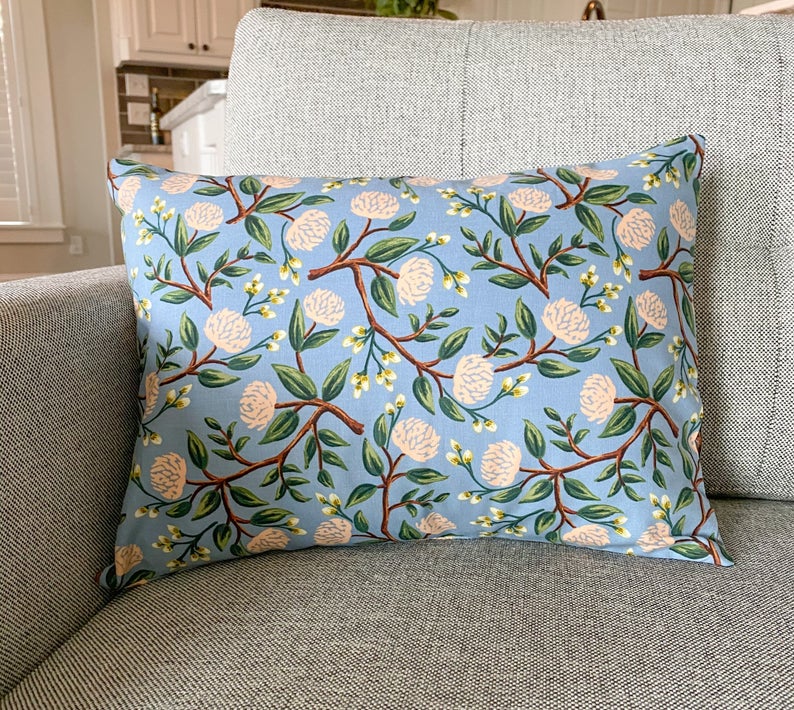 This fabric is part of Rifle's Primavera Collection. This pillow is available in the dusty blue shown here as well as a pink peonies pattern.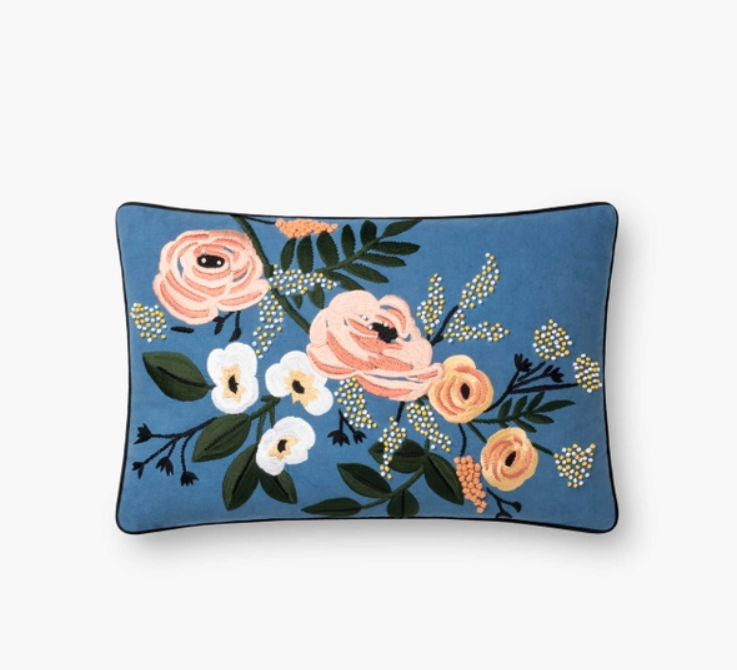 Embroidered blooms and budding twigs give this pillow from Rifle Paper Co a lively and lovely look.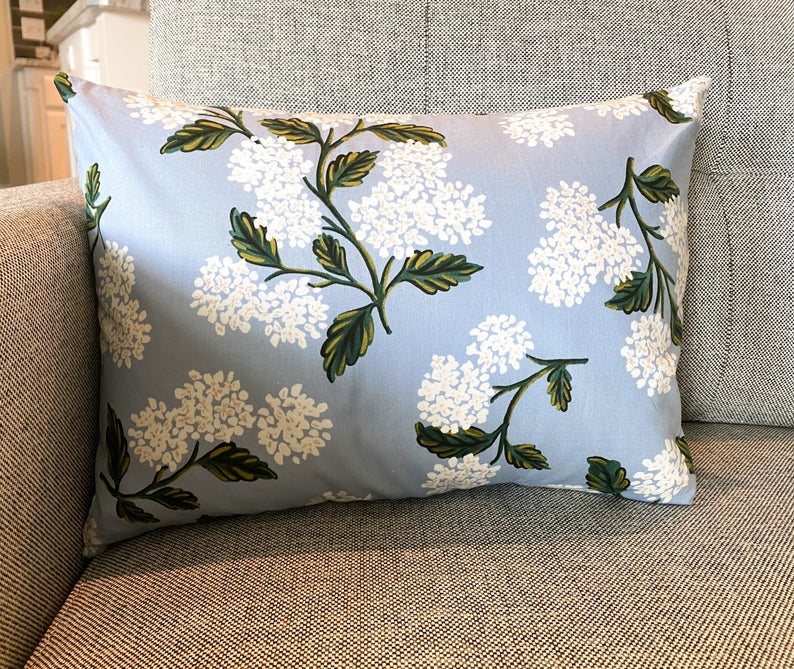 Floral Hydrangea, Peony Pillow
This beautiful floral pillow comes in four different variations. So make sure to check out this product.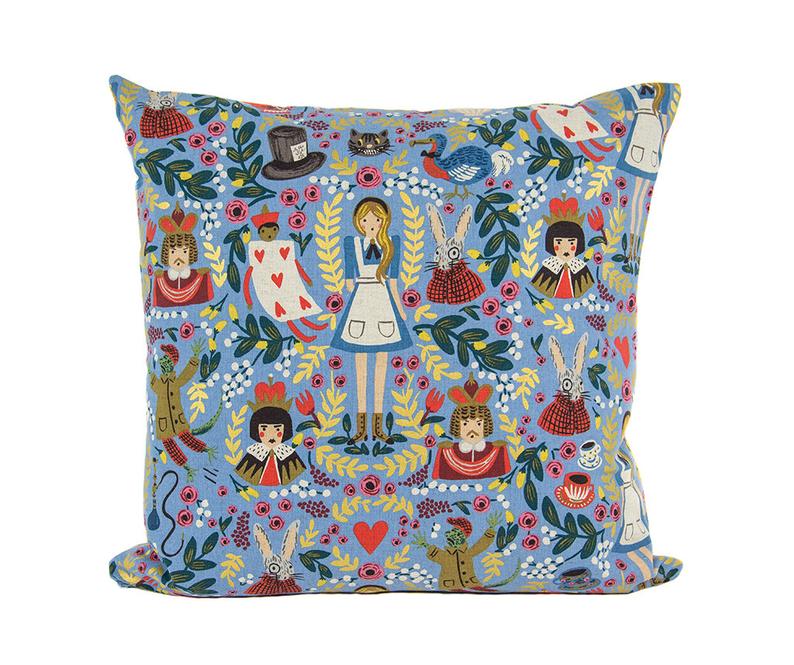 This delightful pillow is made of canvas material. Any Alice in Wonderland fan will love this cute and fun pillow.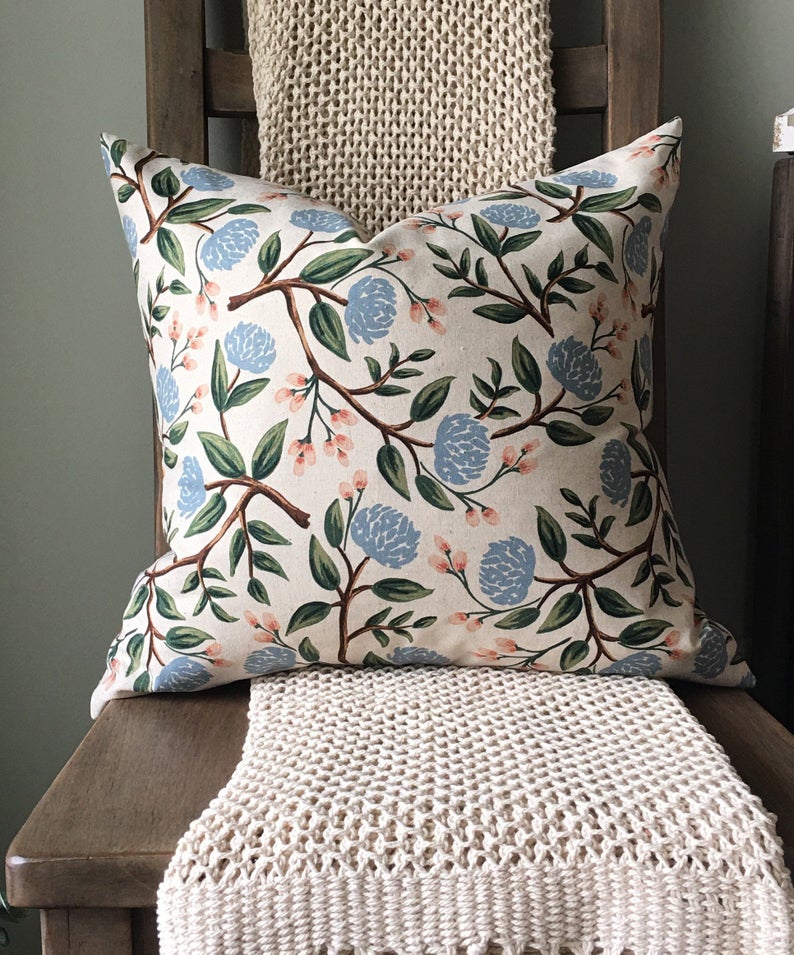 This blue and cream wild peonies printed pillow has a vintage farmhouse style.
ORANGE PILLOWS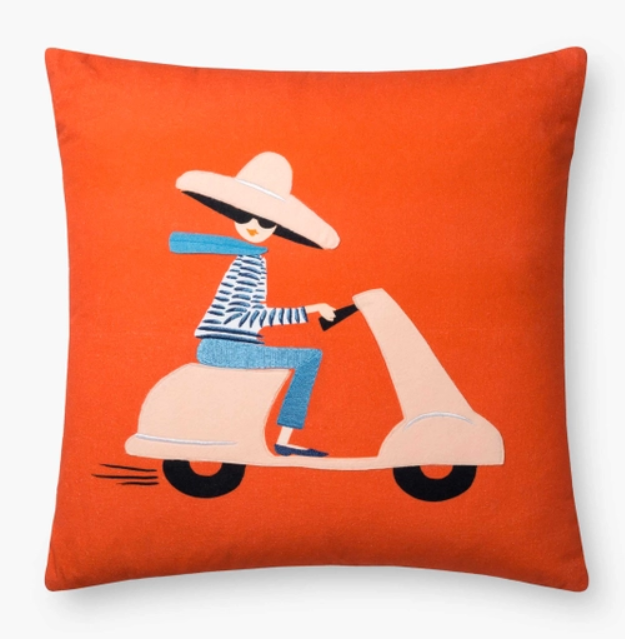 This Scooter Girl pillow will inspire you to go places. Isn't it the cutest pillow? I feel like the girl looks kind of like me with sunglasses! Too funny.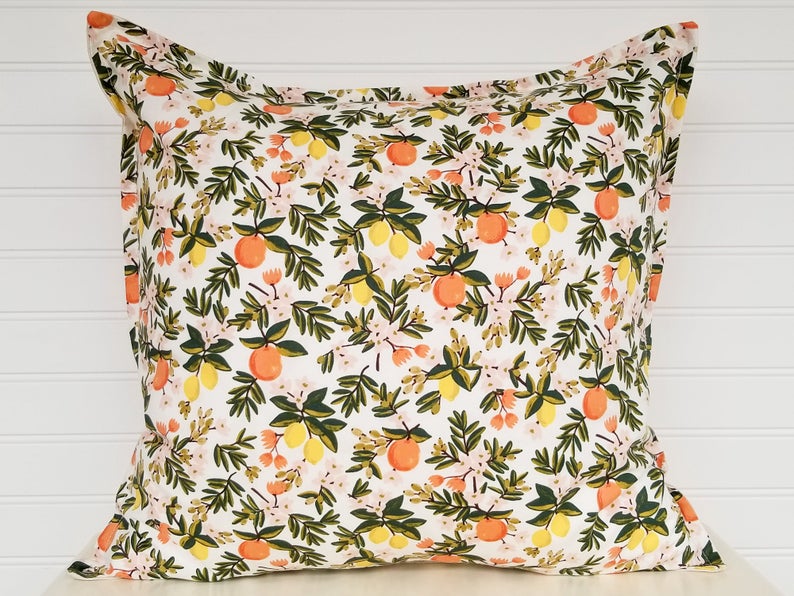 This 18″x18″ throw pillow cover in Rifle Paper Co.'s fabric Citrus Floral in white will add a beautiful accent to your home.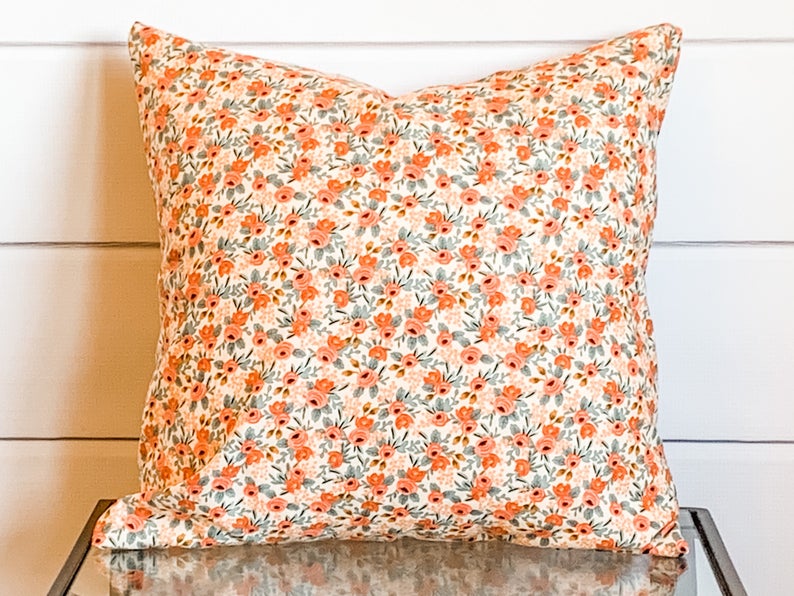 Farmhouse Floral Pillow Cover. Rifle Paper Co.'s English Garden collection. Bring in handmade elements like this cheerful floral pillow to create the coziest, most welcoming living room, bedroom, or nursery.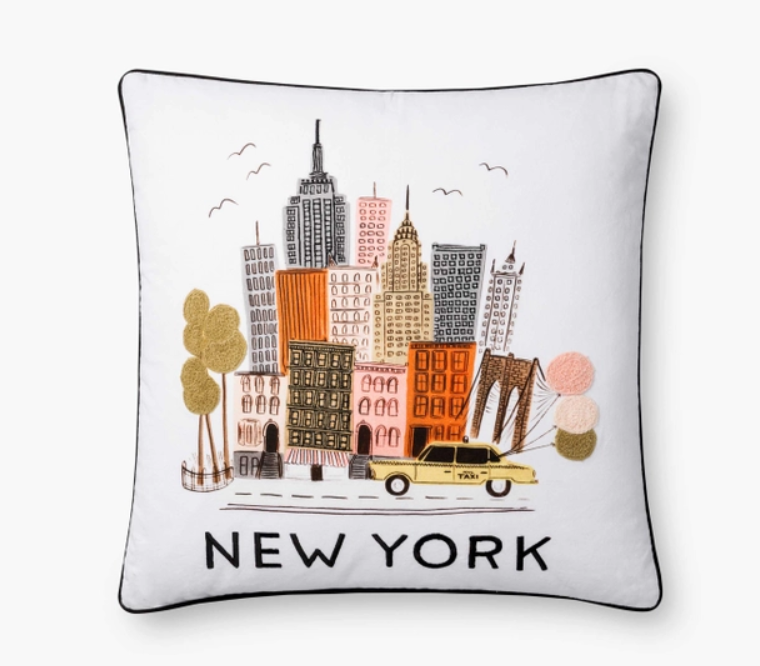 This adorable embroidered New York pillow brings the city that never sleeps to your sofa, chair, or bed. I love this illustration of New York city!
BLACK PILLOWS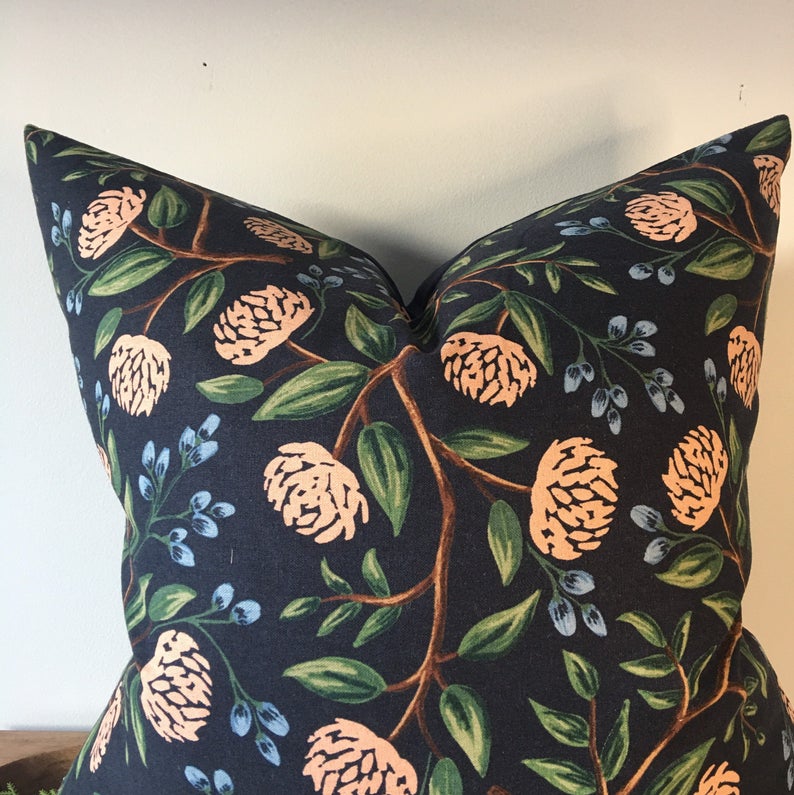 Navy Linen Wildwood Peonies Pillow
This is such a rich and beautiful printed pillow. It will look stunning in any room.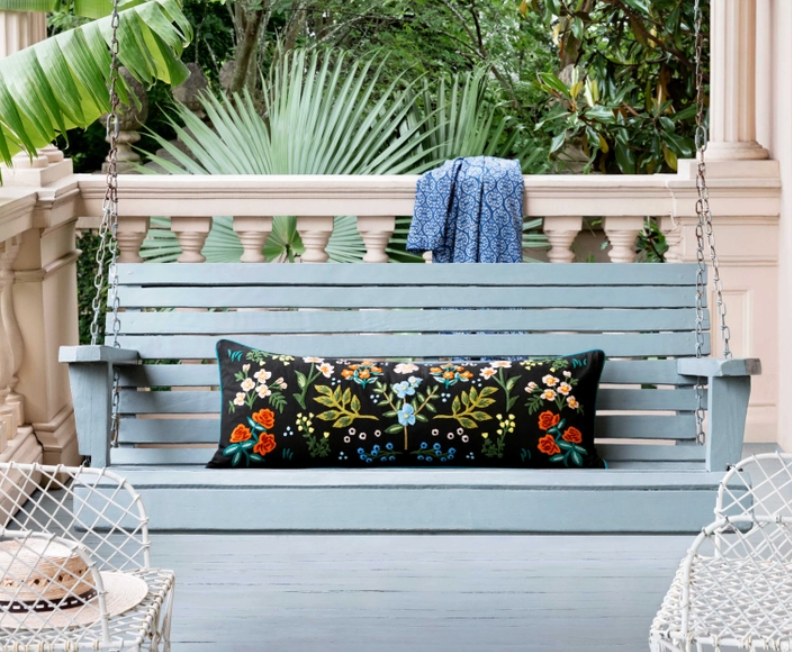 This beautiful lumbar shaped pillow shows off such a beautiful embroidered collection of flowers.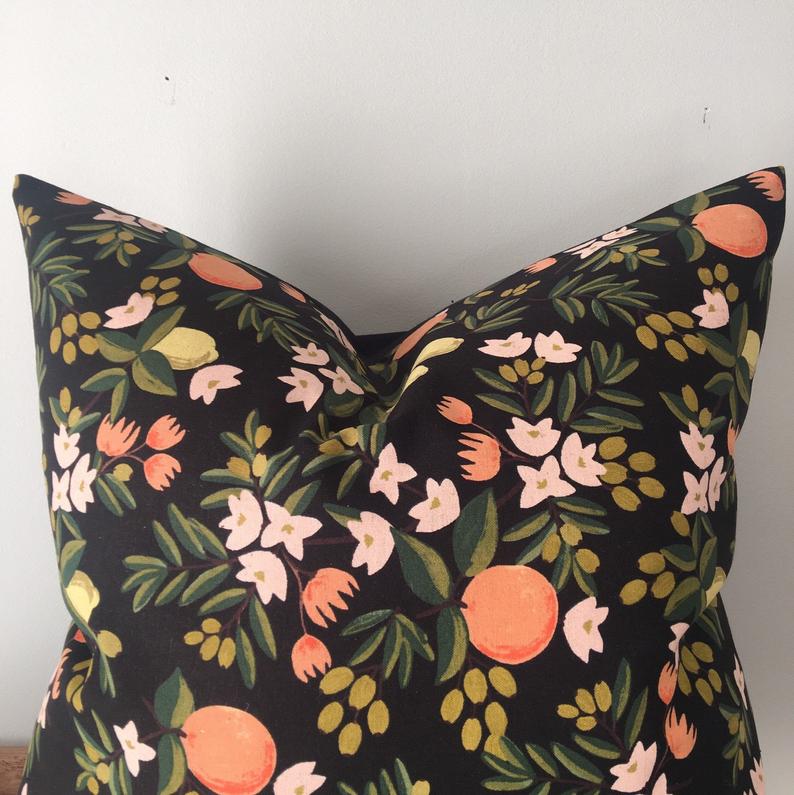 This stunning Primavera Citrus Floral in black is a beautiful addition to any couch.
Make your home, office, balcony, patio, mudroom, and couches fresh with these stylish pillow covers! This pillow comes in 27 different fabrics. So, head on over via the link to see the many styles available.
You know that I'm always looking on the sunny side of things, and in my opinion, spring is just around the corner. I always crave pretty things in the spring, so you know that I'm going to feature one of these pillows in my fresh spring decor. I hope you enjoyed this post on Rifle Paper Co's beautiful pillows.
It is such a treat to share this lovely home decor with you today. If you want to see more of my favorite Rifle Paper Co items, check out this post that I recently published on the Rifle Paper Company.
Here are some past home decor Boutique of the Week posts:
Happy Wednesday, my friends!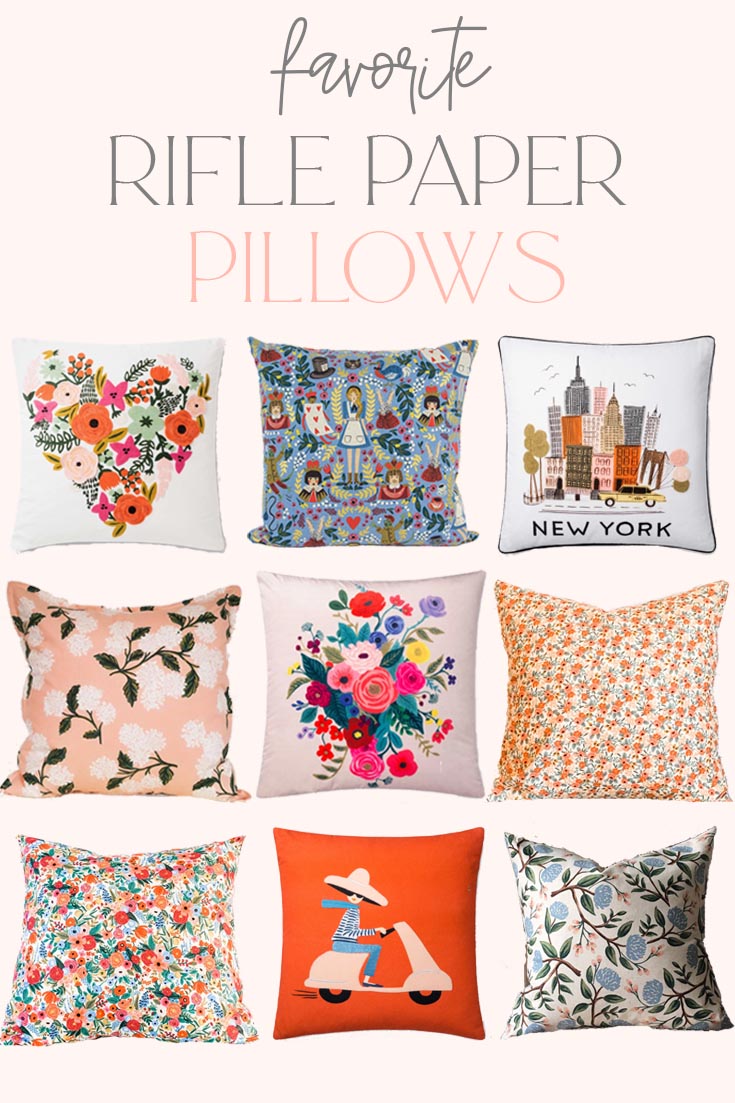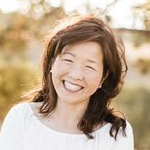 Latest posts by Janine Waite
(see all)