The Best Cooking Utensils which include the best measuring spoons, cups, kitchen scissors and more. Efficient cooking and baking utensils make cooking an easier tasks.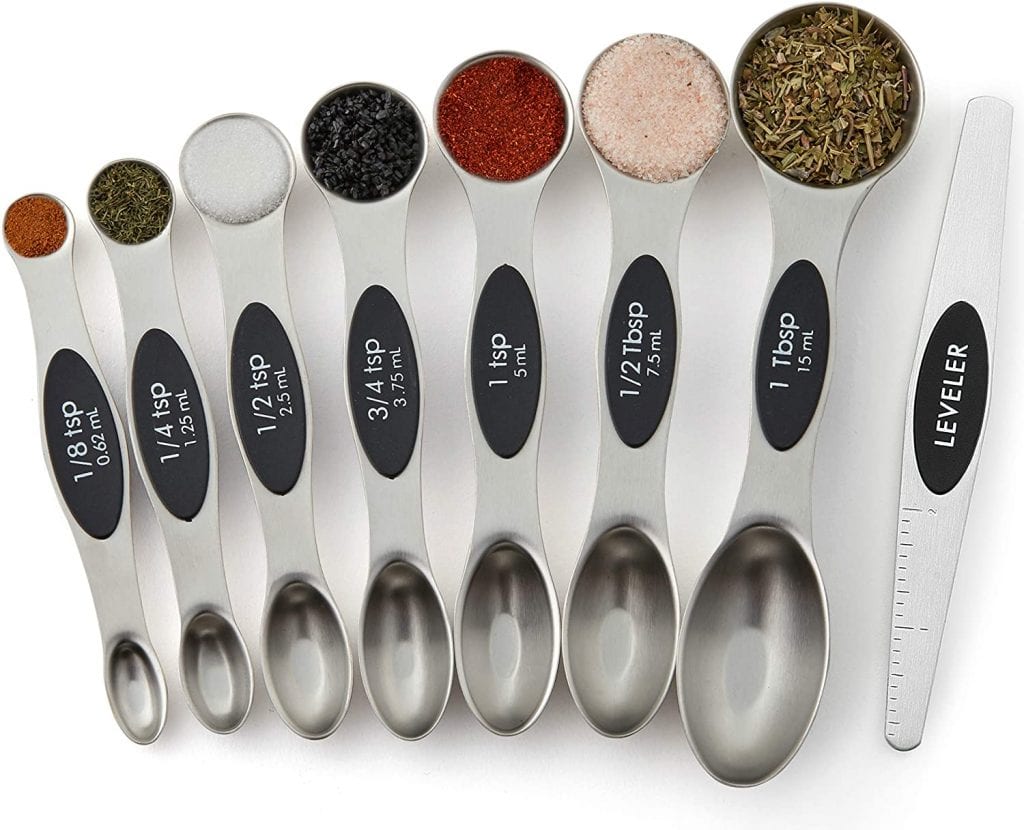 I own a set somewhat similar to this one, but I don't own this one. I may need to purchase it since it includes a 1/2 tablespoon! There are so many cool kitchen tools for a girl to own.
If some of you are new to my Wednesday Boutique of the Week posts, then here are few that you can view. I usually highlight small shops over on Etsy and share things that you wouldn't necessarily find in the big stores.
So here is to another week focusing on cooking and baking.
And what makes me most happy in the kitchen is how most things are pretty organized. My pantry, spices, under the sink area is all pretty streamlined.
When it comes to my kitchen supplies, I'm slowly figuring out which things I love the most about making meals and desserts. You know what I'm talking about, that perfect measuring spoon or the annoying scale you have to calculate the ingredients minus the measuring bowl.
Today's Boutique of the Week, I'm sharing my favorite cooking utensils. For this post, I had to shop mainly on Amazon for most of the items. I hope that is ok with you all.
Drumroll please, let's take a look at the list!
Best Cooking Utensils
*This post contains affiliate links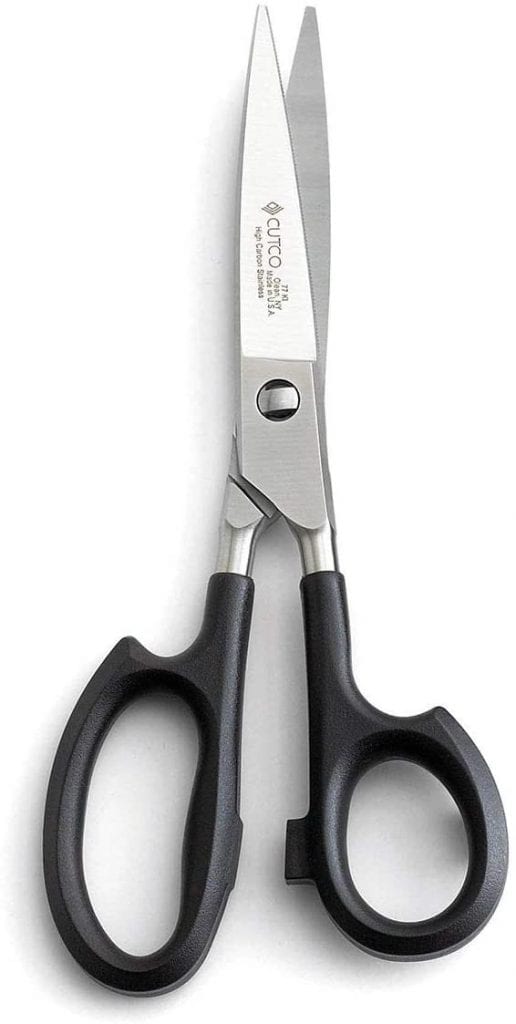 I love this pair of kitchen shears. We have owned them for 15 years and they are still sharp as ever. We reluctantly bought them from a neighbor's teen who was selling them. The price was a little shocking, but since owning them it is one of the most used utensils in our kitchen. I love that it comes apart for easy cleaning.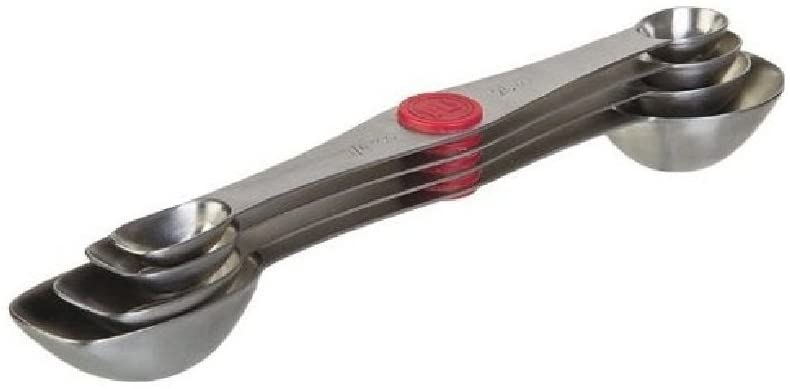 I love these spoons! Not only do you get two spoons in one, but it is also nice that they are separate. So, you can grab one spoon and not have to clean all the ones that are attached to it. Also, they are magnetic and stay stacked together for saving space. I love that they are sturdy and solid, with no warping or bending that will mess up the measurements. And finally, the words for the measurements are etched into the stainless steel, so eventually, the letters aren't tarnished and lost.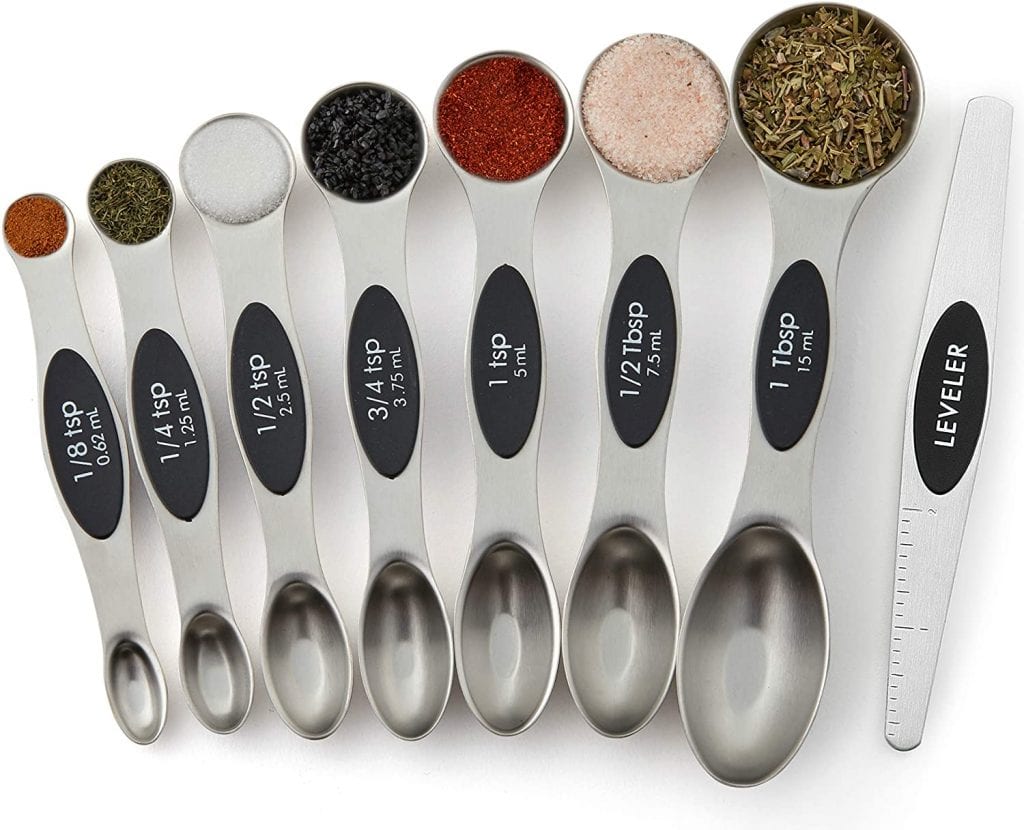 Wow, this set includes 1/8 tsp, 3/4 tsp, and 1/2 tbsp and the leveler. I may have to buy this one too! I feel you can never have too many measuring spoons in a busy kitchen.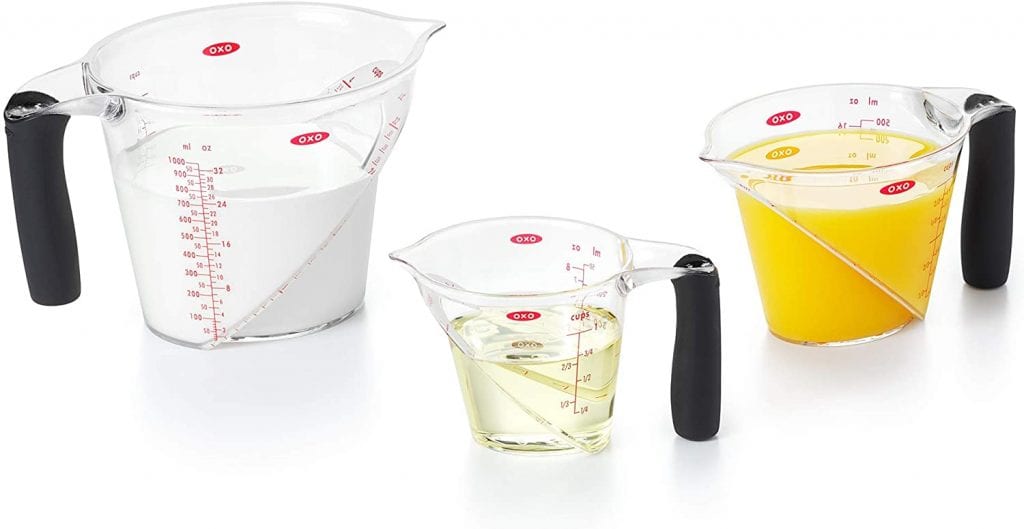 I love my OXO measuring cups. It is nice that they have such detailed measuring increments as well as two places to view the amounts.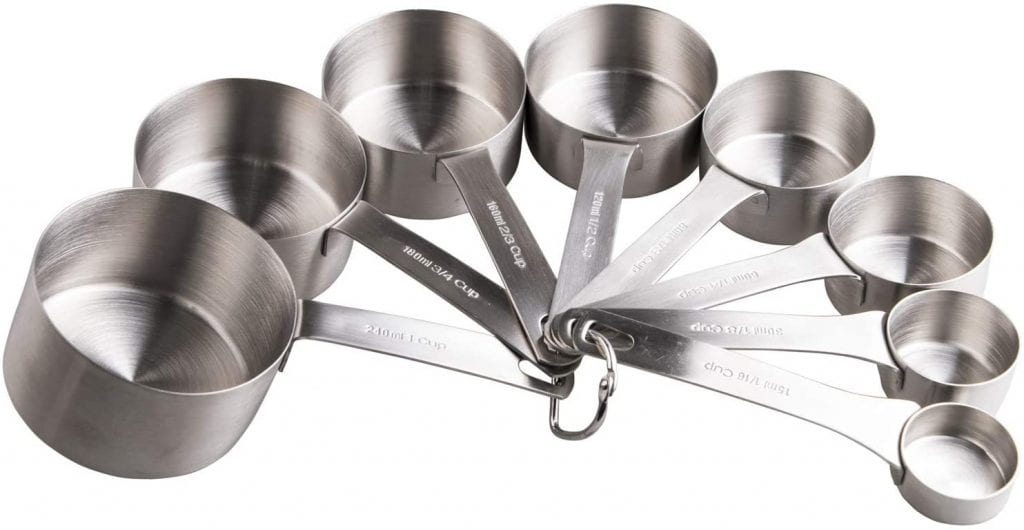 8-Piece Set of Measuring Stainless Steel Cups
I basically have this set, but my old set doesn't have the 1/8 or 1/16 cup. I love that it does contain the 2/3 cup and 3/4 cup which some measuring sets don't include. You can leave them attached or enjoy them singly as well.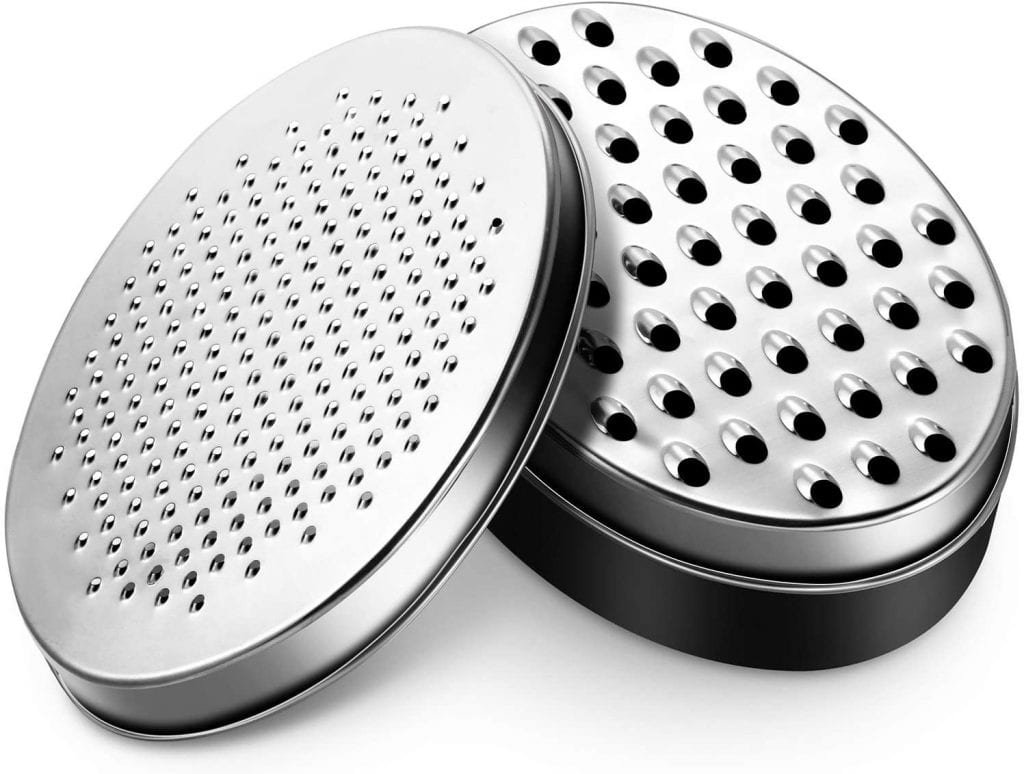 Grater with Food Storage Container
I bought mine at IKEA, but I found this one on Amazon. It is identical to the one that we own. I love that it has a nice container that catches the cheese. This mean less mess as well as storing the excess cheese. It comes with a convenient lid for storage. It's such a great little kitchen gadget that you'll use and love a ton.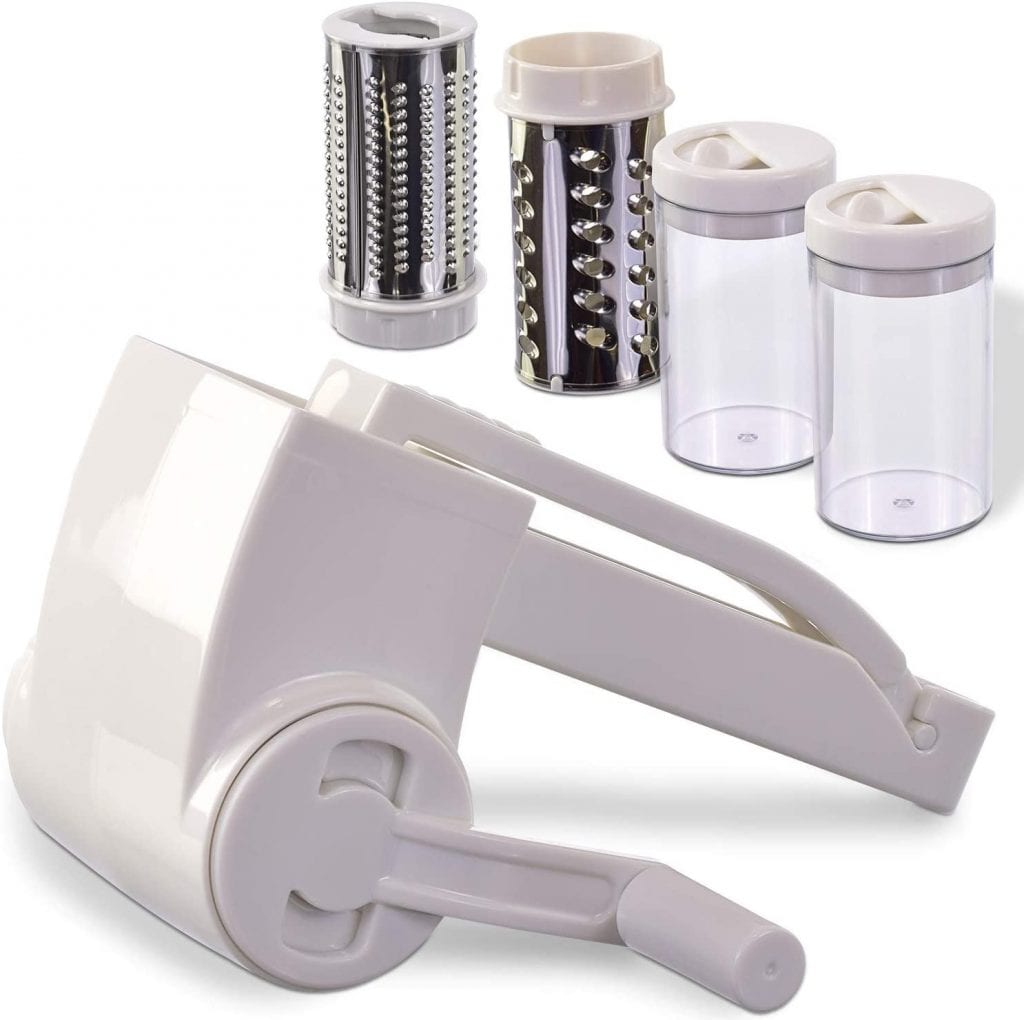 We have one similar to this one and we use it for grating Parmesan cheese onto our pasta dishes. It is nice and handy and such a fun gadget. No need to buy the pre-grated cheese.
Great for Semi Hard to Hard Cheeses
It makes clean & repeatable slices for a great presentation! The patterned design prevents the cheese from sticking to the blade for quick cutting action. Backed by Boska's 10 Year Warranty!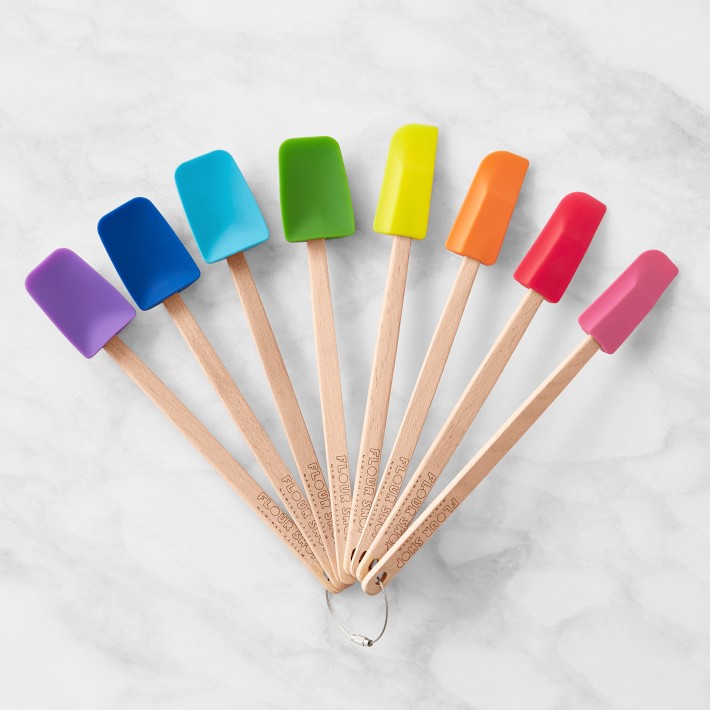 I love these rubber spatulas. I use them more than the bigger ones. They can get into small nooks and crannies. I own three but would love some more since I'm always using them.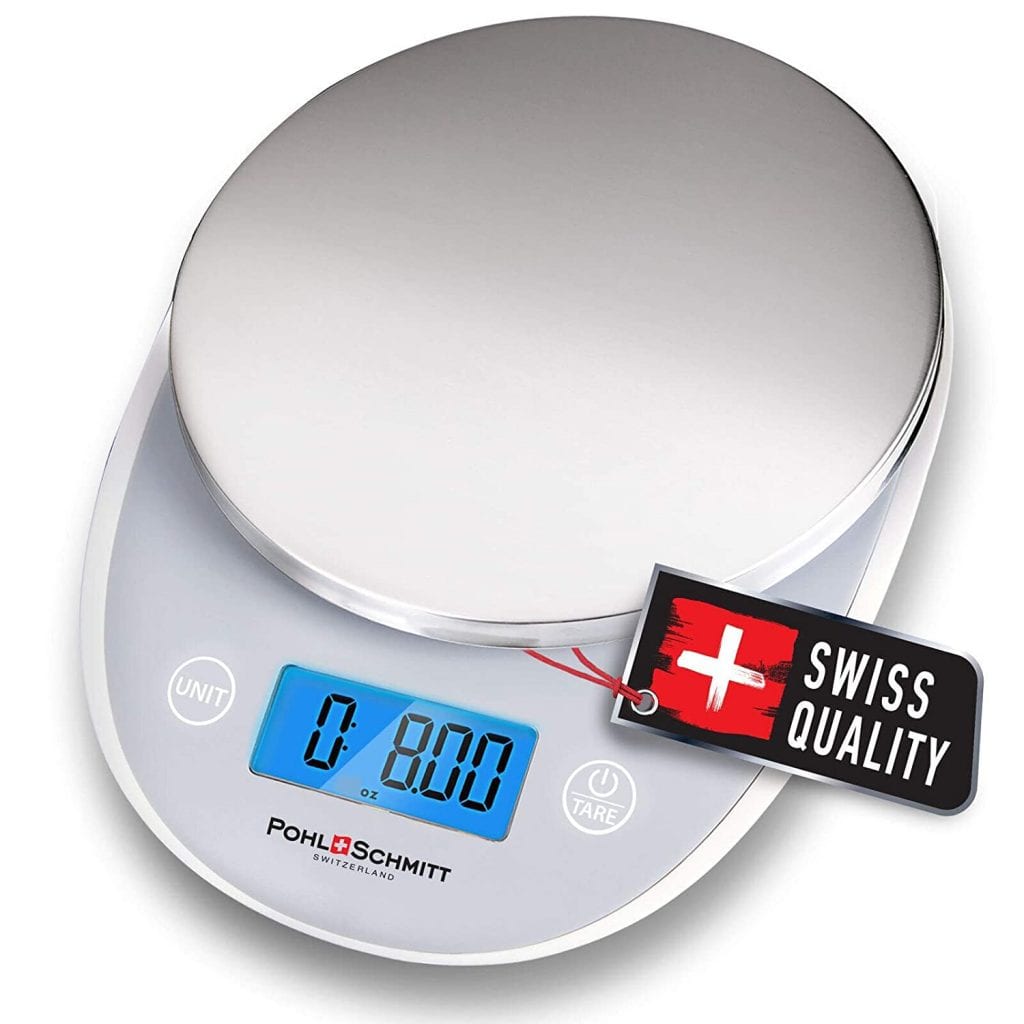 My son broke my old fashion food scale and so he bought me this one. I love it! My baking is so much easier with this scale.
It features multifunctional Measuring – Cooking & baking your favorite meals has never been easier! Prepare and measure your ingredients in no time with our new Pohl + Schmitt digital kitchen scale. With Tare function and Unit button you can easily switch between grams, ounces, pounds, fluid ounces and milliliters.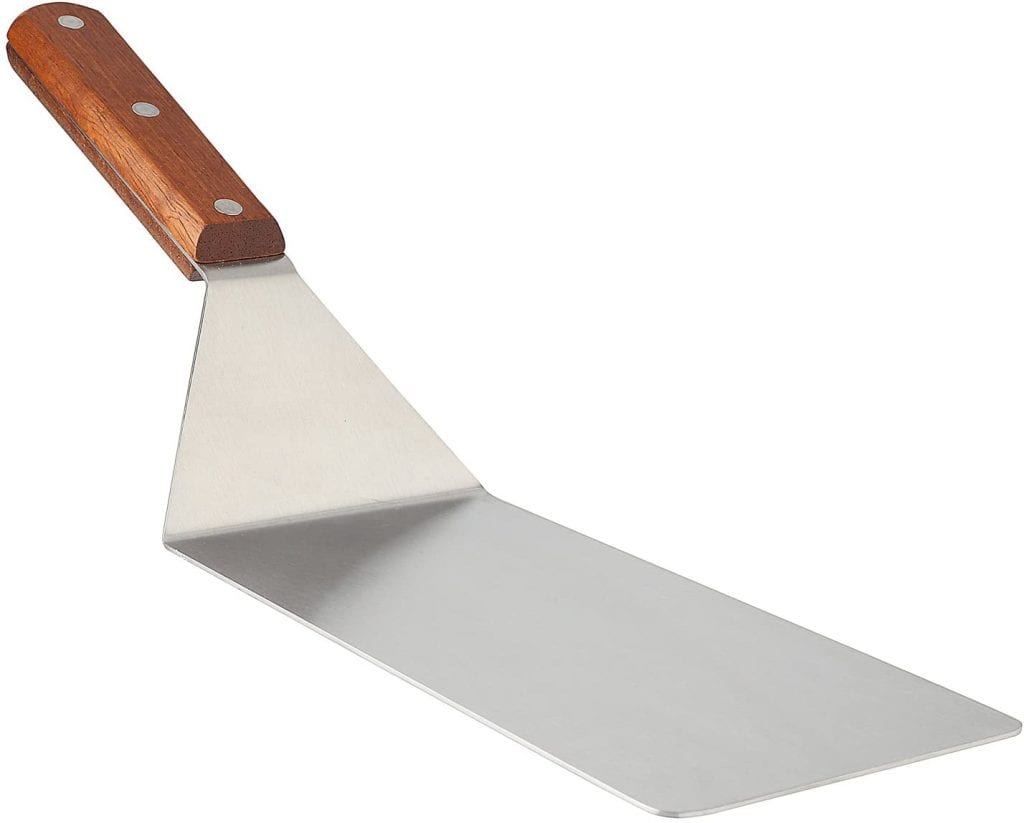 Balanced Stainless Steel Spatula
I bought my spatula from Sur La Table and then they changed the style and it was no longer balanced. So, this looks like a great substitute for the one that I own. I love a spatula that is balanced, this means when you place it down on the counter, it doesn't tip over. This one is balanced too!
This restaurant Griddle spatula spatula is crafted with premium-grade stainless steel that will remain rust-free. The extra strong wooden handle can handle heavy foods like a large piece of meat! Unlike silicone or plastic spatulas that easily bend while flipping your favorite foods

I own an 18/19 Edelstahl soup ladle that is so amazing. This one by Rosle is a close second. The key is to have one that is all one piece of stainless steel. I love that with ours. It stands up in our stockpot, and it doesn't fall into the pot and soup-like my old ladle.

This is the cadillac of peelers. My brother bought one for us and I love it!
This 1.5-Inch-wide blade ideal for peeling long vegetables like carrots. It is made of 18/10 stainless steel with satin finish handle that is sturdy, balanced, comfortable in the hand.
Comes with a lifetime warranty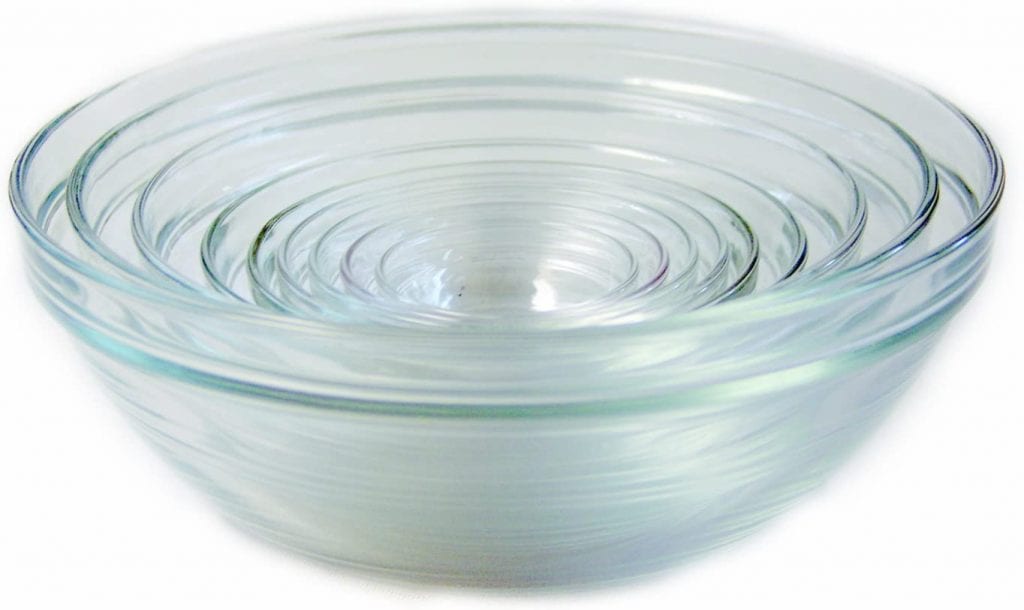 Includes 10 nesting bowls: 1 ounce, 2 ounce, 4 ounce, 6 ounce, 10 ounce, 1/2 quart, 1 quart, 1- 1/2 quart, 2-1/2 quart, 3-1/2 quart. Duralex is 2-1/2 times more resistant to breakage and chipping than normal glass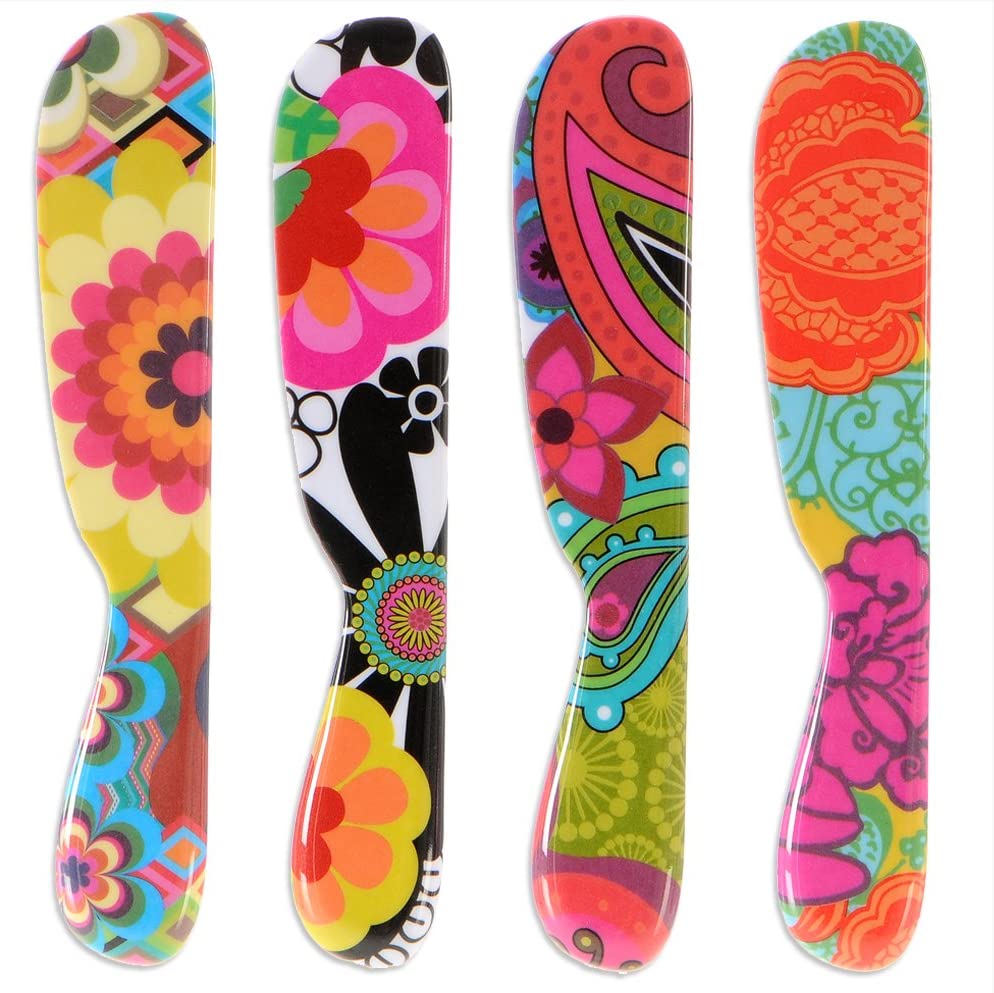 These adorable melamine butter spreaders look fun. I've always owned the plastic ones, but I may have to try these out. My Swedish friend, Elisabeth, swore by the butter spreaders she bought in Sweden. So, the next ones are more like the ones that she uses.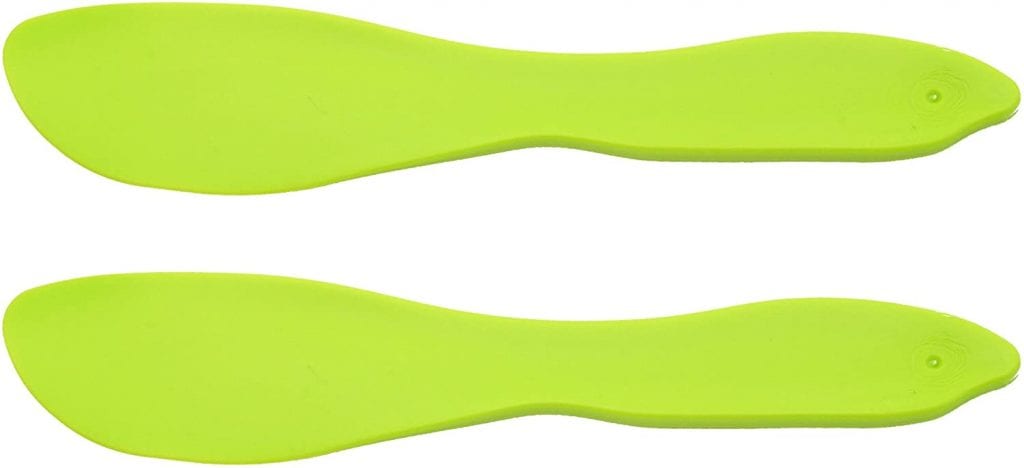 We own a few of these and we love them. This is made by a Swedish company. These butter knives spread jams, jelly, butter and peanut butter so nicely. You'll love them!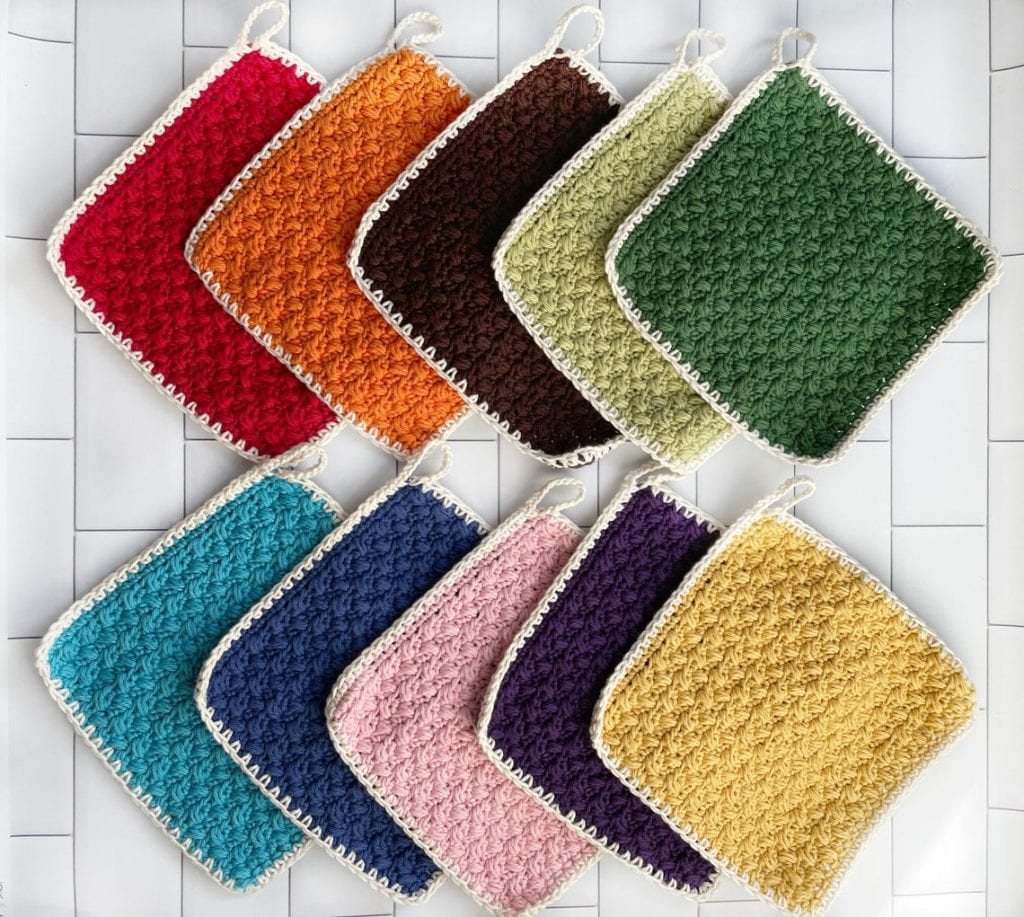 The puff stitch provides style while also providing insulation. Use them as hot pads to protect your table from a hot dish or potholders. I love the colors they come in!
Rolling Pin – one with thickness and the one that leslie gave me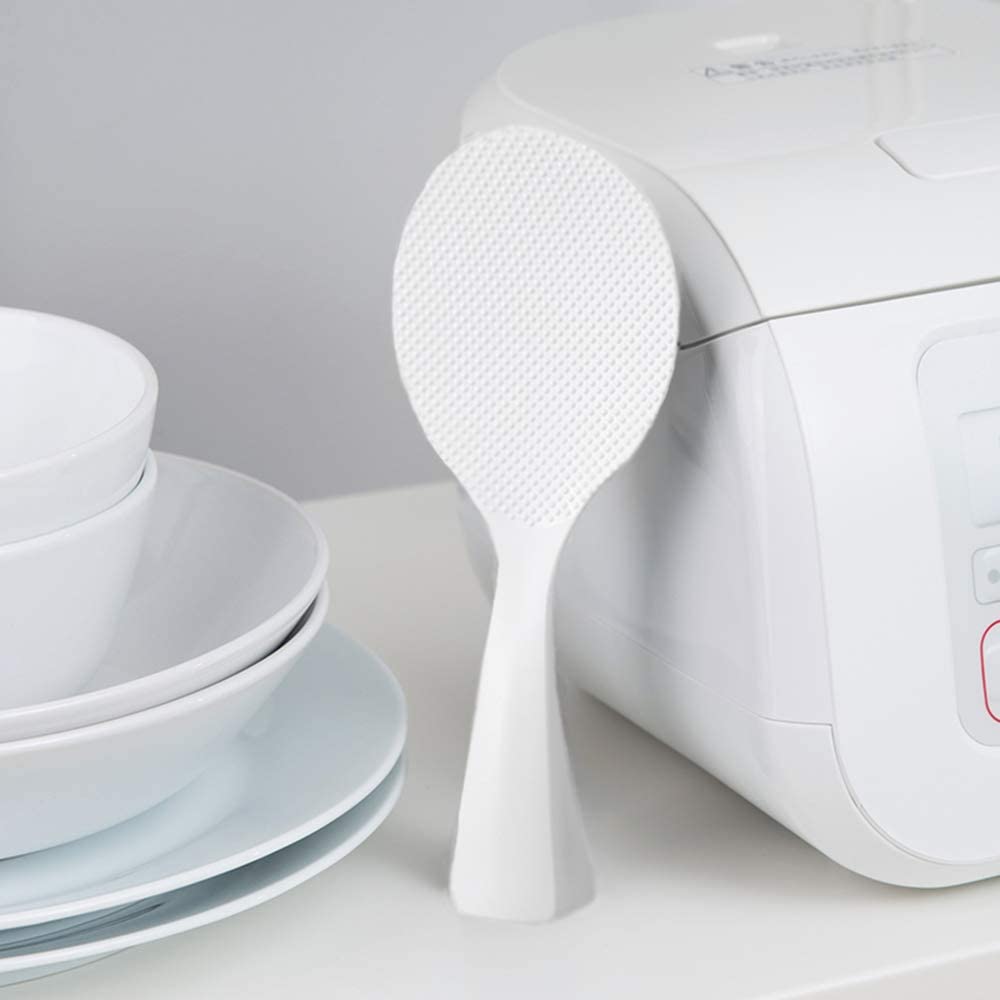 I love these rice paddles since the surface is made so that the rice doesn't stick to it at all. Now they made them even better since they stand up on the counter! Ok, I may need to purchase this standup model!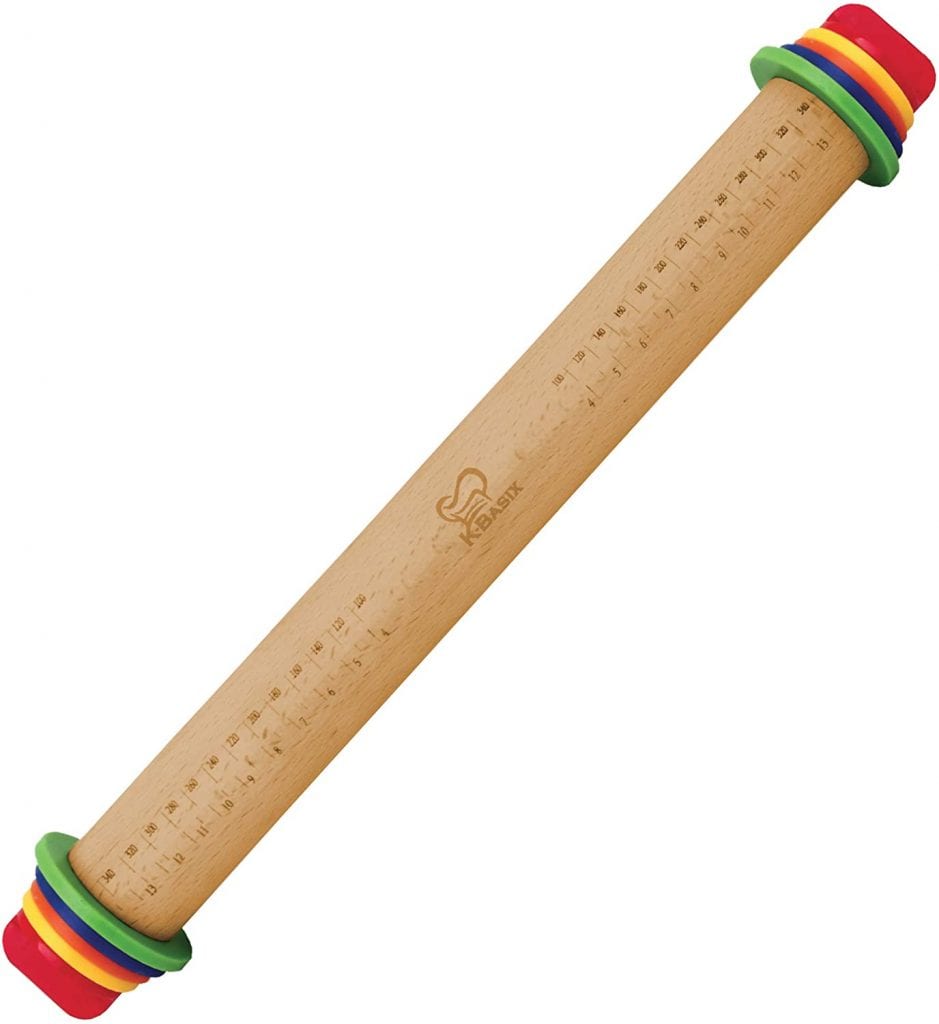 I own this rolling pin, and I love it when I need a specific thickness for my desserts! I also how my dough doesn't stick too much to the rolling pin. It has a somewhat rough surface, but yet dough doesn't stick. My only small issue is that it could be a bit longer. If you go beyond its length, you'll get indentations from the rings in the dough.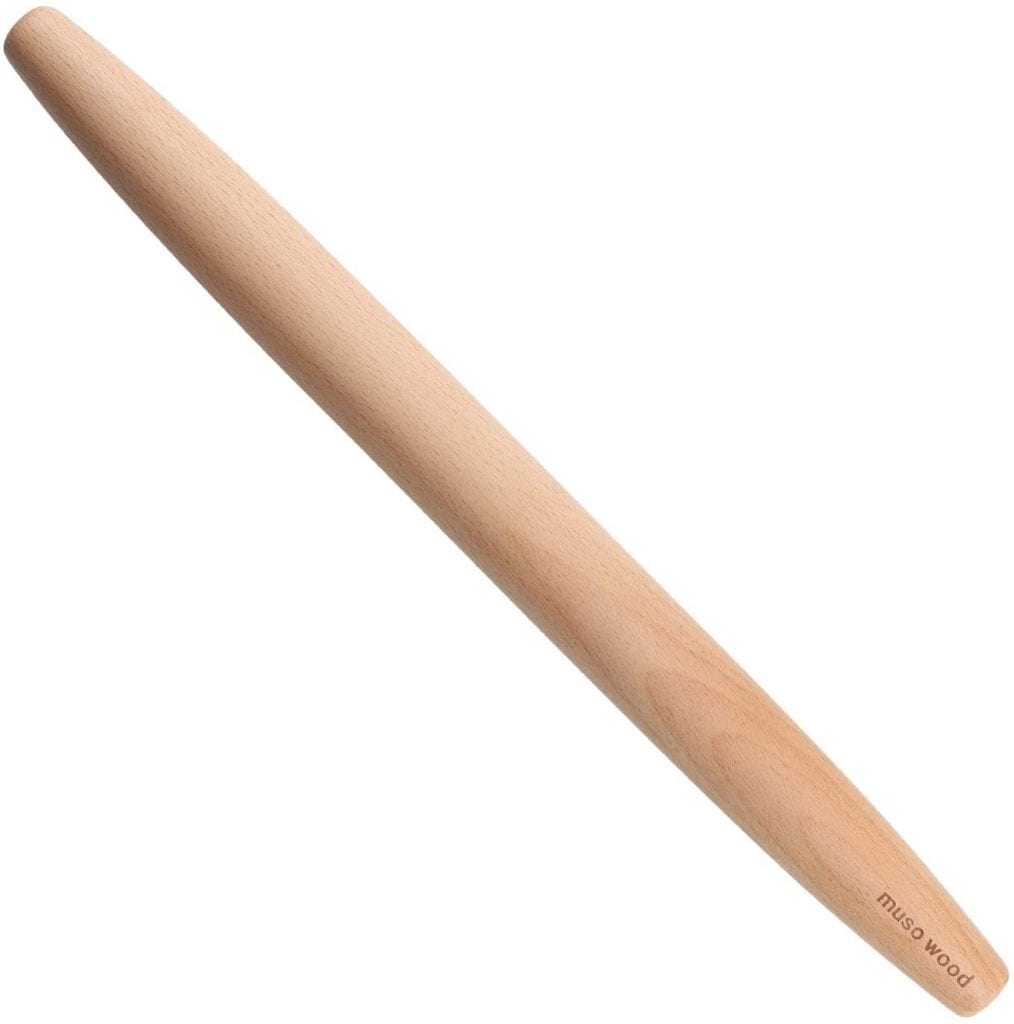 PREMIUM SOLID WOOD-The Rolling pins are all made by selected premium beech wood from Europe that will not easily harbor bacteria or fungus. They are totally safe in use.
If you are wondering about the shape, the tapered pin's bulging middle applies more pressure to the center of the dough, pushing it ahead of the sides, thus creating a circle as the dough is rolled and rotated.
I loved sharing the best cooking utensils with you today! As you probably noticed I enjoy the challenge to find new things that you may have never seen.
Well, until next week's Boutique of the Week!
Cheers,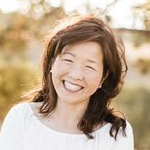 Latest posts by Janine Waite
(see all)