As the days get shorter and the chill sets in, it's a great time to spruce up your home with some home decorating for fall. It's the perfect opportunity to make your space cozier since we spend more time indoors.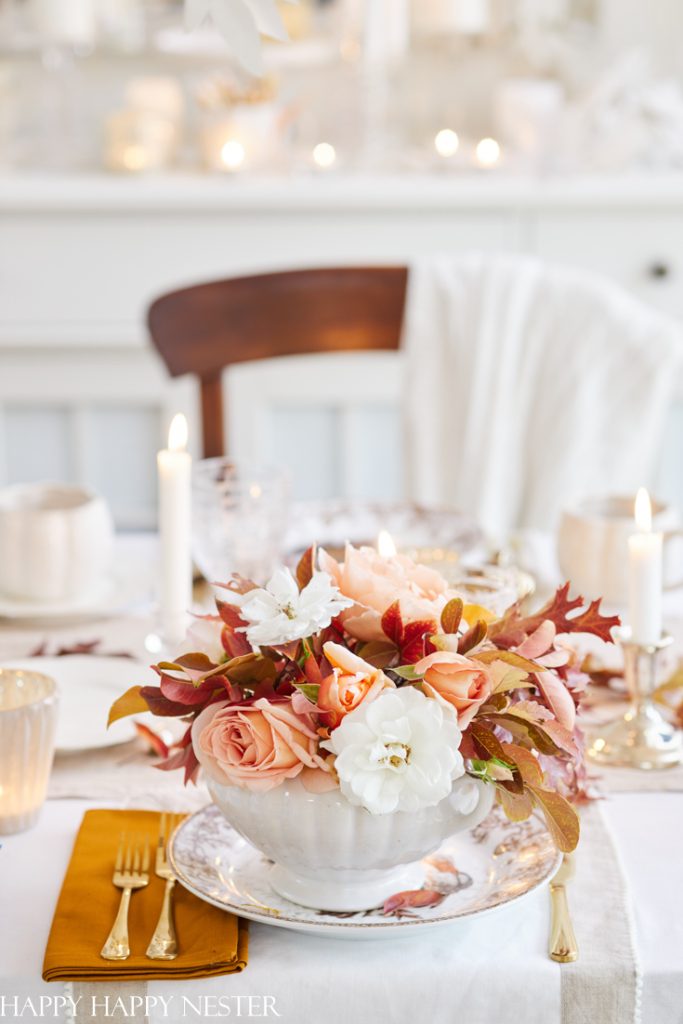 It's that time of the year again – the kids are back to school, and Thanksgiving is just around the corner. With family and friends planning to visit, it's a great idea to get a head start on adding some fall decor pieces to your home. You can create a cozy, inviting home that your family and guests will love.
Saturday Chitchat with Janine – Volume 140
I adore this season, even if the days are shorter. Nature is always my go-to for indoor inspiration. Why not gather some crisp autumn leaves and sprinkle them across your tabletop mantel or even incorporate them into your floral displays?
I love this quote by Jim Bishop,
Autumn carries more gold in its pocket than all the other seasons.
Personal Note from Janine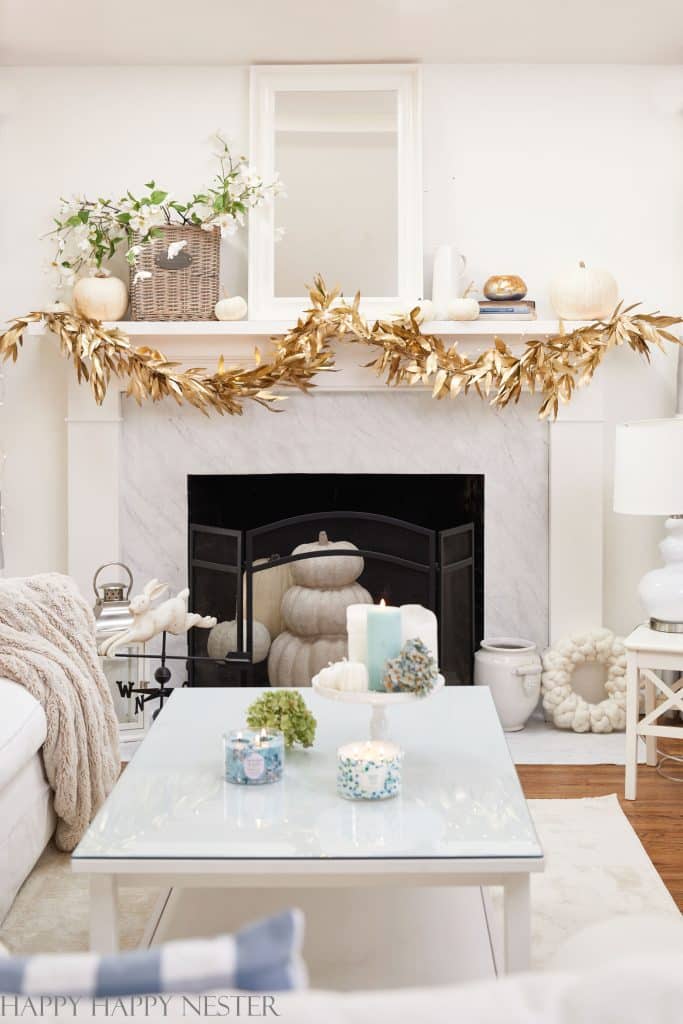 I'm nestled on the left side of the couch and writing his post.
It's one of my cherished spots in our house.
I'm adding cozy, fall-themed touches to our home decor this season.
As we approach the holiday season, it's hard not to notice the holiday decorations that will soon surround us. However, I find the understated elegance of a simple fall decor more appealing.
I always make sure to add garlands to my mantel, bookshelf, or mirrors. They're so easy to use and add a seasonal touch to any space.
So, for this year, sprinkle in a few elements to craft a cozy and cheerful abode.
Pour yourself a toasty beverage, and let's spend time together this weekend!
Cheers,

This Week's Inspiration – Home Decorating for Fall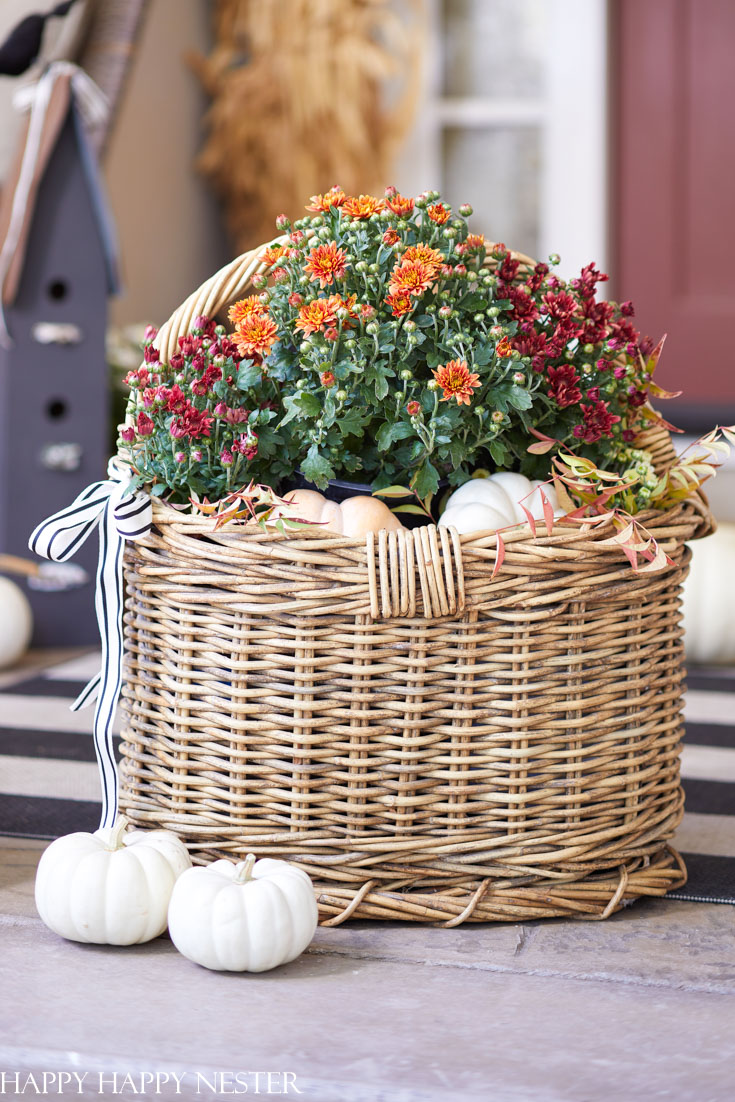 Need help with Fall Mum Display Ideas for Your Front Porch? Check out this post for the best color combinations, arrangements, and containers.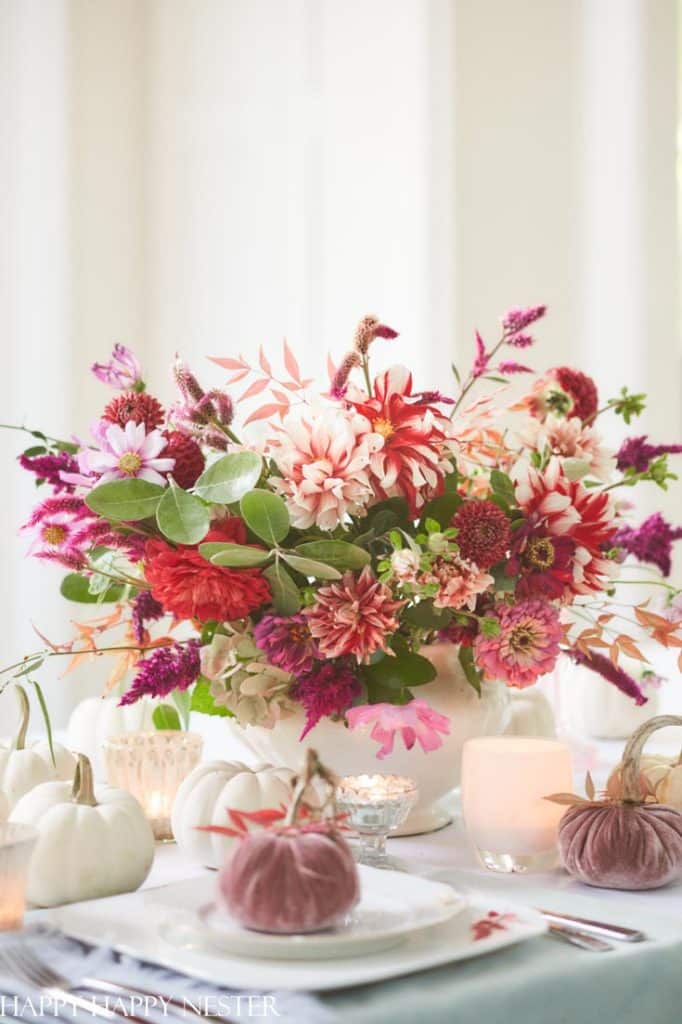 This is a treat to have 21 DIY Fall Centerpiece Ideas all in a post.
All these bloggers are incredibly talented, and their floral arrangements are so creative and fresh. Feel free to check out our creations!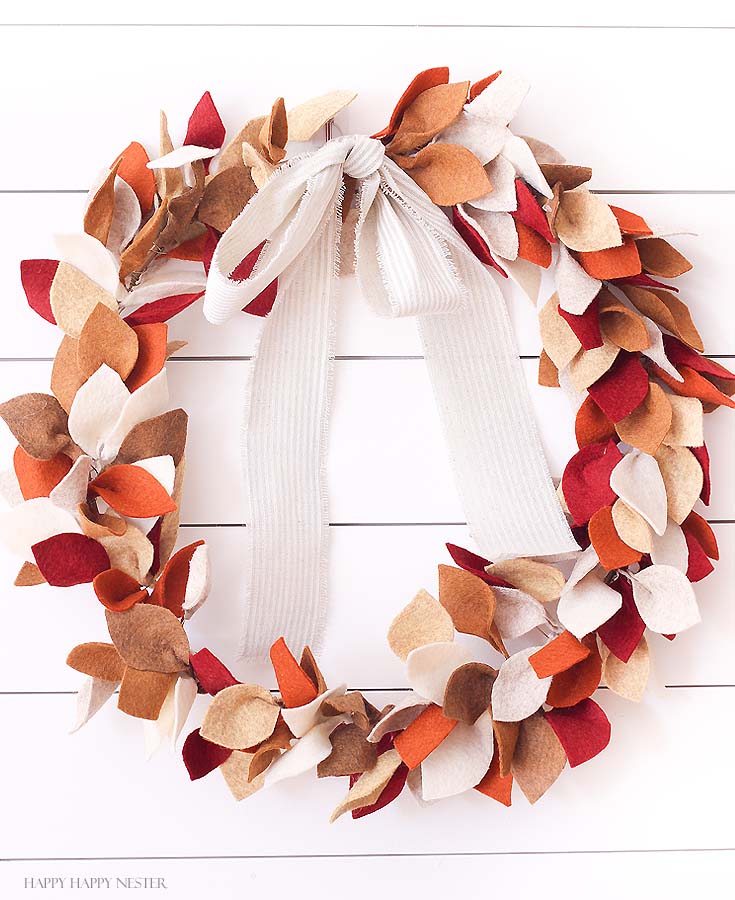 HOW TO MAKE A BEAUTIFUL FELT LEAF WREATH
This wreath draws inspiration from the stunning felt leaf wreaths I've seen on Etsy. Naturally, being a craft enthusiast, I had to fashion my own, especially to tailor it to my favorite fall colors. Crafting this lovely wreath is both delightful and straightforward!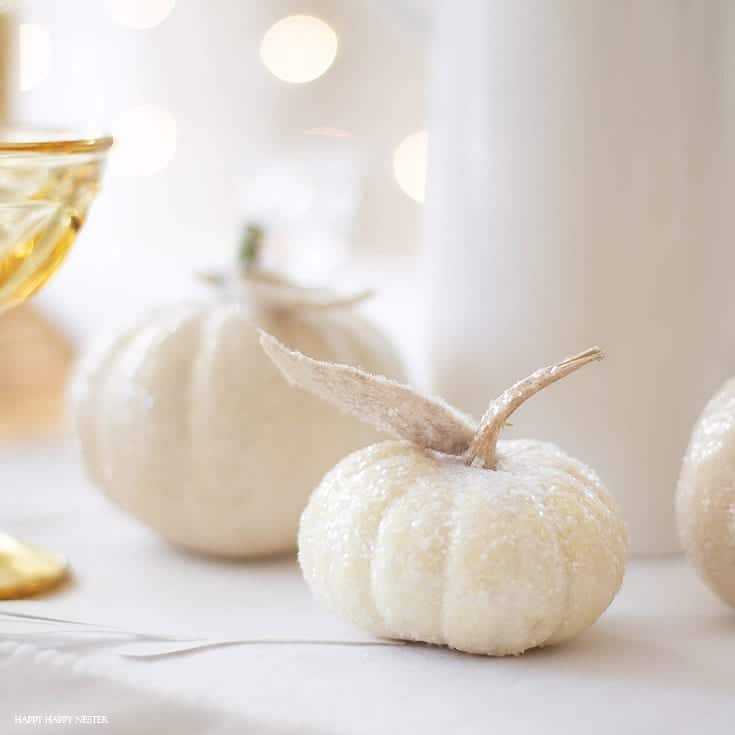 How to make glitter pumpkins is surprisingly easy. Like most of my craft projects, you'll enjoy creating these cute pumpkins. And I promise this project will only take you a couple of minutes. Soon, you will be obsessed with these fun glittery pumpkins, and they will take over your home.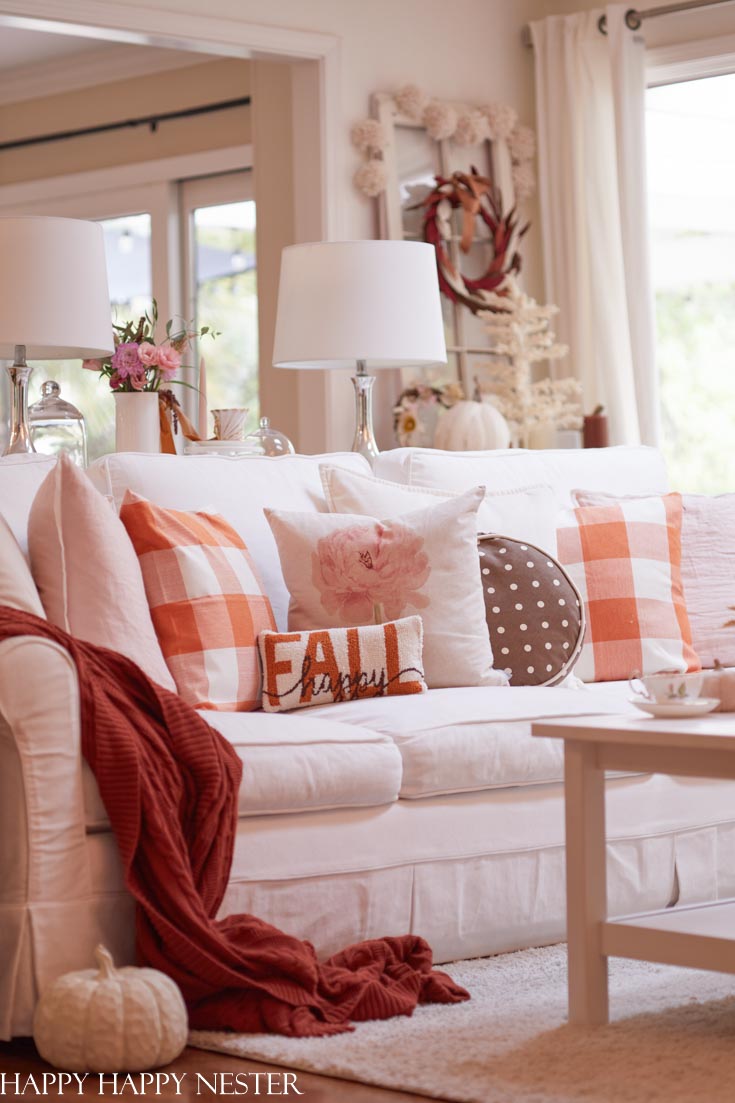 Lately, around the Waite Pad, it's all about Cozy Fall Decor Ideas with Pink and Orange. And if you like nontraditional color combinations for the Autumn, you'll love this fall tour. 
Boutique of the Week – Etsy Fall Pillows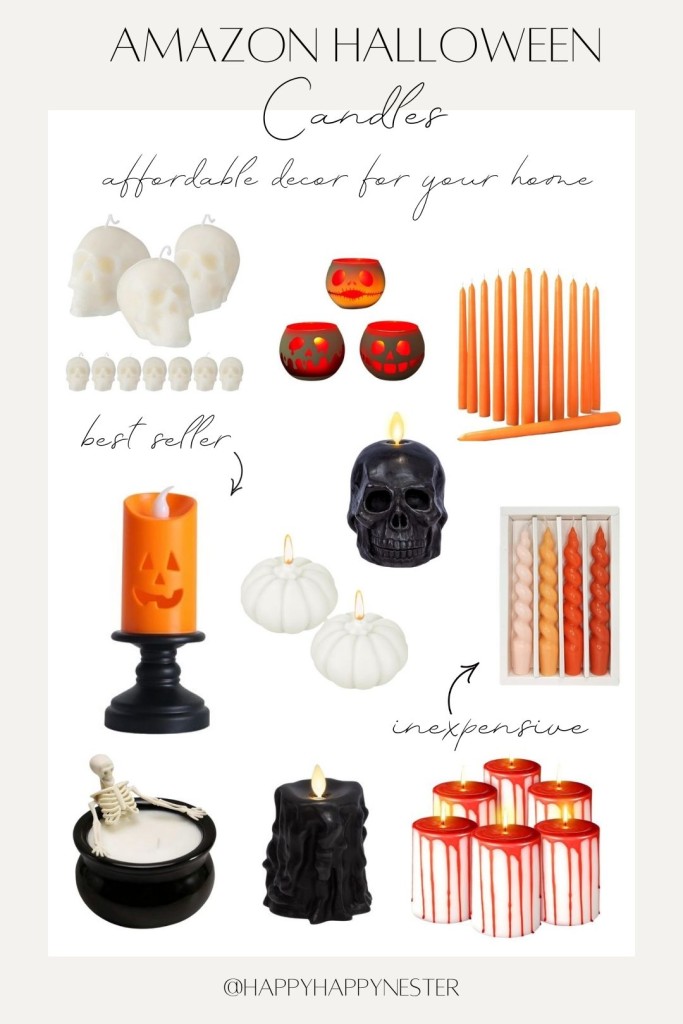 So, if you're all about getting into the spirit of Halloween without emptying your wallet, Amazon is where the party's at!
Make sure to check out this fun collection of candles!
My Favorite Things – Creative Fall Home Decor Ideas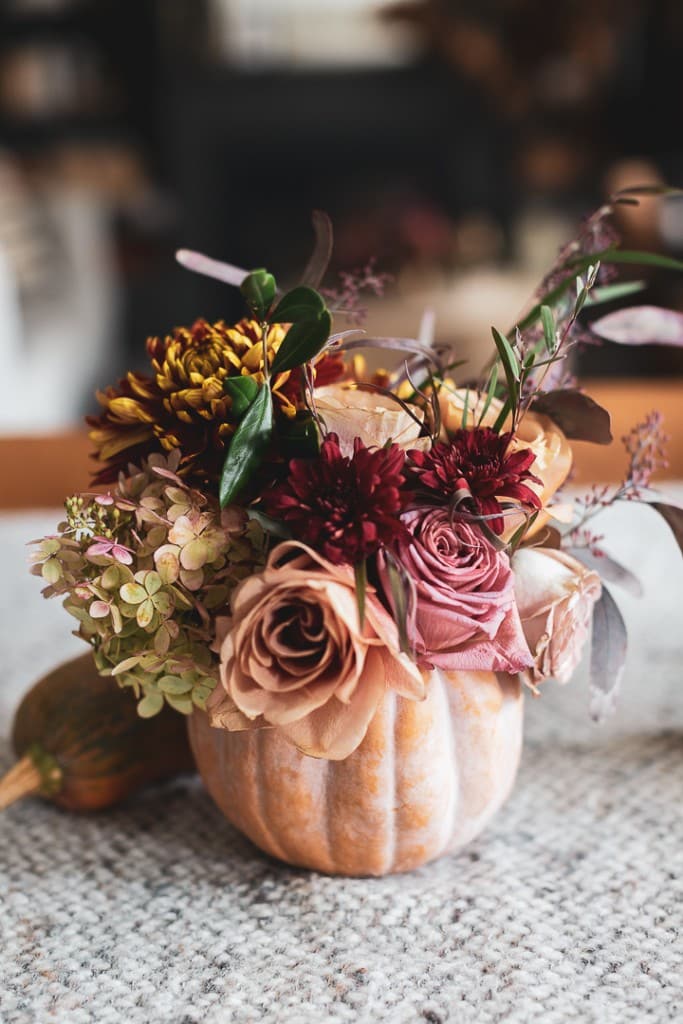 Lucy from Craftberry Bush created this gorgeous pumpkin vase! You can view more of her fall decorations on this blog post.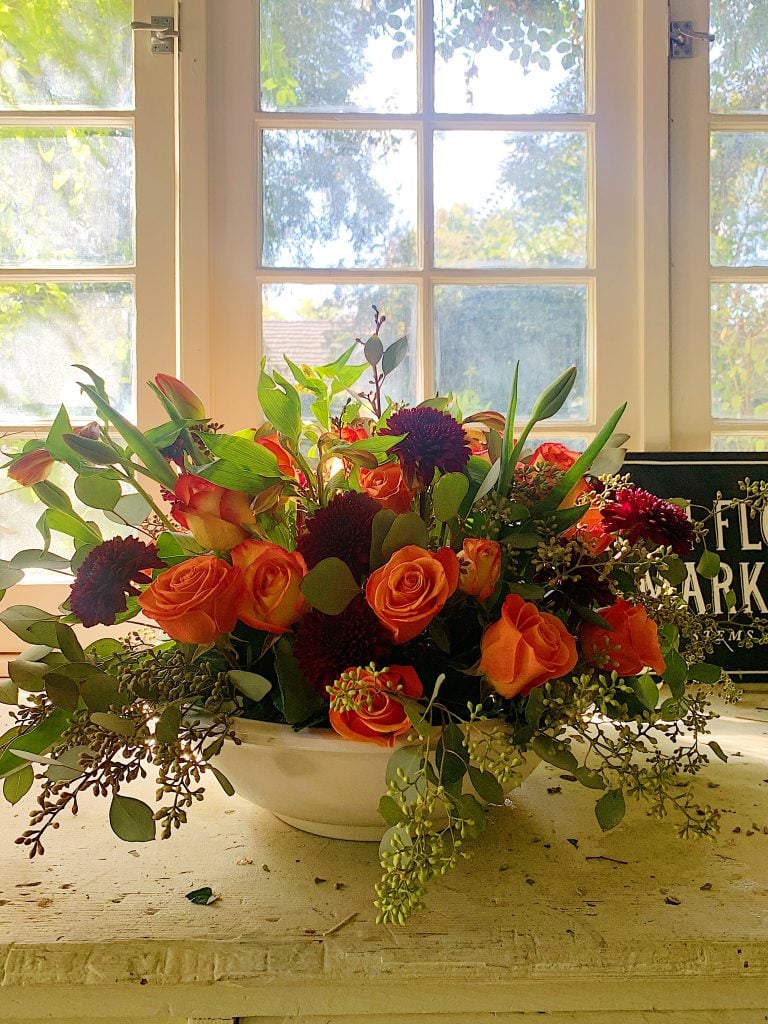 EASY THANKSGIVING FLOWER ARRANGEMENTS
My dear friend, Leslie from My 100 Year Old Home, shared these three Thanksgiving flower arrangements, one fresh, one faux, and one mixed! I think you are going to like the results.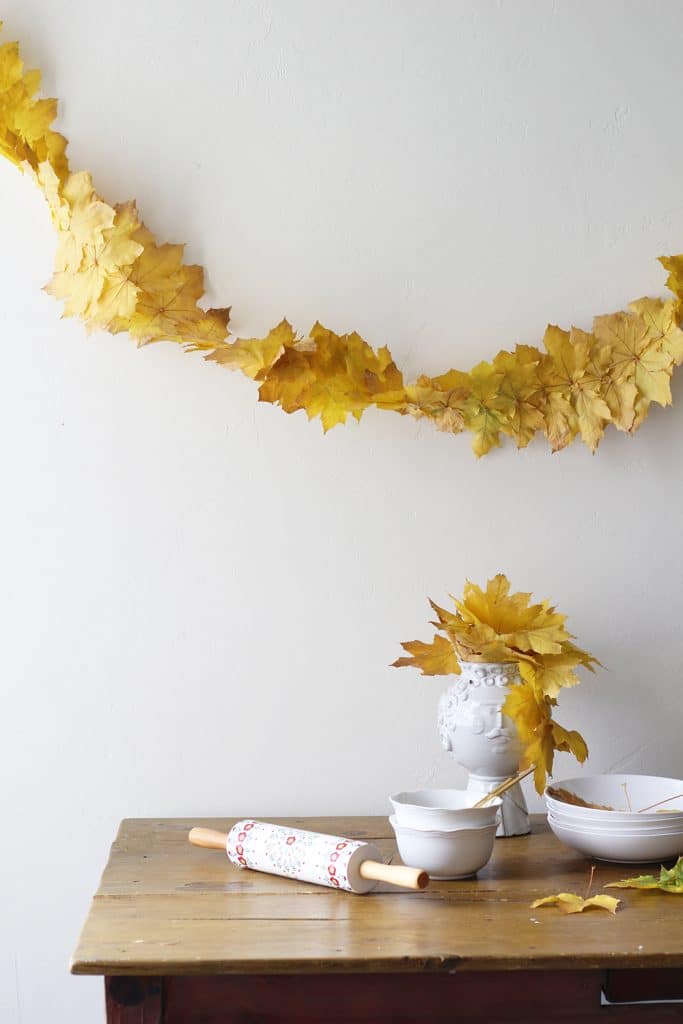 I plan to make this garland that Brittany made at The House That Lars Built. Oh my, this looks so simple to make, and I have a ton of leaves in my front yard!
It's the perfect fall project!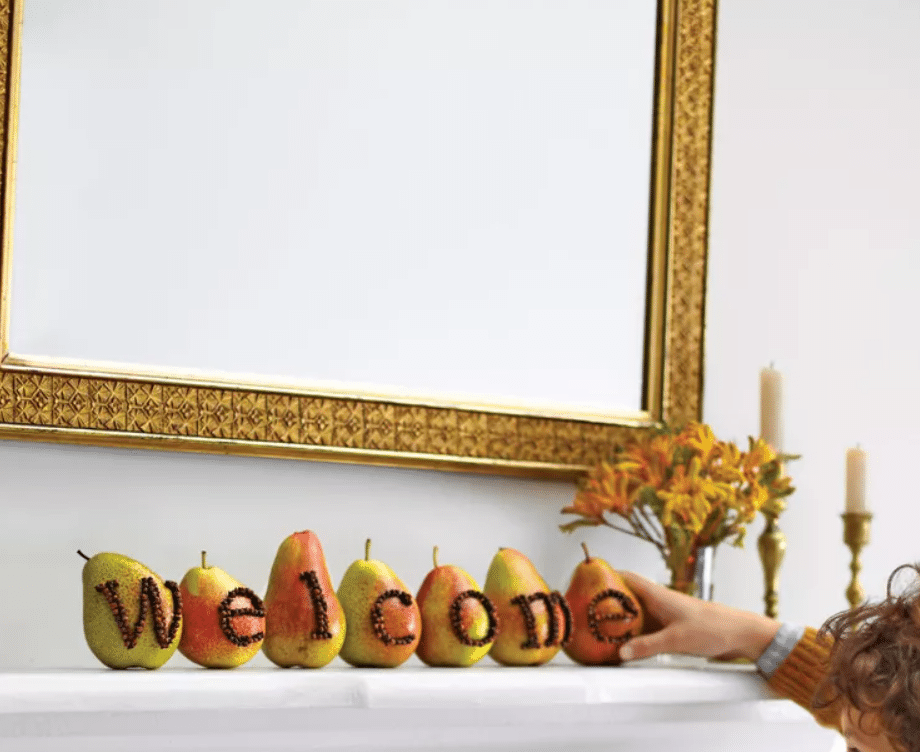 This is from Martha Stewart, and I love how cute these are! Add a few cloves and customize a pretty fall saying!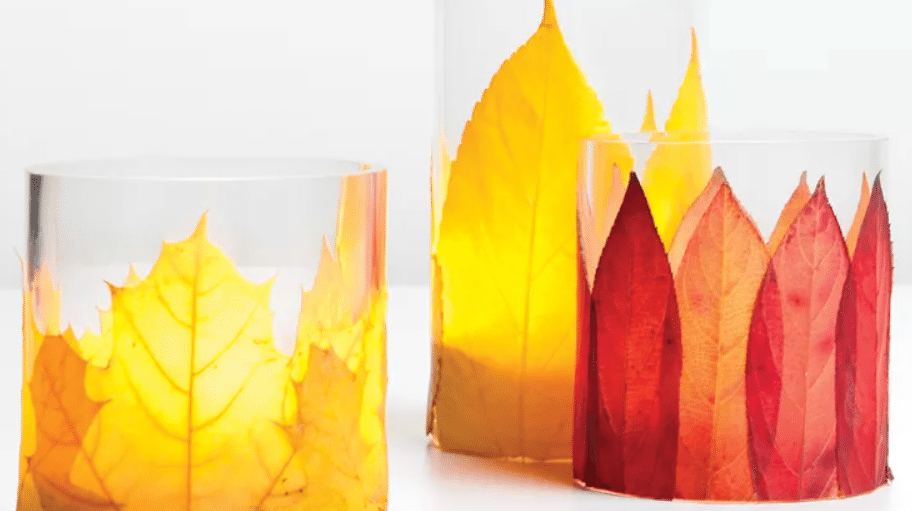 A CUTE SPINOFF OF A FUN KID CRAFT
Yes, I made a wax paper version of this fun craft, but this takes it to another level. So Martha's instructions are here!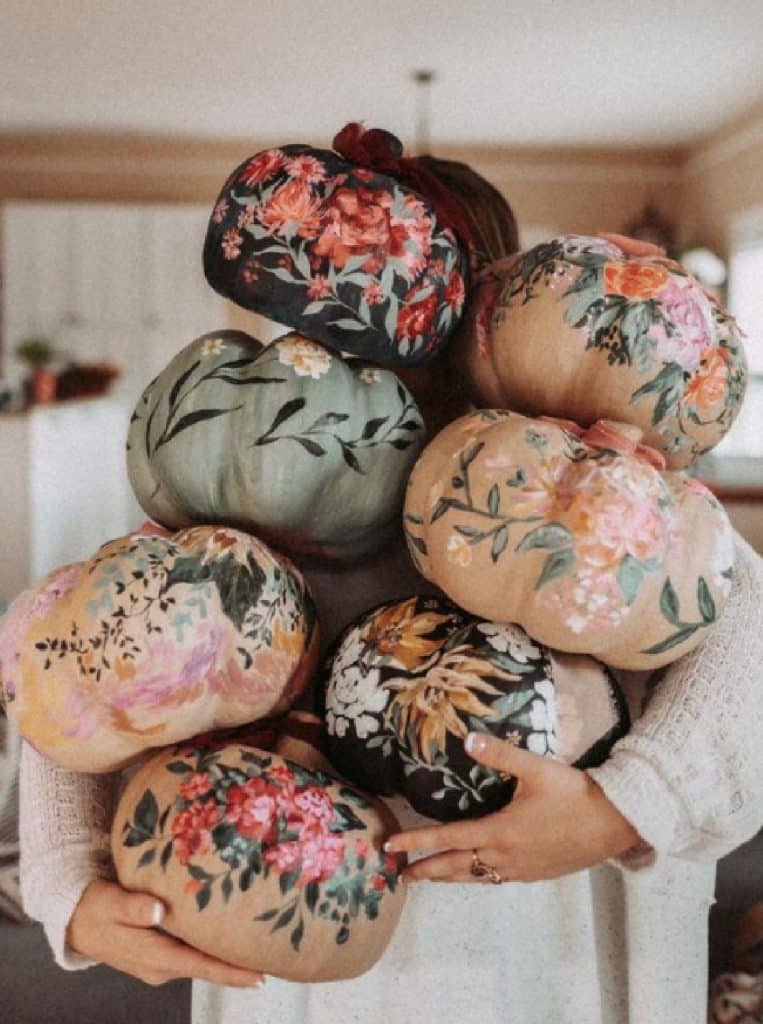 If you've got an artsy side and enjoy painting, give pumpkin painting a shot like Abby did. It turns into such a gorgeous autumn project!
What's Trending On The Blog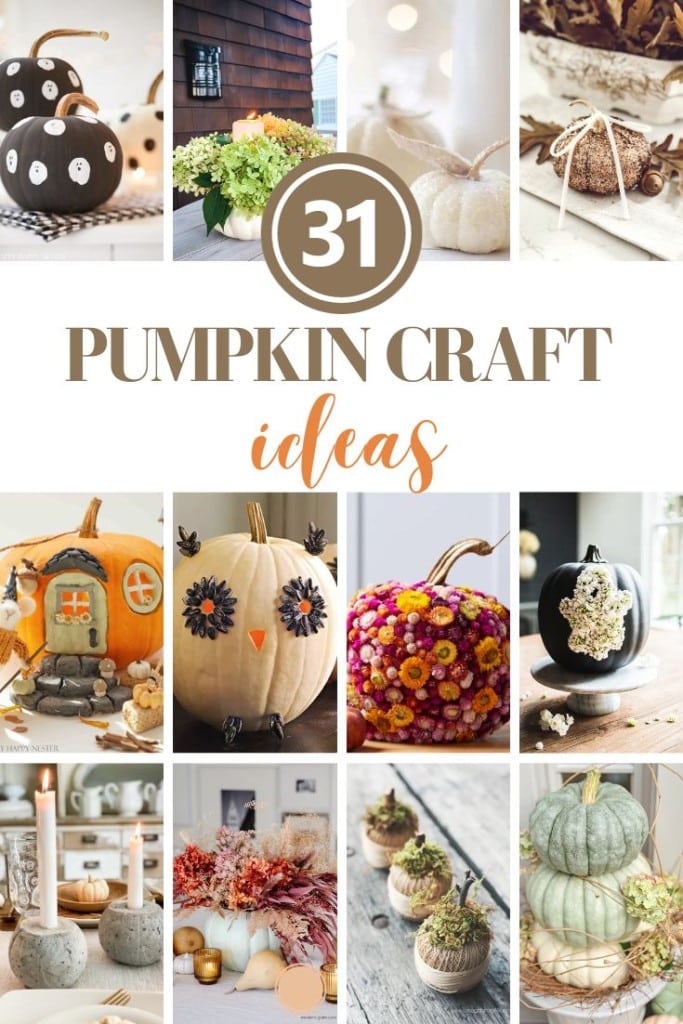 GHOST PAINTED PUMPKINS FOR KIDS
31 PUMPKIN CRAFT IDEAS FOR ADULTS
This latest post is going crazy over on my blog!
These 31 Pumpkin Craft Ideas for adults and children to enjoy. This collection offers a little something for everyone in the family, making it the perfect resource for creating memorable autumn crafts together.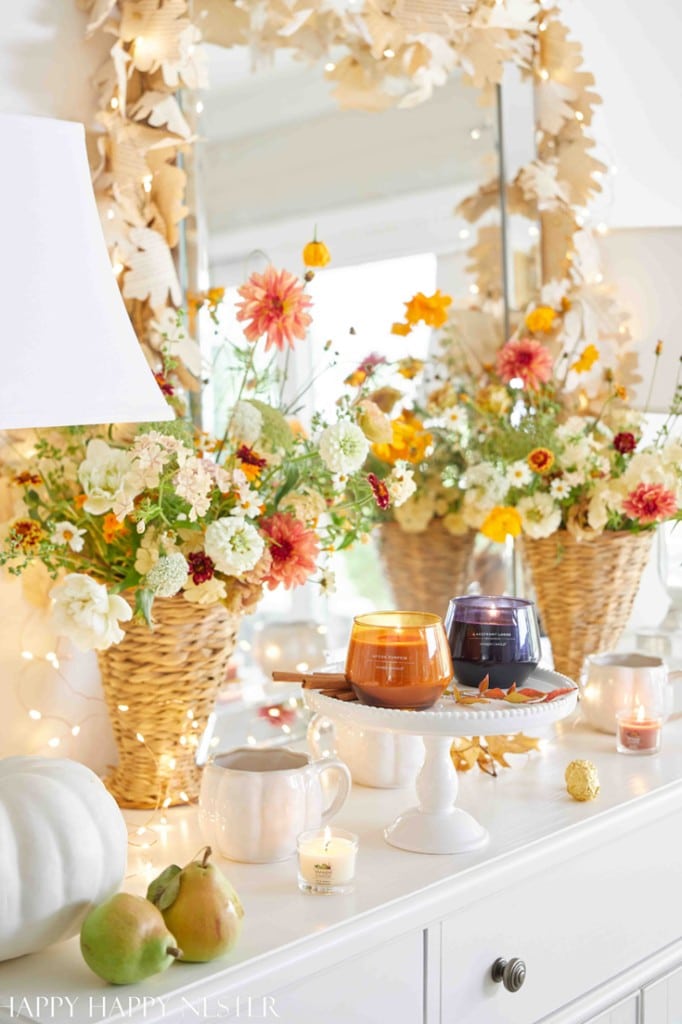 Fall Flower Centerpieces are rich with fall flowers. Autumn has some of the prettiest flowers to add to an arrangement: Dahlias, Chrysanthemums, Zinnias, Sunflowers, and more.
Come take a look at this floral post!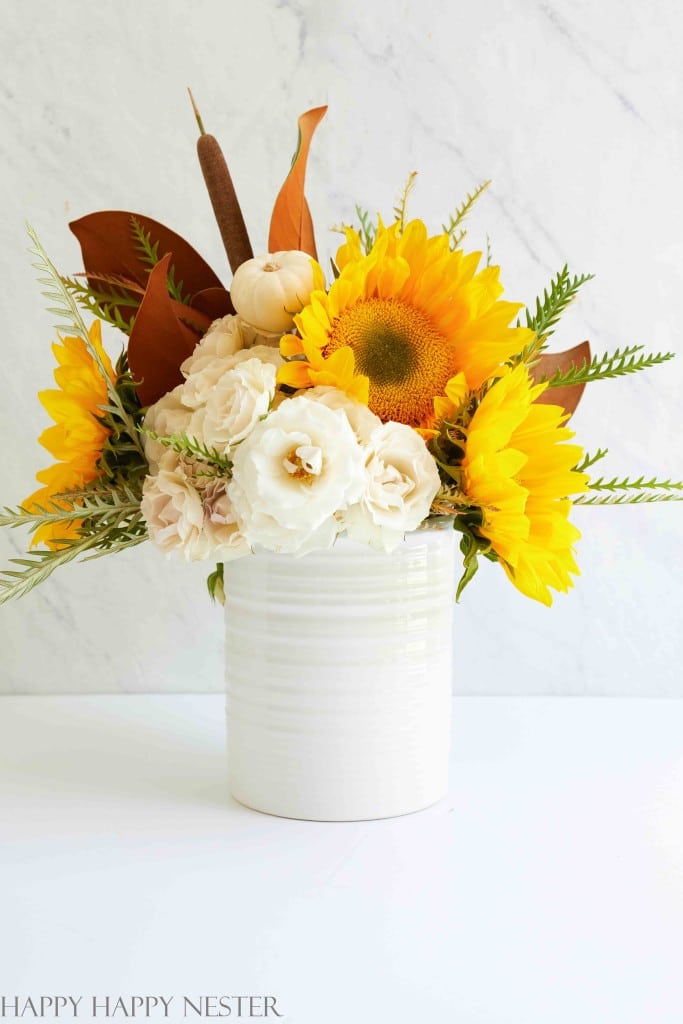 TRADER JOE'S FLOWER ARRANGEMENTS DIY
I have always been a huge fan of flowers. I admire their beauty, whether it's planting blooms, creating bouquets as decor, or picking them from a field! So come on and check out these Trader Joe's Flower Arrangements!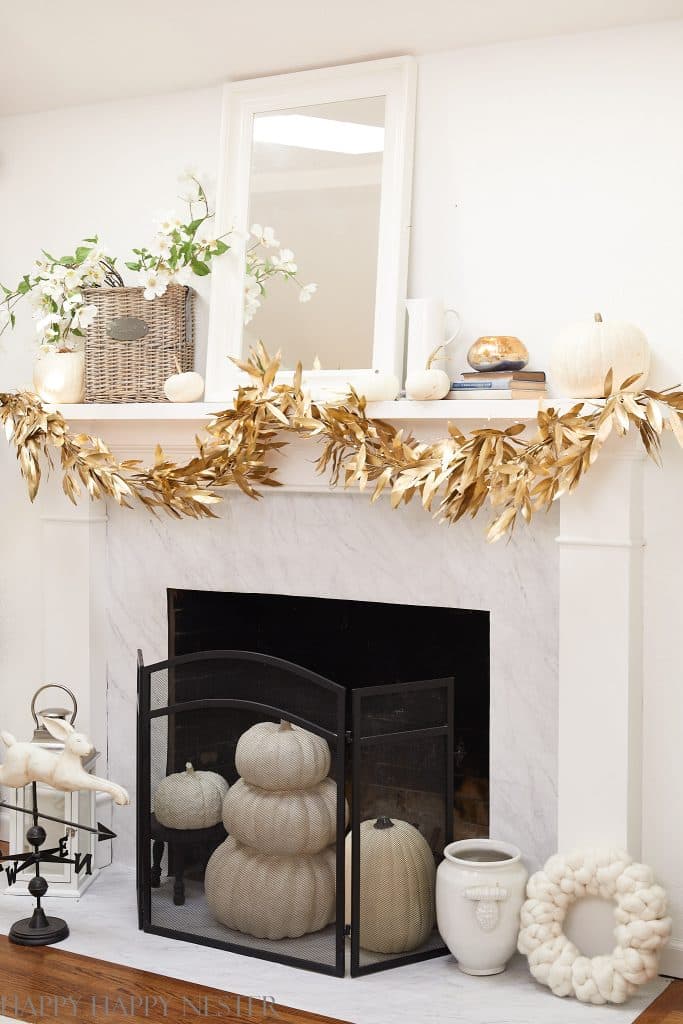 Create your own budget-friendly DIY Fall Garland with this simple project. You can quickly whip up this fall gold leaf garland at home using natural bay leaf branches jazzed up with a touch of gold spray paint.
This Week's Tip – Fall Flower Arrangements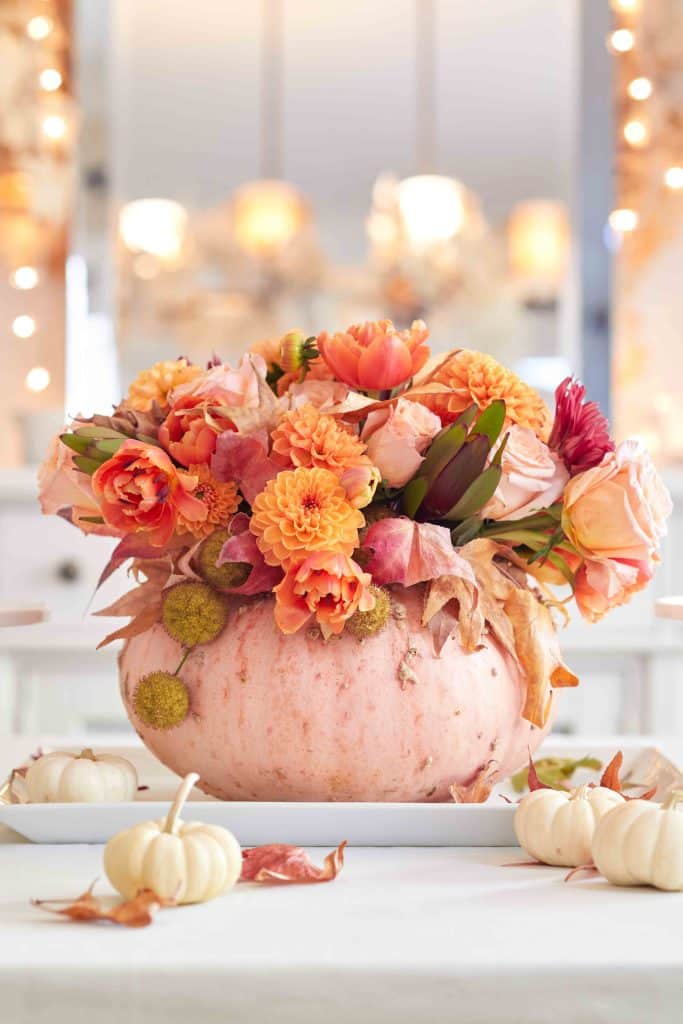 FALL FOLIAGE IN FLOWER ARRANGEMENTS
I love using fall foliage from around my home. It's nice that foraging for foliage is inexpensive and pretty! For me, there's something special about gathering fall foliage from the surroundings of my home. It's a beautiful, affordable way to decorate, and I love how it looks!
I promise to post this beautiful pumpkin vase DIY soon!
Latest Obsession – Fall Candles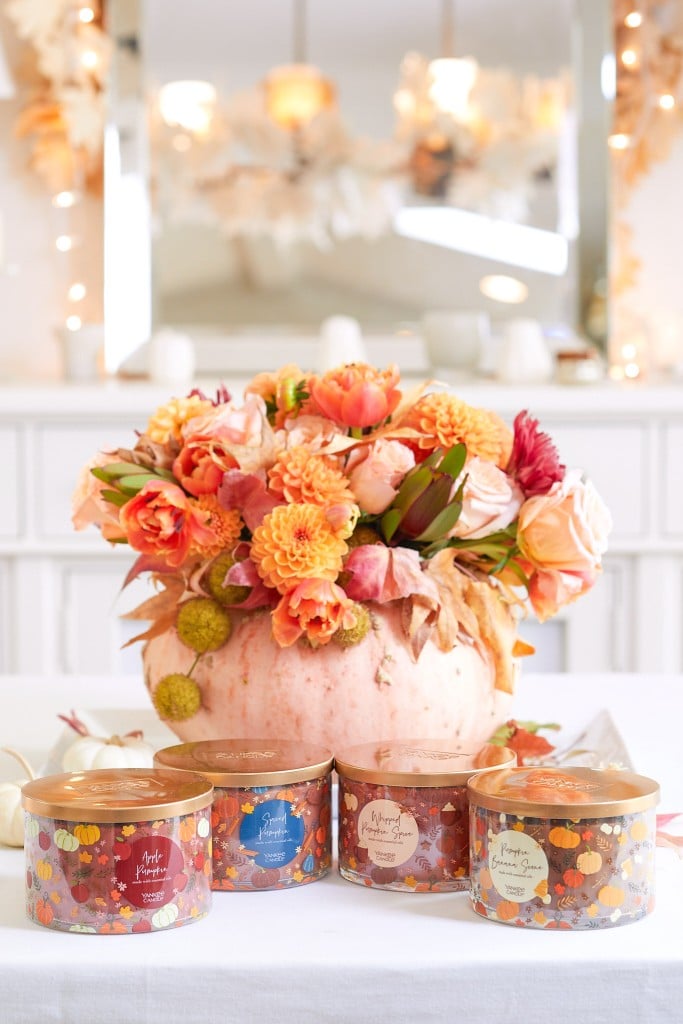 Oh, these pumpkin-scented candles? They're amazing! Whether lit or not, they give off this pumpkin spice vibe that reminds me of autumn baking. Whenever I light one up, it feels like fall has just entered the room!
---
As the leaves change, it's the right time to refresh and warm up your space.Think wreaths, garlands, pumpkins, and all things cozy. Whenever you have some free time this week or weekend, dive into some fun fall home decorating
Cheers!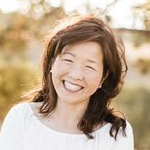 Latest posts by Janine Waite
(see all)