Get a sneak peek of the latest Fall Entertaining over at the Waite House. There you'll find new recipes to serve, fun DIYs, and tons more.
As we begin the fall season, I have tons of ideas for you to try out at your own home, whether it's baking, cooking, crafting, or decorating!
I must admit. I have already started ordering pumpkin-flavored drinks at coffee shops.
I can't help myself. The refreshments are irresistible. Plus, it's about time I move on from fruity, light drinks to pumpkin spice and everything nice!
To get you into the swing of Fall, drink the seasonal options at your local coffee spot, AND check out these Fall entertaining ideas to start the home transition from summer to next season.
Saturday Chitchat with Janine – Volume 80
Happy Saturday,
Hello and happy Fall 🙂 Even with 80-degree temperatures and the sun shining, I am yearning for autumn.
There's nothing better than snuggling by the fire watching our current tv show with some popcorn and something sweet.
If we're both excited for Fall, you'll love today's post if we're on the same page.
Without further to do, here are Fall entertaining ideas from my home to yours.
Personal Note from Janine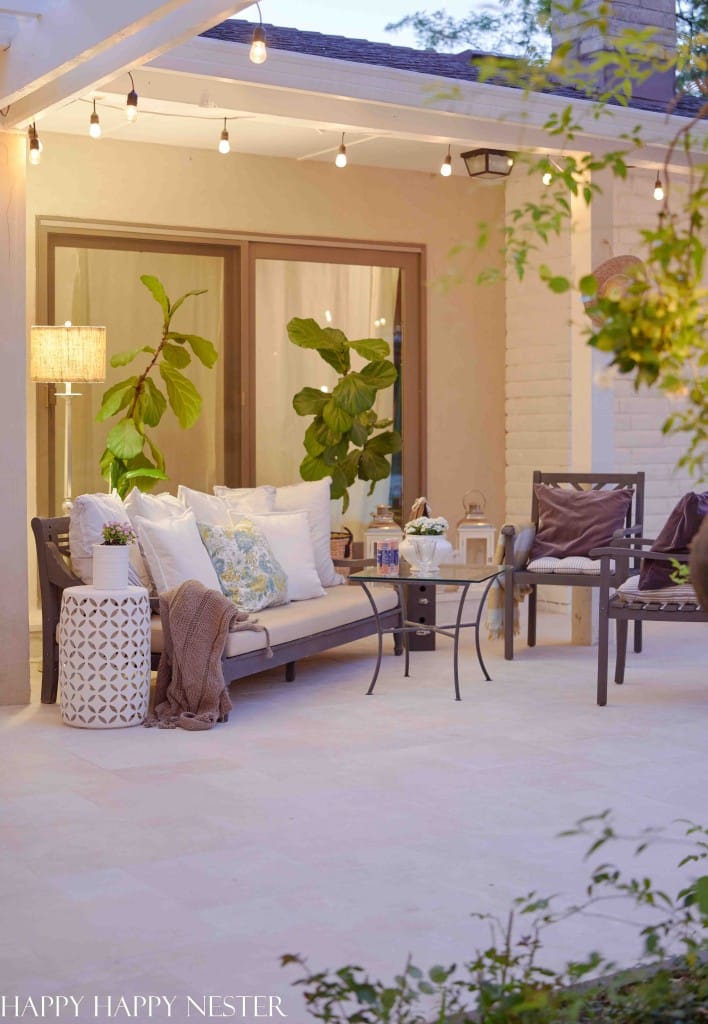 A couple of weeks ago, I hosted my niece and her family.
It was so fun to have guests at our home once again. It's been a while since we had any friends or family over to our house.
We had a blast enjoying long dinners out on our patio. We also enjoyed getting to know their one-year-old daughter! And this is the spot where we hung out with her while coloring, playing with bubbles, and listening to lots of CocoMelon music.
This little visit gave me a taste of entertaining and I hope to host a few dinners at the end of the month.
My motto these days, is to enjoy the last days of summer and have friends and family if you can.
Have a lovely fun weekend!
This Week's Inspiration – Fall Entertaining
Beer Can Glass Designs (Cricut Machine)
These Beer Can Glass Designs are popular over on TikTok and Pinterest.
I created a fun fall version that is easy to make if you own a Cricut machine. This pumpkin design is perfect for the upcoming fall season!
A Fall Charcuterie Board is a beautiful blend of chocolates, cheeses, maple cookies, and more.
Choose a theme and make the elements pleasing to the eye, and it will impress friends and family members!
Farmhouse Fall Centerpiece DIY
Here's an unusual twist on a Farmhouse Fall Centerpiece. This gorgeous bouquet includes a gorgeous rich color of purple flowers.
I'll show how I designed this floral arrangement step-by-step!
Need help with Fall Mum Display Ideas for Your Front Porch? Check out this post for the best color combinations, arrangements, and containers.
This unique DIY Fall Leaf Wreath is made of pretty plaid flannel fabric. Place the leaves on a grapevine wreath and add it to your fall home decor.
Halloween Candy Charcuterie Board
Who can't resist a fun Halloween Candy Charcuterie Board? Candy is my soft spot, and I love to nibble a bite or two, so making a candy tray was an easy project.
Also, you'll be happy to know that this ghost tray is easy to assemble and decorate, and the results are super cute!
Check out these Oreo Halloween Treat Ideas to create spooky yet scrumptious desserts to share with family and friends during this festive season!
Here you'll find some simple, goodies to create that will have you howling at midnight like a wolf!
This DIY Halloween candle craft is perfect for Fall entertaining! It's a simple creation that will wow your friends and family at a party.
Harry Potter Floating Candles DIY
If you love the movie with Harry Potter Floating Candles, then you'll want to try this easy DIY project.
I promise that I found the easiest way to get these spooky candles floating on your front porch or Halloween home.
Boutique of the Week – Fall Charcuterie Boards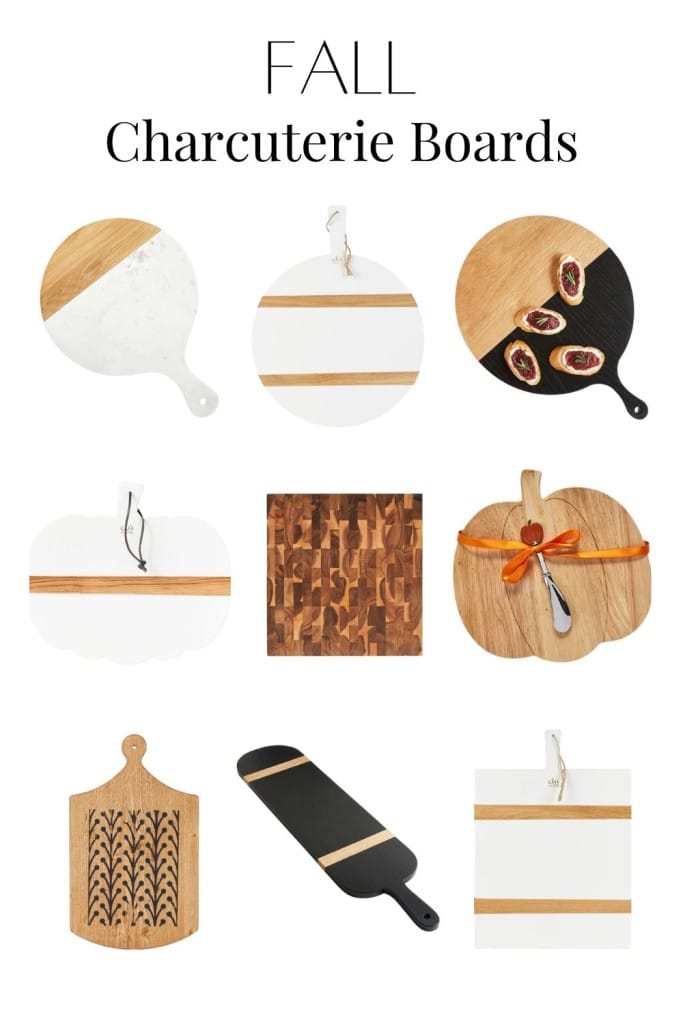 To start decorating for autumn, here are fall charcuterie boards to help inspire you to create simple, mouthwatering snacks, meals, or treats for every party, event, or holiday!
The new season is around the corner, so it's best to start looking at this collection of Fall Charcuterie Boards.
My Favorite Things – Fall Entertaining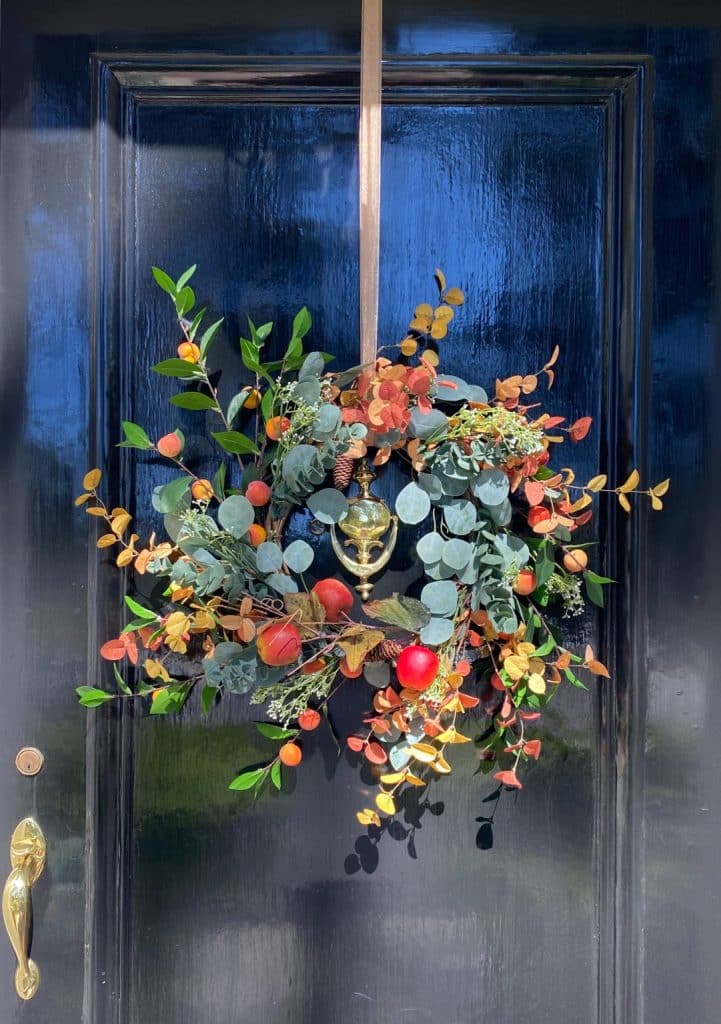 Easy Fall Thanksgiving Wreath DIY
Are you looking for a Fall or Thanksgiving wreath that is easy on the eyes and on your wallet? Look no further. This is so easy! Check out Leslie's creation.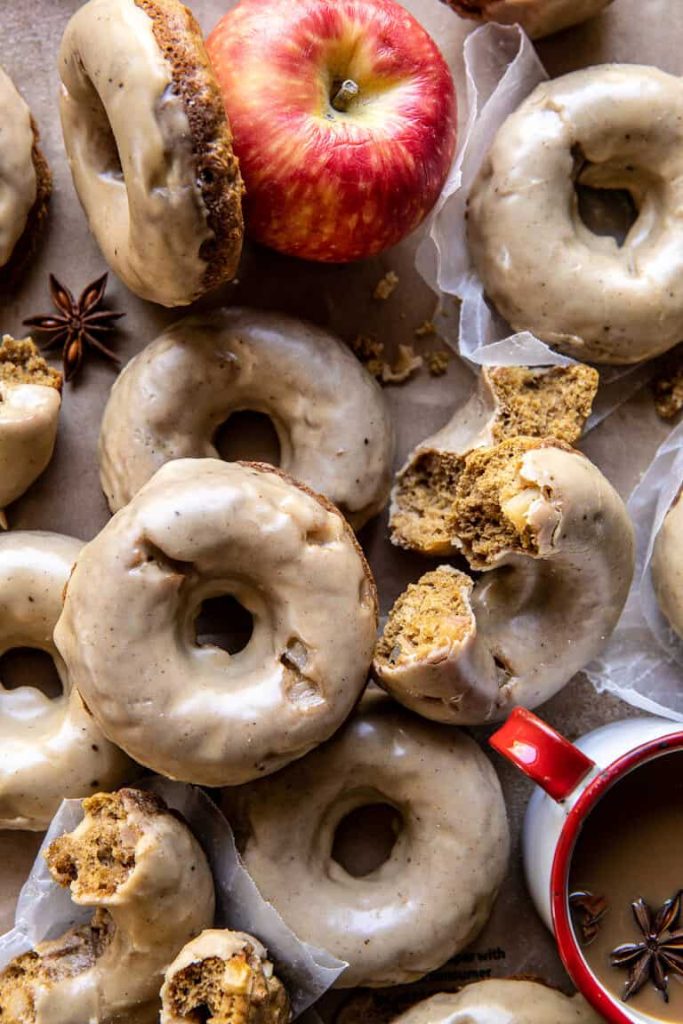 Welcoming the weekend with Baked Apple Cider Doughnuts with Cinnamon Maple Glaze. Made with boiled-down spiced cider, apple butter, and cinnamon. Make Tieghan's recipe today!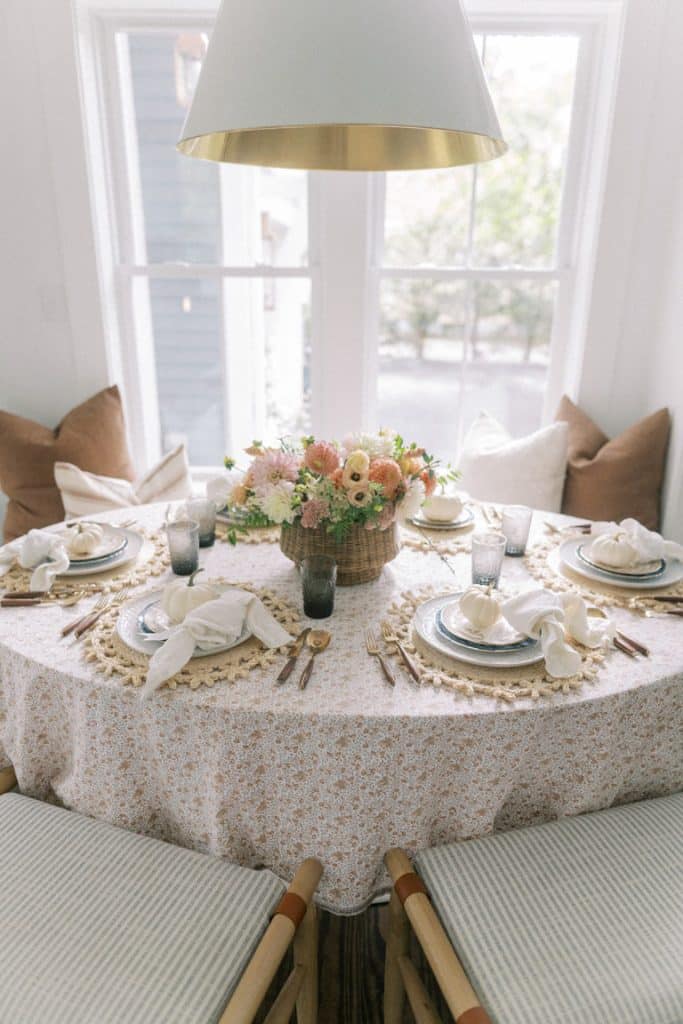 It's the seasoning of gathering. Warm and cozy and with some delicious food. Decorate your own table with Jackie's tips and tricks.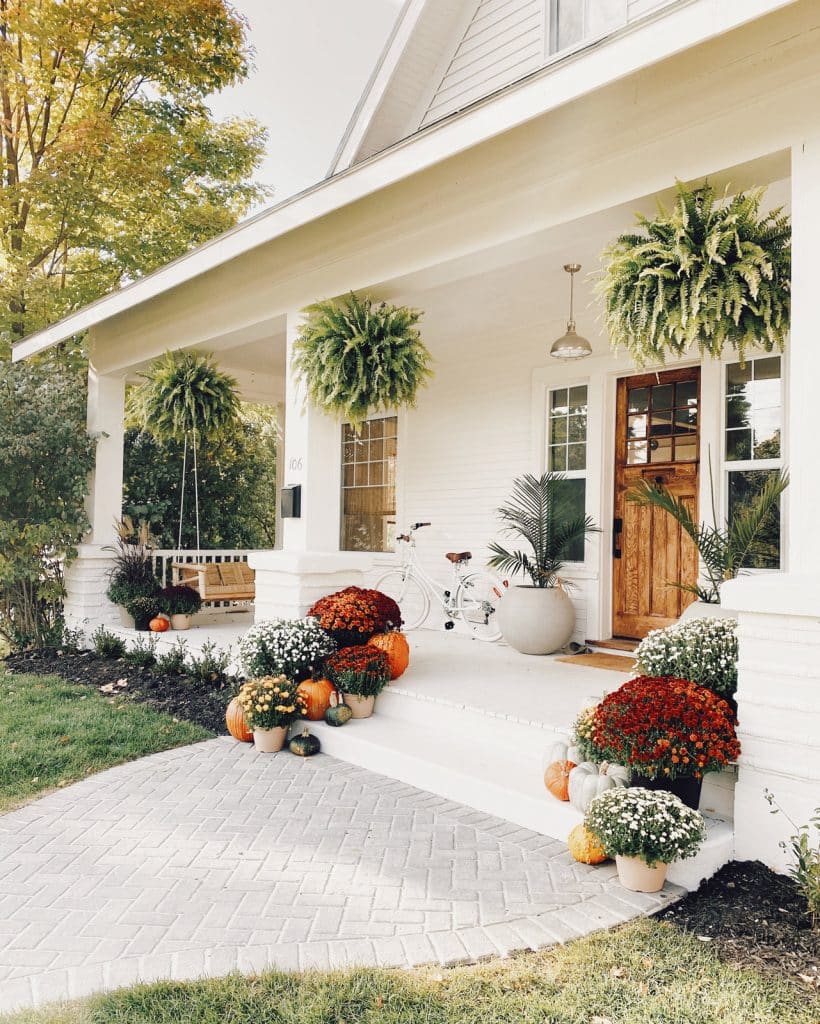 These clever decor ideas are warm, welcoming, and well-appointed. Take a look at Martha Stewart's entryway ideas to find your next Fall look.
What's Trending On The Blog
Autumn is approaching, so it's a good idea to start looking at some Fall Recipes For Dinner.
Check out these fall recipes for dinner to start cooking outstanding meals to make you feel cozy while eating away.
Here is a collection of Cozy Fall Home Decor! These pieces will help inspire you to create stunning spaces that will bring warmth and coziness to your home during the Fall.
I also include DIY fall decor, my favorites, what's trending on the blog, and lots more!
Here is a collection of Fall Leaf Craft Ideas! These crafts will help inspire you to create stylish fall decor for your home.
I include my recent craft ideas for the fall, DIY fall decor, my favorites, what's trending on the blog, and lots more!
20 Halloween Front Porch Ideas
I have quite a few Halloween posts and so do my friends. So, I had an epiphany, why not round them up in this Halloween Front Porch Ideas post.
This Week's Tip – Foraged Flowers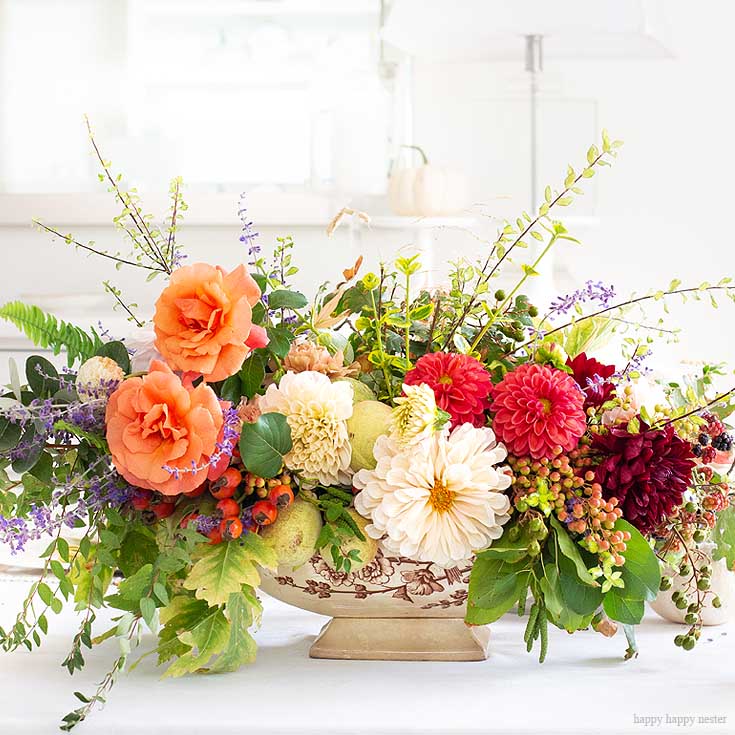 Fall Foraged Bouquet
I foraged with my florist friend around her shop for flowers and greenery and this is the result. We found wild berries, ivy, buckeye seed pods, and more.
Kathy did add a few dahlias and roses from her garden to round out the bouquet. But, isn't this the prettiest foraged floral arrangement?
Be creative this fall and make a flower bouquet from your garden and surroundings!
Latest Obsession – Fall Coffee Creamers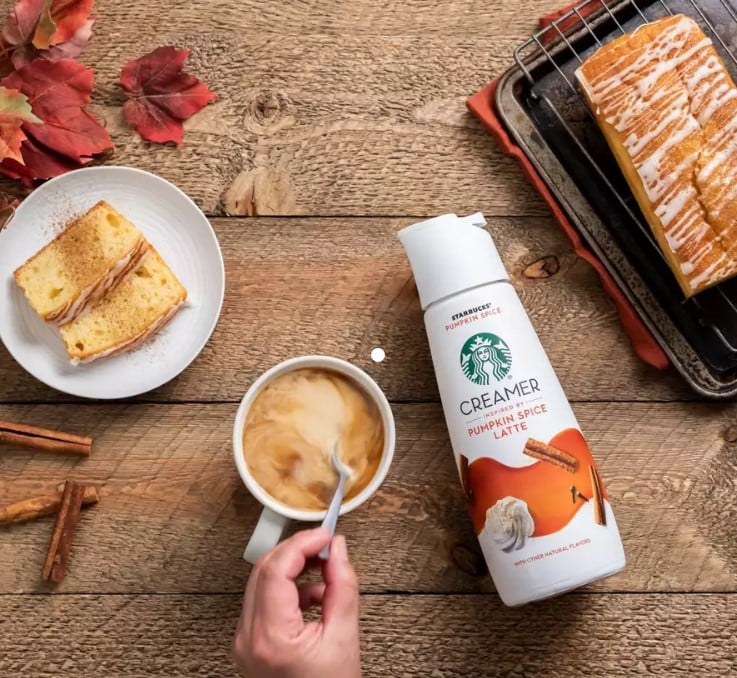 If you have guests over and want to serve them a fun autumn spiced coffee drink, then try the store-bought creamers.
I recently bought the Starbucks Pumpkin creamer since it was on sale at our local grocery store. I was a bit nervous about buying it since it was on sale. Was it not selling so they need to clear their stock out?
Well, once I came home, I try a little sip of this festive cream. Oh my, it is heavenly! If it weren't for the mega-calories I would drink a mug full!
But, it is fun to treat my family and friends to a fancy coffee drink as the temperatures turn to fall.
---
Hey!
Thanks for checking out this collection of Fall Entertaining ideas!
I hope you found a craft, recipe, or piece of decor to incorporate into your home this season.
You best believe I have been a busy bee over at the Waite house making new Fall inspiration just for you!
Stay tuned to the blog for more, my friends!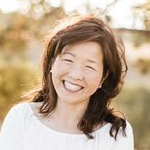 Latest posts by Janine Waite
(see all)