Are you all set for fall? How about we begin right in the living room with some Fall Fireplace Decor? It's a quick and lovely way to bring in those autumn vibes!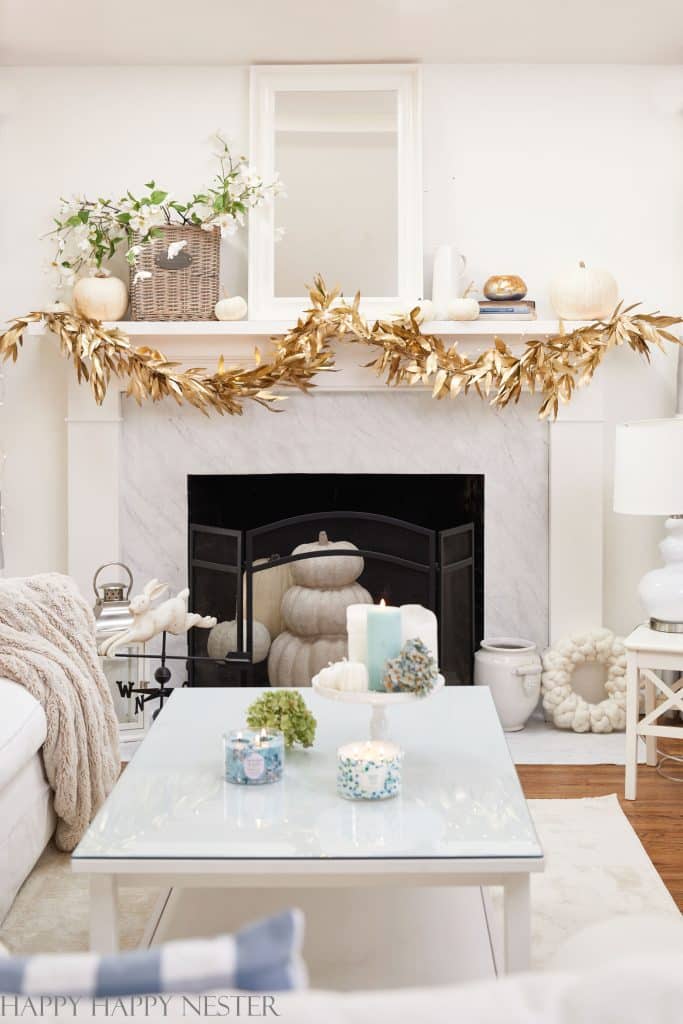 Are you a fan of bringing warm autumn vibes into your home during this season? Adding fall decor is a wonderful way to infuse your space with coziness and create a more welcoming home.
Saturday Chitchat with Janine – Volume 135
In our home, I focus on adding fall decor to three key areas: the fireplace, the front porch, and the dining room. These spots receive the most attention and effort from me.
By making a few additions to your mantel, you can easily turn it into a welcoming and festive fall fireplace centerpiece.
I get it. Some of you have super hectic schedules and don't even have a minute to think about decorating. No worries, I've got you covered with ideas that suit our various time constraints. So, here are some simple and slightly more involved fall decorating ideas!
But ultimately, keep in mind that the magic happens when you add those personal touches that really bring out the beauty of the fall season in your home.
Personal Note from Janine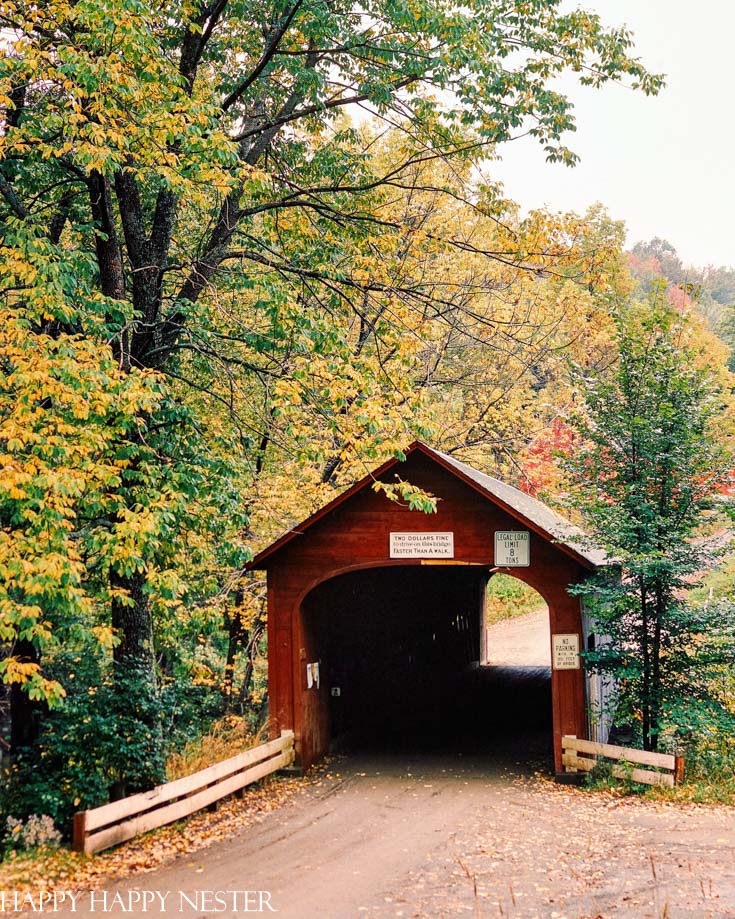 Are you a fan of fall?
Well, autumn is kind of a big deal in our family. My husband's originally from Vermont, so we take fall pretty seriously around here.
We're actually planning to head back during the peak foliage season to visit his mom. During our trip to New England, we'll be picking apples, savoring hot apple cider, and stopping by a few charming country stores along the way,
I'm super excited to share all the beautiful sights and foliage over here on the blog.
On another note, I've been getting all cozy with fall decor, and I've just finished sprucing up our fireplace with all things autumn.
I'd love for you to come and join me today as we take a look at these fall ideas!
Cheers,

This Week's Inspiration – Fall Fireplace Decor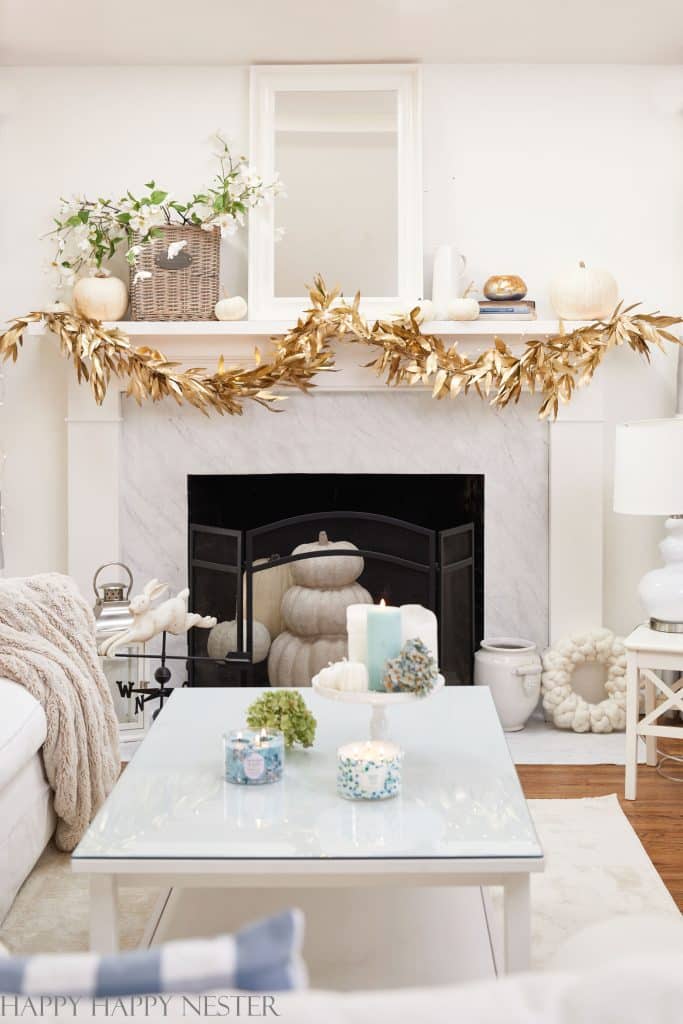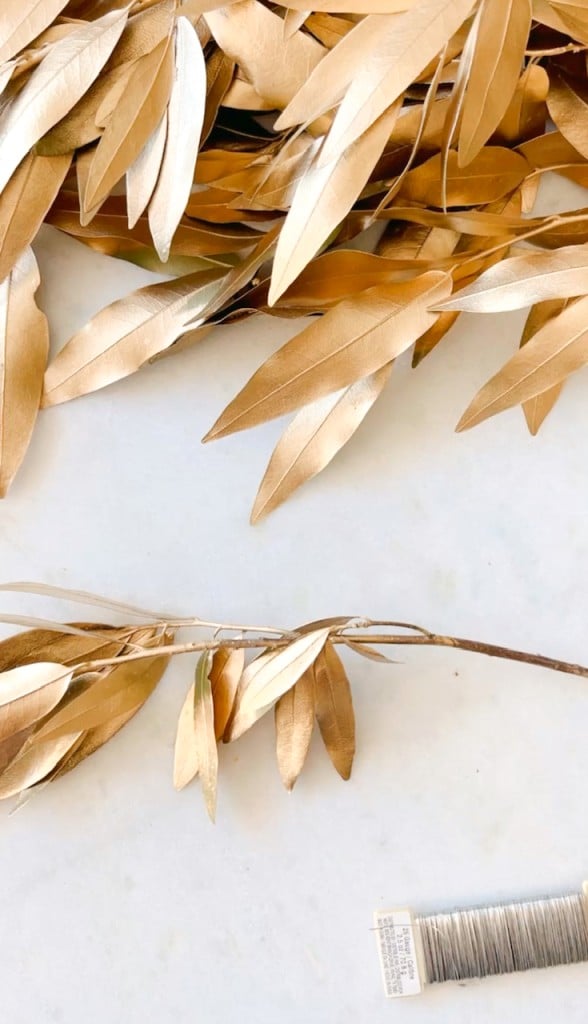 Create your own budget-friendly DIY Fall Garland with this simple project.
You can quickly whip up this fall gold leaf garland at home using natural bay leaf branches jazzed up with a touch of gold spray paint.
Make a fall wreath or garland for your autumn home decorations.
Here's an easy Paper Wreath DIY that uses recycled paper bag leaves. This is quick and impressive wreath that add such a nice touch of fall!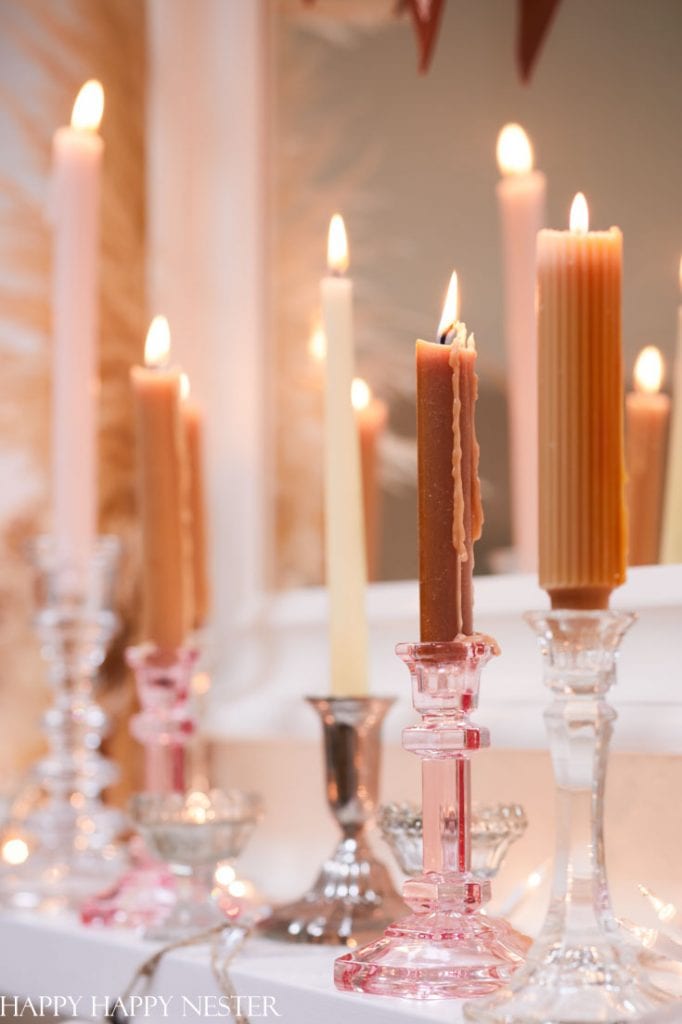 Lately around the Waite Pad, it's all about Cozy Fall Decor Ideas with Pink and Orange. And if you like nontraditional color combinations for the Autumn, then you'll love this fall tour. 
Take a quick hop over to check out this cozy fall decorating post!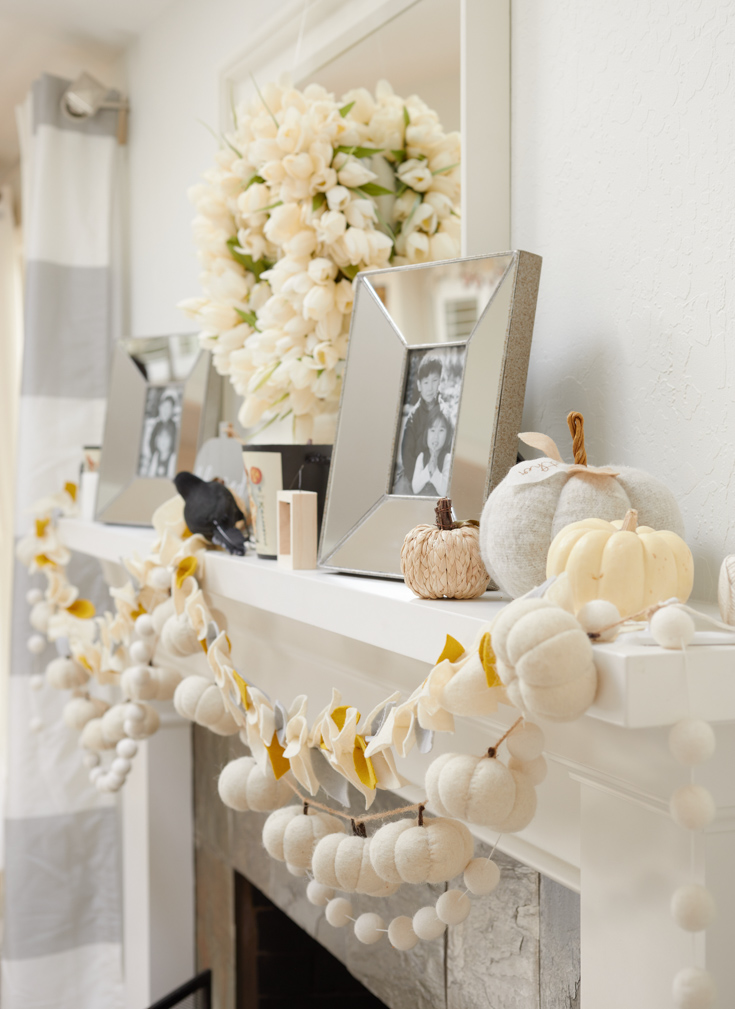 Learn how to make a Felt Leaf Homemade Garland in this easy DIY. I'll teach you how to make felt leaves.
The great thing about this project is that you can choose your colors to match your home decor!.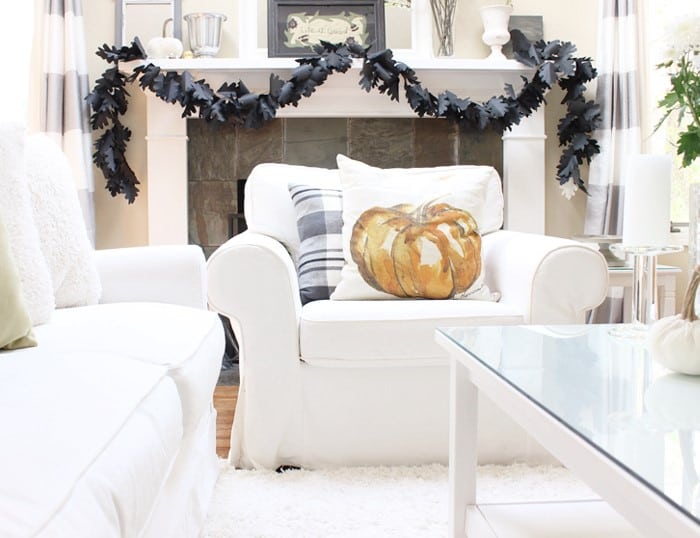 Here's a trip down memory lane! In this fun fall home tour, I showcased my black garland on the fall fireplace. I still have a soft spot for this DIY paper garland—it brings a dramatic and stunning touch to the fall decor.
Combine it with some vibrant orange pumpkins, and you've got yourself a lovely blend of colors!
Boutique of the Week – Williams Sonoma Fall Decor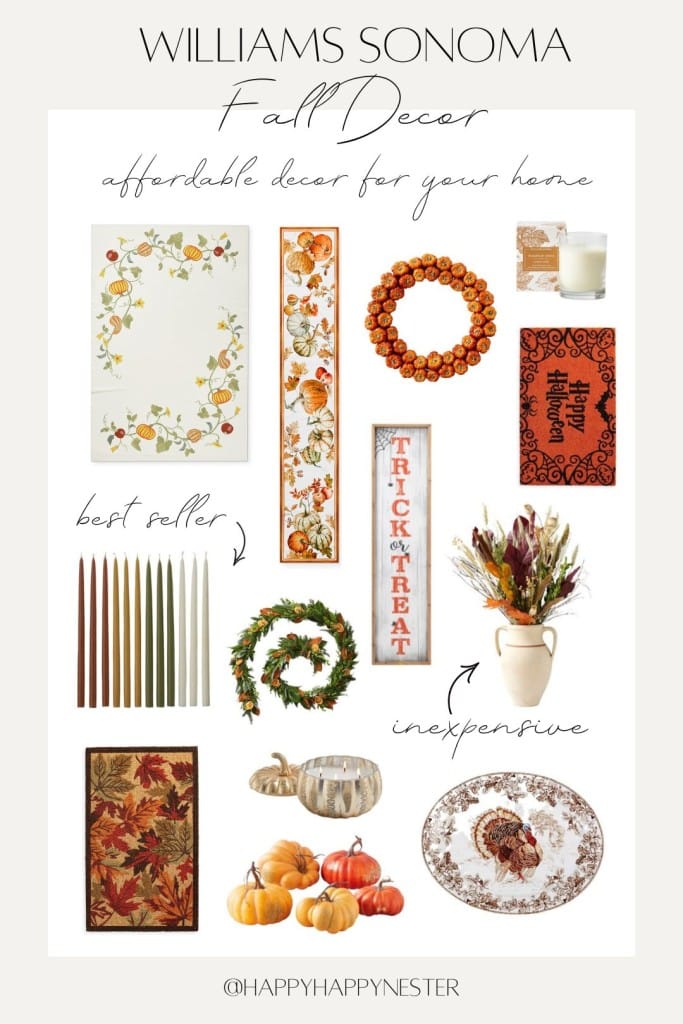 Williams Sonoma's fall decor is seriously amazing! They have that perfect blend of warmth and style that instantly transforms your space into a cozy autumn haven.
Check out this collection of pretty fall decorations!
My Favorite Things – Here are more Fall Fireplace Ideas!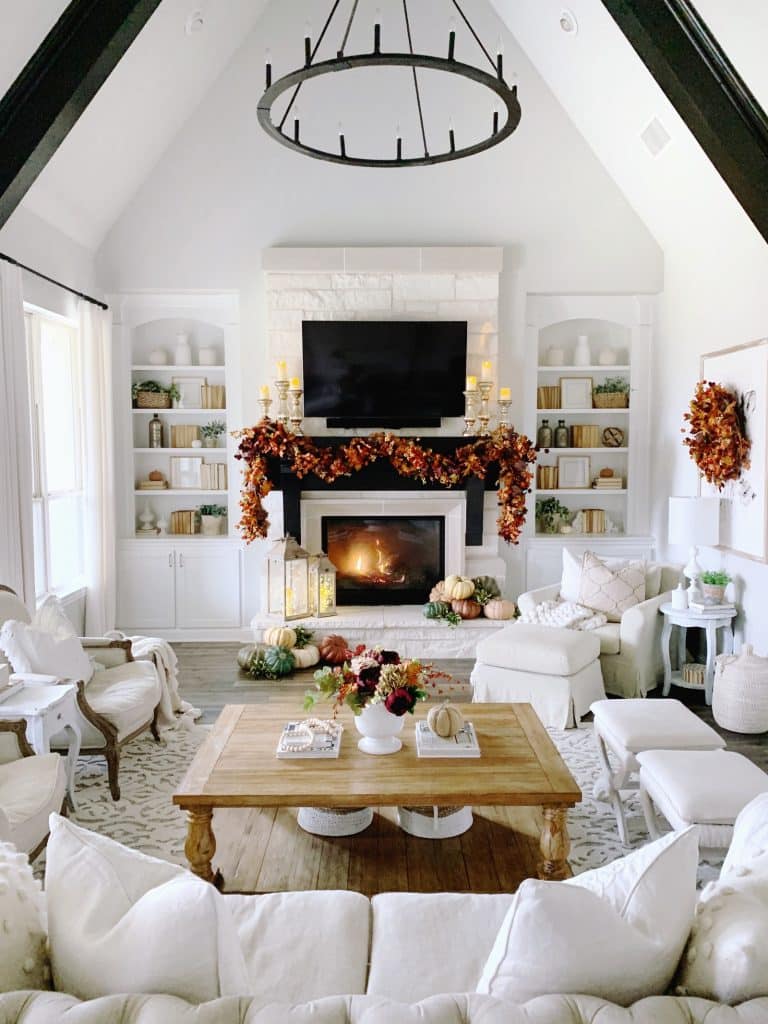 Erin from My Texas House has created the most beautiful fall fireplace decor! Her mantel is decorated with faux garlands, which is breathtaking.
She's seriously talented, and her website is chock-full of amazing interior decorating ideas. You won't want to miss it!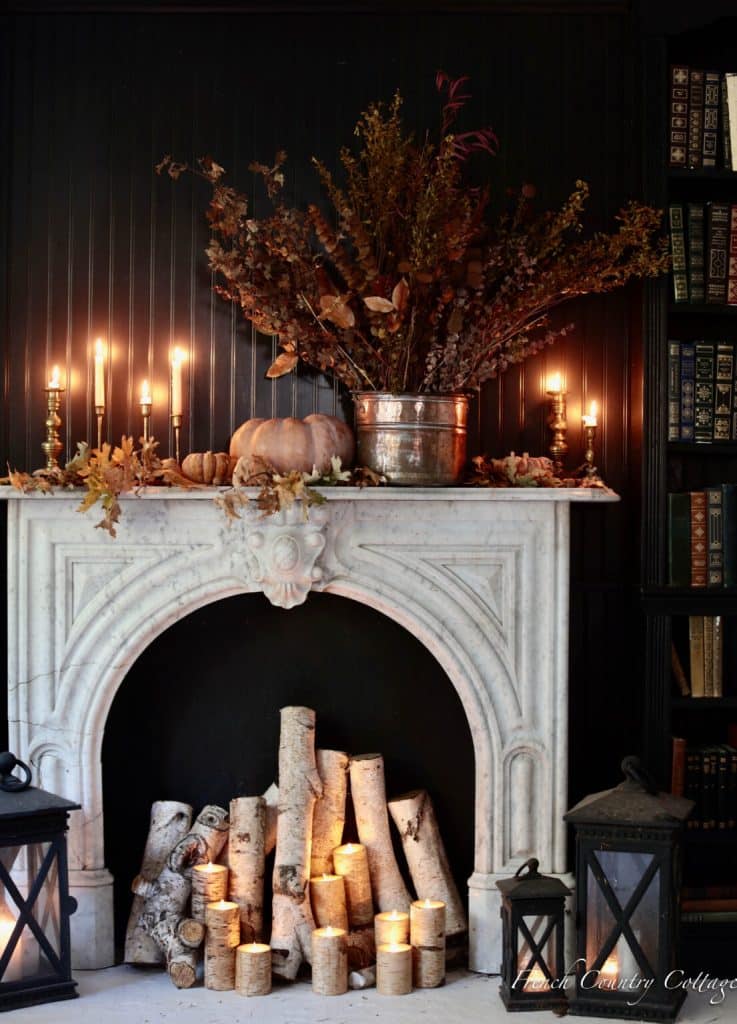 I adore Courtney from French Country Cottage for going out and foraging her fireplace decorations! It adds a stunning, festive, and cozy touch to those chilly fall evenings!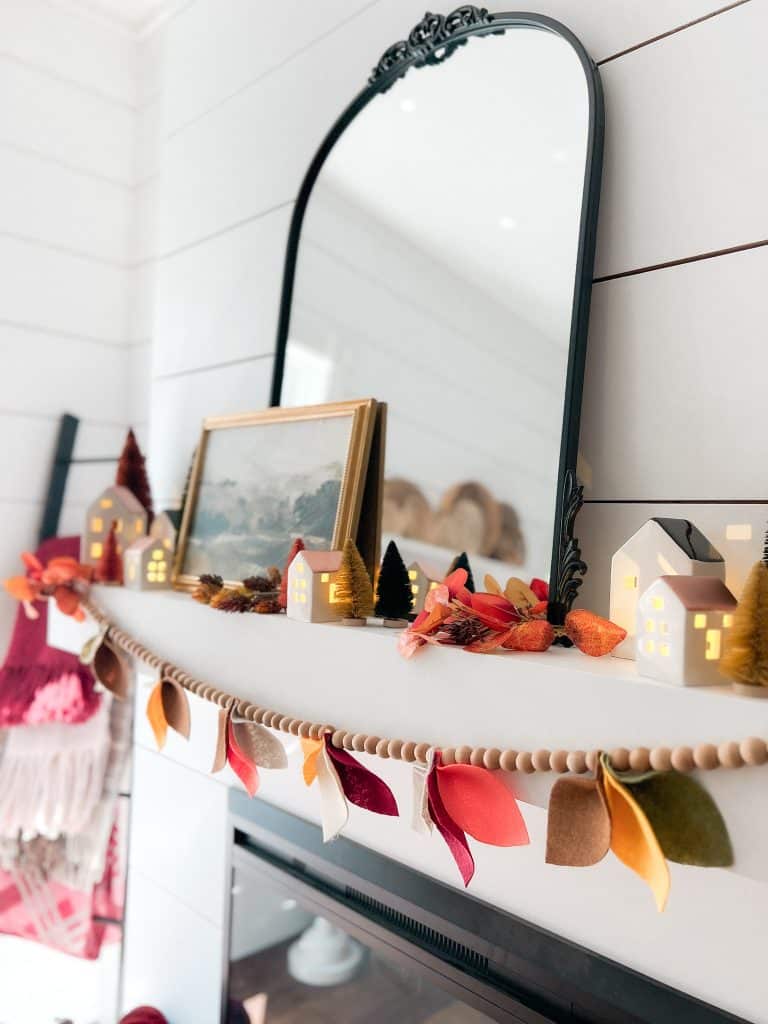 This beautiful garland is from Jen at Tatertot and Jello!
Creating this easy Fall Felt Leaves Garland is a great way to add a touch of seasonal charm and warmth to your home decor. It's an easy project that allows you to customize the colors and design, making it a delightful addition to your fall decorations. There is also a free template you can print out to make creating the leaves very easy!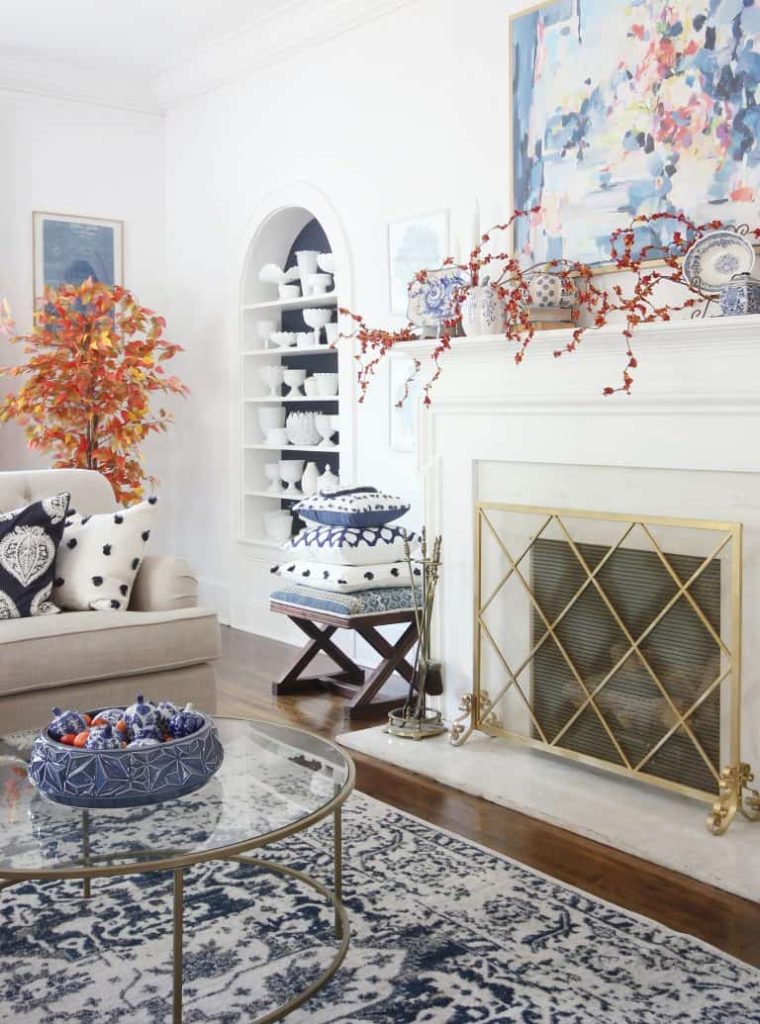 KariAnne is nailing her fall colors! The blue and orange fall decor is stunning!
I'm starting to think I might want to invest in some charming blue vintage dishes and perhaps some bittersweet vines!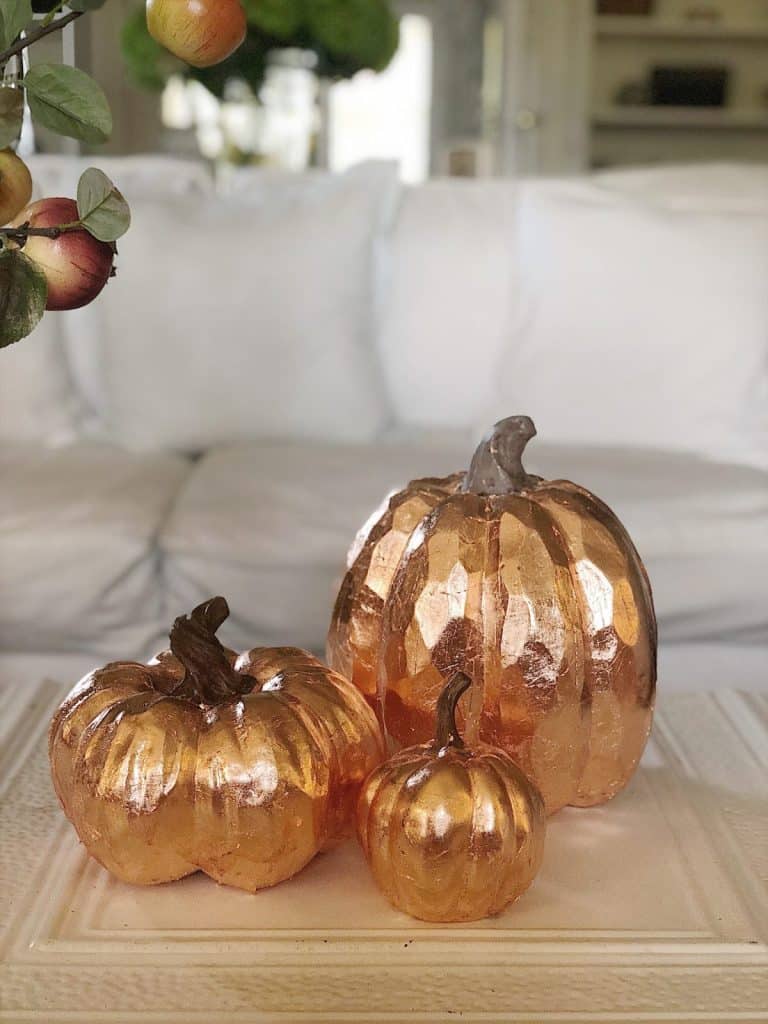 Leslie from My 100 Year Old Home crafts the most exquisite copper pumpkins!
You should definitely give these stunning pumpkins a try this year and arrange them in a lovely basket on your fireplace. They're truly one-of-a-kind and absolutely incredible!
What's Trending On The Blog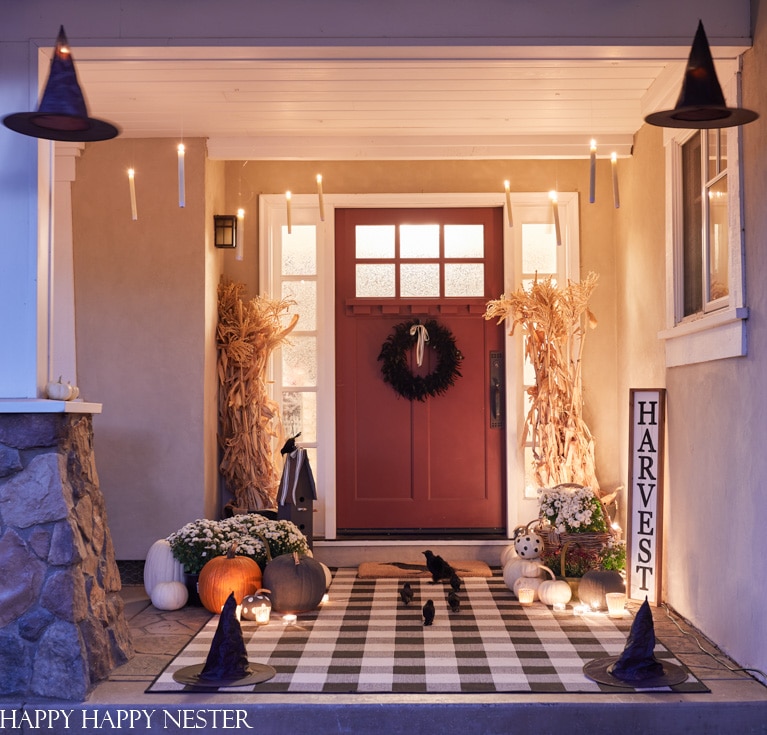 HARRY POTTER FLOATING CANDLES DIY
If you love the movie with Harry Potter Floating Candles, then you'll want to try this easy DIY project. I promise I found the easiest way to get these spooky candles floating on your front porch or Halloween home.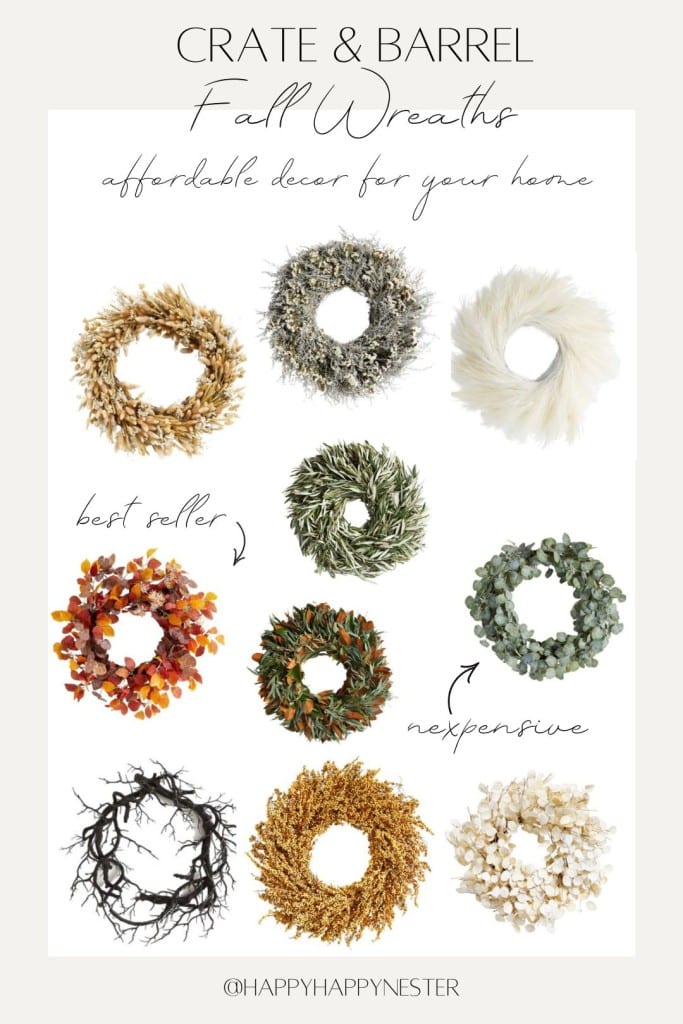 MARTHA STEWART'S ONE PAN PASTA RECIPE
Wreaths have that magical ability to bring all the cozy fall vibes into your space! In this post, I'm excited to share some stunning wreath options that would be perfect additions to your autumn fireplace.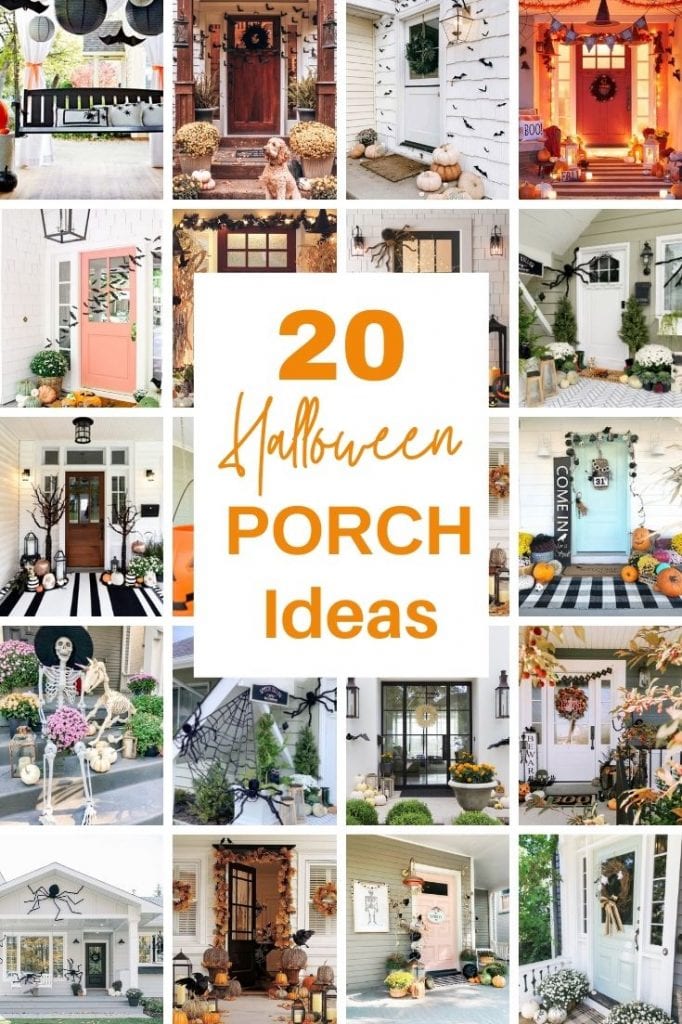 Take a peek at this roundup featuring 20 fabulously spooky Halloween front porches! You'll find plenty of inspiration to spruce up your own porch for Halloween and throughout the entire fall season.
This Week's Tip – Forage This Fall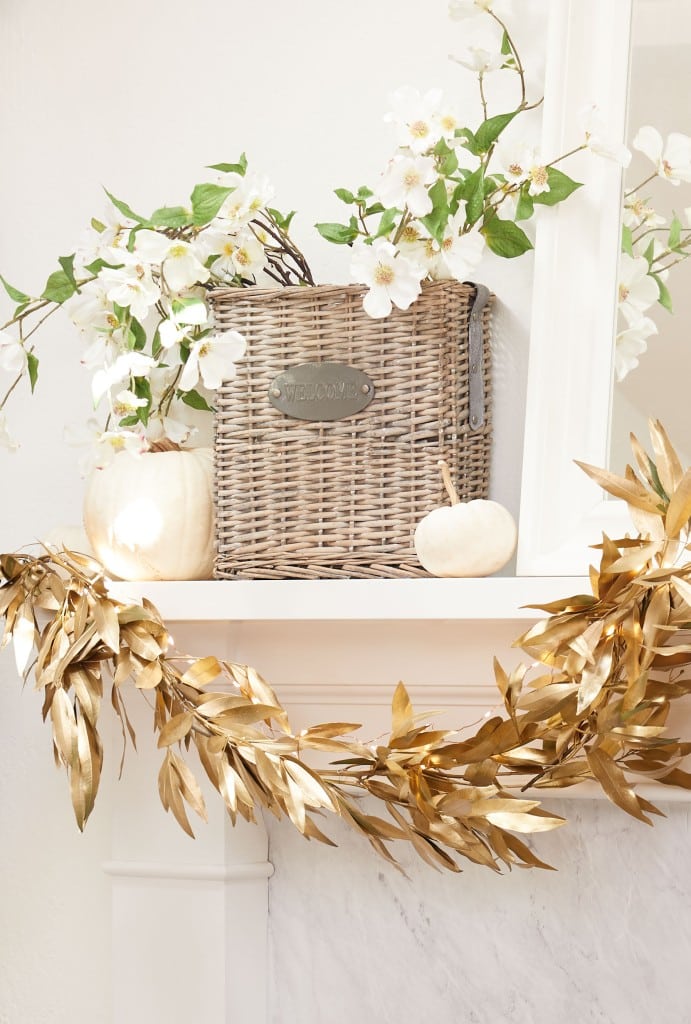 FORAGE FOR FALL FOLIAGE
Autumn is the perfect season for a little foraging adventure in your garden and the woods.
It's truly amazing what nature offers in your own surroundings, and the best part is it's all free and exceptionally beautiful. I absolutely enjoy the thrill of foraging and discovering unique treasures to enhance our cozy fall home!
Here are the links to the following posts:
Latest Obsession – Nandina Branches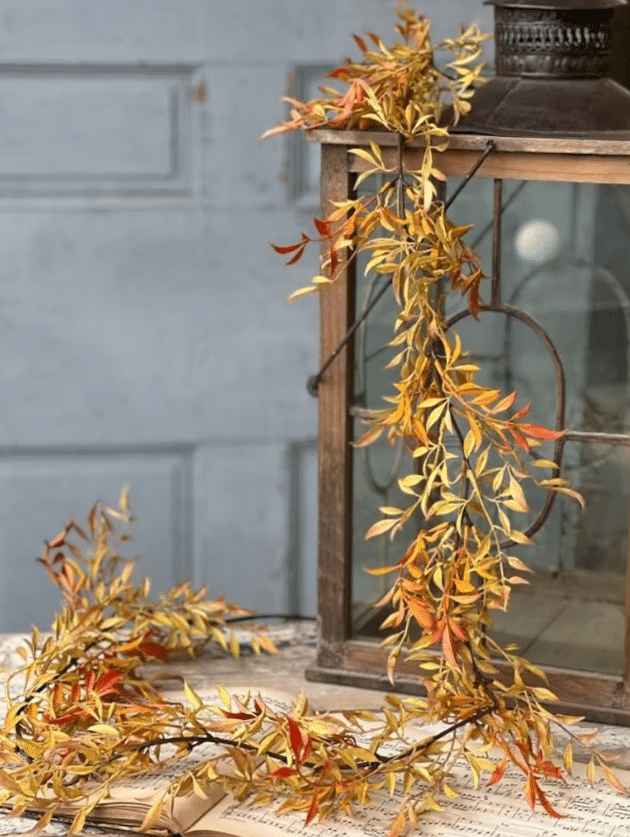 In our garden, we have a handful of these Nandina bushes, and they're the first to put on their autumn colors. I'm constantly picking leaves and branches from them.
I highly recommend using them in your fall decorating. But if you don't happen to have these plants, you can still get in on the fall fun with this fantastic faux garland. It's an ideal addition to spruce up your fireplace mantel!
---
Once again, thank you for spending your weekend with me! I hope you had a blast checking out this post filled with fall fireplace ideas.
Wishing you a truly lovely day!
Cheers!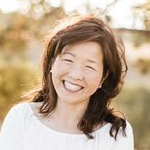 Latest posts by Janine Waite
(see all)