Let's get creative with this collection of Thanksgiving Inspiration! Here you will find ideas, recipes, decorations, crafts, and more from the blog.
The next holiday is less than a month away.
Let's prepare ahead of schedule when it comes to finding the best recipes, decorating with the latest trends, or styling your table your way.
Welcome to Thanksgiving at the Waite House! I am here to inspire you and others for the next best holiday.
You will find some of the best foods, desserts, wreaths, DIYs, and much more to make to welcome fall into your festive home.
Trust me. Your home will look ready with suitable sources (and fast shipping). Find some of the best ideas here!
Saturday Chitchat with Janine – Volume 91
Hello everyone!
I cannot believe it is already November! October went by too fast.
But there's no time to dilly-dally.
So, let's find Thanksgiving inspiration here with some of my favorite ideas, including crafts, decor ideas, and recipes to make you want more.
Whether you're just now starting to clean up Halloween decor, no worries, I'm here to help you move on to the next best holiday.
Let's begin!
Personal Note from Janine
Our house seems to be filled with cinnamon and nutmeg the last couple of days.
I've been baking my mother-in-law's apple pie recipe and trying to tweak it a bit. I'm sure her apple pie is perfect, but I wanted to make it an apple crumble instead of a double crust.
Yes, I'm obsessed with making four pies, each getting better than the last. I had no idea that adding a thick layer of crumble traps the steam from the apples, making a runny apple sauce!
But I eventually figured out a solution, and I love this pie!
I've enjoyed getting recipes from Margaret! I wish I had done this with my mom before she passed away. She did give me a few copies of her recipes, but there are some that I wish I had.
I need to go through my heaps of recipes and see if I can find a few.
So, if your family has a dish you like, get the recipe; otherwise, it will be lost.
Cheers,

This Week's Inspiration – Thanksgiving Inspiration
I can't resist a Dutch Apple Pie Recipe with a crumble topping! The combination of yummy apples and sweet, crunchy topping is perfect.
Add a dollop of vanilla ice cream to make a winning combination!
Dress up your holiday table with a festive pretty Thanksgiving Dinner Menu Template.
Enjoy two FREE printable designs for your tablescape, a pumpkin, and a turkey!
Williams Sonoma Thanksgiving Plates and More
Halloween is over, and time to focus on Thanksgiving.
I am here to inspire you with this collection of Williams Sonoma Thanksgiving Plates and More to start designing your dream tablescape today!
Have you seen the pretty wreaths over on Etsy? Today, I'm sharing how to make one in this Felt Wreath DIY post.
The beauty of this project is that you can make it whatever color matches your decor!
Easy Last-Minute Thanksgiving Recipes
Turkey Day is near! Fill your bellies up with some of my easy last-minute Thanksgiving recipes to feel good when gathering.
From Thanksgiving tablescapes and setting ideas to homemade meals and desserts, you will make this day extra special.
This easy Free Fall Printable is perfect for making an autumn garland. If you have a computer and a printer, then you can create this paper garland in minutes.
It's the ideal fall garland for your decorated fall home.
Thanksgiving Table Setting Ideas
I'm sure you've heard lots and lots about Halloween. But now it's time to talk about Thanksgiving, for real.
I am here to inspire you with one of my favorite Thanksgiving Table-Setting Ideas! Today, we have a new layout and I'm including every piece of decor that helped set the scene.
Make a fall wreath or garland for your autumn home decorations.
Here's an easy Paper Wreath DIY that uses recycled paper bag leaves!
Flower Arrangements with Fruit
Autumn always has a fruit harvest, so creating Flower Arrangements with Fruit makes sense!
Make a bouquet that blends fall fruit with fall flowers. Persimmons, black figs, and kumquats dot the arrangement of dahlias.
Boutique of the Week – Table Decor For Thanksgiving
Let's get prepared for the next holiday with this collection of Table Decor For Thanksgiving.
If you're also hosting, this post will help guide you to some of the best table decors.
My Favorite Things – Thanksgiving Inspiration
Make this delicious, refreshing drink with Tieghan for Thanksgiving! Try out a new recipe to create a ne tradition.
Easy Fall or Thanksgiving Wreath
Craft this gorgeous wreath made by Leslie to start decorating right for the new season! Welcoming friends and family into your home is always better when there's a front door wreath.
Carmelized Shallot Mashed Potatoes
Whip up this super simple recipe with Julie to enjoy the best mashed potatoes. There's nothing better than having ONE easy dish to make on the busiest day!
Decorate this year's table with the help of Jackie's inspiration! Create a lovely table for Thanksgiving using the best items.
What's Trending On The Blog
Italian Cream Cake with a Twist of Pumpkin
This Italian Cream Cake has a pumpkin cream cheese frosting that makes this a winning combination.
This dessert is perfect for the holidays or any occasion!
Decorate a Dining Room Table for Halloween
Today, I am delighted to show you some helpful tips and tricks on how to Decorate a Dining Room Table for Thanksgiving.
These tips will help you create a warm and welcoming table setting!
Need help with Fall Mum Display Ideas for Your Front Porch? Check out this post for the best color combinations, arrangements, and containers.
Thanksgiving Salad Recipe with Cranberries
I love cranberries, and when paired with a chopped salad, the results are delicious!
This salad is easy to throw together, and it's colorful, healthy, and hearty. It's a Harvest Salad that will delight your family and friends.
If you've had The Original House of Pancake's Apple Dutch Baby, then you'll love this recipe.
It's an oven-baked pancake that's easy to make, and you can serve it for breakfast, brunch, and dessert.
This Week's Tip – Easy Care Table Cloth
If you look close enough to this photo, you can see my tan gingham tablecloth! I'm in love with this tablecloth! I love how easy it is to clean.
My daughter got some oil on the tablecloth the other evening, and she took a soap dishcloth to the stain, and it came right out. We didn't need to pop it in the washing machine!
Not only is it low maintenance, but it's also so pretty! It is an indoor/outdoor tablecloth that looks great in both scenarios.

With the way my family dines, this tablecloth is an excellent choice for our family!
Latest Obsession – Thanksgiving Plates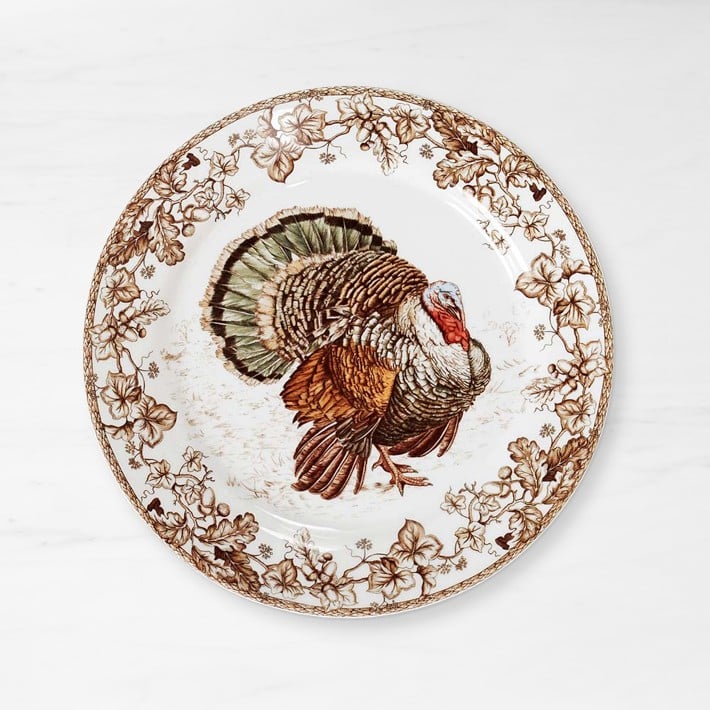 Last year, I finally broke down and bought these plates. I've eyed them for many years and I took the plunge.
I love how traditional they are and yet, so pretty!
We had out Thanksgiving dinner on them last year and it made the table look so dressed up and fancy.
It will now be a yearly tradition around here to use them this November!
I highly recommend these beautiful and festive plates!
---
---