Turkey Day is near! Fill your bellies up with some of my easy last-minute Thanksgiving recipes to feel good when gathering.
Step up your holiday this year by trying something new. From Thanksgiving tablescapes and setting ideas to homemade meals and desserts, you will make this day extra special.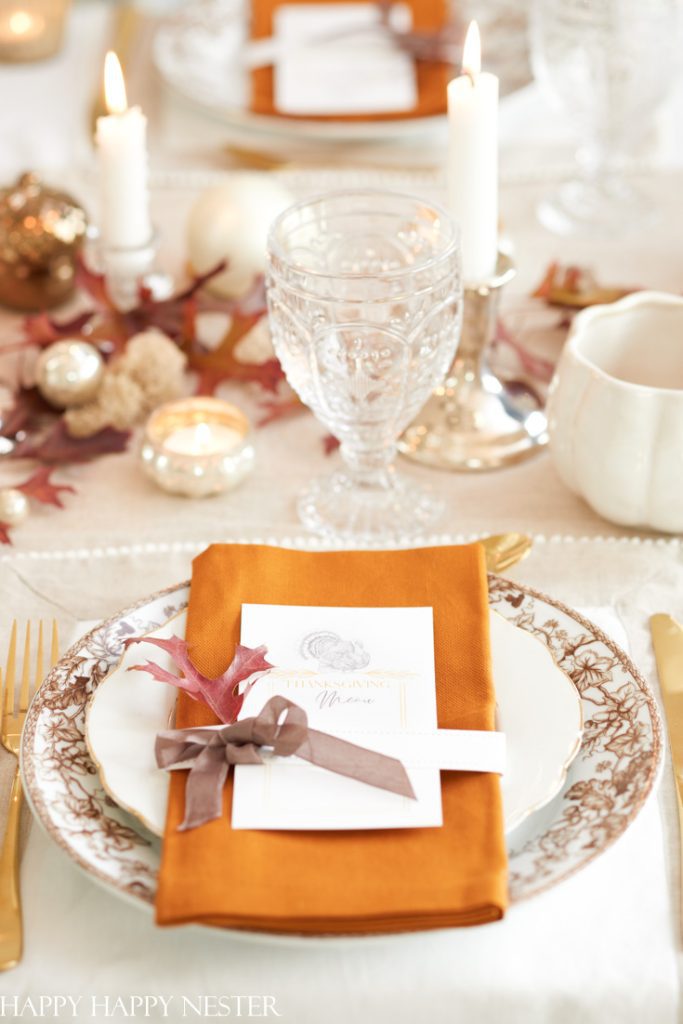 Cheers to November! This month is all about creating good recipes and making great memories. That's why I'm here, here to provide tasteful meals, including appetizers, sides, sweets, and more!
Make up for lost time with family and friends with these easy last-minute Thanksgiving recipes in the kitchen. Savor the home-cooked flavors this season with my traditional favorites.
As a bonus, I share my decorating ideas and inspirations for Thanksgiving, along with some designing tips to have a memorable space to gather with loved ones.
*This post contains affiliate links
Saturday Chitchat with Janine – Volume 40
Greetings November and happy Saturday,
This month is a busy one. Not only am I whipping up recipes in the kitchen, decorating for Thanksgiving, but I'm also planning my daughter's birthday celebration.
But, as much as I am busy, I am grateful for it all. What are you thankful for? For me, it's my family. I don't share much of them on my blog, but they are my #1 supporters behind the scenes.
During this time, it's all hands on deck in the kitchen. And if you have more than one family member in the household, you know how hectic it can be. These easy last-minute Thanksgiving recipes are here to save you from all the stress and worry over meals and more!
Each decor, dish, and dessert piece is created with love and laughter from my home to yours.
A Personal Note from Janine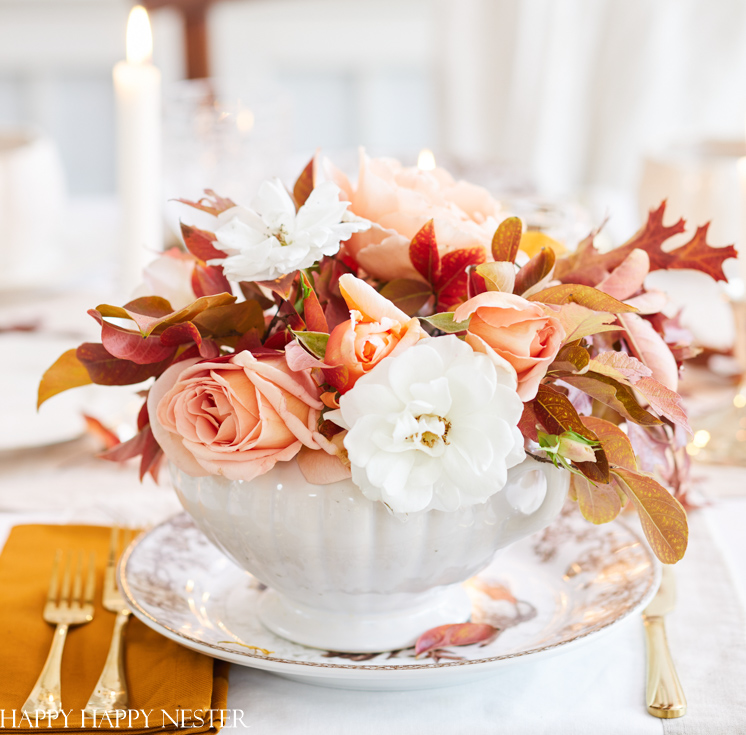 Happy Saturday, Friends!
Wow, another week flew by and we are getting closer to Thanksgiving. I'm excited to have my family all together for the holidays and I can't wait for all of us to dine and enjoy each other's company this November 25th.
The holidays are always so bittersweet for us since we lost my father in December 2007 and my mom passed away in October 2019. We always had big celebrations of relatives for the holidays and my mom delighted in hosting big parties.
At every family event, she always made her jello mold. It was a popular dish with her generation. She made ones with marshmallows, fruit cocktails, and even nuts! I remember her Jello Ambrosia was my favorite since it was almost like a dessert rather than a salad.
Well, this Thanksgiving, I plan to make jello and I'm not sure which one to tackle. Maybe I'll relieve my childhood memories and make an ambrosia jello mold. My mom's recipes are hidden somewhere in storage and I along with my four brothers are perplexed about where they are located.
In the meantime, we share what recipes my mom copied for each of us and we cobble together a family cookbook.
So, my heartfelt message to all of you who have loved ones with yummy recipes, make sure to write them down. Over the summer, I asked my mother-in-law for her favorite recipes and she was so tickled by my request.
I plan to hand mine down and luckily for my children they can find them here on the blog.
Today's post, if you haven't guessed it, focuses on Thanksgiving!
Cheers,

This Week's Inspiration – Thanksgiving Recipes and Other Things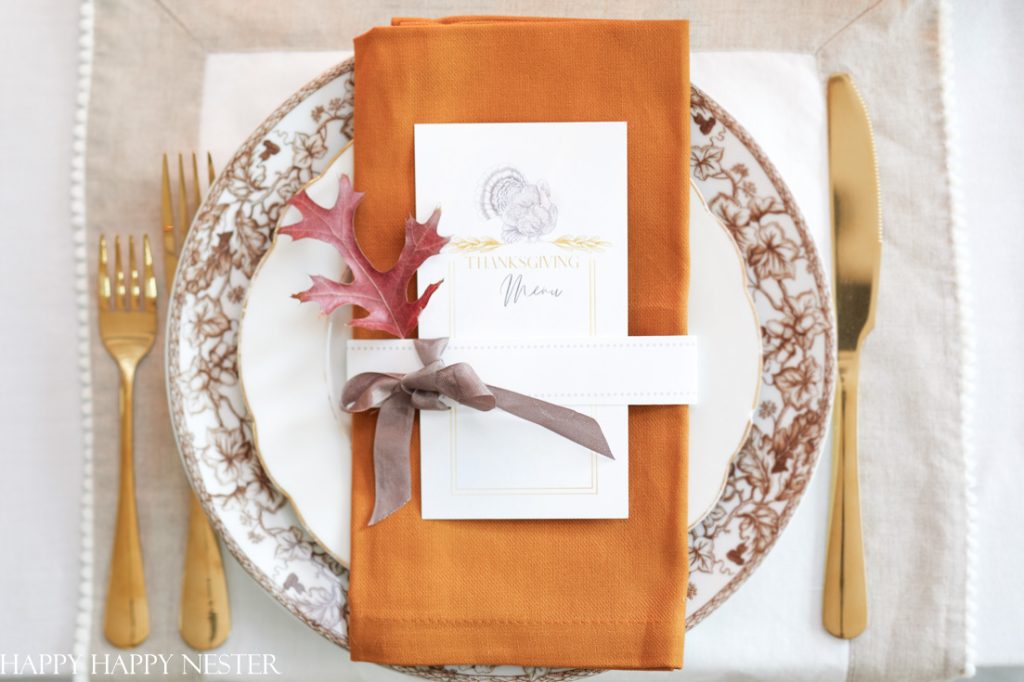 Thanksgiving Dinner Menu Template
Dress your holiday table with a festive template to design your very own Thanksgiving look!
Many things go into creating a one-hit-wonder type of table for this season. For me, I want to make a table that is as simple for you as possible to recreate.
With the (free) printable designs, a couple of pumpkins, fall leaves, colorful ribbon, and of course, a turkey, you will create a dream Thanksgiving table.
Possibly a table to place all of those easy last-minute Thanksgiving recipes on!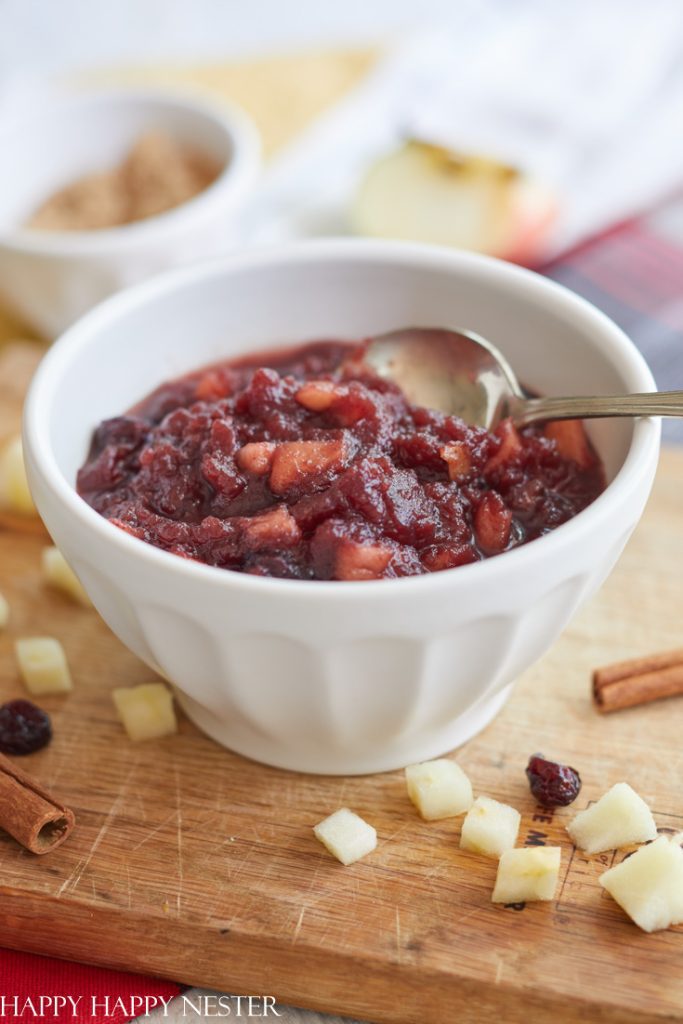 If you need a simple and quick canned cranberry sauce recipe, then look no further.
Canned cranberry sauce never tasted this amazing with just a few additional ingredients, and it's shocking how delicious this hack version tastes with a few yummy ingredients.
Save time in the kitchen this Thanksgiving by making one of the best easy last-minute Thanksgiving recipes on the blog!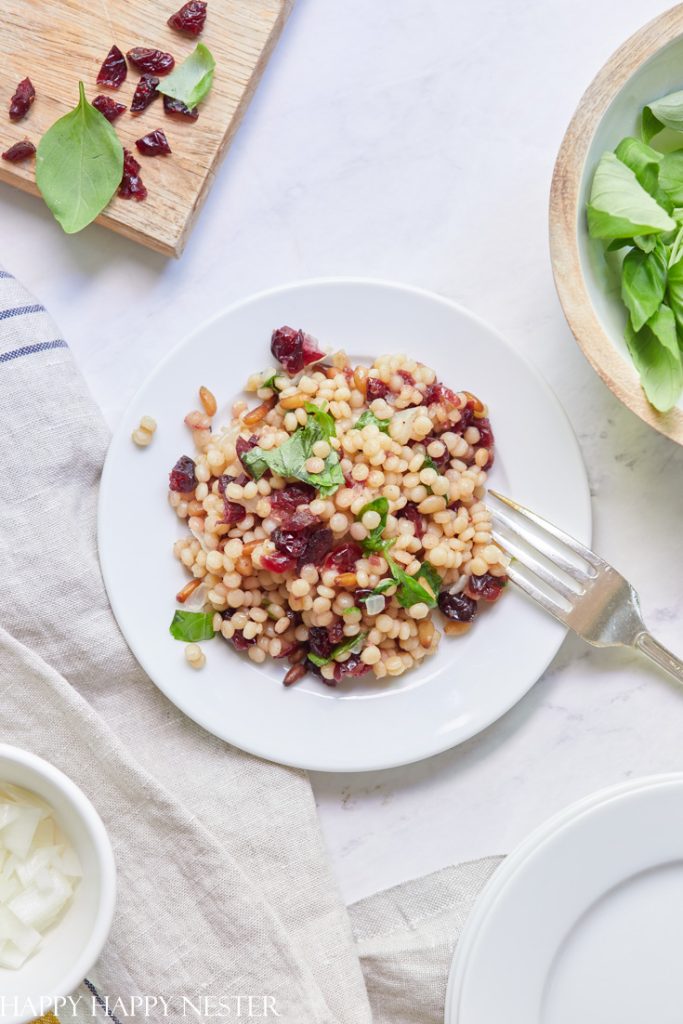 You'll love this hearty, simple Israeli couscous recipe that combines cinnamon, lemon, dried cranberries, roasted onions, fresh basil, and roasted pine nuts.
This recipe is a great side dish for Thanksgiving. It's new, unique, and something different, meaning one of my easy last-minute Thanksgiving recipes.
The beauty of this couscous is that you can make a vegetarian version, so not only is this a delicious recipe, but it's flexible and can be tweaked to your preference.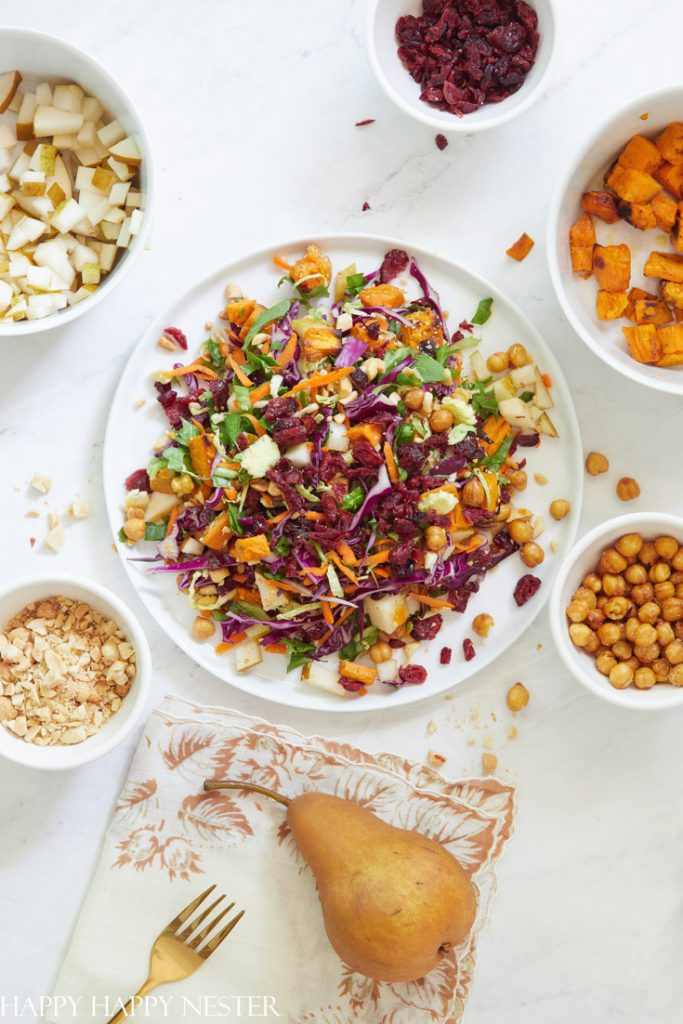 Thanksgiving Salad Recipes with Cranberries
Salads are a must when planning dinners, and I love them, and so does my family, and this recipe might just become your family's favorite too.
I love cranberries, and when paired with a chopped salad, the results are delicious!
This is not the sad salad where you toss some lettuce on a plate and sprinkle a few carrots on the top. This salad is a mix of chopped Kale, crispy cabbage, and crunchy salty garbanzo beans.
It's a delightful dish that is perfect for your big Thanksgiving dinner! Plus, if you make a lot, you'll have lots of healthy leftovers.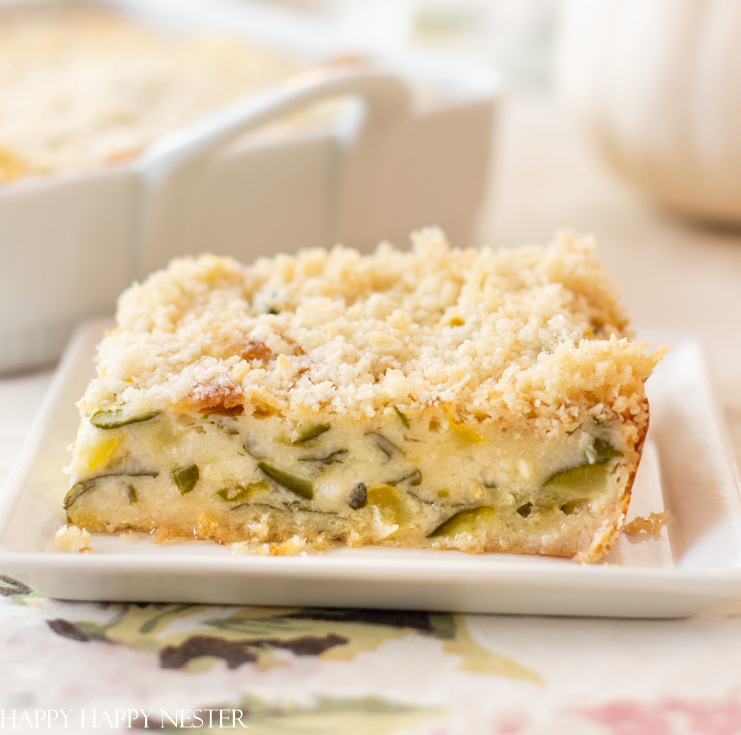 If you like squash, cheese, and bread crumbs topping, then you'll love this Zucchini Casserole Recipe.
It is a wonderful casserole that is cheesy, spicy, and crunchy. All ingredients blend well together in this yummy vegetable dish.
You're in luck because this is top tier Thanksgiving recipe content!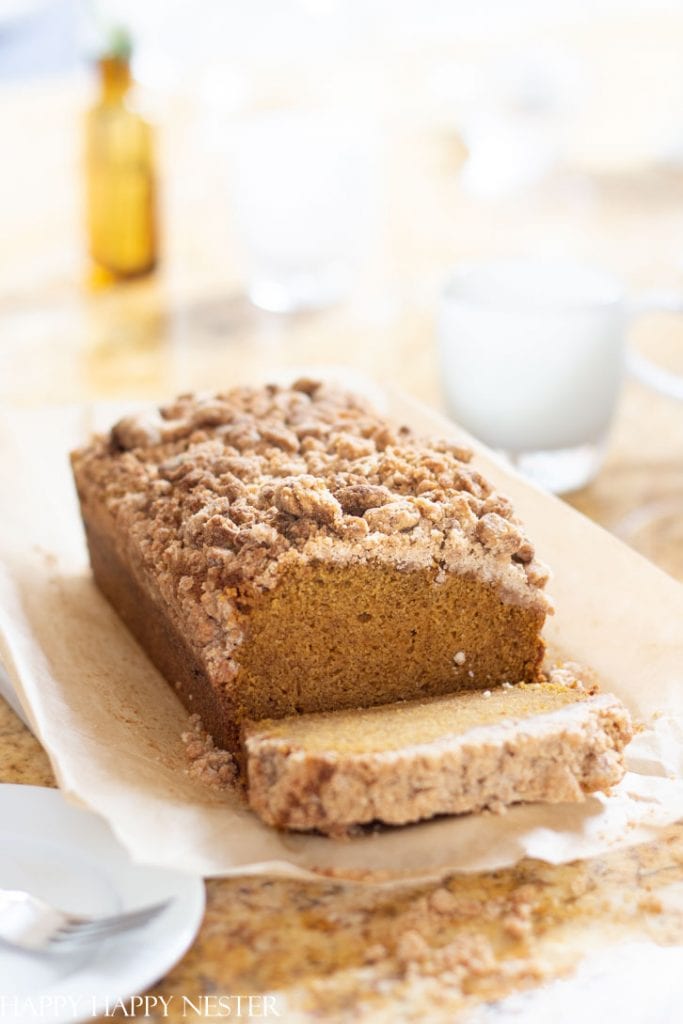 This pumpkin bread is the BEST recipe you will ever come across. Seriously, with the mix of rich pumpkin flavoring and a crumbl top that is too good to pass up, this bread is a masterpiece.
Serve this warm dessert at your Thanksgiving dinner and wow your friends and family!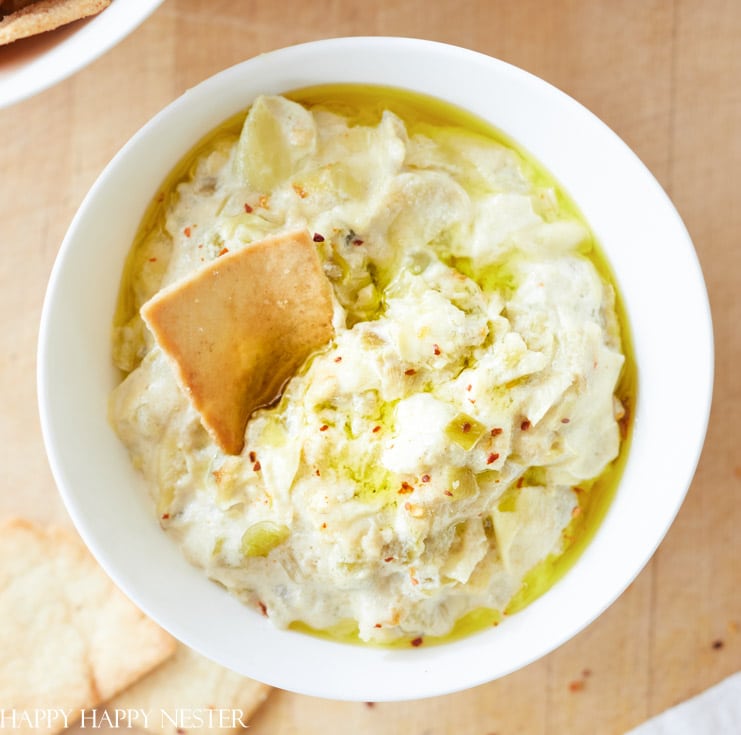 Here is a great appetizer for this year's Thanksgiving. This baked artichoke dip recipe is zesty and creamy all rolled into one great tasting dish.
If you like a delicious recipe that is also easy to make, then this dip is for you. It is a six-ingredient recipe that you bake for 25 minutes, and out comes a creamy dip to pile on a crispy pita chip or thinly sliced bread!
Out of all of my easy last-minute Thanksgiving recipes, this one is by far my favorite!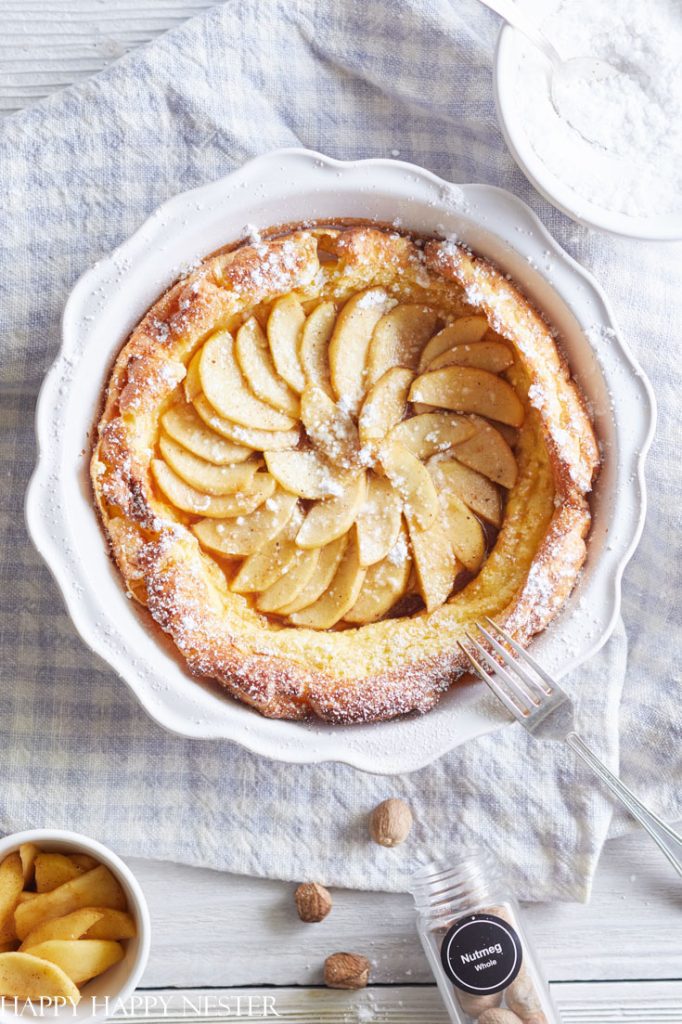 If you've had, The Original House of Pancake's Apple Dutch Baby, then you'll love this recipe.
It's a light custard-like souffle topped with cinnamon and nutmeg-drenched apples that is easy to make, and you can serve it for breakfast, brunch, and dessert.
Yes, Thanksgiving is mainly about dinner, but over at the Waite house, we celebrate Thanksgiving for breakfast too, and this is my husband's favorite.
We're talking about a homemade apple dessert that will cure your cravings. Are you drooling yet?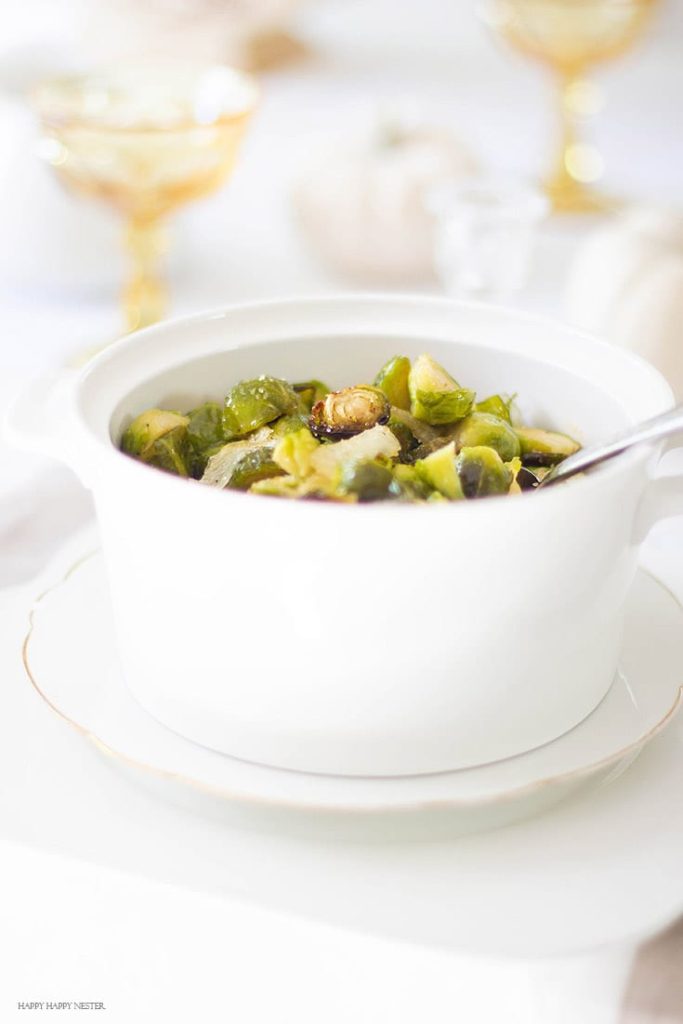 After many attempts at my brussels sprouts recipe, I am thrilled to say I have found the winner.
It's one of those easy last-minute Thanksgiving recipes to make as a side dish. As simple as it is, I have a couple of secret ingredients that I add to the recipe, the perfect combination of sweet and savory flavors.
If you want to spice up your current sprouts recipe, check out one of my favorite easy last-minute Thanksgiving recipes and possibly find a new favorite recipe!
---
This Week's – Boutique of the Week (Williams Sonoma Thanksgiving Plates and More)
*The following post contains affiliate links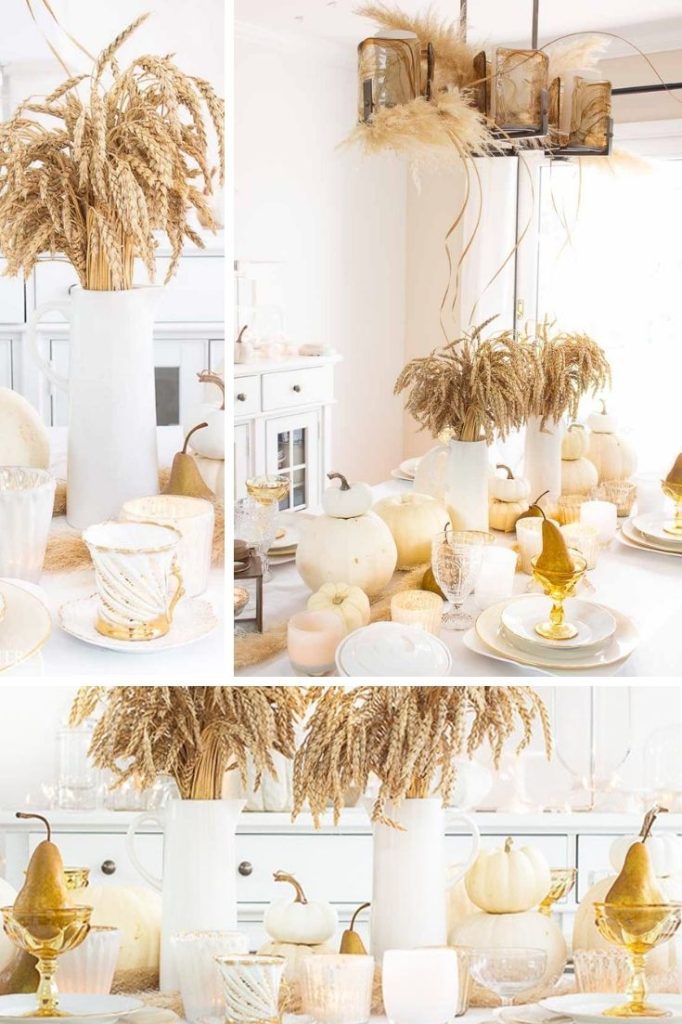 Boutique of the Week – Williams Sonoma Thanksgiving Plates and More
Halloween is over, and time to focus on Thanksgiving. As we all know, I am a big fan of creating table settings for any occasion. Especially Thanksgiving.
It's the time to spread love while giving thanks around a beautiful table full of traditional recipes, stunning crockery pieces, decorative accents, and tons more.
Check out these Williams Sonoma pieces like plates and more to get a sense of what you want your Thanksgiving table to look like.
---
My Favorite Things – More Delicious Recipes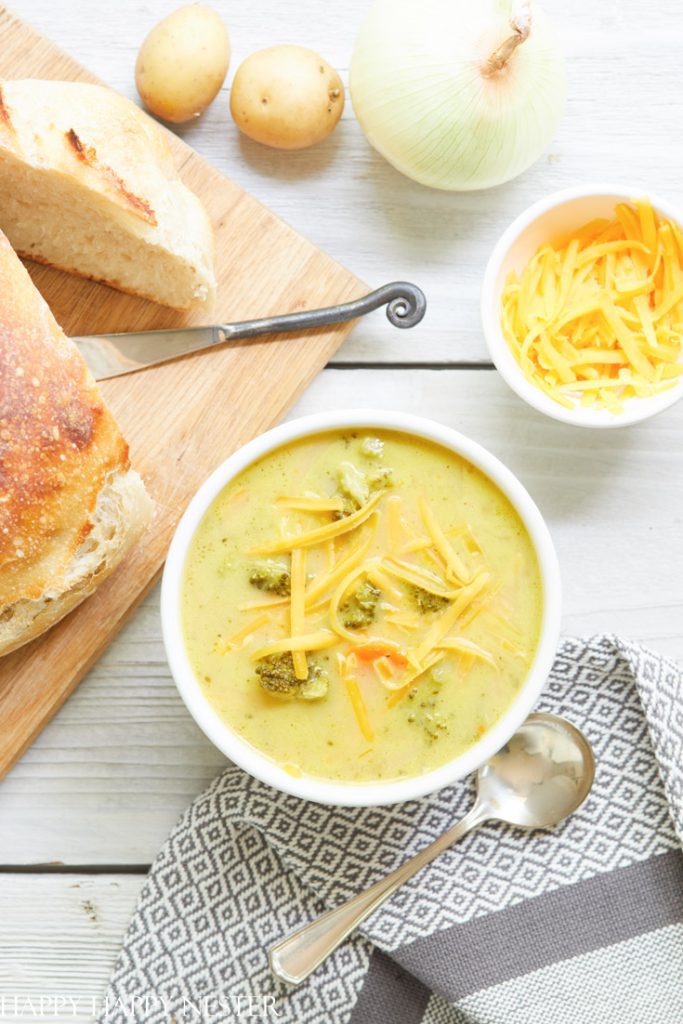 You can probably tell this by now, but we love soups. However, this recipe is by far our favorite because of the thick texture and taste of creaminess and rich spice.
It's about time you create a soup for Thanksgiving, out with the old, and try something new this month by whipping up one of my easy last-minute Thanksgiving recipes!
I always love a hearty soup! This recipe is creamy, cheesy, and packed full of vegetables. And if you like Panera's broccoli soup, then you'll love this one.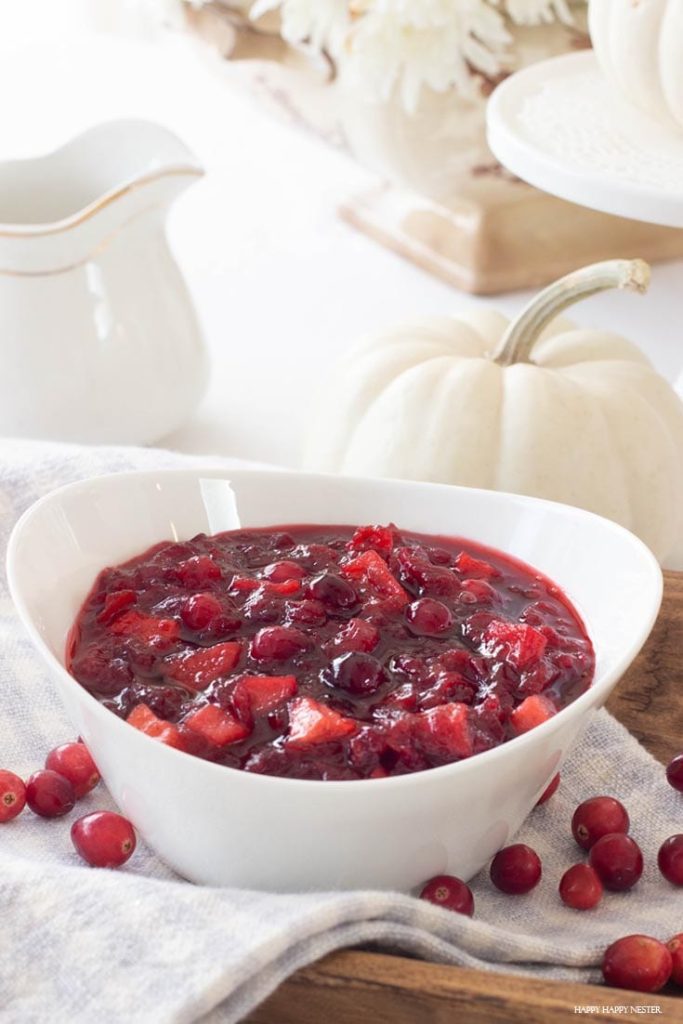 Cranberry sauce is a must for my family when it comes to cooking for Thanksgiving, and you're in luck because this recipe is easy. Like too easy to pass up.
Yes, before I came across this recipe, I used to buy canned products, but those days are over. Nowadays, I cook cranberry sauce from scratch and trust me, it's better than any canned.
This maple apple cranberry sauce recipe has maple syrup, a touch of cinnamon, and tart yummy Granny Smith apples. It is a perfect blend of spices, sweetness, and mellow tartness = another one of my easy last-minute Thanksgiving recipes to try.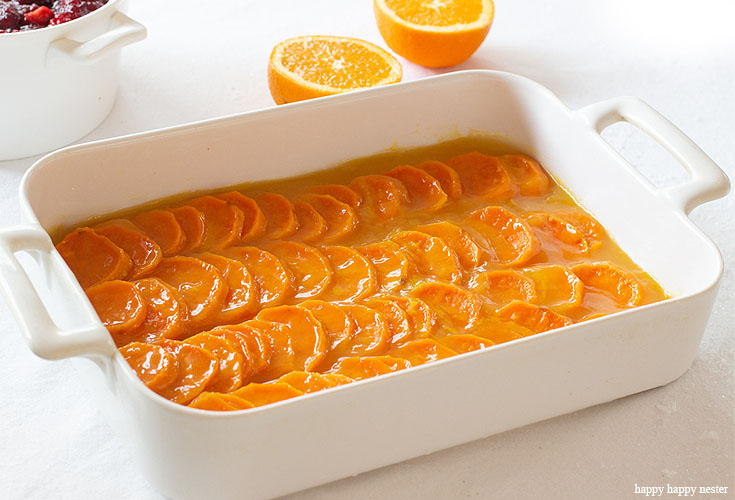 This yams recipe is a refreshing recipe that goes perfectly with most dinners.
We love it for Thanksgiving and Christmas dinner parties. It is so cool that it can be made ahead of time which helps when you are hosting a big crowd for dinner.
This recipe is from my childhood so it's pretty special to serve it every Thanksgiving. It's also one of my many easy last-minute Thankgiving recipes from the blog.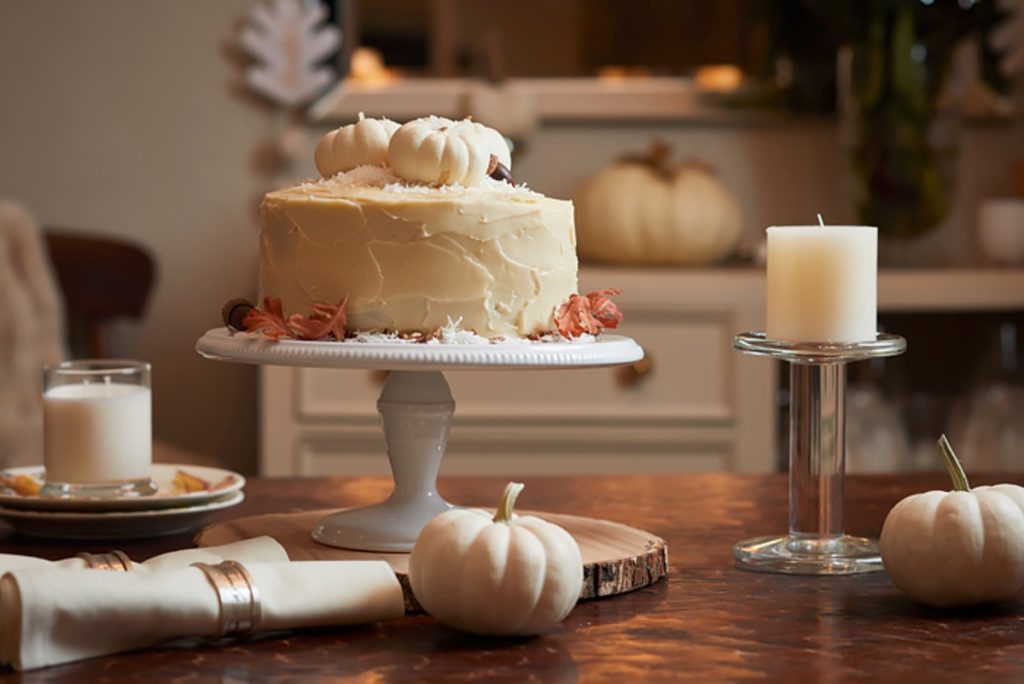 This Italian cream cake has a pumpkin cream cheese frosting that makes this a winning combination. This dessert is perfect for the holidays or any occasion.
This is a moist and family favorite cake that I've made for years.
This Italian cake has a luscious cream cheese pumpkin frosting. And the combination of the cake and frosting is unbelievable.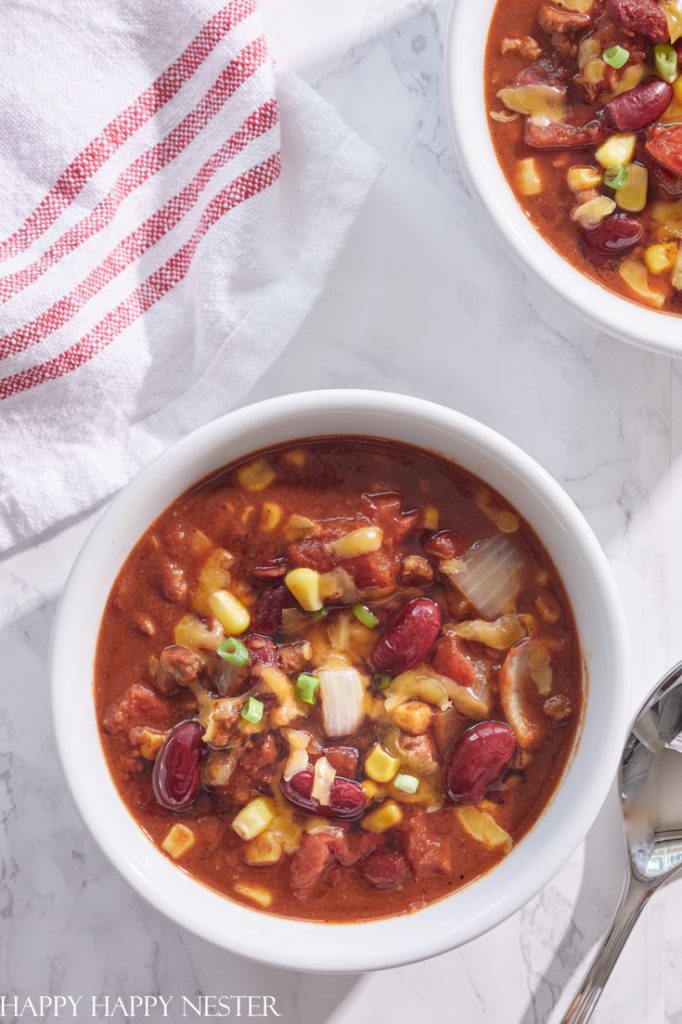 Yes, this is one of my easy last-minute Thanksgiving recipes that wows my family every year. It's a warm, homemade dish that heals the soul.
If you own a crockpot, it's time to get it out of the cobwebs and into the kitchen for Thanksgiving!
What's not to love about this recipe? It's simple, homemade, and great if you're on a tight budget this month.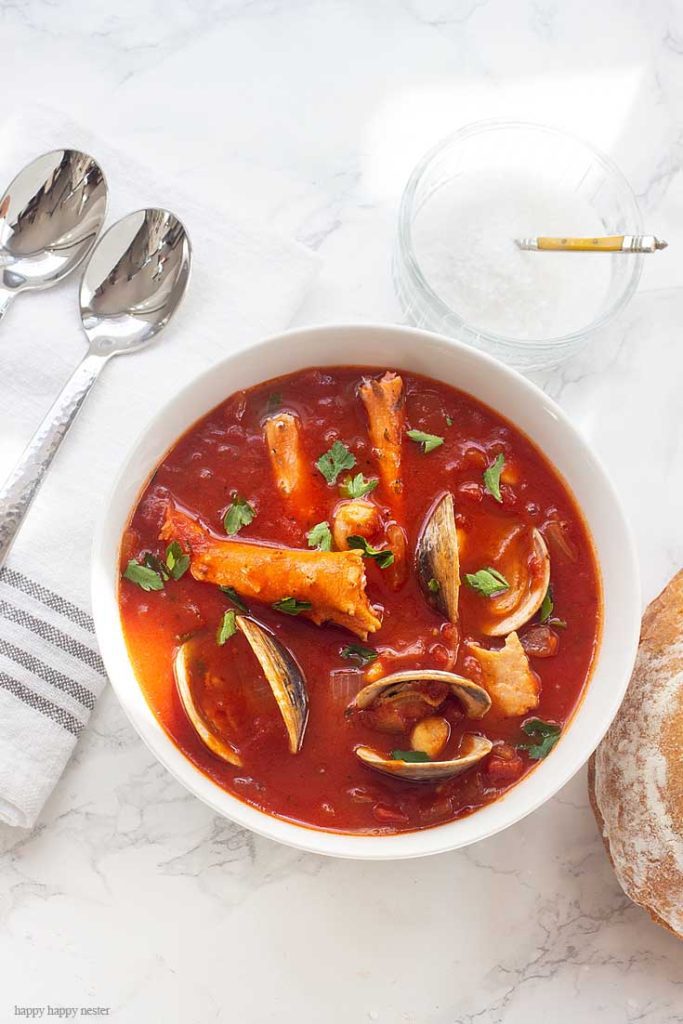 Since my family and I love turkey and seafood, we tend to have some seafood dishes on the table during Thanksgiving, including this stew recipe.
There is a secret to this dish, and it's one not many people know about. It might change your life and your cooking when it comes to making seafood stews.
---
Thanksgiving Setting Ideas
Thanksgiving Table Setting Ideas
It's time to get my turkey on! Check out these tablescape ideas to then create one of your own to gather at with grateful hearts.
Every Thanksgiving, I tend to go all out when it comes to constructing my dining room table. It's such a particular time of the year to give thanks and feel blessed.
And after decorating, it makes my heart beam with joy seeing my loved ones around the table that I styled. I'm sure you feel the same way and want to create an unforgettable oasis to hold in your memory forever.
I am here to motivate you to make that unique table for Thanksgiving!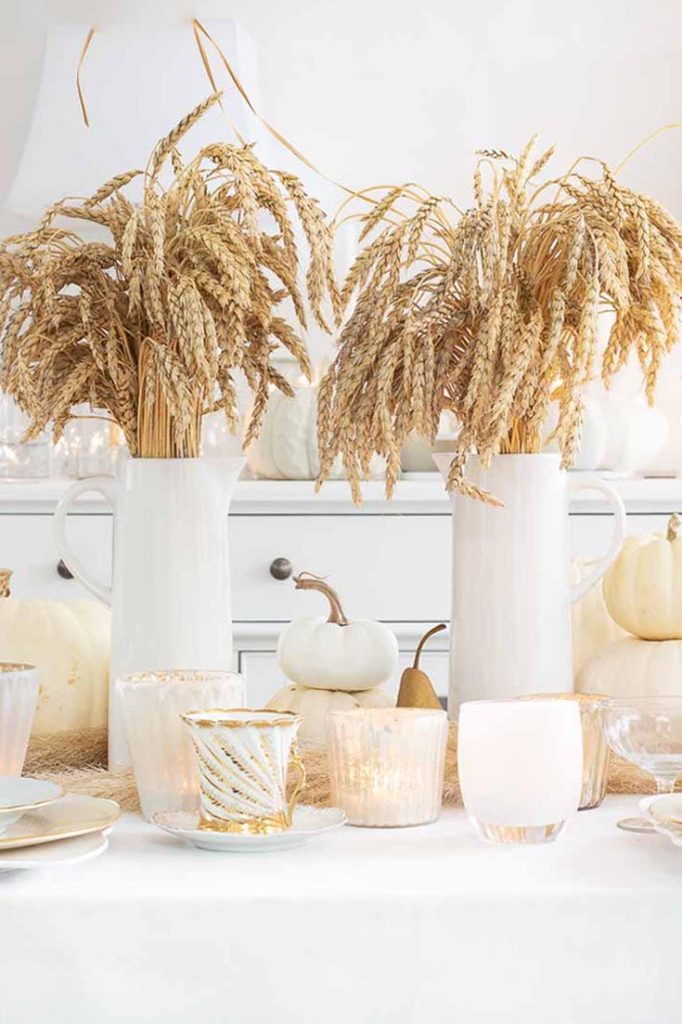 Thanksgiving Entertaining Essentials Serveware
Since it's finally November, let's take a look at what you're putting on your Thanksgiving table this year.
Included are beautiful dinner plates, silverware, tureens, and much more served alongside those easy last-minute Thanksgiving recipes you prepared.
There is something quite pleasing about sitting down at a beautifully decorated table, so hopefully, you find some inspiration to create that beautiful table for your home.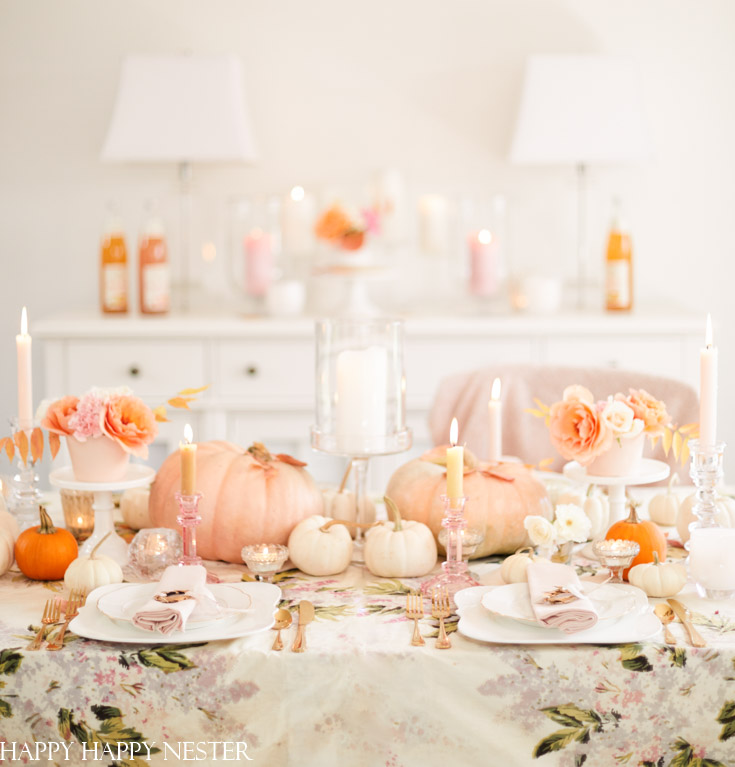 Elegant Thanksgiving Table with Pink Pumpkins
Here is that inexpensive table setting you've been looking for! This simple table includes pink heirloom pumpkins, fall leaves, and flowers from my garden, along with any of your traditional table setting decor.
There are many ways to create a table like this, so have fun with it! Use free items like fall leaves to add beautiful accents to the table, purchase inexpensive white mini-pumpkins or use faux ones if you prefer, and add glass candlesticks and votives that add a bit of sparkle to the table.
With these pieces and ideas, you will create your dream table for Thanksgiving!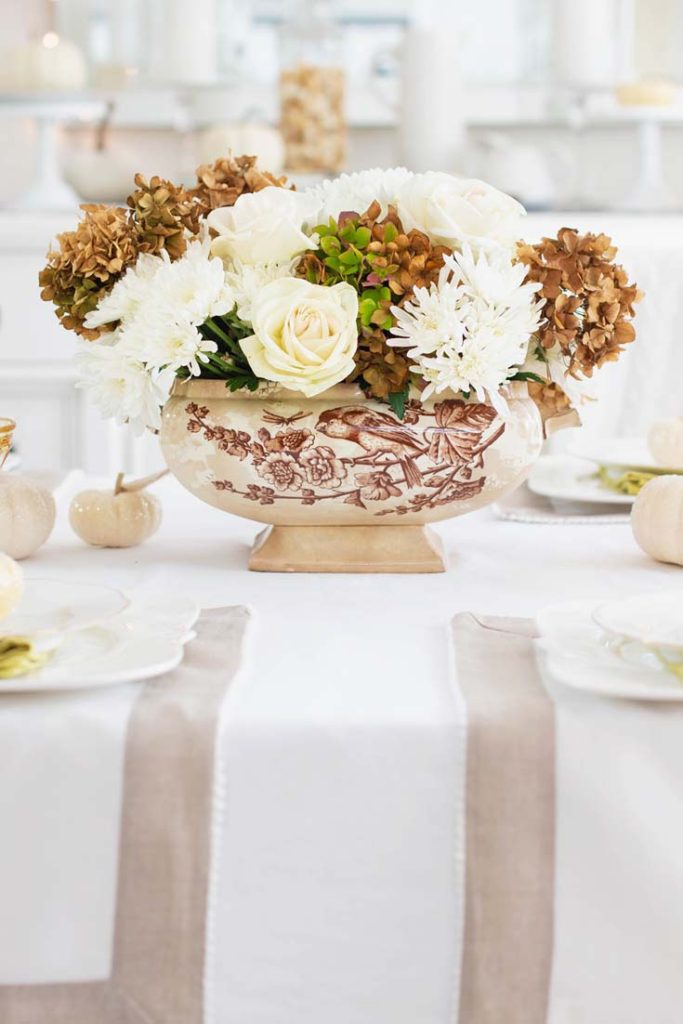 Creating an Inexpensive Thanksgiving Table
Don't you love Thanksgiving? I like that it celebrates family and friends, food, and gathering around a table. So, speaking of tables, let's chat about your table.
I have five ways to create an inexpensive Thanksgiving table for your holiday dinner full of easy last-minute Thanksgiving recipes if you need some inspiration. So with a few little tips and tricks, you can design a simple table for practically a few dollars.
---
Trending Over On The Blog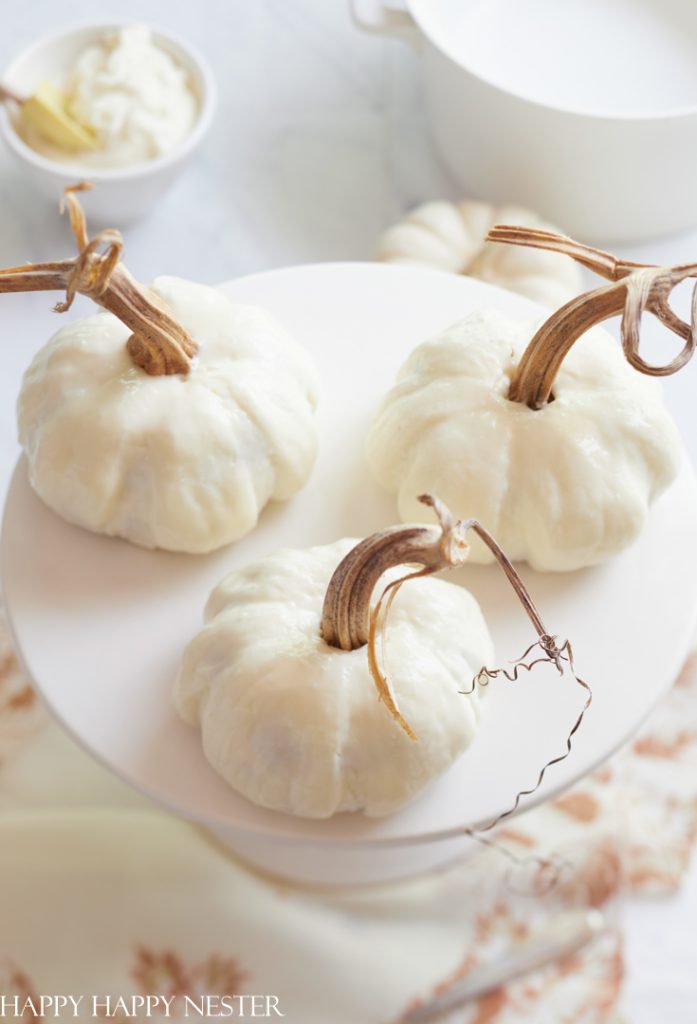 These cute mini pumpkin bundt cakes are made with my moist carrot cake and cream cheese frosting recipe. It's the perfect dessert for this season to share with family and friends!
And besides, it's shaped like a pumpkin, so of course, it's going to be adorable!
I have been on the hunt for a new, delicious recipe for Thanksgiving, and I can now say that the search is over because these pumpkin cakes are incredible.
The taste of the sweet cream cheese frosting melts in your mouth along with the inviting flavor of carrot cake! You will be coming back for seconds (or thirds)!
This recipe is one of my favorite easy last-minute Thanksgiving recipes to serve as dessert.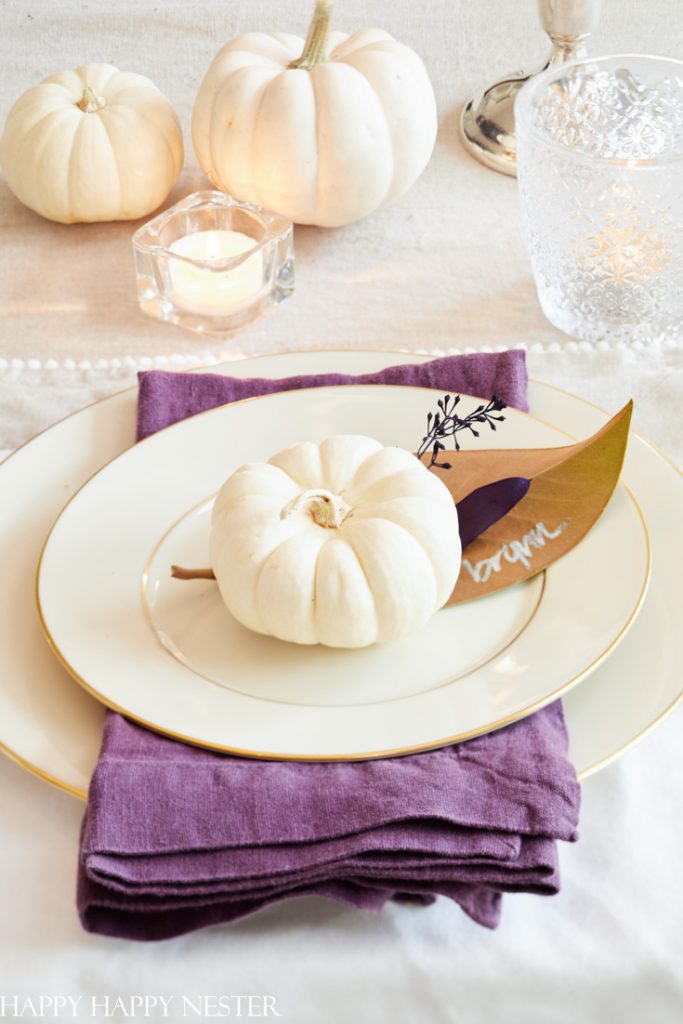 Here is a collection of good ideas for Thanksgiving, from Fall decor to delicious recipes! I also include my favorites, what's trending on the blog, and lots more!
I am here to inspire you to create unique pieces and to decorate your home with seasonal decor, so join me in the journey of crafting, baking, and decorating today!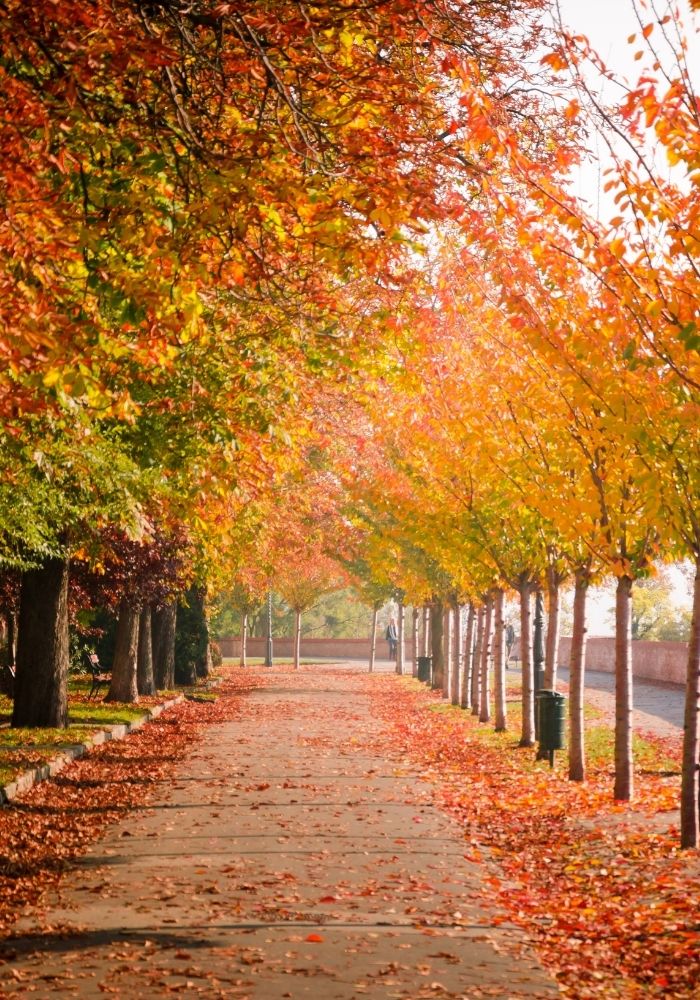 Here is a collection of everything fall, from crafts to recipes to decor! I also include DIY fall decor, my favorites, what's trending on the blog, and lots more!
I am here to inspire you to create a warm and welcoming oasis, whether that means baking in the kitchen or crafting up a new DIY!
Let's fill your home with everything fall-styled crafts, decor, and more!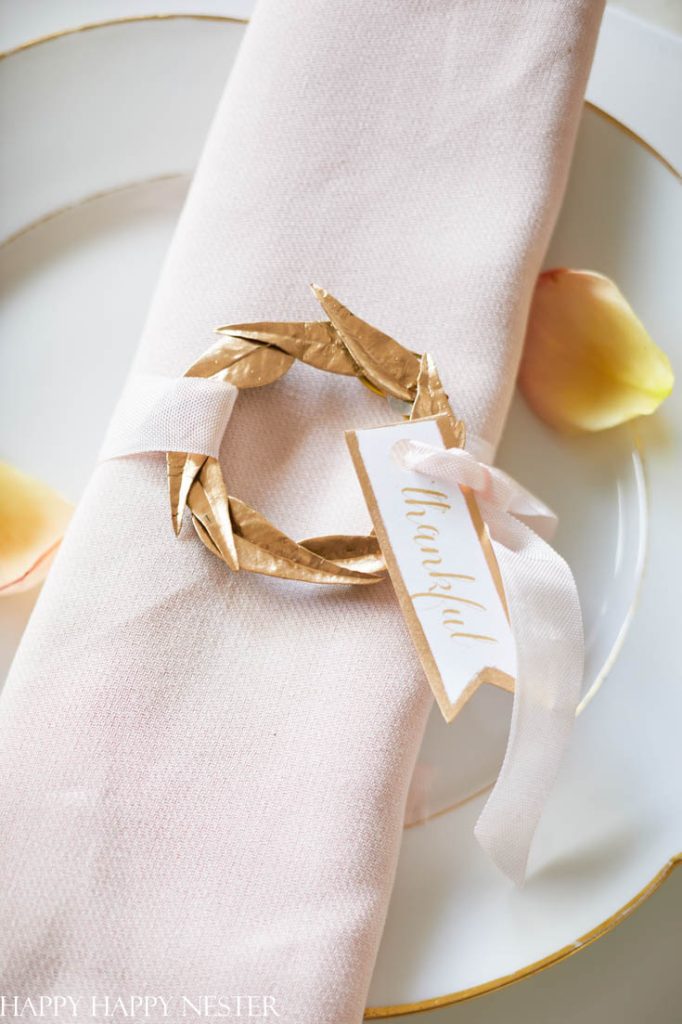 Jazz up a Friendsgiving party with these dinner place cards with mini wreaths! Included in this tutorial is a simple printable that attaches to the pretty seam binding ribbon.
I love the mini rosemary wreaths that everyone is making, but I wanted to design something a bit different. So, I took real leaves from my yard and covered them with gold leaf paint.
I promise that this project isn't too tricky.
---
This Week's Tip – Our Favorite Small Appliance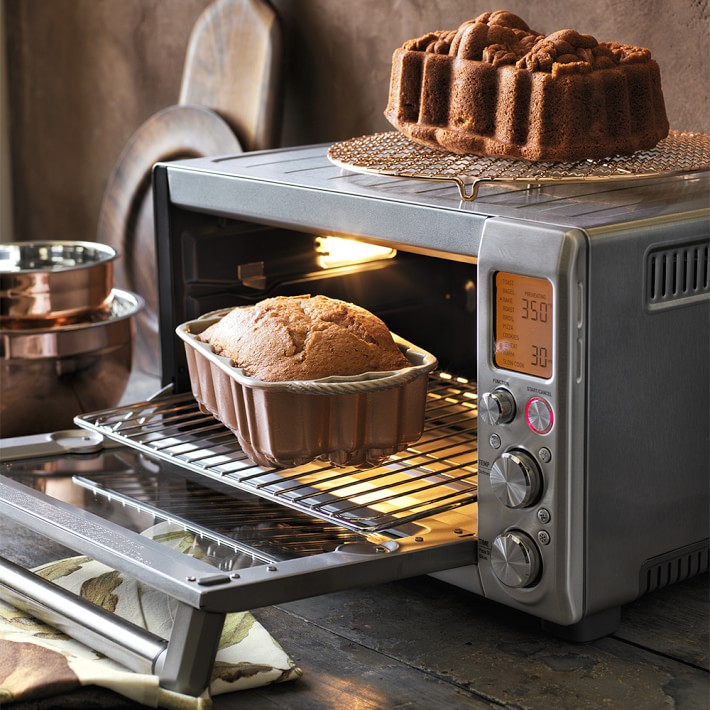 Our Favorite Toaster Oven with Convection
One Thanksgiving, we worried about having enough oven space to cook our feast, so we bought this fabulous Breville Toaster oven. Little did we know that it is the most popular small appliance in our kitchen.
I actually think we use it more than the oven. We reheat leftovers, toast, and even bake some of our meals and desserts in this convenient appliance. We've had our for about five years and it goes beyond a regular toaster.
So, I decided to share this oven with you, since there is a 20% sale going on right now. There are a lot to choose from when you visit the website, so happy shopping!
My Latest Obsession – Turmeric Drink
We Love This Delicious Drink
My husband struggles with bouts of insomnia and sore joints.
So, the other day he read about turmeric's anti-inflamatory medicinal qualities and wanted to try a turmeric drink. Wel, I went on the internet and found this wonderful recipe from Elizabeth Rider.
It's the perfect blend of spices, ginger and almond milk. If you make it, I highly recommend that you froth the drink. It tastes similar to what I've ordered at coffee shops down in Southern California.
And speaking of California, I'm not sure why this drink isn't popular here in the Bay Area. But, we plan to make is as an evening after dinner drink.
---
Hello, everyone!
I still can't get over the fact that we are in November, and time is moving so fast. Since this is a pretty busy month, hopefully, these easy last-minute Thanksgiving recipes will give you a helping hand in the kitchen.
Have a great weekend, and stay tuned for more recipes, crafts, decor, and more!
Cheers,

Catch up on Saturday Chitchats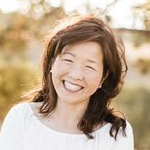 Latest posts by Janine Waite
(see all)