I adore this month! There's something so special about the fresh spring air, beautiful flower blooming everywhere, and May Flower Arrangements.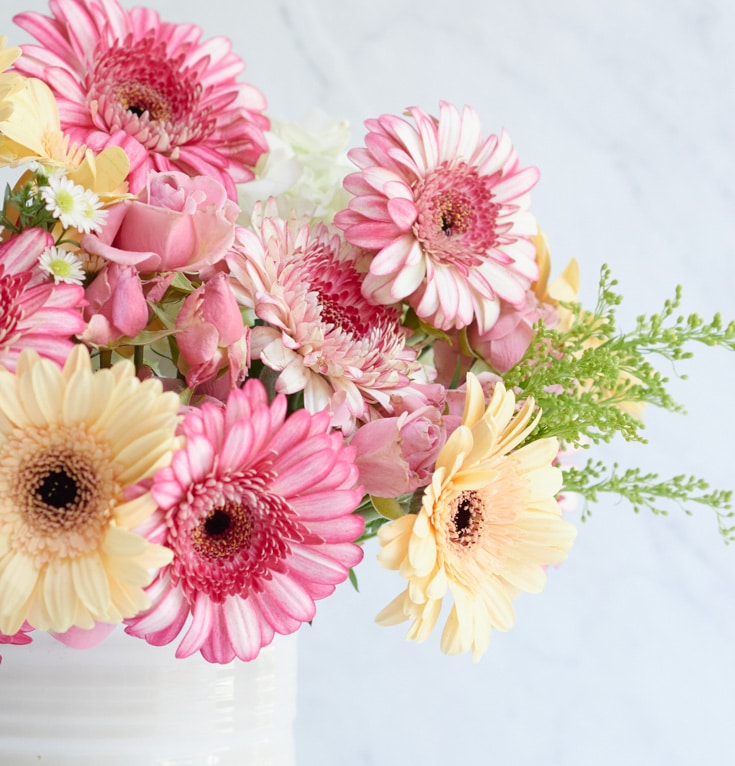 And speaking of flowers, these arrangements are some of my favorites!
Whether it's a stunning bouquet of roses, a whimsical mix of wildflowers, or even a simple vase of freshly picked lilacs, there's just something so enchanting about bringing the beauty of nature into your home.
One of the things I love most about flower arrangements is how they can brighten up any space and bring a little bit of joy into your day.
May is just the perfect time of year. The weather starts getting warmer, the days get longer, and everything seems to come to life.
Who doesn't love shedding those heavy winter coats and embracing the sunshine?
And wait to get me started on the flowers.
It's that time of the month of the gorgeous and colorful spring blooms, and there's just something so special about seeing them all in full color.
From the delicate lily of the valley to the bright and cheerful daisies, there's a flower for everyone to adore.
But what gets me excited are the May flower arrangements.
Whether placing a simple vase of wildflowers on your kitchen table or going all out with a big bouquet of mixed blooms, there's something so uplifting about having fresh flowers around.
So yeah, I'm a May flower arranger enthusiast. Who wouldn't be? 🙂
Saturday Chitchat with Janine – Volume 118
May is seriously the best month. The weather is warming up, the sun is shining, and everything is blooming.
It's warm enough to ditch the jackets and soak up the sunshine but not so hot that you're sweating through your clothes.
And the flowers! There are blooming flowers and trees everywhere, making everything look vibrant and alive.
But that's only part of it, May is also the month of graduation, and who doesn't love a good graduation ceremony?
Whether it's your own or someone you know, seeing all those caps and gowns is such a proud and exciting moment.
It's extraordinary because my daughter is graduating and transferring soon! So, shout out to all the families with soon-to-be graduates.
Personal Note from Janine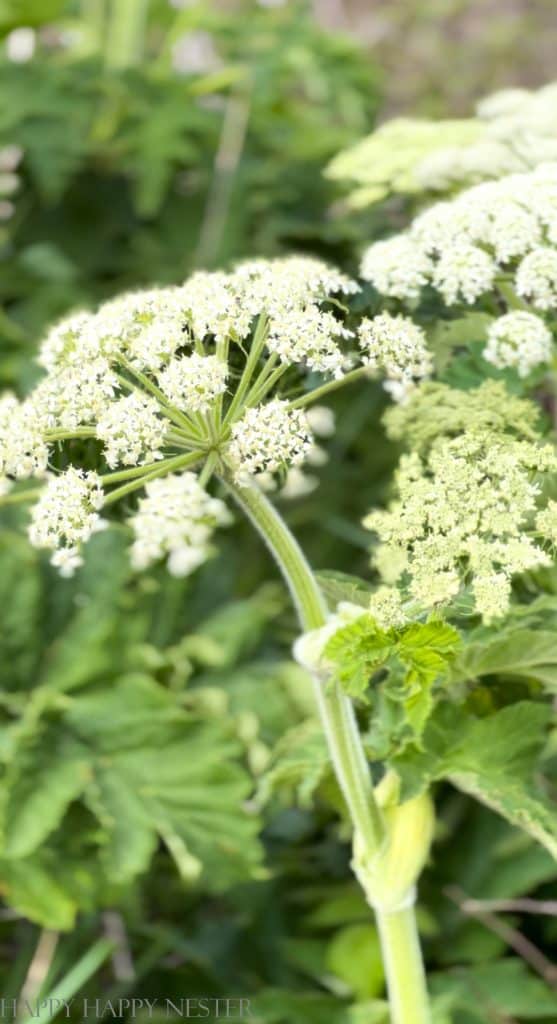 Last weekend, my hubby and I took our little camper out for its first adventure of 2023. We hit the road and headed up the Northern California coast to Point Reyes and Bodega Bay. It was absolutely amazing!
One of the highlights was discovering a new beach trail that wound its way through these breathtaking dunes adorned with colorful wildflowers. I'm talking wild poppies, vibrant purple lupines, and cheery yellow daisies. Oh, and let me tell you, the scent of those lupines was out of this world! If only I could capture it and share it with all of you.
Speaking of sharing, I managed to snap a few shots of the California hills in all their glory. They were breathtaking and beautiful.
Today we're keeping things low-key and staying home, tending to our garden. We're getting our hands dirty, planting more flowers, and giving all the beds in our backyard a nice mulch treatment. Gotta keep those plants happy and blooming!
Oh, and before I go, a big shout-out and Happy Mother's Day weekend to all you fantastic moms!
Cheers,

This Week's Inspiration – May Flower Arrangements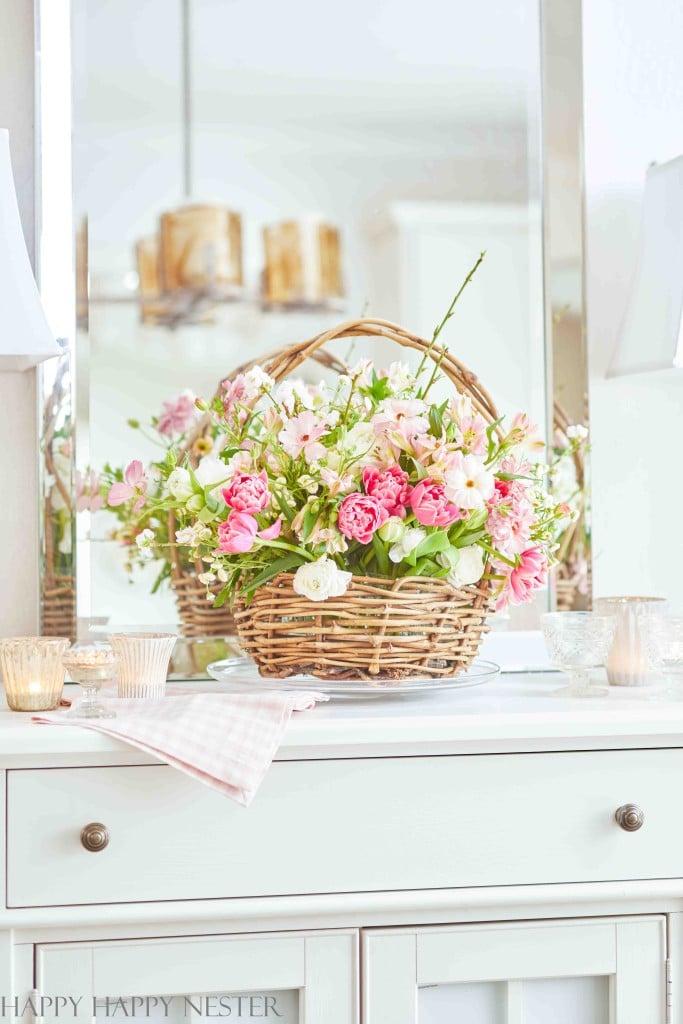 Basket Flower Arrangement Step by Step
There's something about a Basket Flower Arrangement that feels cozy and inviting. There's just something about the combination of natural materials that gives it such a warm and homey feel.
And since baskets come in all different shapes and sizes, you can customize the look to fit your specific needs.
Creating a Vintage Flower Arrangement typically involves using a combination of classic flowers, colors, and textures that evoke a sense of nostalgia and charm.
I love all flowers, but the vintage-looking ones have a special place in my heart. When they're put together in a bouquet, the style is just gorgeous and timeless.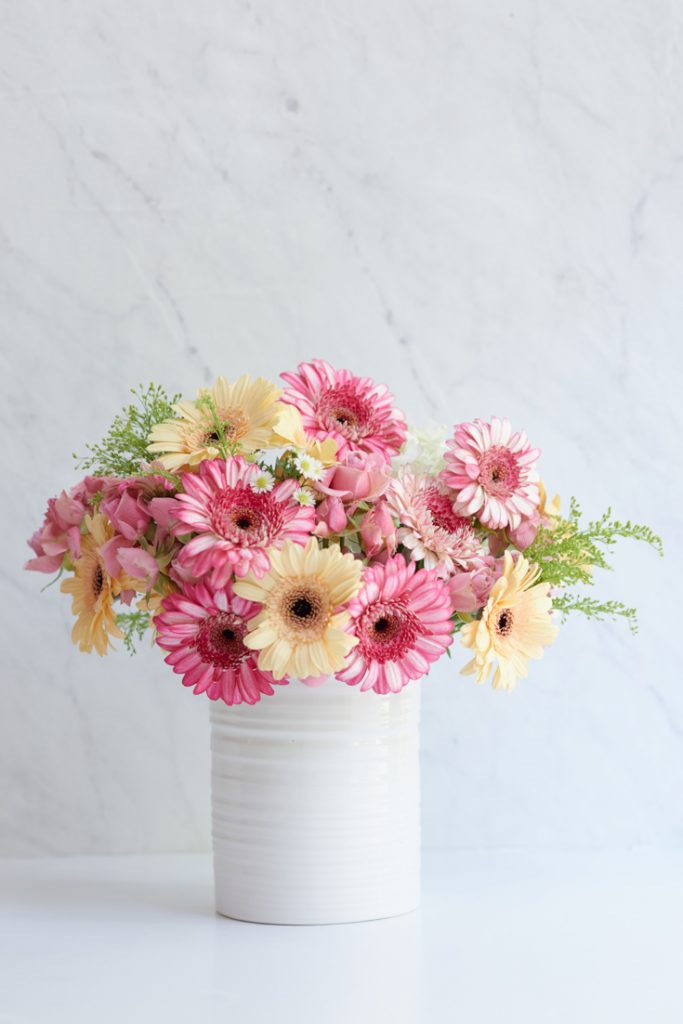 Trader Joe's Flower Arrangements
I create floral arrangements. I have always been a huge fan of them. Whether it's planting blooms, creating bouquets as decor, or picking them from a field, I admire their beauty!
So come on and check out these Trader Joe's Flower Arrangements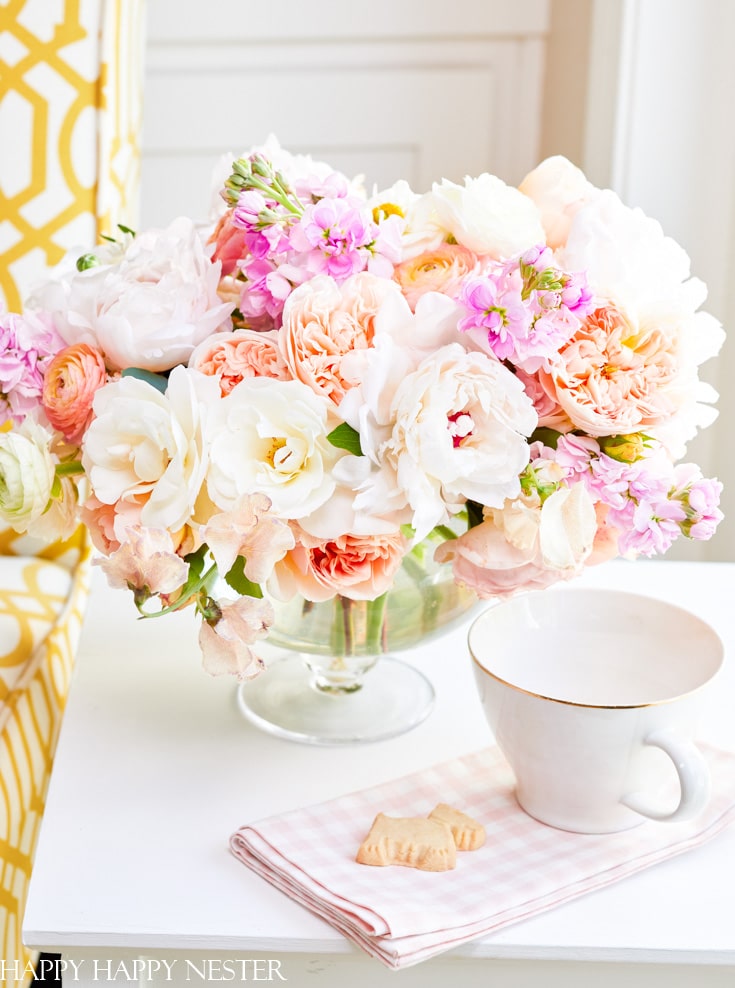 Soon the stores will be bursting with peonies, and you'll want to look at this post on Peony Arrangement Ideas.
I find it's always helpful to know which flowers to buy before going to the store. That way, you save time and money and shorten the time spent at the store.
These Small Bouquet of Flowers are fabulous for Mother's Day gifts, weddings, graduation, birthdays, etc.
And since these are mini-bouquets, they're easy and quick to create. The petite floral arrangements include store-bought, flower market, and garden flowers.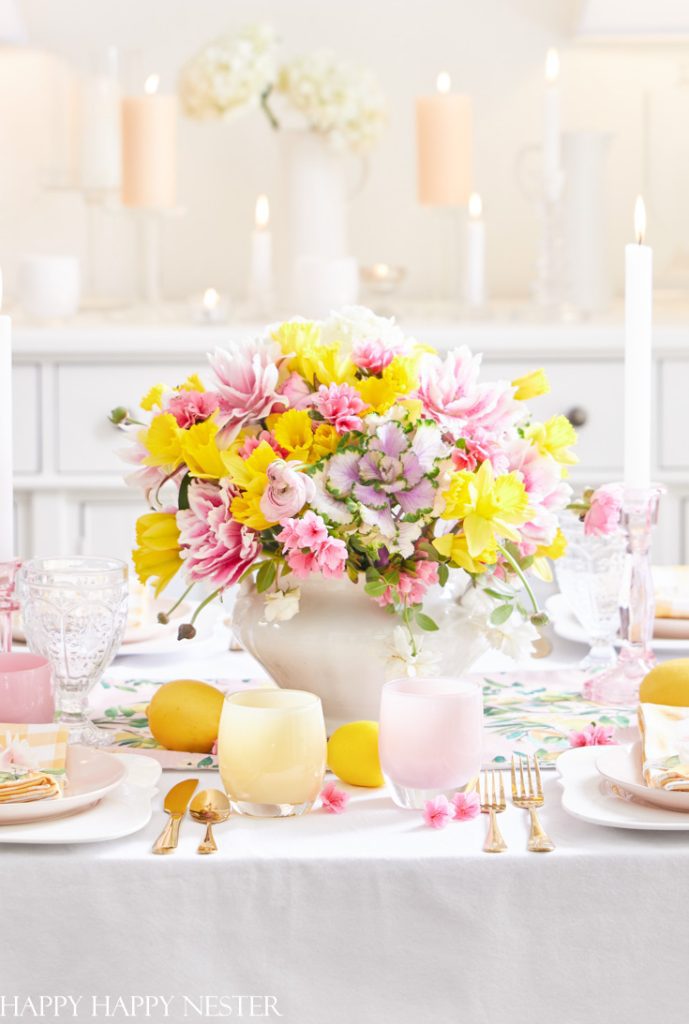 Here's an easy Floral Centerpiece DIY that uses grocery store flowers and a few garden flowers and fillers.
A few factors go into designing a flower bouquet, and this tutorial will help you create the prettiest table settings once you implement these key components!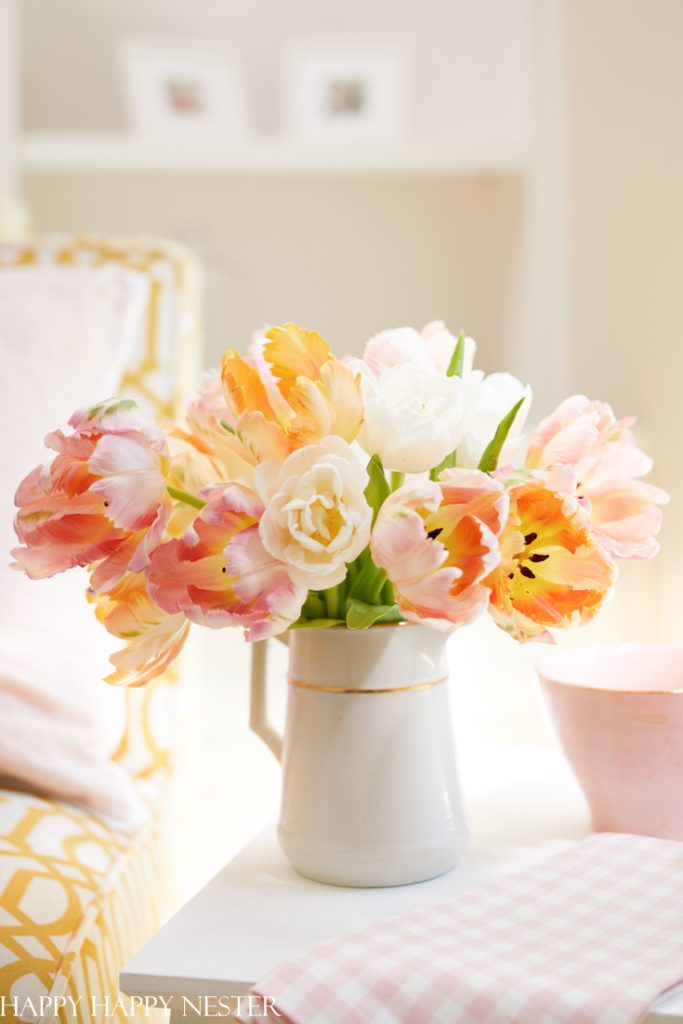 How to Arrange Tulips in a Vase
Tulips and How to Arrange them in a Vase can be a bit tricky. If you love flower arranging, then you'll enjoy this tutorial.
I'll go over droopy tulips, what flowers to pair with them, and some of the vases to use.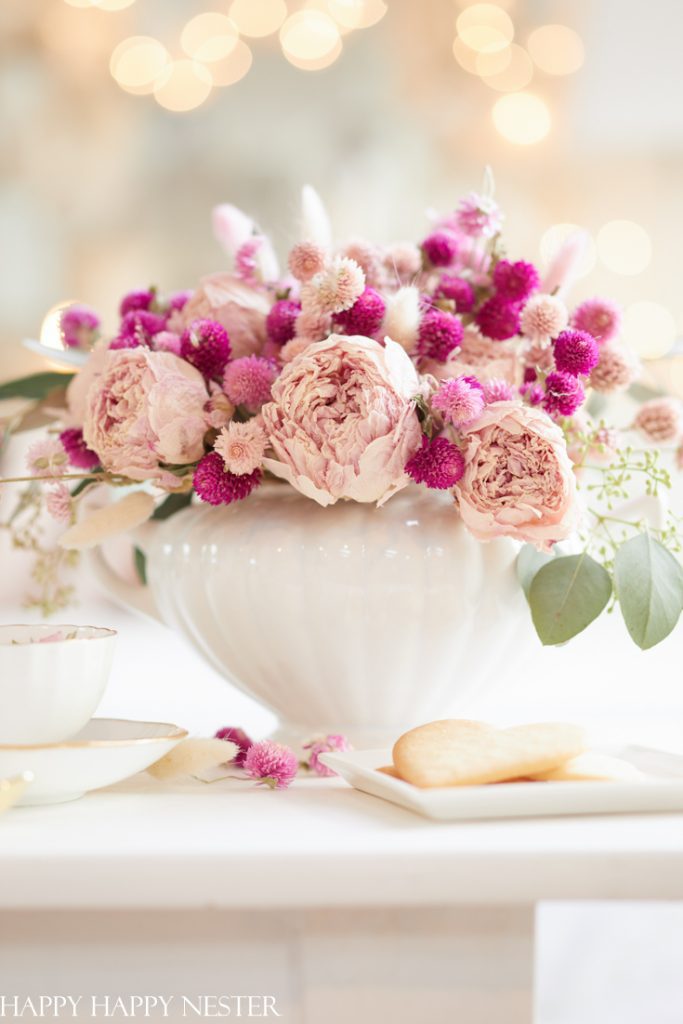 People have asked me to make some Dried Flower Arrangements, so today, I'm sharing my latest design.
The flower's bright colors are stunning in the vintage soup tureen turned into a vase. Learn how to create this timeless floral arrangement.
Boutique of the Week – Summer Wreath Ideas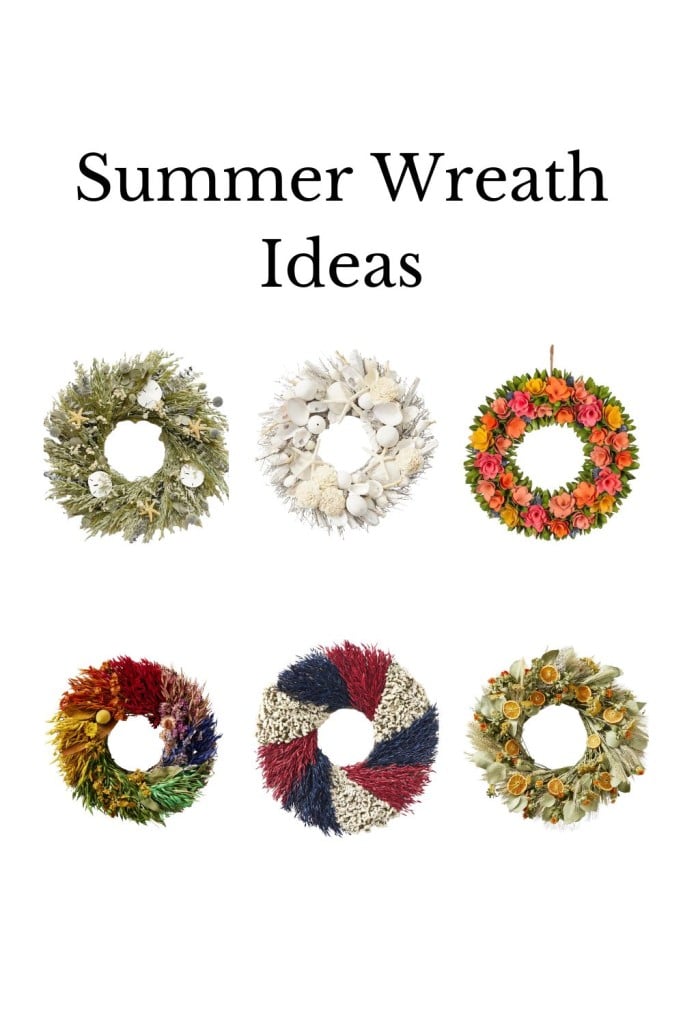 So, let me tell you why I'm into Summer Wreath Ideas. First, I love how they add a lovely freshness and vibrancy to any space.
Whether it's a front door or a wall inside your home, a summer wreath can make a statement and brighten your day.
My Favorite Things – May Flower Arrangements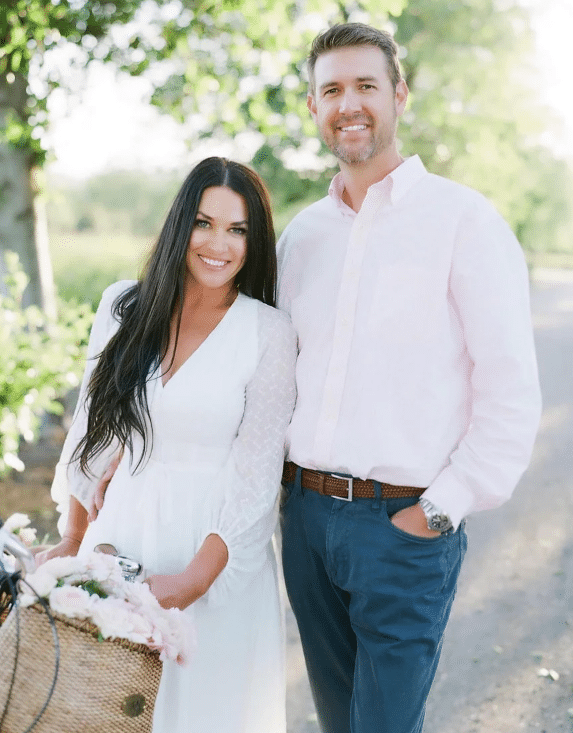 One thing I love about a site like this is that I can purchase fresh and gorgeous farm flowers. Grace Rose Farm is one of the best places to find the best blooms!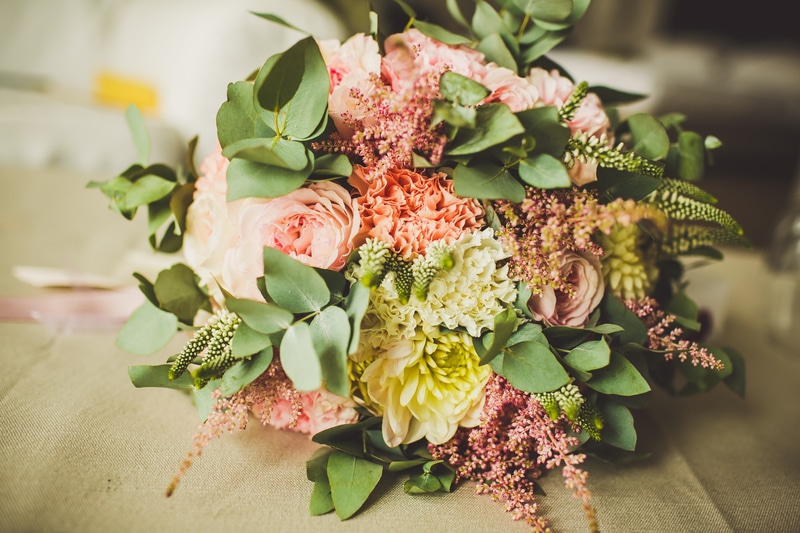 I adore Chelsea Flowers in London and love their floral creations for every season and occasion! This is the site if you're looking for inspiration or a beautiful purchase.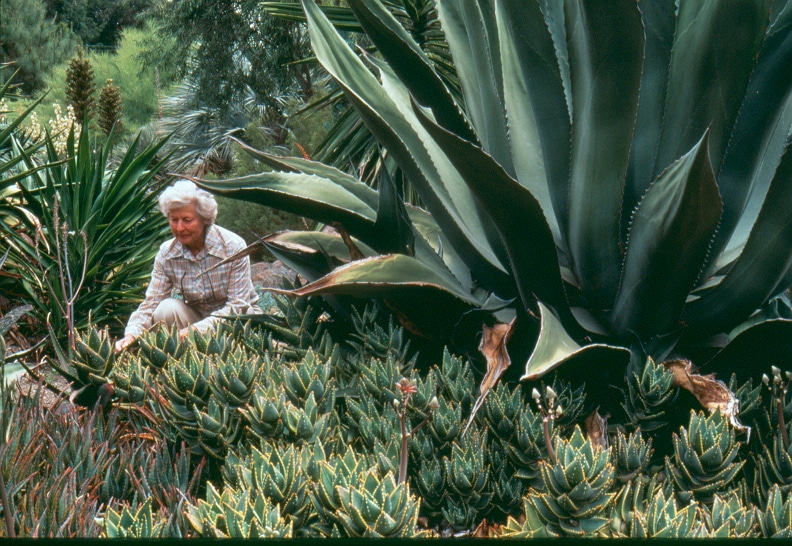 The Ruth Bancroft Garden & Nursery
Just this morning, my daughter and I visited this gorgeous botanical garden; it was so fun! There are succulents, flowers, trees, plants, and even more plants. I recommend visiting this nursery or any nursery near you!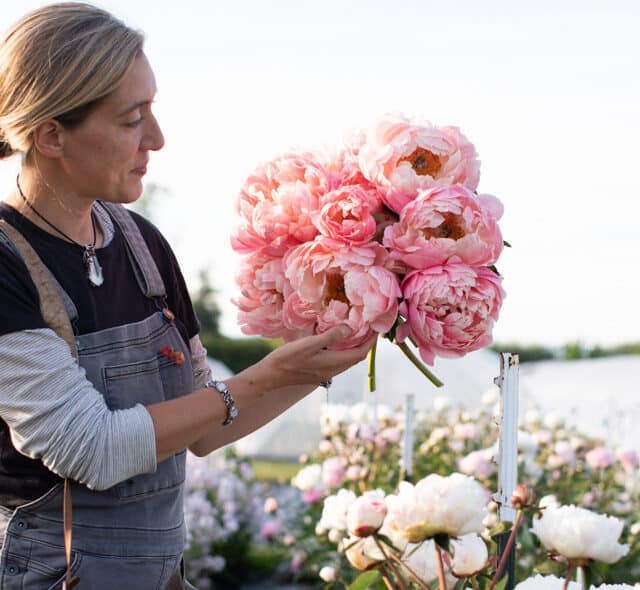 Just recently, I discovered Floret Flowers, which is a small family-run flower farm in Washington. Their creations, arrangements, and blooms are worth taking a look at!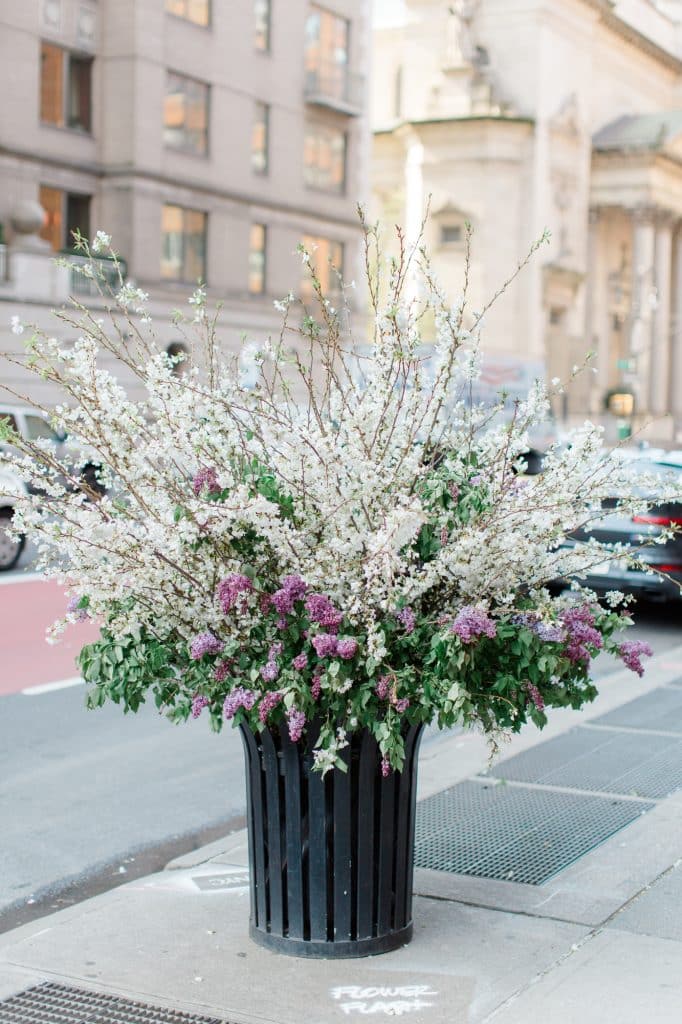 Isn't this amazing!? I have never seen such a big bouquet in a trash can, but here it is! Lewis Miller has a unique talent for arranging gorgeous blooms; check out his page for inspiration.
Stuff I Love
Here's a collection of some of my favorite gardening tools for handling flowers for the summertime!
What's Trending On The Blog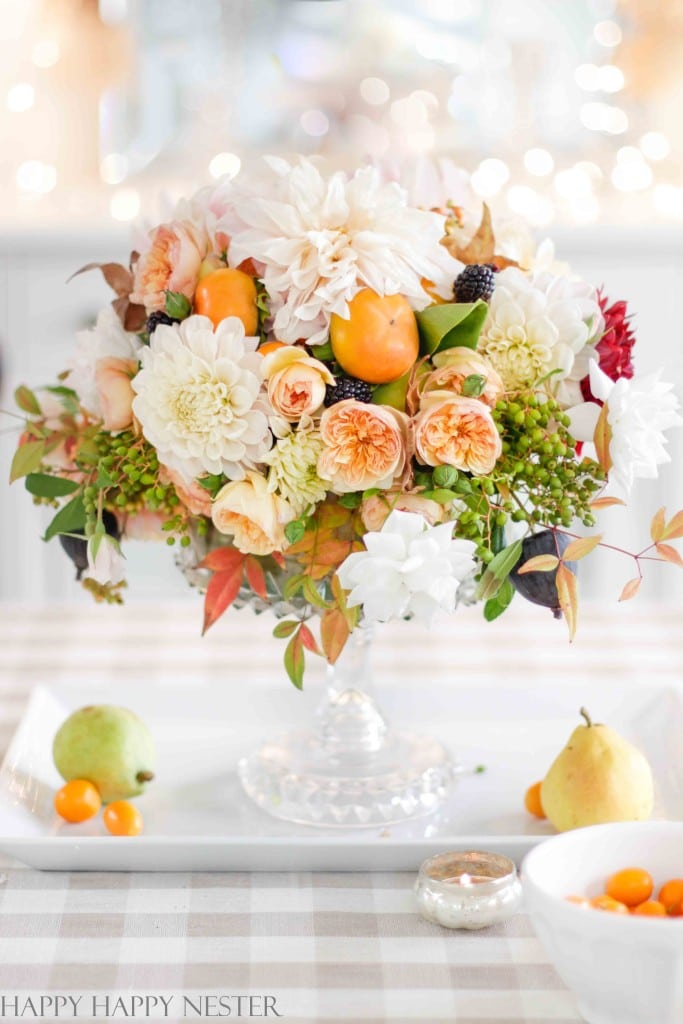 Flower Arrangements with Fruit
Make a bouquet that blends fall fruit with flowers! Persimmons, black figs, and kumquats dot the arrangement of dahlias.
This simple bouquet uses fruit in some places in lieu of flowers. So, that means fewer flowers you have to buy!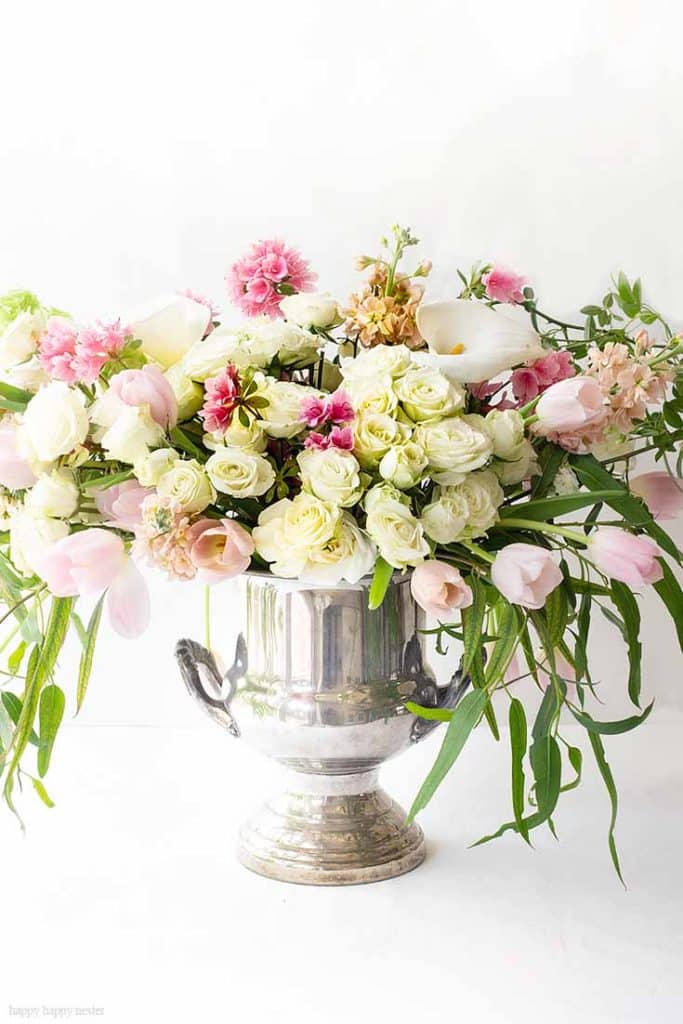 Create a Gorgeous Mother's Day Floral Bouquet
I hope you are ready to Create a Gorgeous Mother's Day Floral Bouquet today!
The cool thing about my floral arrangement is that I used three flowers and greenery that you can buy at your local grocery store, roses, tulips, and eucalyptus. It doesn't get any easier than that!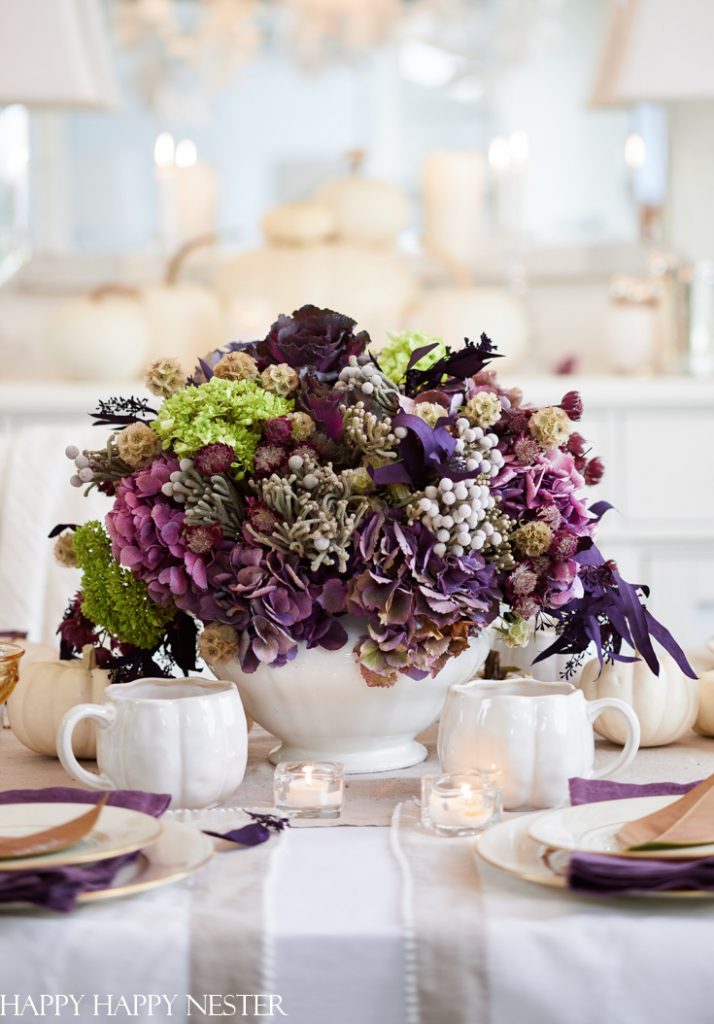 Here's an unusual twist on a Farmhouse Fall Centerpiece. This gorgeous bouquet includes a gorgeous rich color of purple flowers.
I'll show how I designed this floral arrangement step-by-step!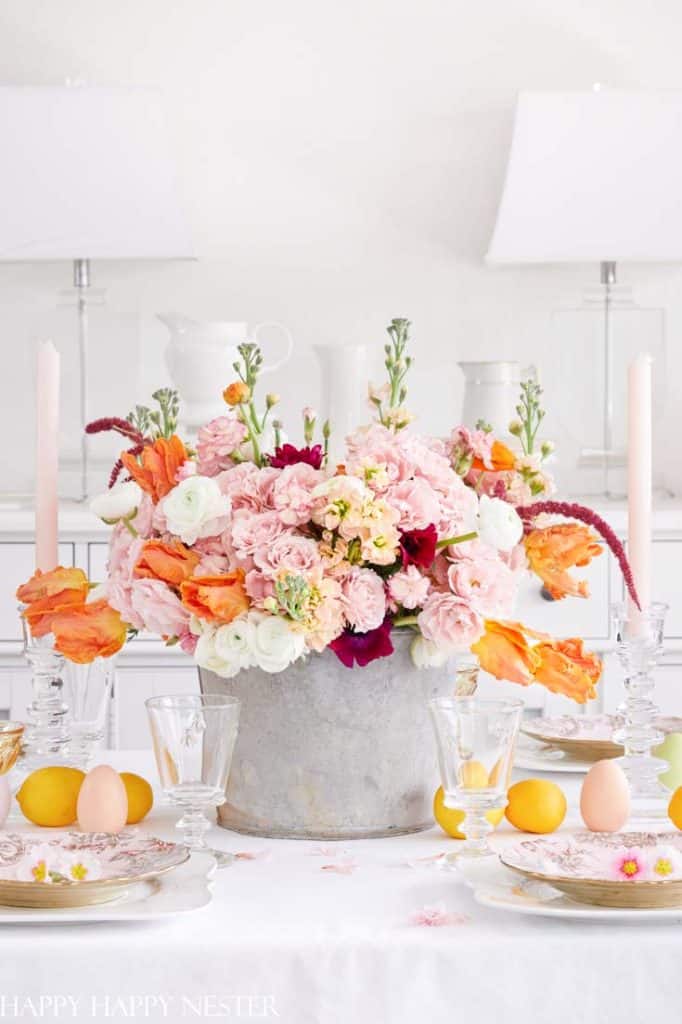 I'm always excited to come up with more Creative Flower Arrangement Ideas for Spring. And this time of year, I find that the San Francisco Flower Market is bursting with pretty spring flowers.
So, I recently took a trip to the market, and here are the lovely results.
This Week's Tip – Lilacs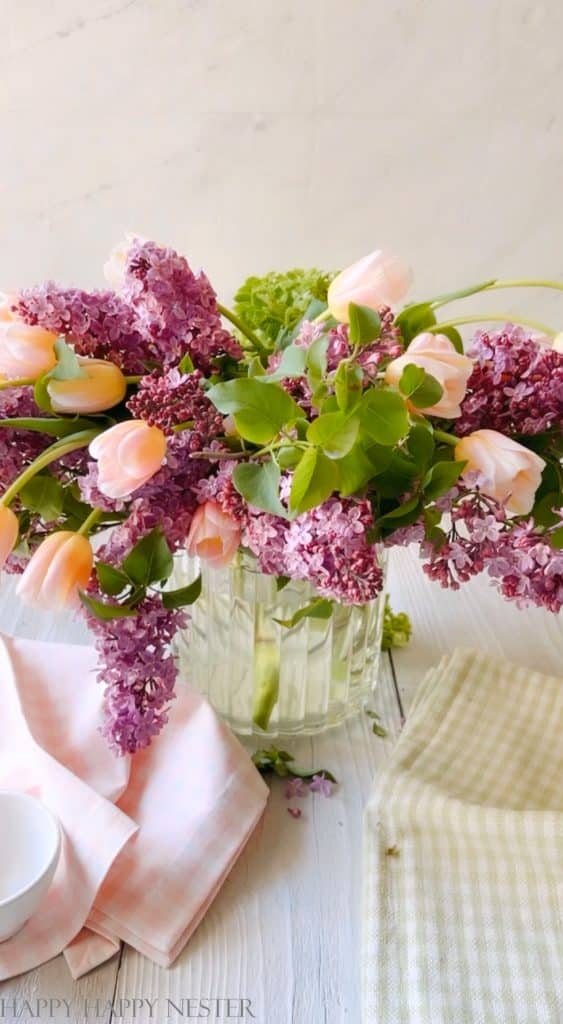 Trader's Joe's Lilacs are in Season!
Here's a little tip for all you lilac lovers out there!
If you don't happen to have a lilac bush in your garden, no worries. Just swing by Trader Joe's, and you'll be in for a treat! They always have these cool and unique seasonal flowers available throughout the year. And guess what? This week, I scored some lilacs from our local TJ's.
Now, I must confess, we recently planted a lilac bush in our yard so I could have my own springtime flowers. But hey, while I patiently wait for my bush to work its magic and produce those glorious blooms, I can still satisfy my lilac cravings with these gorgeous flowers from Trader Joe's. It's a win-win!
And btw, I have a great Trader Joe's flower arrangement tutorial post.
Latest Obsession – Wax Flowers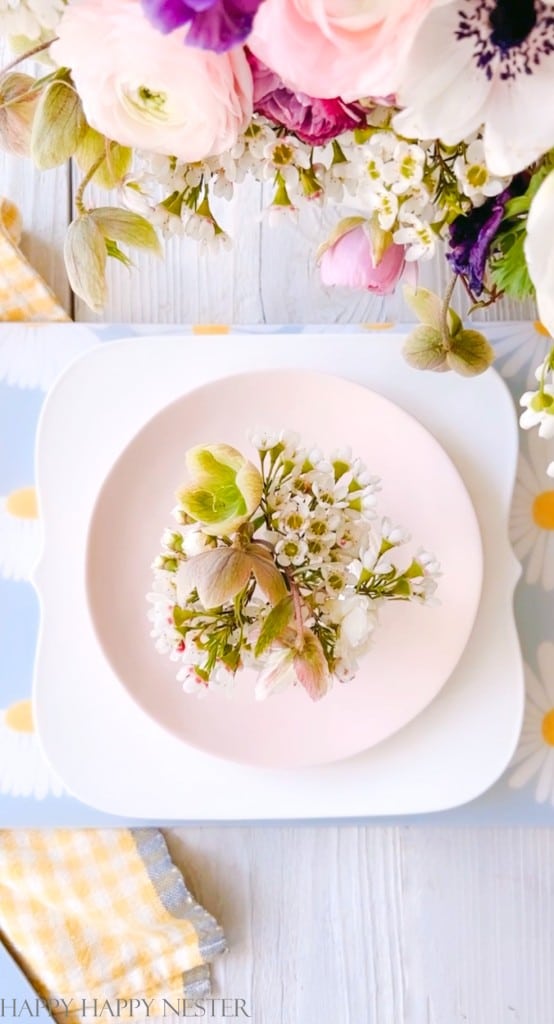 Wax Flowers
I stumbled upon these amazing flowers the other day—wax flowers!
I was absolutely blown away because I had never seen them before. I love their delicate and charming appearance that reminds me of apple blossoms. So, I created a beautiful bouquet with them to celebrate this lovely spring season.
---
Hey there!
It's the perfect time to round up my latest and favorite floral arrangements!
I've also added a few NEW sections to this post, including where I've been regarding flowers and what I love to use to care for flowers.
Whether you like to purchase, grow or arrange flowers (or all three), you're in the right place.
Thanks for joining me this weekend, and I'll see you next time on the blog!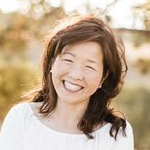 Latest posts by Janine Waite
(see all)