Stay awhile to find out my favorite Homemade Simple Dish, dessert, snack, dinner meal, and a bunch more to start the new year with delicious recipes!
It's time to start cooking in the kitchen and experiment with new recipes to expand your passion for cooking and baking. So, come on, and let's get started!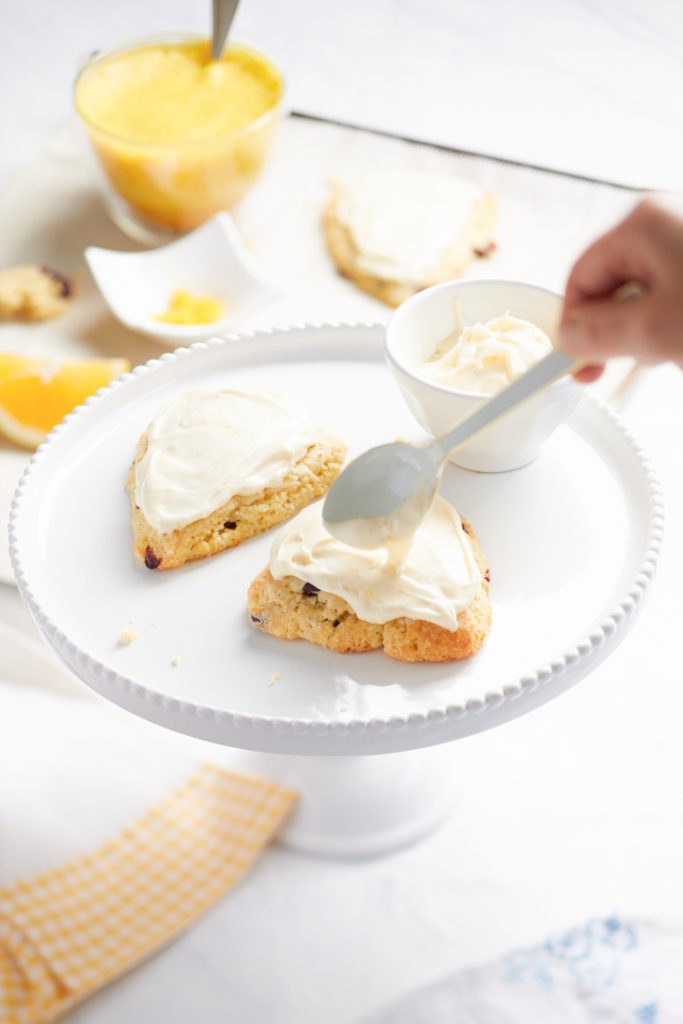 Even though the new year is all about that "new year, new me" mindset, I'm still baking and cooking as much as I did in 2021, along with inspiring others to share my passion!
Hopefully, with my favorite homemade simple dish and more recipes close to my heart, you can find something worth making in your kitchen.
Do you have any new year's resolutions? I have a few of my own, but I'm excited to hear yours! So let me know, and I would love to k ow. As for me, I'm on the journey to learning new recipes, big and small.
Whatever your future promises or resolutions are, I hope you take the time to check out my go-to homemade simple dish along with more of my favorites regarding food.
Saturday Chitchat with Janine – Volume 49
Hello and Happy Saturday!
I hope you're having a great weekend so far and have something fun or at least relaxing planned.
This weekend is more of a chill for my family and me, but we have something exciting.
Yep, you guessed it. We are bak ng! I'm planning on trying out new recipes for Valentine's Day to see which are failures and successes.
While I'm testing out recipes, why don't you take some time out of your weekend to check out my family's favorite homemade simple dish and many others that could become your own family's favorite!
A Personal Note from Janine
So when it comes to sleep, I'm lucky since I have no trouble falling asleep. My husband, on the other hand, struggles with bouts of insomnia.
He has tried everything from supplements to yoga and m re. Finally, after many failed attempts, we recently tried drinking a warm turmeric ginger drink in the evenings to see if that would help him.
Well, since the holidays, we've been enjoying this lovely and calming drink. My husband now makes it, and he created his recipe, and I published it this week.
One of the things he enjoys making our habitual nightcap is frothing the almond milk and its spices. But we got to laughing since he realized that his drink became more about the froth rather than the drink. So, note that you don't have to froth or overdo it when it comes to this step.
I'm sure you're wondering if he is sleeping, bet er? The answer is yes, but I will update you later to see if he is still sleeping well.
Also, the poor guy has arthritis in his knees (from playing too much soccer), and he says his knees aren't screaming at him with p in. So that's a bonus to this soothing drink.
I know I'm not a doctor, but we are enjoying the yumminess and benefits of this spicy latte!
I hope you have a chance to make this recipe.
Cheers,

This Week's Inspiration – Homemade Simple Dish
*This post contains affiliate links
Here is the recipe you have all been waiting for. It's my favorite homemade simple dish to have before a night's sleep!
This golden milk recipe for sleep has turmeric, ginger, cardamom, cinnamon, and ho ey. The combination of spices and freshly grated ginger makes a delicious nighttime drink with many added health benefits!
I love any dessert with citrus, and this scone recipe has the perfect blend of orange and cranberry!
The original recipe is from the Magnolia Table Cookbook by Joanna Gai es. Since I can't have enough cookbooks, I bought it, and after skimming it, I immediately knew that I wanted to bake her scone recipe.
It's a homemade simple dish to enjoy with a cup of tea or coffee!
How to Make a Fondant Penguin Topper
Learn how to make this topper in an easy step-by-step tutor al. These cute penguins are perfect for cupcakes and cakes for the holidays!
Decorating a cake or cupcake with fondant animals is such a quick and easy way to elevate a dessert.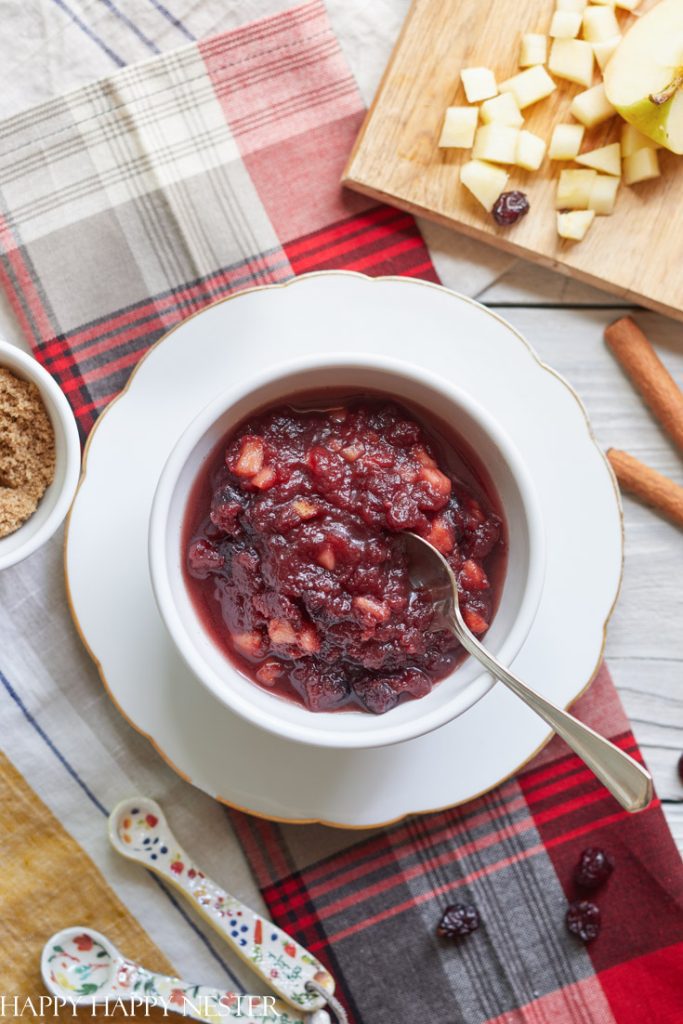 If you need a quick and straightforward canned cranberry sauce recipe, then look no further.
Canned cranberry sauce never tasted this amazing with just a few additional ingredients, and it's shocking how delicious this hack version tastes with a few yummy ingredients.
Save time in the kitchen by making one of the best easy recipes on the blog! And elevate your turkey sandwiches with this delicious tangy and sweet sauce!
Sup! It's the best remedy to stay cozy and comfortable while hiding out from the rain. This recipe tastes like home with the thick, creamy broth, rich spices, and collection of onions, potatoes, carrots, and broccoli.
Not only is this soup delicious, but did I mention that it's simply too? Like 30 minutes sim le! Dive into this homemade broccoli cheddar soup recipe today for an easy and healthy meal for the table.
Looking for an easy recipe that's also a homemade simple dish of mine? This crispy calamari salad is precisely that. Add wonton salad strips and pre-made breaded calamari, and you have a light salad.
This is my go-to salad when I want a quick, somewhat healthy dinner. Initially, we made the crispy calamari by breading it and frying it, and it was a pretty time-consuming process. But we now buy the pre-made calamari, and dinner is much easier.
This salad has dried cranberries, nuts, red cabbage, and more. It's topped with a creamy coleslaw dressing that combines well with the chopped vegetables and fr it! One of my favorite salad recipes!
If you haven't tried a kale salad, well, you are in for a healthy treat. It adds such a great crunch and texture that you can't get with iceberg or romaine lettuce!
Kale fans or not, try out this recipe to find a new salad recipe to share with friends and family!
Here is a simple-to-make, crowd-pleaser type of salad you will want to have on your dinner table. This recipe is my ramen noodle salad with mandarin oranges and crispy chicken!
This yummy chicken salad recipe is our family's favorite d sh. So whenever I want to make a quick and light salad, I make this recipe.
I hope you can make this easy and delicious Ramen noodle salad! It is such a refreshing salad that is easy enough to make at home without a hassle.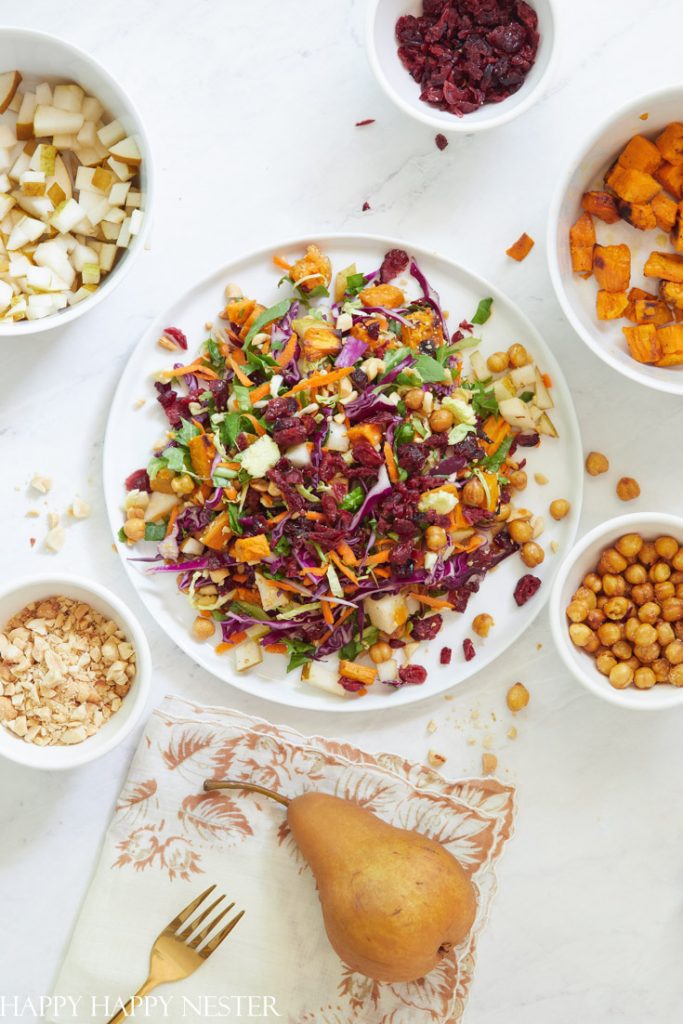 Now I know I said I would mention a salad in this collection of warm Winter dinner recipes es. So, here is my new favorite salad for every day!
I love cranberries, and when paired with a chopped salad, the results are delicious. My Thanksgiving salad recipe with cranberries includes roasted yams, garbanzo beans, chopped-up pear, red cabbage, and more!
This salad is easy to throw together, and it's colorful, healthy, and healthy. It's a Harvest Salad that will delight your family and friends!
I love easy fish ta os! These tacos have a delicious coleslaw dressing that tops the crunchy red cabbage. The fish is simple to prepare, and it goes well with the creamy homemade taco sauce and fresh vegetables.
This recipe has been our go-to homemade simple dish on nights with friends and family. It's quick, easy, and just delicious!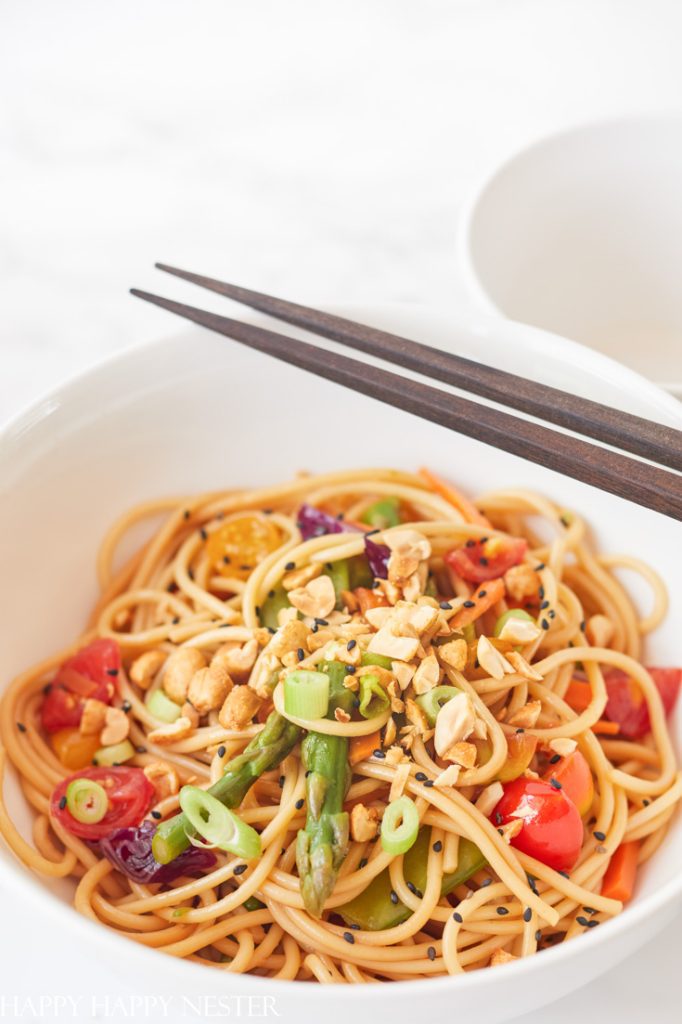 Here is one of my family's favorite salad recipes, our Asian noodle salad! This recipe has a light sauce that is the perfect combo with the vegetables and noodles. I sprinkle a few chopped peanuts and black sesame seeds on top for more flavor!
If you like a bit of crunch combined with noodles, then you'll enjoy this salad! I have a few recipes that I make repeatedly, and this is one of t em. It's an easy recipe that the whole family loves. 
All in all, this salad is simple, full of flavor, and a perfect recipe to create!
---
This Week's – Boutique of the Week (Items In My Kitchen That I Love)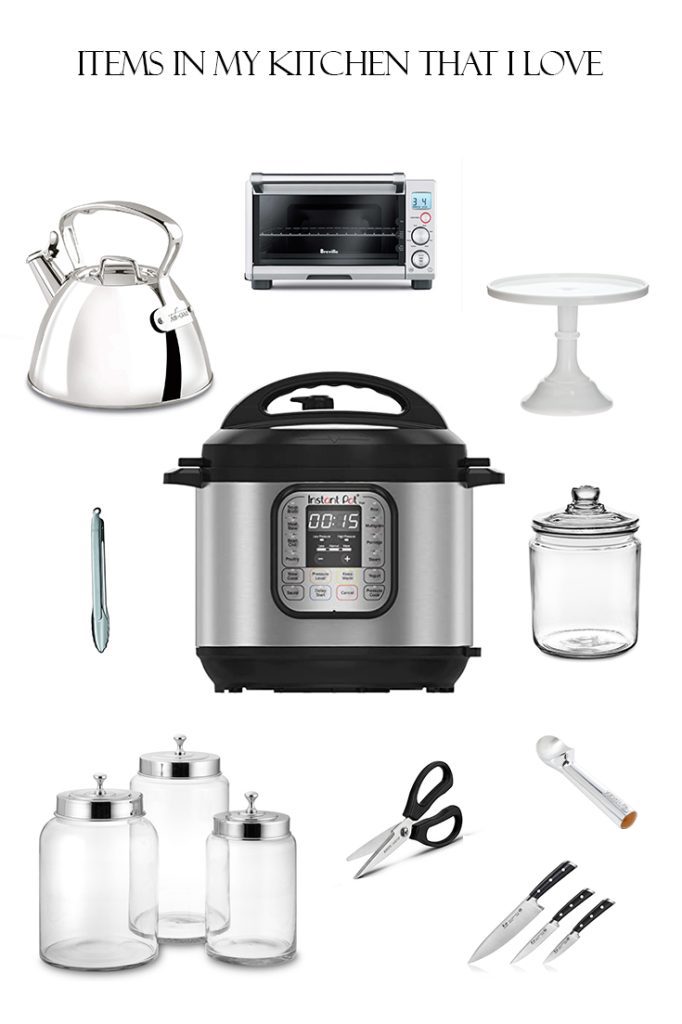 Join me, and let's take a tour through my favorite spot in the house to browse some items in my kitchen that I love.
Everything from All-Clad pots and apothecary canisters to the best appliances and utensils! Here's an inside look at what I use daily when preparing meals for my family. 
---
My Favorite Things – Homemade Simple Dish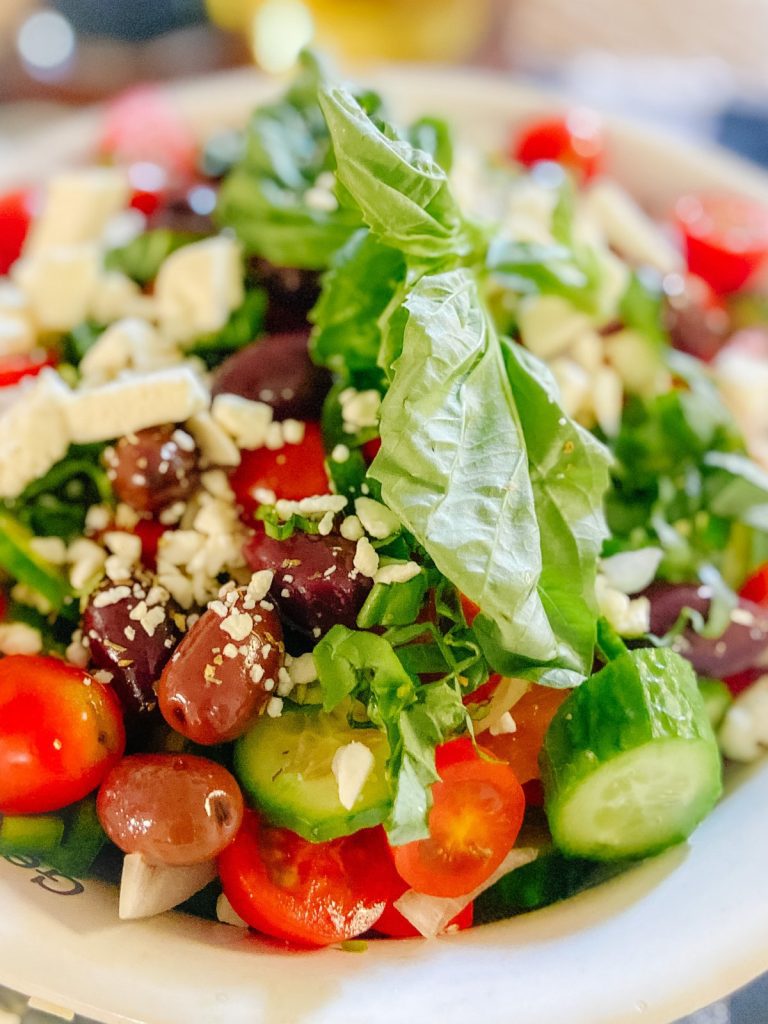 Alright, so in honor of sharing simple, easy yet yummy recipes here is a salad recipe from my good friend Jen.
This keto greek salad is the one you want for lunch and possibly as a side dish with dinner! It's simple to make, delicious with the toppings (the more, the better!), and just a healthy homemade simple dish!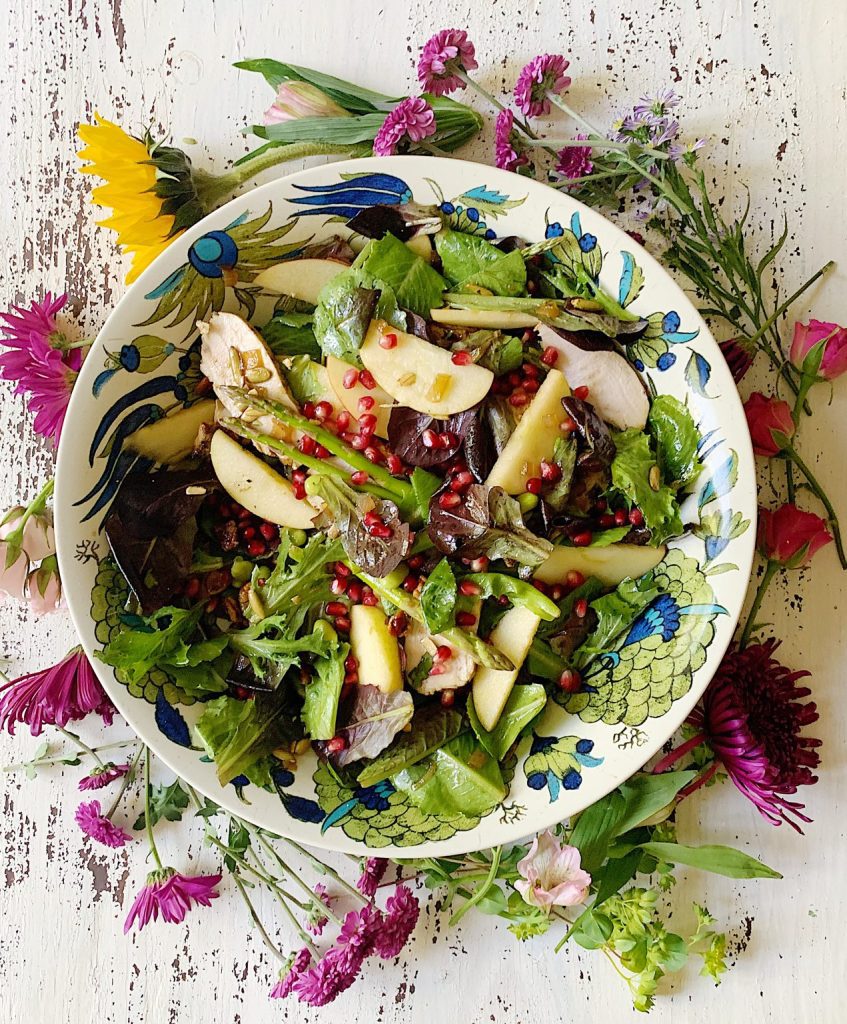 I love salads, especially ones my friends create. This homemade simple dish was made to perfection by my friend, Leslie!
The mini toppings, fresh lettuce and, sweet onion dressing tie this salad off with a spin of deliciousness!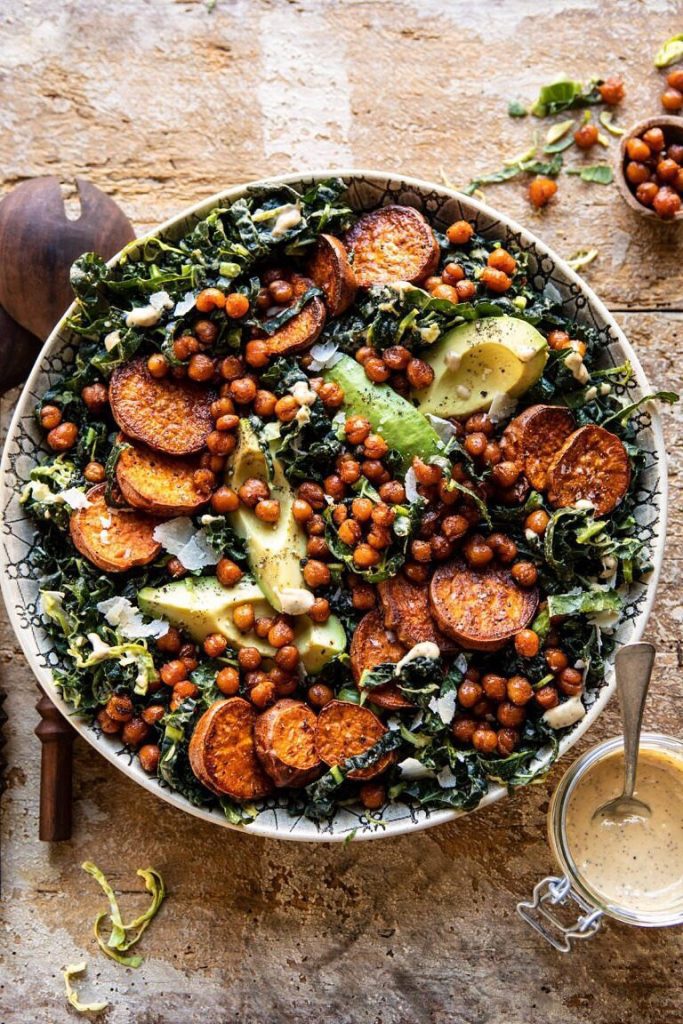 This recipe has been on my dinner menus more times than once. It's just so delicious, my family and I can't get enough of this salad!
The sweet potatoes and crispy chickpeas are the best toppings you could add, and I adore kale salads in general, so if you need a new dinner recipe or want a healthy homemade simple dish, here is your sign!
---
What's Trending on the Blog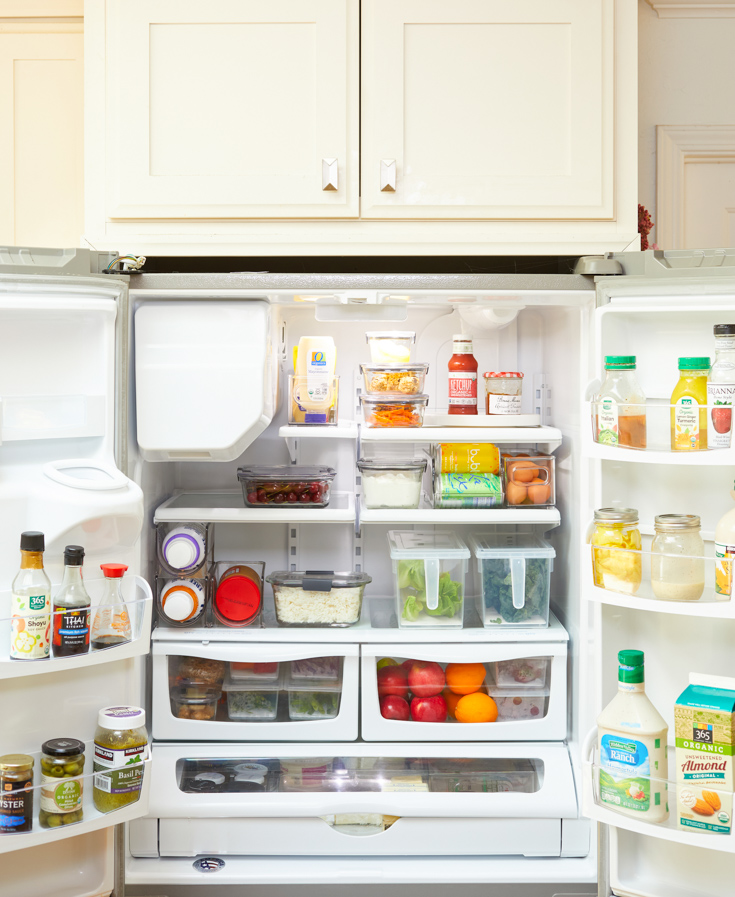 Is your fridge in need of cleaning? Well, I've grappled with keeping my fridge tidy, and I finally tackled the mess and came up with a system that works!
I still have a few areas of my kitchen that still need some extra planning and organizing ng. And I'll be sure to share them over here in the future!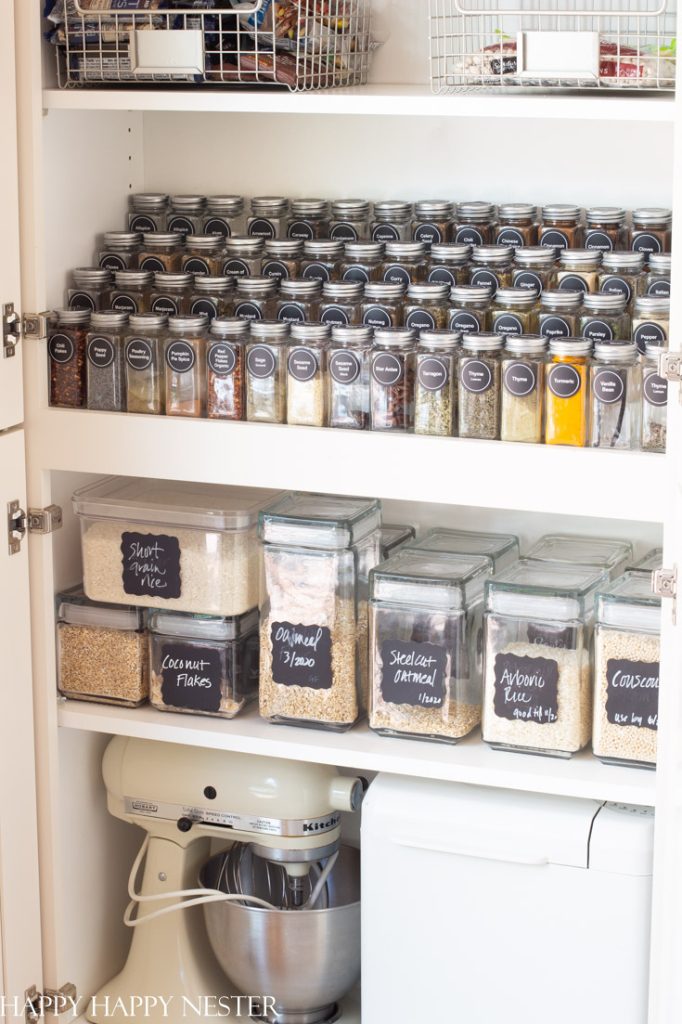 There are quite a few options to choose from for spice rack organizing!
Selecting the best spice rack organizer, containers, and labels is an overwhelming process. This post will tackle some of these issues and more!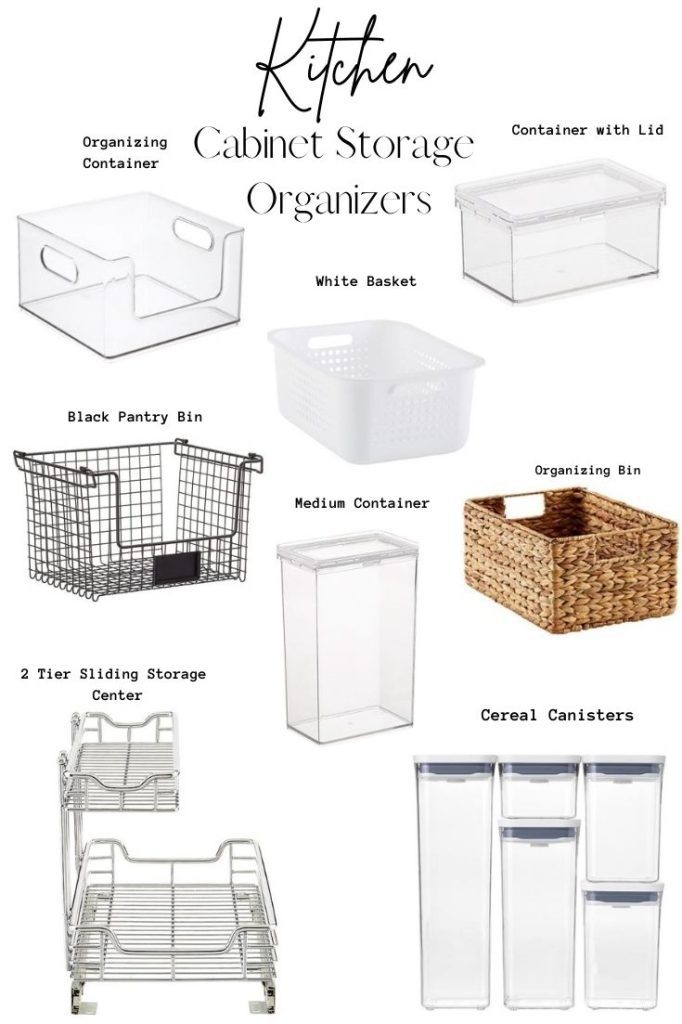 Welcome! Here are some of the best kitchen cabinet storage organizers to help you arrange your spice rack, baking ingredients, cereals, favorite snacks, and more!
Regardless of your style, there is something here for everyone! So check out these kitchen cabinet storage organizers and start organizing today!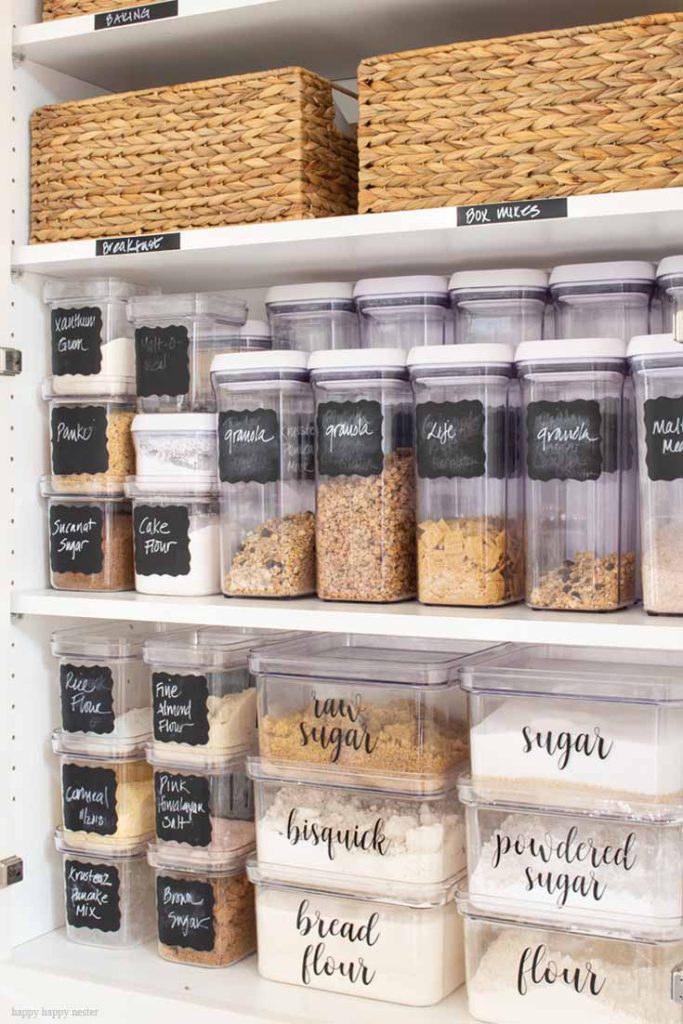 Organizing with these containers is the key to having a clean kitchen, pantry, or drawer. You name it.
I found you can't have enough containers these days. So, last year I organized one of my cabinets full of dried fruit, nuts, and other foods.  
It felt amazing to get that project done, but I still had another major one to tackle…my baking supplies. I also made these chalkboard labels, and my friend Sam makes beautiful calligraphy labels. 
My flour and sugar were in disarray and needed to be organized with a nicely stacked system. The Container Store is like a candy store to anyone who likes containers!  
---
More Homemade Simple Dish Recipes
Everyone loves easy recipes, right? in this post, I rounded up the most popular recipes on my blog for this year.
I'm partial to desserts, so this collection is primarily desserts rather than savory dishes. My motto is that life would be boring without a taste of something tasty!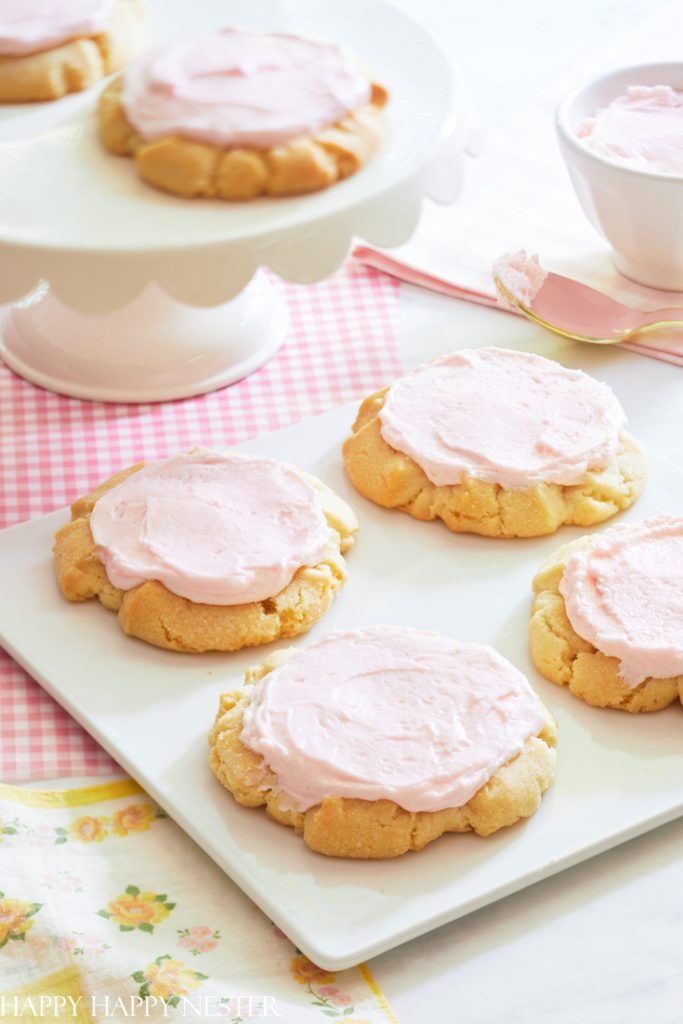 Here is a collection of easy recipes! These sweets will help inspire you to create delicious baked goods that will bring warmth and coziness to your home during the Fall.
So for all those bakers out there, you're definitely in the right place.
Fill your home with fantastic baking smells and give your taste buds the ride of their life with these mouthwatering desserts.
---
This Week's Tip – My Secret to a Yummy Salad
Here's My Secret!
We love ordering salads when we go out for dinners. Our favorite salads are from Mendocino Farms, a restaurant chain primarily located in California.
My husband noticed that their salads are mostly chopped up into bite-size pieces. I attended a cooking class, and the instructor talked about the idea of chopping ingredients up small with every bite. As a result, your tastebuds get a blast of flavors!
I love that all the flavors come together in each bite, and not only is it bursting with flavors, but as a result, I don't need to use as much salad dressing. Instead, the ingredients do the work if chopped up small.
Plus, when you make your salads this way, each serving includes a lot more lettuce and or k e. him in eased impact means that you're getting a ton more fiber and nutrients.
We now look forward to devouring our homemade salads. Plus, it tastes as we ordered it at a restaurant.
My Latest Obsession – Mochi Donuts!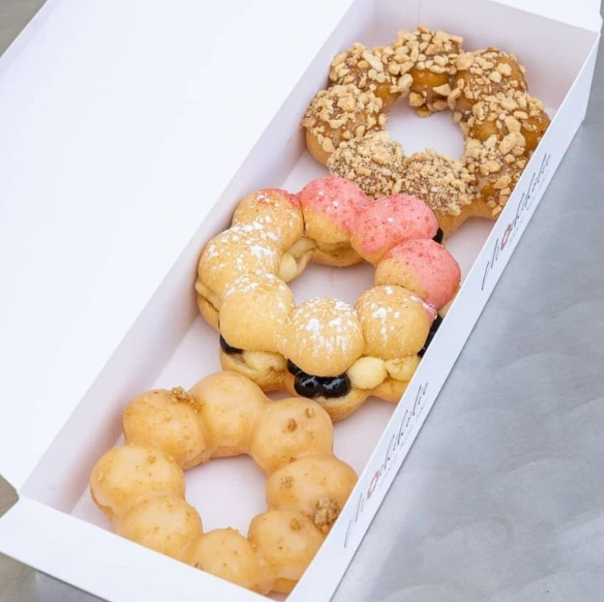 Oh My, These Donuts Are Delicious!
Today, my daughter and her friend found this incredible shop of Asian desserts.
I'm always curious about the latest trendy and fun foods.
Well, let me tell you, these donuts are crazy delicious. They're crispy, light, and have the added chewiness from the rice flour, or for those who don't know what mochi is, and it is ground-up rice. I have a few recipes over here, mochi, mochi ice cream, and Hawaiian chicken use mochiko flour.
Ok, I will create a recipe, and I'll share it in February over here on the blog!
So stay tuned!
But, if you know if you are craving homemade doughnuts, give my Buttermilk Doughnuts Recipe a try!
---
Happy Saturday,
I hope you enjoyed looking at my favorite homemade simple dish, desserts, snacks, meals and, more! Also, I hope you found something to make for your friends and family! Cheers to baking!
Have a great weekend!
Cheers,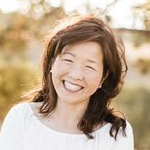 Latest posts by Janine Waite
(see all)