Happy Saturday! Take a look at this collection of January Crafts For Adults to start creating new decorations, accessories and, furnishings for your home during the new year!
Let's branch out and try something new by starting with crafts! This collection includes all types of levels for people who love to create.
We have easy, medium leveled and harder DIYs worth the challenge. There is something here for you, I promise.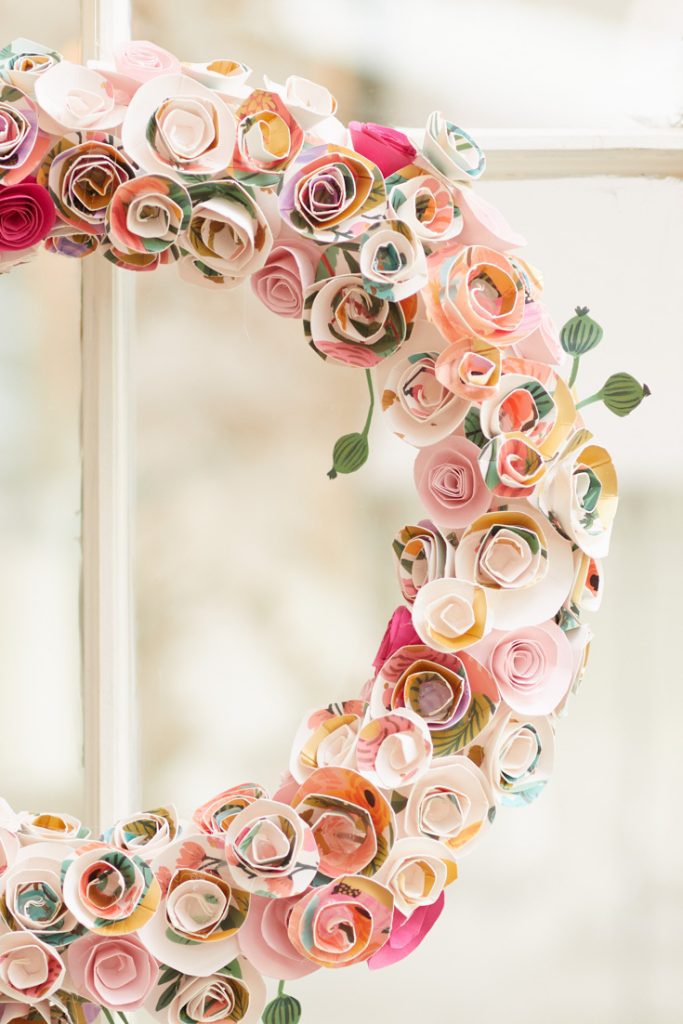 I have been on a mission to step out of my comfort zone to create something I normally wouldn't make. So far, it's working out great, and I've realized it was a good idea to push myself beyond my limit.
That's why I do what I do. My goal is to create decor for your home to push yourself to create something wonderful.
Hopefully, with these January crafts for adults, you can do so.
Alright, where are my crafters out there? This post of for you and everyone who wants to start getting into the groove of crafting. I'll help you begin your journey with some simple decorations, accessories and, furnishings!
And this week, I have made some new ideas for the current month to celebrate Winter and for the upcoming months to honor Springtime. Let's get crafty!
Saturday Chitchat with Janine – Volume 50
Hello and Happy Weekend!
Can you believe this month is halfway over? It's safe to say, 2022 has been a pretty good year so far.
How have you celebrated the new year? I'm not a big party person, but a night in with a bowl of popcorn and an episode or two of The Great British Baking Show sounds like a party to me!
But in all seriousness, I have been working twice as hard to make this year the best year for my blog. Whether it's twirling yarn for a garland or cutting paper for a wreath, I have been crafting 24/7.
To honor my creations, here is a collection of January crafts for adults to inspire you and others to try something different for the new year!
And besides,, who doesn't love an easy DIY for your home? I sure do, and I hope you do too!
A Personal Note from Janine
My yarn collection is growing, and I don't even knit.
You see, I use my skeins of yarn for making pom-poms. And lately, everything is coming up pom-poms over here at my home. Well, a lot of my craft projects are taking over our home.
Thank goodness my husband loves all the crafting and baking that I create. You see, he is a creative person too, so he understands the artistic process.
He and I both have art degrees, so it makes sense we ended up together. We can choose out wall colors, backyard tiles, sofas, but ask us to solve a bunch of math equations, and we're lost.
We leave anything analytical to our son, who is an engineer.
Well, off to create another wreath for next week!
Happy Crafting.
Cheers,

This Week's Inspiration – January Crafts For Adults
*This post contains affiliate links
January Crafts for Adults
Learn how to make a gorgeous Paper Rosette Wreath with floral paper plates. I show how to make these paper flowers in this simple tutorial.
This wreath is a relatively inexpensive wreath to create, and it just requires a little bit of time. But, the time commitment is well worth the effort since this handmade paper wreath is stunning.
Decorate a mantel, window, bookcase with a garland for a significant impact. Then, learn to make your decor with this DIY Pom Pom Garland tutorial.
This garland is one of those January crafts for adults that is simple enough to create during any month using any color of yarn!
Create your yarn garland in any color or size for any home decor style. And the cool part about this home decor is that it's so inexpensive to create.
Make sure to check out How to Make a Bay Leaf Wreath. Over the years, I tried a few different steps to make this bay laurel wreath, and I finally figured a few important things.
I love making wreaths, and this one is super easy. And if you have Bay Laurel Trees in your area, then you'll enjoy making this classic wreath.
So, this helpful tutorial has great tips on how to make the best bay laurel wreath.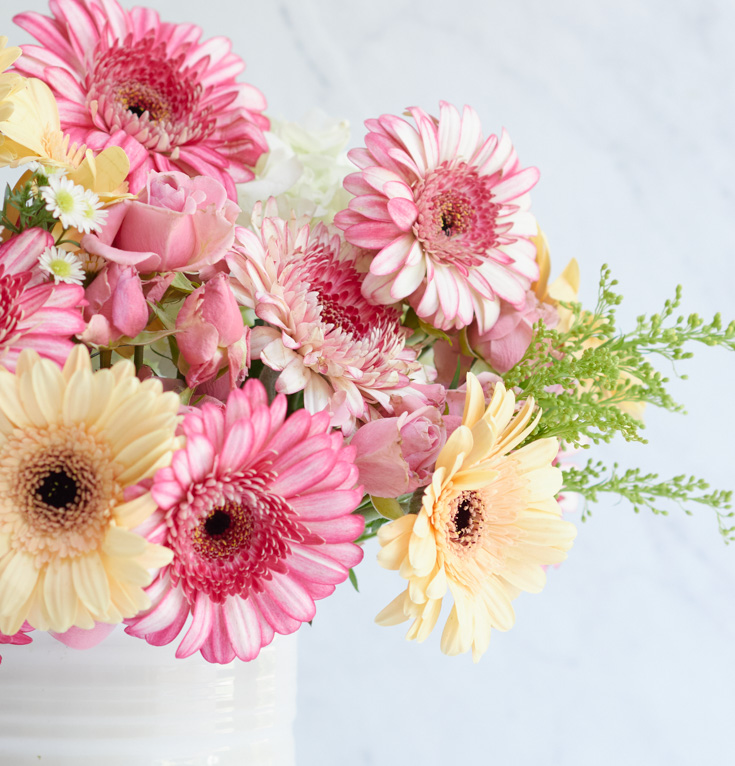 I create floral arrangements. I have always been a huge fan of them.
Whether it's planting blooms, creating bouquets as decor, or picking them from a field, I admire their beauty!
Here are some Trader Joe's flower arrangements to start this new month and the upcoming season with all good things.
Today let's Paint on Fabric with Stencils. This easy DIY fabric project turns a plain linen towel into a pretty kitchen towel with a French Queen Bee print.
Stenciling on fabric is easy peasy when you own a good quality stencil and brush. And of course, a few other helpful tips as well will get you on your way to stenciling everything!
These Boho DIY Placemats with tassels are easy to make! I love that they match my Serena & Lily Catalonia bohemian style placemats quite nicely.
This simple project adds just the right boho accent to a hyacinth round placemat. I added a navy blue fringe, but you can add whatever color you like to match your table decor!
How to Make Your Own Personalized Candles has been on my crafts list forever.
So, I decided it was high time to tackle this fun project and share it with you. Well, I was super amazed at how easy a project it is!
I love how this project came out, and I think you'll like it too! It only takes a few minutes to make, and you're ready to decorate your home or patio for the summer.
Want to upcycle your cute French yogurt jars? Here's an Oui Yogurt Jar Crafts that turns a Yoplait French yogurt glass jar into a cute candle votive.
Of course, this project utilizes the Cricut vinyl for the labels, but it's one of the great January crafts for adults!
I'm pretty new to using my Cricut Maker machine, so this vinyl project is super simple to create when it comes to making a design for beginners! I'll walk you through how to make this fun glass candle votive step by step.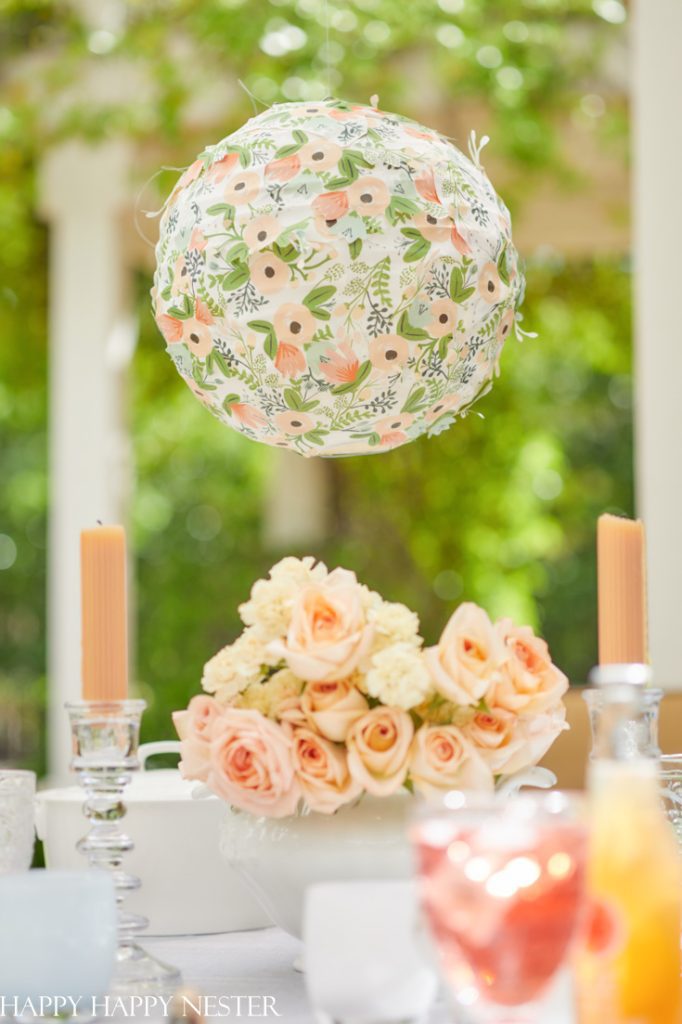 Do you want to learn how to Decorate a Paper Lantern for your home? This pretty lantern is so cute hanging outdoor or in a fun bedroom. Customize it with any paper that matches your home decor.
These unique lanterns are one of a kind and look like something you bought from an expensive boutique store. If you have a paper lantern and a pair of scissors, and some glue, that's all you need for this project.
This easy DIY Flower Wall Hanging is easy to create with faux flowers. Decorate your bedroom wall with it for Valentine's Day or Spring.
I was amazed at how fun and easy this wall-hanging flower arrangement was to create. It's perfect for a wall, wedding, dorm room, office, birthday, or any special occasion!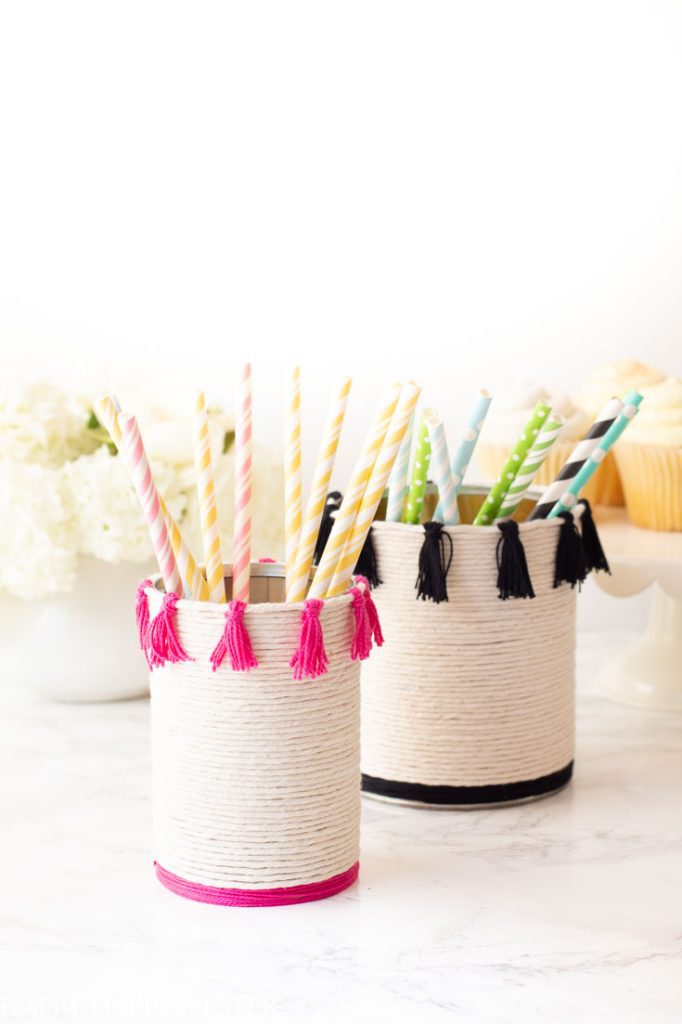 I love the challenge of decorating tin cans and transforming their drab exterior into a pretty decorative item.
Also, the cool thing about this Easy Tin Can Project is that it is so simple that you can make it with your children.
Create a playful one with lots of colors or use a single color for a more sophisticated container. Then, the sky is the limit for this fun craft project. 
---
This Week's – Boutique of the Week (Non-Christmas Winter Decorations)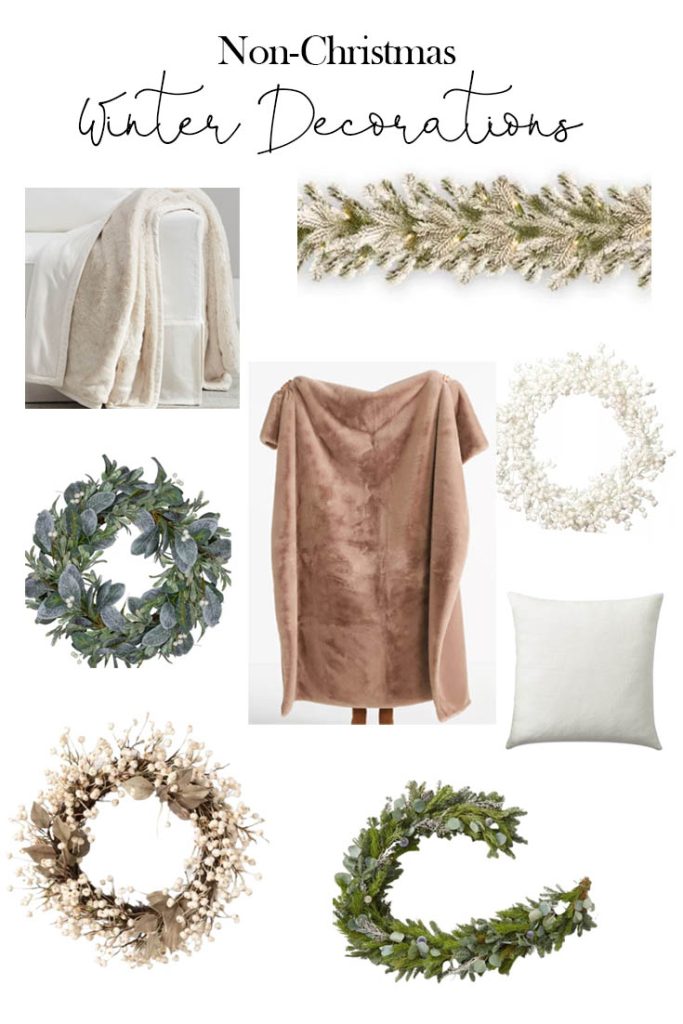 Now that the holidays are over, but it's still Winter, I thought it was best to round up a collection of non-Christmas Winter decorations to style your home with a cozy, seasonal spirit.
I guarantee you will find something to decorate your home for January.
Without further ado, let's check out my collection of winter decor to start after Christmas decorating!
---
My Favorite Things – January Crafts For Adults
Inspired by Anthropologie's (Terrain) succulent decor, I designed this DIY Pumpkin Succulent Planter tutorial and arrangement for my table.
I love this fun combination of succulents and pumpkins. Plus, it's so lovely to decorate a pumpkin without having to do any carving. And this project is so easy to make, which is a good thing!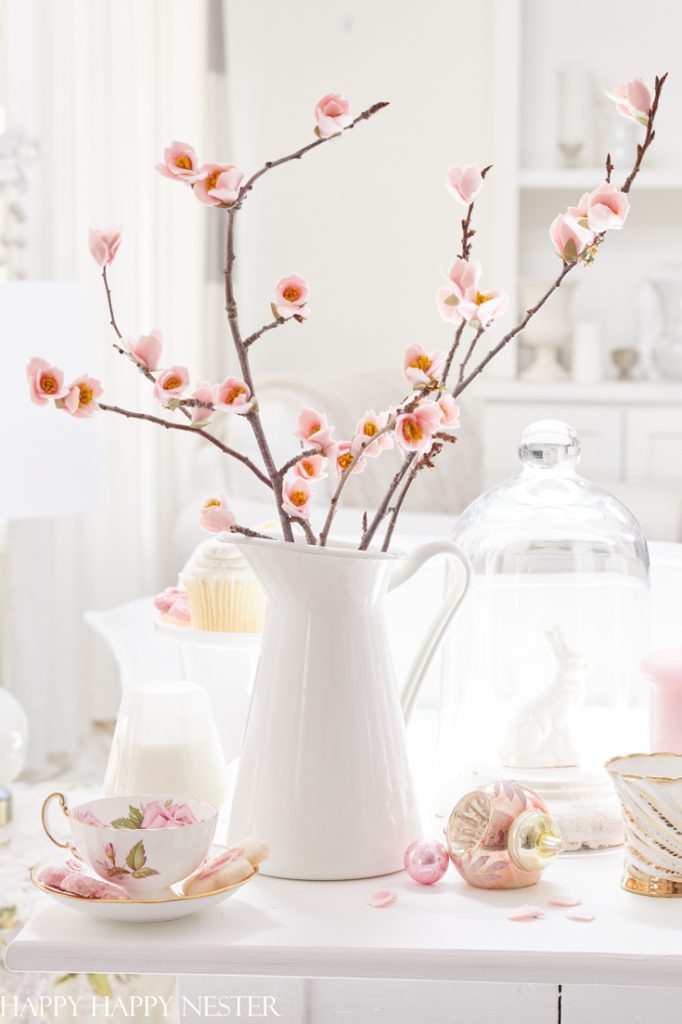 Learn How to Make Felt Flowers this spring. Nothing screams spring more than cherry blossoms. This easy-felt flowers DIY is simple and requires felt, scissors, glue, and a real tree branch.
Since I can't have fresh flowers every day, paper or felt flowers are the next best thing. And, this craft is one of those January crafts for adults that you must try!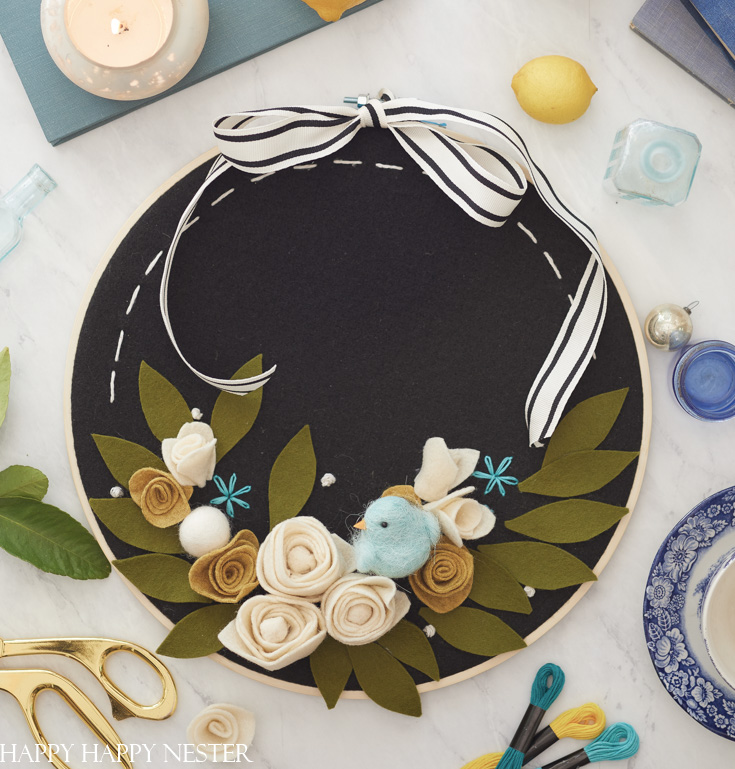 I placed a Felt Flower Wreath DIY on an embroidery hoop. I love the combination of the wooden hoop, flowers, and stitches!
This wreath is perfect for any month or season, so have fun with one of the amazing January crafts for adults!
---
What's Trending on the Blog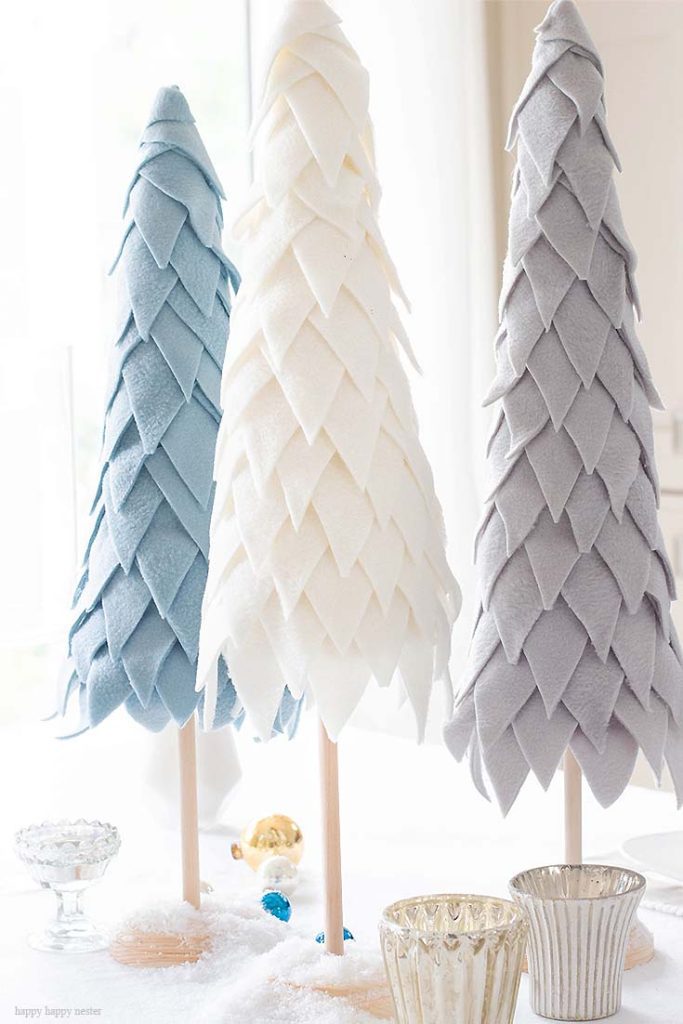 So, today you are in luck. I'm sharing my latest fleece cone tree tutorial with you. As you know, I'm obsessed with anything felt related. 
So, when I spied these adorable felt trees over on Pinterest, I immediately knew that I had to make them. So, after a little bit of planning, my husband and I came up with the best way to create these beautiful small trees.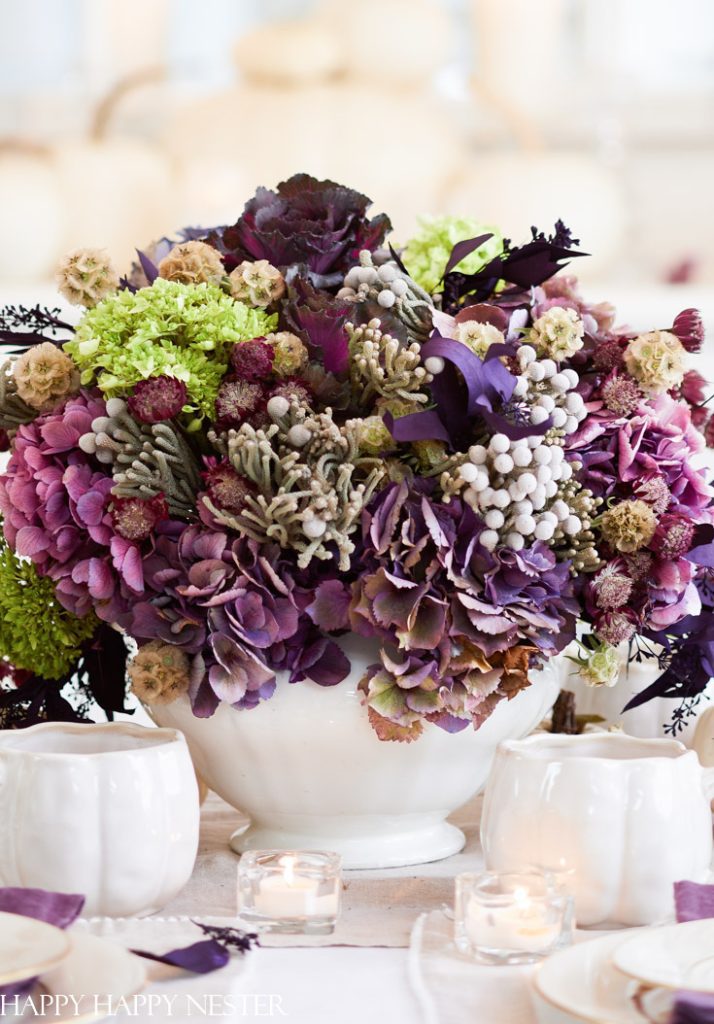 Here's an unusual twist on a Farmhouse Centerpiece.
This gorgeous bouquet includes a gorgeous rich color of purple flowers. I'll show you how I designed this floral arrangement step-by-step!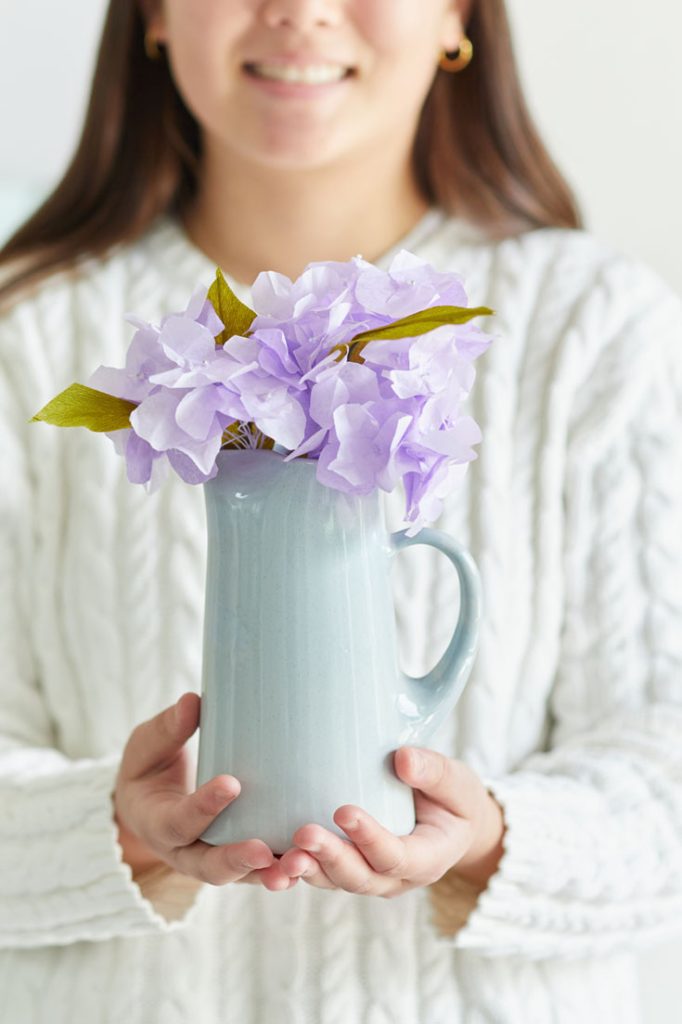 Here are 10 DIY Paper Flowers. This collection of paper flowers uses a wide variety of paper. There are tissue paper flowers, crepe paper flowers, and even coffee filter flowers!
I'm sharing a wide array of flowers in this post. So whether you have a lot of time to make flowers or need something quick, there are projects for everyone.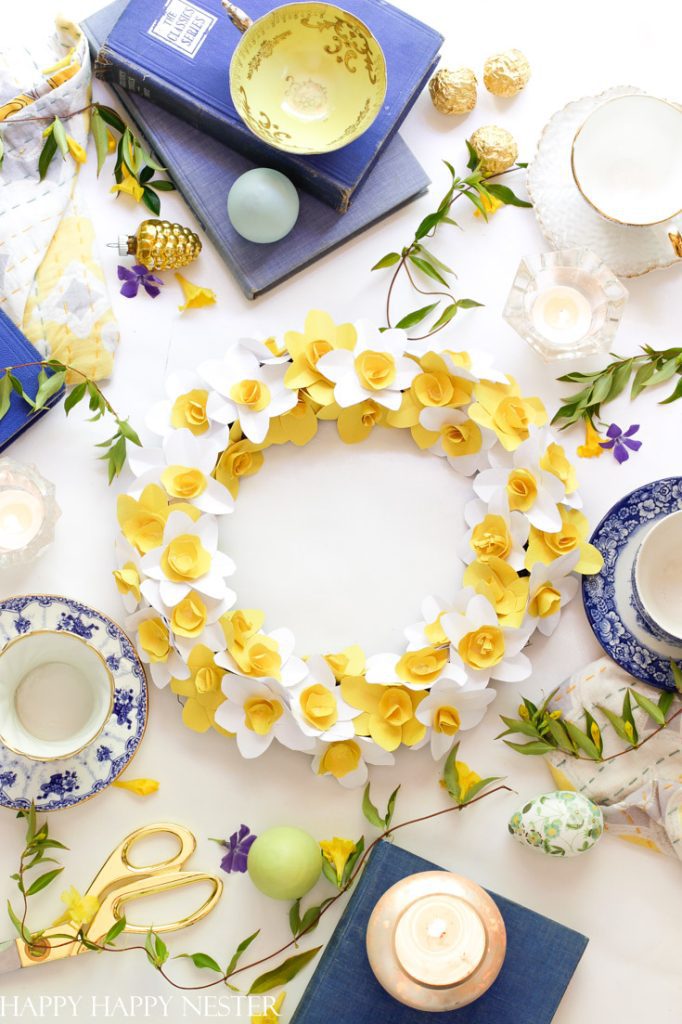 I'm amazed at how many awesome Construction Paper Crafts there are. However, this easy paper daffodil DIY is simple and inexpensive to make!
Construction paper makes such pretty paper flowers. I was amazed at the quality of the white paper made by Crayola!
Today, I'm sharing my flower project. Choose to make a single Daffodil or a bunch for this cute spring wreath!
---
More January Crafts For Adults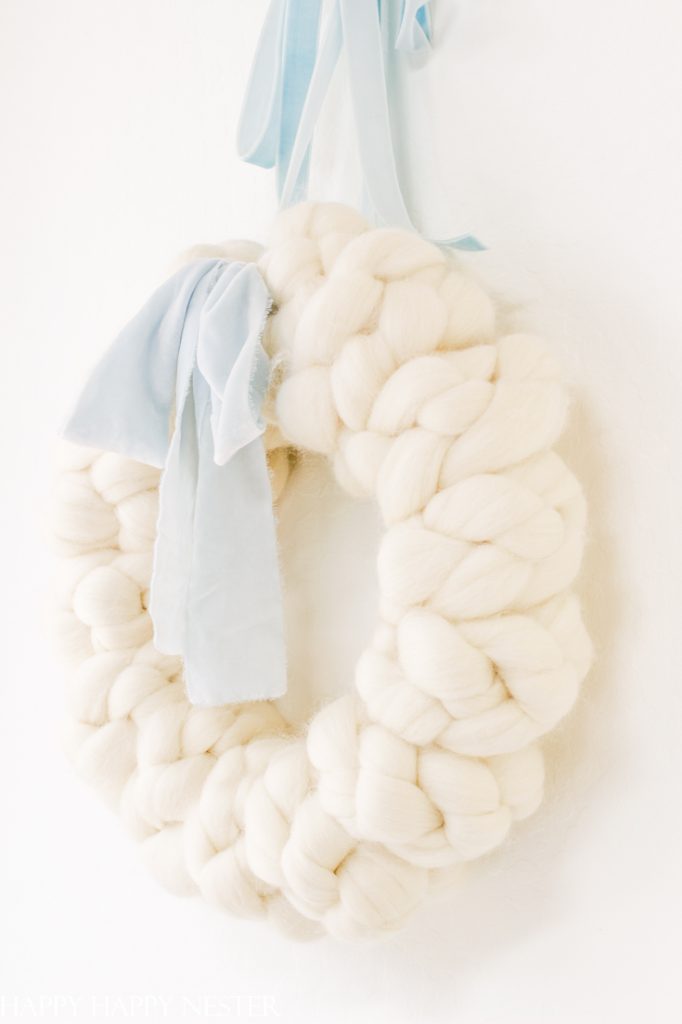 Make a Chunky Knit Wreath in Under 30 minutes! Yes, you heard correctly. This is probably the simplest wreath I have ever created. I can't get enough of the beautiful Merino wool yarn!
To be honest, I didn't time myself, and it might be more like a 15-minute wreath.
As I said, I love the white chunky wool yarn. If you like it too but don't have the interest or energy to create an arm-knitted blanket, making a wreath is the next best thing. The soft wool has a comfy huggable style that warms a room!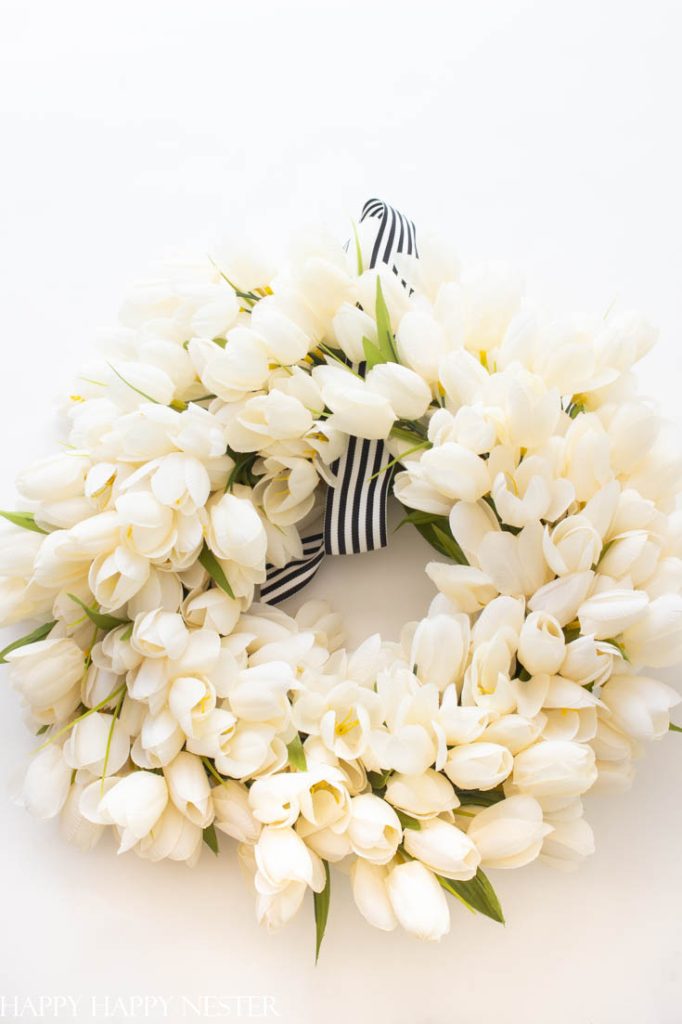 I've always wanted to make a White Tulip Wreath, so I got busy and quickly made one the other day. I was pleasantly surprised by how easy it was to make!
As you know, I have a ton of wreaths, a felt rosette, paper cherry blossoms, and arm-knitted wreaths, to name a few. And I must admit that I tend to make some pretty elaborate wreaths.
But, this time, I decided to go the easier route and make a quick and uncomplicated wreath!
---
This Week's Tip – Add Gorgeous Ribbon to Anything
Here's Where I Buy My Ribbon
When I create a wreath or decorate my Christmas tree, I always rely on a few Etsy shops. But did you know that there are boutique shops over there that specialize in ribbon?
The one that I always buy my velvet ribbon from is Shy Myrtle. I wish I had about 10 yards of every ribbon that they sell. But, I try to have a few in my ribbon supply since I love to add a pretty ribbon to most of my homemade wreaths.
You can also add a pretty ribbon to gifts, mantels, baskets, and much more. For example, this past Christmas, I used a rustic edge blue velvet ribbon for my garland. And I love how it created a vintage-style tree.
I hope you like this fun little ribbon shop!
My Latest Obsession – Rifle Paper
I Love Rifle Paper Products
Rifle Paper Company makes the prettiest products. And I recently bought their paper plates for a couple of projects, and this week, I shared the wreath that I made.
Most of their paper products are bright and cheerful, and I love that style. And my wreath came out super fun and pretty since the paper was gorgeous!
Their paper turned my wreath from something average to unique and colorful wall decoration. I hope you have a chance to check out their products.
---
Happy Saturday,
Wow! Now that was a lot of crafts. Hopefully, you found something to create out of this collection of January crafts for adults! Whether it was a wreath, paper flower or something else, I'm sure it will look stunning in your home! Have a great weekend and happy crafting!
Cheers,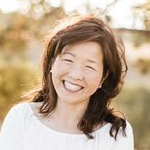 Latest posts by Janine Waite
(see all)