Since Easter is tomorrow, here is Farmhouse Easter Decor for you. I have simple recipes, last-minute crafts, and decor inspiration in this post to make your Sunday a special one.
In need of a quick dessert to whip up? I have one in mind. Want to create an easy yet adorable wreath for the front door? Don't worry. Here, you will find those items and more! I have the perfect craft for you.
Just because Easter is tomorrow doesn't mean we still can't decorate and enjoy those decorations until May.
We all know I keep my decor up until summertime because I love the look of simple, adorable furnishing.
So, here is a collection of my favorite Farmhouse Easter decor from the blog, including delicious recipes, fun crafts, and styling inspiration from my home to yours.
Saturday Chitchat with Janine – Volume 63
Happy Saturday,
How is your weekend so far? I hope you are enjoying the weekend festivities with family and friends.
Easter isn't the same anymore since my once kids are now adults! No more Easter egg hunts or gift baskets, but we still make the most of it.
To still have a relaxing weekend, I spend less time on the computer and more time outside. I love hiking and want to check out new trails with my family. That's what we will be up to 🙂
But for all of those last-minute people, even though the big day is tomorrow, there's still time to bake a dessert or create a craft for Easter.
I have a massive collection of farmhouse Easter decor regarding crafts, decorations, and recipes that you will love.
A Personal Note from Janine
Our kids are grown up, and we no longer have an Easter egg hunt or the baskets. It was always fun filling those plastic Easter eggs full of yummy candy and hiding them in our backyard.
We wanted to save some time one year, so we hid the eggs the night before. Boy, my husband and I were so pleased to think of this timesaving method.
We got to sleep in a bit the following day, and the kiddos eagerly started hunting for their eggs. The Easter hunt went smoothly until we heard screaming when the eggs were found and opened.
Slugs had made their way into the plastic eggs!
You're probably wondering how this happened when we sealed all the eggs tightly. The only thing I can think of is that those slimy slugs made their way through the tiny holes on the ends of the eggs!
Who knew this could happen.
So, I'll save you the bad experience, don't place your candy-filled plastic Easter eggs out in the garden the night before!
Well, I hope you all have a wonderful Easter Sunday!
Cheers,

---
This Week's Inspiration – Farmhouse Easter Decor
*This post contains affiliate links
Farmhouse Easter Decor
Take a look at these adorable Easter napkin rings just in time for Easter weekend.
You will create a beautiful spring table to celebrate festivities with family and friends when placed on the table!
If you're looking for an Easy Easter Wreath DIY, you'll love this cute project. It would be best to have a grapevine wreath, a few faux apple branches, and chenille chicks.
You can make this Easter craft project in 15 minutes or under, and your kids will also love making it.
Ranger Cookie Recipe (Gluten-Free Available)
This Ranger Cookie Recipe blends oatmeal, coconut, corn flakes, and chocolate chips. This blend of yummy ingredients creates crispy edges with a slightly chewy texture!
You can substitute both the flour with my gluten-free flour blend.
Here's a unique Lemon Wreath DIY made out of paper. The pretty yellow and pink patterned paper sets this off among the traditional wreaths.
Its bright and cheerful style reminds me of pink lemonade. You don't have to be too crafty to make this pretty spring/summer wreath!
These are the cutest Easter Bunny Cookies. The appearance of these treats relies on the cookie-cutter shape. This unique cookie cutter is terrific and so adorable.
For added cuteness, frost with pretty pastel-colored icing!
This easy and adorable fuzzy blue Bunny Tail Wreath is fabulous. Create small bouquets of the dried grass and then attach them to a wreath!
Bunny Tails are grass that comes in many colors. So choose what style you prefer and personalize your wreath.
Make this adorable Easter Bunny Cake this spring! This post shows step-by-step directions on cutting and assembling this sweet rabbit cake.
The base cake is a carrot cake with cream cheese frosting and topped with a finely cut colored coconut. No need to worry about drawing this bunny since I share the bunny pattern with you!
How to Arrange Tulips in a Vase
Tulips and How to Arrange them in a Vase can be a bit tricky. If you love flower arranging, then you'll enjoy this tutorial. I'll go over droopy tulips, what flowers to pair with them, and some of the vases to use.
So buy some beautiful flowers at your local grocery store or the Farmer's Market for flowers. And let's design a pretty spring bouquet.
Lucky Charms Rice Krispies Treats
This easy recipe combines a few kinds of cereal to make these Lucky Charms Rice Krispies Treats. This easy treat is a quick, no-bake, light gluten-free dessert that your family and kids enjoy!
I love how adorable they came out! These fun treats are perfect all year round, and your family and kids will love them.
Learn how to Decorate a Mantel for Easter with a few pretty decorations. These spring decor elements include Easter eggs, Easter bunnies, fresh and faux flowers, candles, temporary wallpaper, paper garlands, etc.
These combinations create a beautiful spring mantel that welcomes a fresh start to the year! Check it out for more farmhouse Easter decor inspiration.
How to Make a Homemade Chocolate Bunny
I've always wanted to learn How to Make a Homemade Chocolate Bunny. And now that I found the best melting chocolate, I'm having a blast creating lots of fun colored chocolate bunnies.
I'm using these adorable bunnies in my Easter decorating this year!
Trader Joe's Flower Arrangements DIY
And our local grocery store, Trader Joe's, has the BEST collection of pre-made flower arrangements, beautiful bouquets of different types of flowers, and kinds of greenery!
With excellent prices and gorgeous blooms – TJ doesn't disappoint! Here are some Trader Joe's flower arrangements to start this new month and the upcoming season with all good things.
Do you love sugar cookies? This copycat version of the Crumbl Classic Sugar Cookie recipe. This yummy cookie doesn't contain vanilla extract but rather almond extract.
It has a fresh and surprising taste, and the pink frosting also has a hint of almond. This recipe is perfect for the weekend ahead.
Borax Crystals Easter Eggs DIY
Borax Crystals Easter Eggs is a fun project with your kids! The chemical reaction that occurs with Borax is still fascinating. In the end, this DIY is perfect for Easter.
This recipe is crazy delicious. Everyone I serve it to tells me that it's moist and probably is the world's best carrot cake recipe! I'm confident that it's among the Best Carrot Cake you'll ever eat.
If you need an easy cake recipe, you'll love this one. It's perfect as a year-round dessert, and it's my family's all-time favorite dessert!
How to Decorate a Paper Lantern
Do you want to learn how to Decorate a Paper Lantern for your home? This pretty lantern is so cute hanging outdoor or in a fun bedroom. Customize it with any paper that matches your home decor.
You don't even have to be crafty! If you have a paper lantern and a pair of scissors, and some glue, that's all you need for this project.
For years, I've always wanted to make Easter Chocolate Bark. You know, the adorable Bunny Bark that takes over your Pinterest feed. Well, here it is.
This dessert recipe is perfect for Easter, plus it's too delicious to pass up!
Spring Decorating Ideas for Dining Room Table
Spring Decorating Ideas for Dining Room Table include a floral centerpiece that radiates to the rest of the table. Introduce organic items to bring new life to your Easter table!
It is easy to pull decorations you already own and design a stunning table for Easter!
I recently made some lemon curd and thought it would go nicely with my Pavlova Recipe. So, today, I baked some mini nests for Easter and topped them with my homemade English Lemon Curd and cute chocolate eggs.
The results are adorable and super easy to make!
Free Printable Easter Banner is such an easy project. I just whipped this up for my Easter basket post and thought I should share this cute printable!
All you need for this project is the free Easter printables, scissors, mini craft clothespins, and some cute ribbon, and you can create it. Happy Easter!
---
Boutique of the Week – Front Door Rugs
There's nothing better than a stylish, welcoming rug on your front porch, waiting to greet neighbors, friends, packages, and family members.
To me, it just makes sense to have one, so let's start with a front door rug as your first decoration for spring.
---
My Favorite Things – Farmhouse Easter Decor
Here is a fun Easter craft from my friend Leslie. You can make stunning yet straightforward Easter eggs to celebrate a particular Sunday!
Easter Basket Living Floral Centerpiece
Make an adorable floral centerpiece with my friend Jen for Easter. The fun part about this cute project is you can mix and match with your flowers, colors, and decorations!
Simple DIY Spring & Easter Banner Garland Ideas
Get inspired for Easter with my friend Krista and look at these simple banner garland ideas! You can never go wrong with a pretty decoration like these.
Martha's Easter Sugar Cookies Recipe
Here is a delicious dessert recipe made by Martha Stewart that will have your taste buds thanking you later. Without a doubt, these sugar cookies are what everyone needs this Easter!
Milk Chocolate Stuffed Peanut Butter Bunny Cookies
These cookies are sweet, full of chocolate mixed with peanut butter, and finished with an adorable Easter design. I don't know about you, but this recipe made by Tieghan is perfect for Sunday festivities.
Chocolate Bunny Cupcakes for Easter
What's Easter without adorable cupcakes like these? My friend Ashley baked these, and now it's a family favorite of mine. Bake this delicious, easy recipe this weekend.
---
What's Trending on the Blog
Spring Wreaths For Your Front Door
Spring has sprung! It's now time to look at Spring Wreaths For Your Front Door. No matter your style, here, you will find a broad assortment of gorgeous wreaths to design and decorate your home.
Scroll down to see 45+ excellent wreath options that will make you say goodbye to winter and hello to spring!
Let's look at Spring Tablecloths together to start decorating our favorite table today. This collection of runners comes in floral, striped, solid-colored, cotton, linen, outdoor and more!
Regardless of your go-to style, there is something here for you.
The Best Crunchy Crispy Chocolate Chip Cookie
I want to shout from every rooftop that I finally have the Best Crunchy Crispy Chocolate Chip Cookie recipe.
If you like a crunchy cookie, this is the cookie! I promise you that you probably haven't had a cookie like this one! It is packed full of chocolate chips in every bite.
Gluten-Free Lemon Drizzle Cake
This smooth Gluten Free Lemon Drizzle Cake is wheat-free but tastes like it has wheat. It's similar to a lemon pound cake recipe minus the wheat flour.
The intense lemon flavor makes it the best lemon cake around too!
Table Decorations with Candles and Flowers
Spring cherry blossoms inspire my latest Table Decorations with Candles and Flowers. This simple tablescape includes the lovely Yankee Candle Sakura Blossom Festival Collection and a bouquet of beautiful flowers.
The combination of flowers and candles is perfect for welcoming spring into a home!
Backyard Patio Ideas For Outdoor Living
Spring is here, and summer is almost here, meaning warmer weather to eat outside! So, since we are spending most of our time hanging out on the backyard patio, here are some simple yet stunning patio ideas for outdoor living!
This is the best time of year to share Spring Decorations Ideas. Why? Because spring calls for simple, adorable crafts, decorations, and recipes for you to make.
You will find creative wreaths, sweet desserts, and decorating ideas from my home to yours!
Hello! Today, let's take a look at my latest Flower Crafts. Here, you will find recipes, wreaths, floral arrangements, and more to create for your beautiful home.
We step out of hibernation and embrace the current season by decorating, crafting, and baking new ideas.
---
My Tip – My Favorite Almond Flour
I'm baking a lot more gluten-free desserts and of course, I'm using a blend of nonwheat flours. I always have a supply of this superfine almond flour.
I use it with potato starch, tapioca flour, xanthan gum, and sweet rice flour to create my Gluten Free Lemon Drizzle Cake and Ranger Cookies. The results are so tasty and not gritty like most gluten-free desserts.
You can buy it from Costco or through my link. And you'll find that this three-pound bag of almond flour is a pretty generous amount of flour.
---
My Latest Obsession – TV Show Julia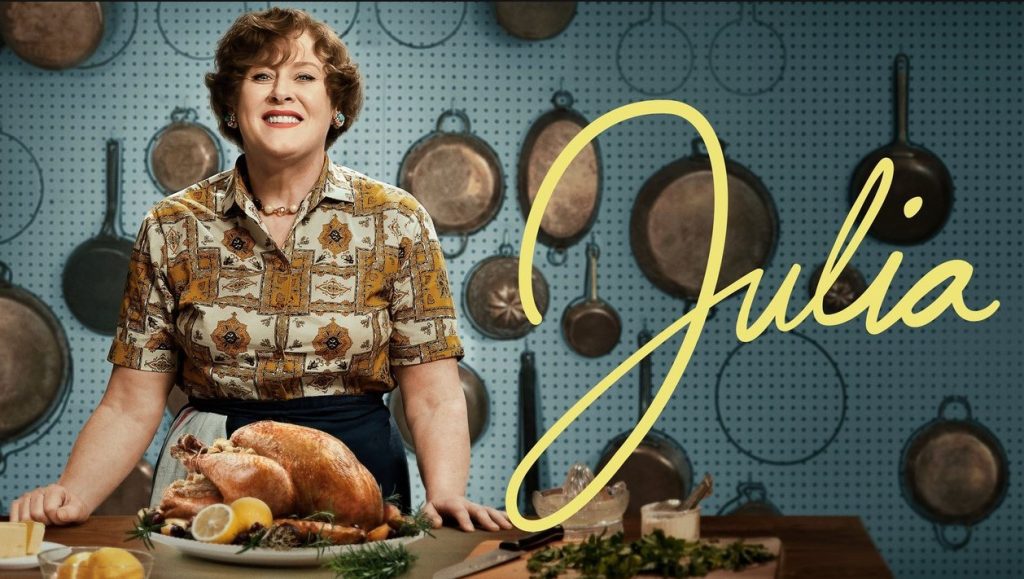 Julia
My husband and I watch television in the evening to unwind from our busy days. And sometimes we find the best shows to watch and lately we love this show, Julia!
So, in 2009 there was the movie Julie & Julia, a biographical comedy-drama film written and directed by Nora Ephron starring Meryl Streep and Amy Adams. I loved this movie, and it sparked my culinary skills in the kitchen.
Well, fast forward to now, and HBO Max is debuting this fantastic television series, Julia. This season covers the beginning of her PBS show, The French Chef. It's so interesting to see her determination, business savvy, and talent shine in her later years of life.
Check out this fun, uplifting show, which airs new episodes every Friday!
---
Hello & Happy Saturday!
I am so glad you decided to stop by and check out more Easter decor. I have so many upcoming projects that I know you'll love! Until then, embrace the spring season and have a wonderful weekend.
See you next time on the blog,