Here are some of my Salad Recipes for Every Day! This collection includes some of my favorite salads like my crispy calamari salad, the best kale salad, and more! Plus, you'll find some kitchen accessories, my favorites, what's trending on the blog and tons more so keep scrolling!
I am so excited to share with you my go-to salad recipes! Cheers to finding, trying and creating new meals to share with family and friends!
I hope today's post will inspire you to create and bake in the kitchen with these salad recipes and more!
Saturday Chitchat with Janine – Volume 27
Welcome to this week's Saturday Chitchat!
Hello Weekend! Finally! Time to get cooking and baking in the kitchen with some of my summer recipes, favorite foods, and more.
Summer is the time to try new things, accomplish your goals, and check those boxes off your bucket list. So all those sweet summer recipes you have been holding off, this is the time to try them out!
You're in luck because I have a few recipes up my sleeve on this post that makes for the perfect summer treat!
I am so happy you're here. So, grab your cup of tea or coffee and stay awhile.
Check out these posts below full of delicious, mouthwatering recipes along with some entertaining ideas, and have a great Saturday!
A Personal Note from Janine
Growing up in a family of seven, it was my responsibility to make the salads for our family's dinner. It was this little task in the kitchen that sparked my love for baking and cooking.
I would chop up carrots, radishes, sun artichokes, avocados, boiled eggs, and more for my salads. So my love of a hearty salad started at a young age.
My love being in the kitchen, so, of course, she always had a homemade salad dressing on hand, which made my salads even tastier.
My mom constantly experimented with recipes and inspired me to do the same.
Some of today's recipes are from my mom, and I hope you enjoy them.
Thanks for joining me today! Happy Saturday.

This Week's Inspiration – Everyday Salad Recipes
Easy Crispy Calamari Salad Recipe
Looking for an easy recipe? This crispy, calamari salad is exactly that. Add wonton salad strips and pre-made breaded calamari, and you have a light salad.
This is my go-to salad when I want a quick and somewhat healthy dinner. Initially, we made the crispy calamari by breading it and frying it, and it was a pretty time-consuming process. But we now buy the pre-made calamari, and dinner is so much easier.
Suppose you like a bit more crunch, top with more wontons and chopped peanuts. There are quite a few things you can add to this salad. So try out this recipe and have fun with it!
This salad has dried cranberries, nuts, red cabbage, and more. It's topped with a creamy coleslaw dressing that combines well with the chopped vegetables and fruit! Definitely one of my favorite salad recipes!
If you haven't tried a kale salad, well, you are in for a healthy treat. It adds such a great crunch and texture that you can't get with iceberg or romaine lettuce!
Kale fans or not, try out this recipe to find a new salad recipe to share with friends and family!
Here is a simple-to-make, crowd-pleaser type of salad that you will want to have on your dinner table. This recipe is my ramen noodle salad with mandarin oranges and crispy chicken!
This yummy chicken salad recipe is our family's favorite dish. So whenever I want to make a quick and light salad, I make this recipe.
I hope you can make this easy and delicious Ramen noodle salad! It is such a refreshing salad that is easy enough to make at home without a hassle.
Here is one of my family's favorite salad recipes, our Asian noodle salad! This recipe has a light sauce that is the perfect combo with the vegetables and noodles. I sprinkle a few chopped peanuts as well as black sesame seeds on top for more flavor!
If you like a bit of crunch combined with noodles, then you'll enjoy this salad! I have a few recipes that I make over and over and this is one of them. It's an easy recipe that the whole family loves.
All in all, this salad is simple, full of flavor, and a perfect recipe to create!
Couscous salads are my new favorite thing. Lucky for you, I have a great recipe. This mouthwatering-looking salad is from Victor at Craving Tasty!
This is a delicious and refreshing salad made with Israeli couscous, chickpeas, fresh vegetables and herbs, and a lemon vinaigrette. Sounds delicious, right?
The couscous in this salad is like a glue that brings all ingredients together seamlessly and makes everything taste times better. To a large degree, it's the couscous that makes the salad so delicious and so addictive.
Try out this recipe to wow your loved ones at the dinner table tonight.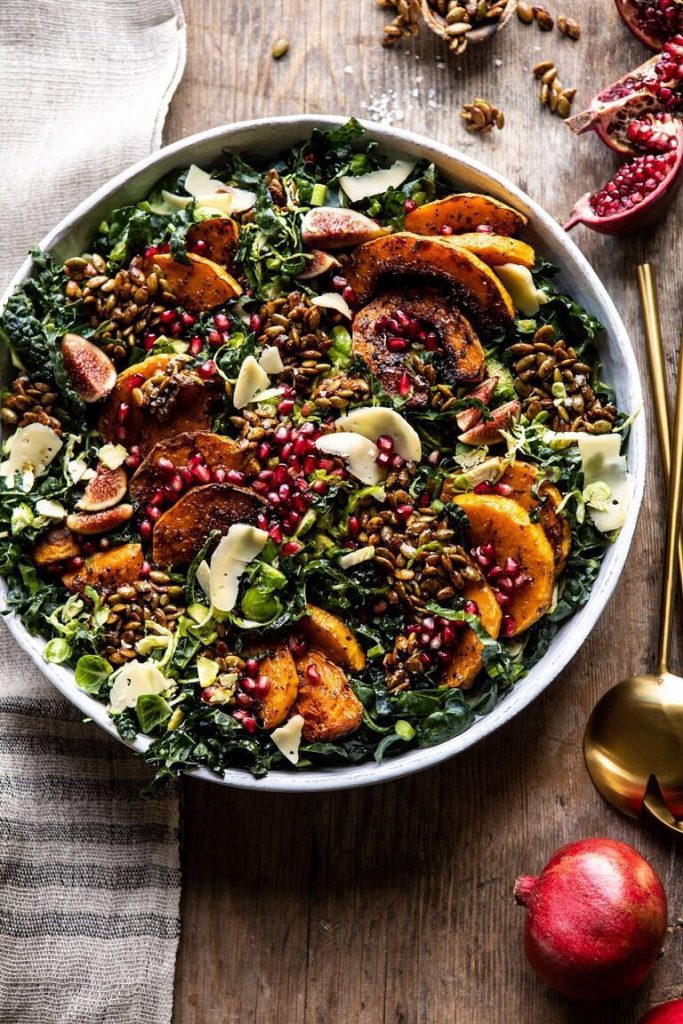 I don't know about you, but we are obsessed with recipes from Half Baked Harvest! The salad recipes are so delicious and worth making!
This Fall Harvest Roasted Butternut Squash and Pomegranate Salad combines all the best produce that fall has to offer into the prettiest salad that's simple to make and healthy too! Sweet honey roasted butternut squash, salty roasted pumpkin seeds, kale, shredded brussels sprouts, and juicy pomegranates.
All tossed together with a sweet and tangy pomegranate vinaigrette. This salad will certainly be my fall go-to salad. It's healthy, simple, so delicious, and perfectly fitting for crisp fall nights…and great for Thanksgiving too.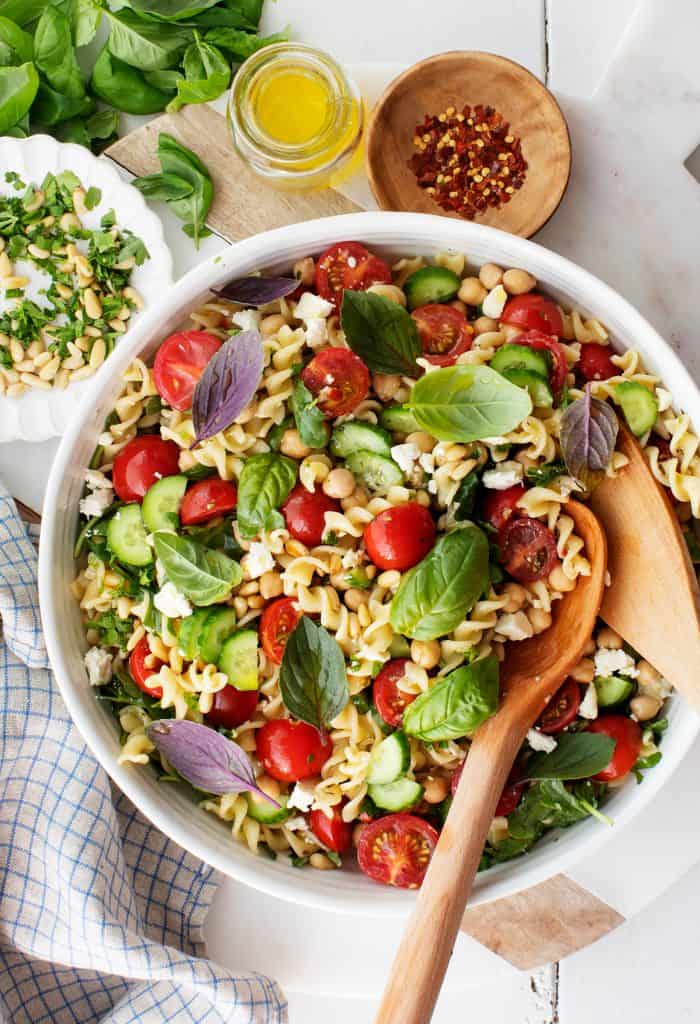 Today, I am so thrilled to share with you a pasta salad recipe! This recipe is a picnic-perfect pasta salad! Every cookout needs a great pasta salad, and this is the one that I'll be making all summer long. It comes together in no time, it's full of fresh ingredients, and it packs a flavorful punch!
Packed full of flavor, delicious ingredients and wonderful dressing, this will become a family favorite salad recipe! This fresh, easy pasta salad recipe comes together in under 30 minutes! Tossed in a tangy vinaigrette & filled with veggies, it's a sure cookout hit.
Check out this mouthwatering pasta salad to enjoy at the table tonight!
---
This Week's – Boutique of the Week (Baking Kits)
*The following post contains affiliate links
Spending time with family and friends in the kitchen is special. To make it even more special, I have included some baking kits for kids and adults to have a blast!
These baking kits range from cake pops, cookies, muffins, cupcakes, and more! I also included kitchen tools and accessories to help you and your loved ones bake!
If you know me, then you know that I love to bake, especially with my family. If you're also a fan of spending time with loved ones in the kitchen, check out these baking kit ideas and cooking gift sets to share with family and friends!
Check out these baking kit ideas to make memories with friends and family while also creating delicious desserts! So to all of those sweet treat fans, there is something for everyone here!
---
My Favorite Things – My Favorite Salad Bowls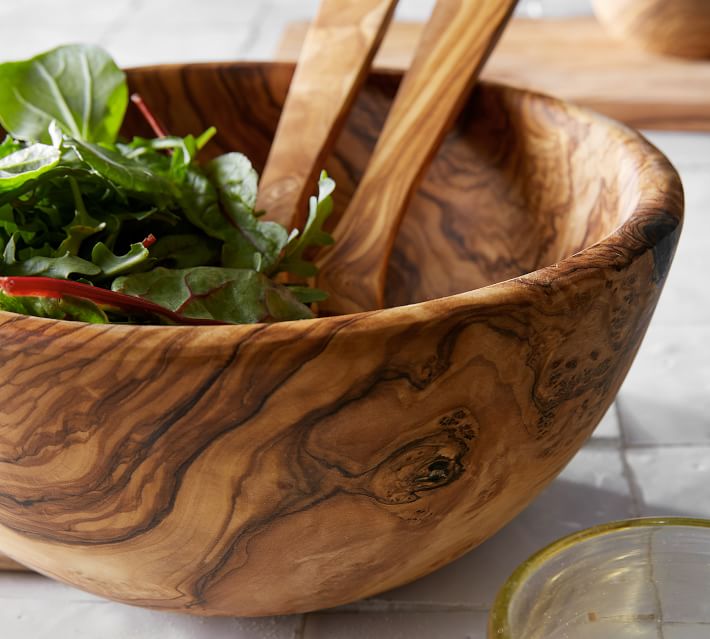 Beautiful Olive Wood Salad Bowl
I am starting to see more wooden kitchen ware such as this bowl and I had to get on the trend. But seriously, I now realize how beautiful these salad bowls are.
This Olive Wood Collection is crafted in a family-owned woodshop in the small town of Sfax, Tunisia. Here the olive tree is sacred and known for its longevity – growing for hundreds of years. For this reason, our skilled artisans use only sustainably sourced wood from olive trees that no longer bear fruit.
Each piece crafted of this extremely hard and durable wood is shaped and sanded, then polished with olive oil to moisturize the surface and bring out the beautiful color and grain pattern.
All in all, it's a wonderful piece of kitchen decor to add salads and more of your favorite recipes in! Check out this olive wooden salad bowl!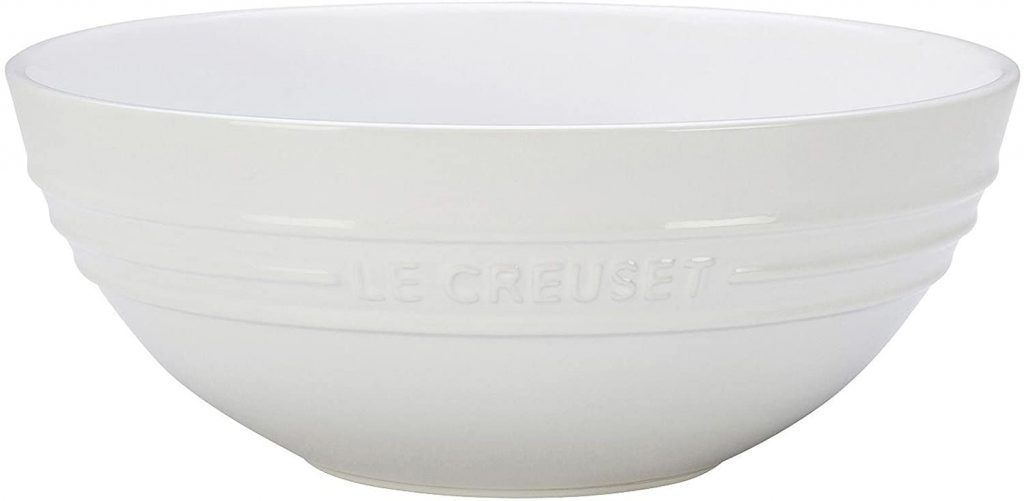 Who doesn't love a lovely, white bowl? I do and it's somewhat of an obsession in my kitchen. If you are the same, here is a wonderful, elegant stoneware bowl to enjoy all of those salad recipes in!
This bowl is the perfect size for mixing salads and enjoying them in which is a plus for all of those salad fans! So, come on and check out these beautiful white bowl to start mixing your favorite meals in!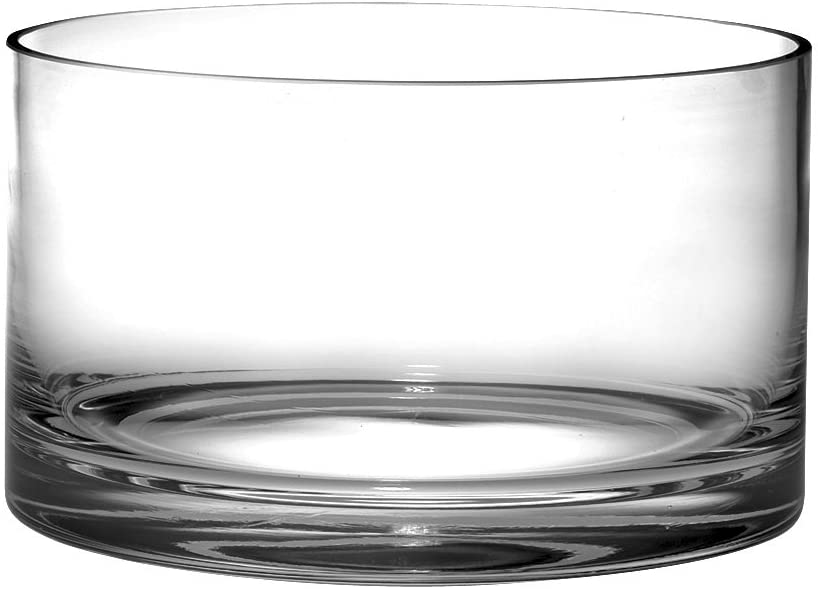 Just looking at this glass salad bowl makes me think of what type of salads I can mix in and enjoy. Seriously, this bowl is beautiful and will complement any salad during any meal.
This bowl is made out of the finest European quality glass for ultimate sparkle and clarity! This bowl is actually artistically designed to coordinate beautifully with any tabletop decor!
So check out this European glass salad bowl to have a new favorite salad bowl to enjoy during fun meals with family and friends!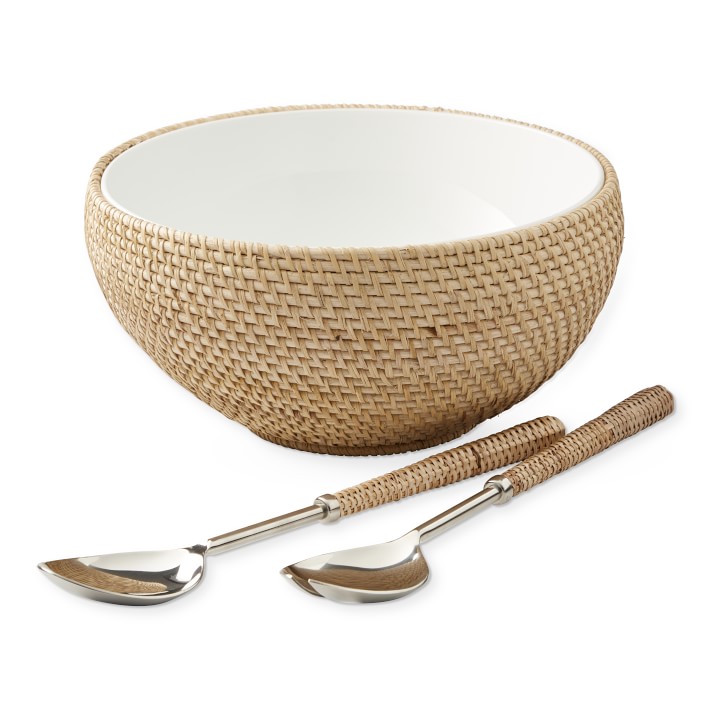 If you know me at all, then you know I love Rattan. Whether it's outdoor furniture, kitchen tools, or indoor accessories, I love the look! If you're the same, check out this rattan salad bowl to add to your mild obsession!
Bring natural beauty and texture to the table with our bowl and serving set in handwoven rattan. The two-piece bowl features a lacquered rattan exterior and removable ceramic bowl inside for easy serving and cleaning. Servers feature woven rattan handles and long, graceful implements in polished stainless steel!
To all of my Rattan fans, check out this salad bowl to bring style to your table along with a delicious meal full of your favorite salad recipes and more!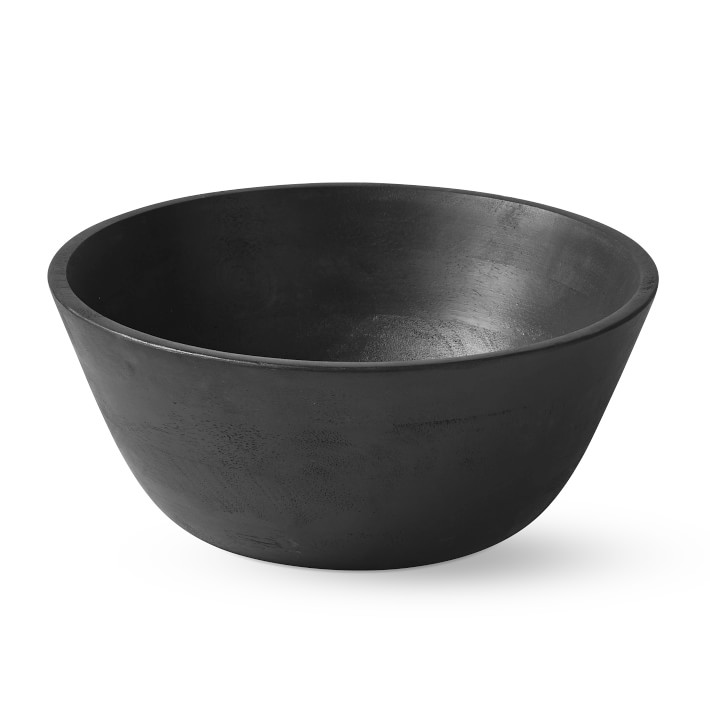 Beautiful Black Wood Salad Bowl
I like to mix up my style once in awhile in the kitchen, meaning I like different colored plates, bowls, utensils, you name it. These beautiful black wooden salad bowls were on the top of my list.
The bowl made out of solid mango wood, prized for its natural durability and heat- and water-resistance, is expertly hand carved and sanded, then finished with a contemporary matte-black lacquered finish. Its versatile size and shape make it perfect for serving everything from salad and snacks to fresh fruit and pasta.
If you're like me and you enjoy mixing and matching your kitchen ware, check out these wooden bowls to start eating your go-to salad recipes!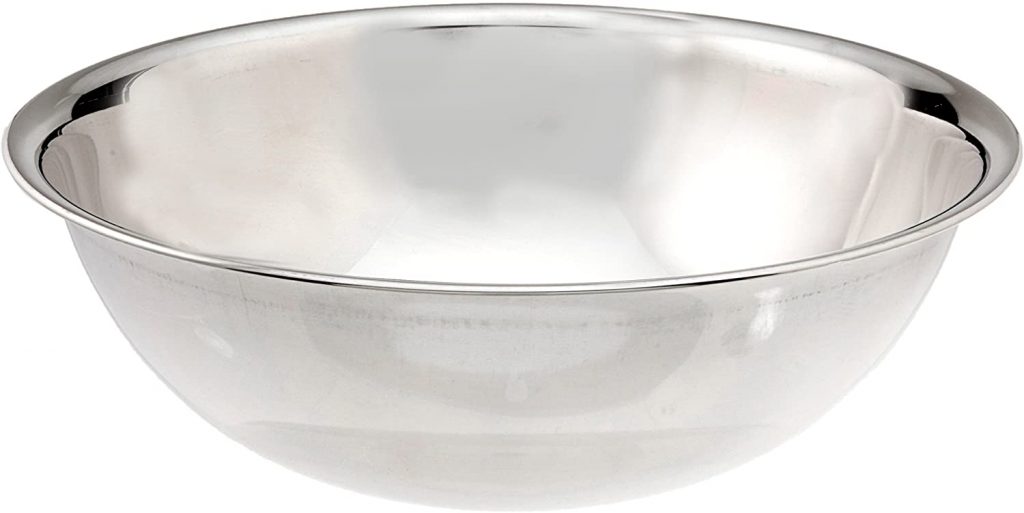 When choosing a salad, you have to find the perfect one. For me, we have salads every night so I want to have a durable, stylish type of bowl that will keep my salad recipes fresh and delicious!
So, I present to you these stainless steel bowls. They check off all of my boxes when searching for the perfect salad bowl. It is made out of bright mirror-finished stainless steel that will leave zero scratches.
In case you're wondering, this bowl happens to be dish washer safe so no need to worry about the cleanup afterwards. All in all, this stainless steel bowl is one of a kind and is a great kitchen accessory to fill with your favorite foods!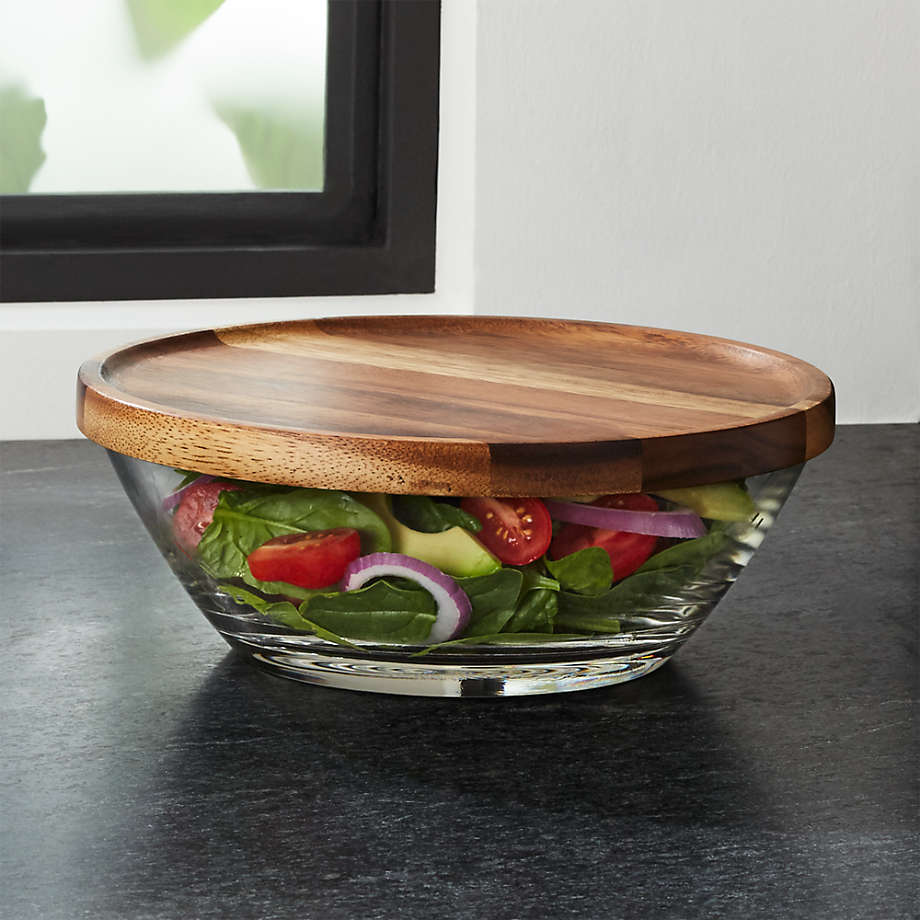 Gorgeous Glass Bowl with Acacia Wood Lid
I love everything Crate & Barrel. So when I saw these glass bowls with the wooden lid, I knew I had to share them.
Table-ready and lovely to look at, this glass bowl gets a protective cover from gorgeous acacia wood. An excellent choice for the table, buffet or potluck offering!
These bowls offer amazing durability while also keeping your leftover meals secure and fresh! Sounds great, right? But seriously, these bowls are perfect for meals, especially all of your favorite salad recipes!
---
Salad Accessories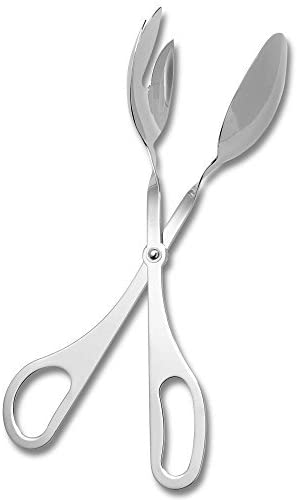 When searching for utensils, I look for durable, stylish ones for my kitchen and inexpensive. Well, let me tell you, these stainless steel salad utensils check those boxes off and more!
These salad tongs are large enough to really grab and mix a salad and serve! The spoon side is great for getting bits of cheese, onions, or beans depending on the type of salad. And all in all, works as anticipated!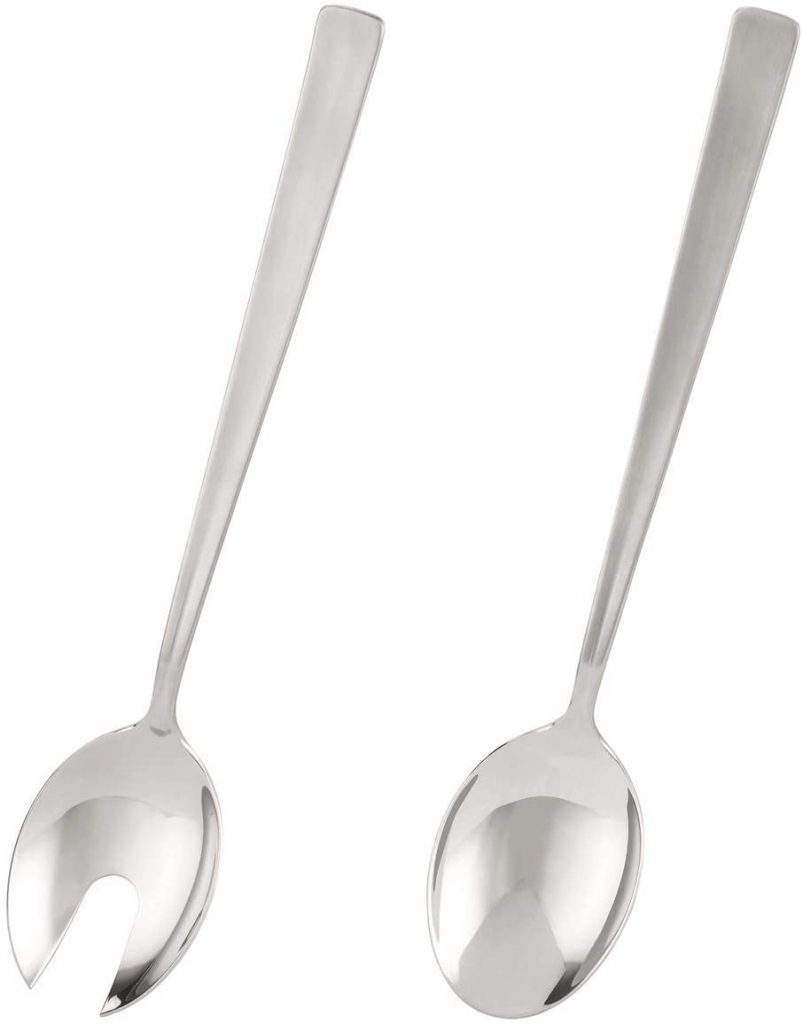 Rosle Stainless Steel Salad Utensils
I am a big fan of salads, so big that my family and I have a salad every chance we get. I thought to myself, since we have salads so often, I should have the correct utensils and kitchen tools.
So, here are some stainless steel salad utensils that are getting the job done. They are dishwasher safe, durable and stylish enough to fit your style!
So if you're a fan of salads, check out these stainless steel utensils and have a blast making your favorite salad recipes!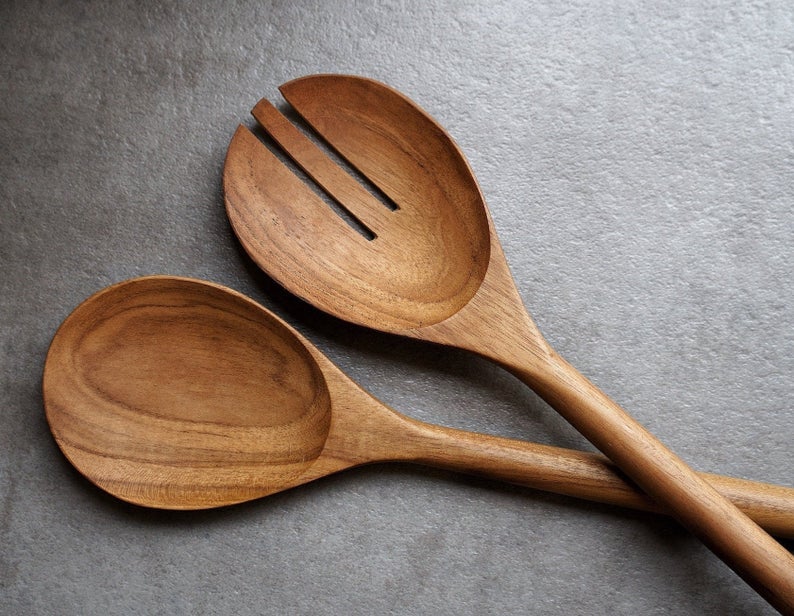 Handmade Golden Teak Salad Server Set
These Golden Teak wood salad server sets are made of the highest quality natural material designed to be durable, accurate while putting the beauty of the wood grain on full display!
The size is just right for a good grip and the weight is just right for balance. The food-grade olive oil finish ensures durability without crack or shrinkage while preserving the beauty of the teak wood. Fill your kitchen with life and style while also bringing comfort and design to your home!
These salad server sets are made from golden teak wood sustainably sourced from small farmers in a cooperative plantation in Northeastern Thailand. In the end, these are durable, handmade, and perfect for all of those salad recipes you've been waiting to make for your loved ones!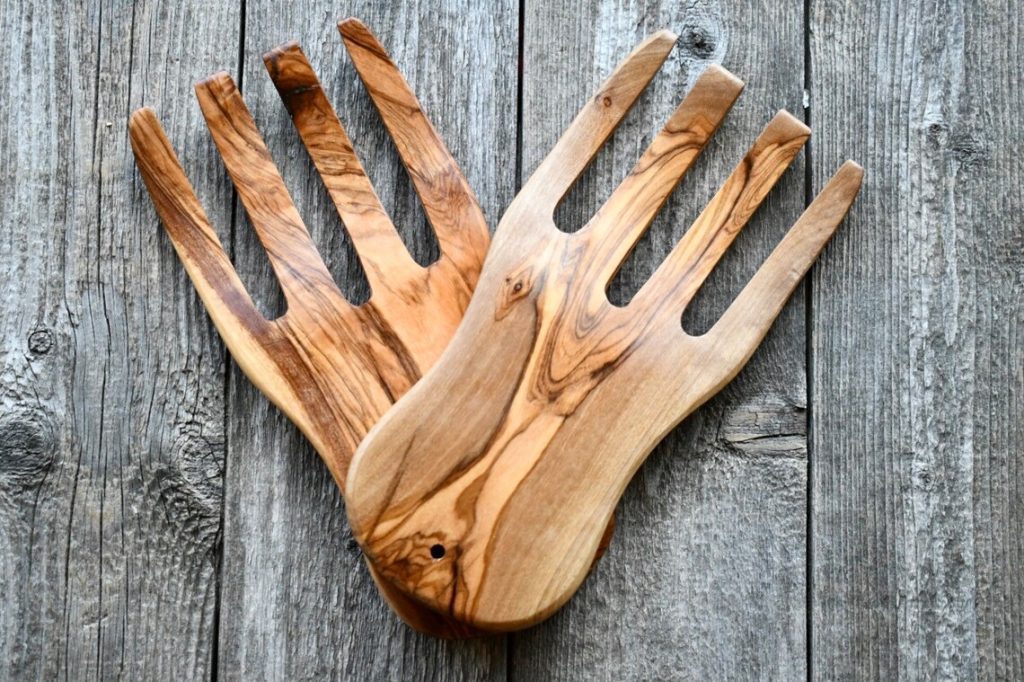 For all of those salad fans, you of course need mixing tools to have the best salad experience full of flavor! Luckily for you, I have picked out some of the best wooden salad mixing hands!
These salad hands are beautiful! The grain patterns are amazing, the wood is very hard, and the finish is smooth with all edges rounded off. Definitely worth the extra money over the generic bamboo salad hands!
These mixing hands are handmade, organic, and food safe so there is no need to worry about your salad recipes getting ruined.
All in all, these wooden salad mixing hands are stylish, durable, and will get the job done!
Here is the perfect bowl for salad fans, cereal lovers, you name it! Perfect for daily, formal dining tables and parties. Meeting daily personal needs such as cereal, salad, soup, ramen, snacks, rolls, chili, rice, mixed fruit, ice cream, stew risotto, stir fry, pasta, mashed potatoes, sauce, frozen dinner, quick box meals, or other dishes you like!
The deeper and wider design makes stirring very easy, these salad bowls are excellent in the kitchen as mixing or prep bowls. The flat bottom design can stand firmly in the cabinet, keep away from the sound of shaking tableware. Easily stack without taking up a lot of space in the cabinet!
This cone shape with a classic white made porcelain your daily life into a depth of concise design, perfectly matches your existing dinnerware and kitchen style, also perfect as a gift for housewarming, wedding, and holiday gift!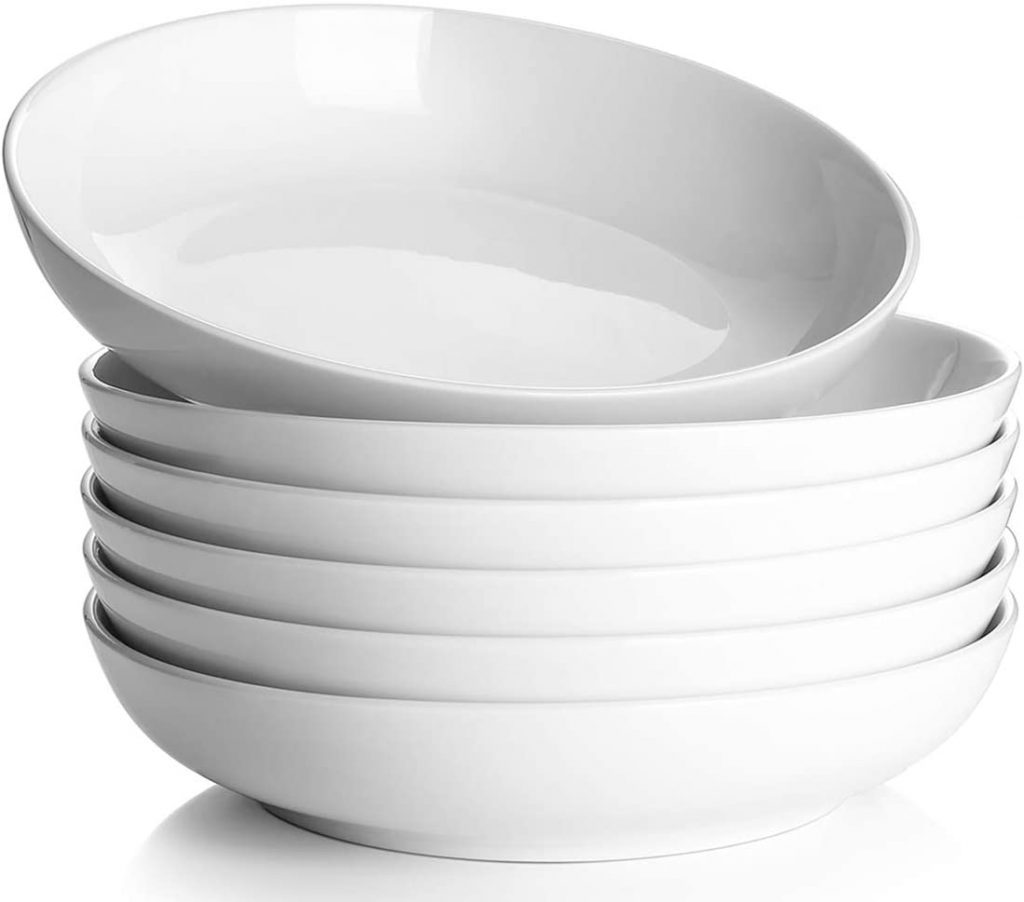 In need of a simple style salad bowl? I got you, these wide porcelain bowls are perfect.
These white bowls are not just for pasta and salad. With a 30 oz. capacity, these stylish serving bowls are suitable for a can of soups, morning cereal, stir fries, seafood. Everything stays in the bowl which creates less of a mess when cleaning up!
These salad bowls are made of porcelain, smooth glaze, anti scratch finish, drop, and shock resistant. Convenient to microwave without burning hands and nest well up against each other in the dishwasher, and overall easy to clean!
Sounds like to me, a win! Check out these porcelain salad bowls to find one that matches your style and love of food!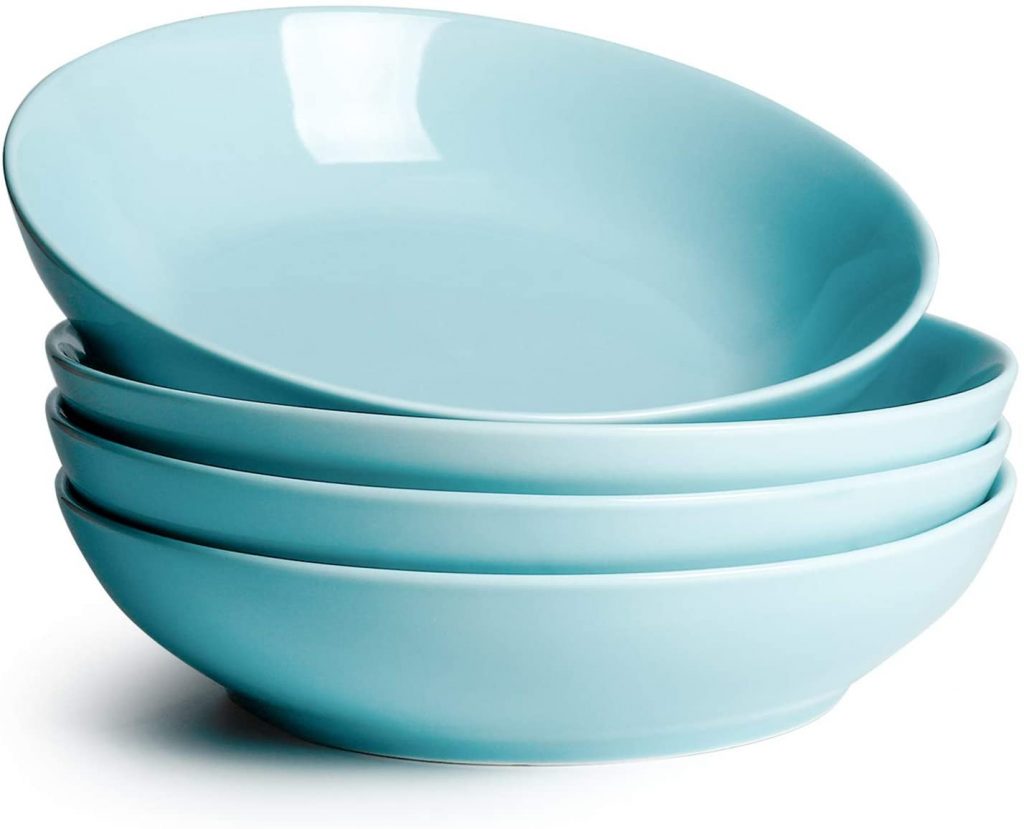 When it comes to kitchen accessories such as bowls, plates, utensils, etc, I want the best of the best. These bowls are surely the best of the best!
These pasta bowls are stackable and DON'T take up a lot of space in your cupboard. Easy to clean, you can wash them with soap and hot water or place them into your dishwasher.
These Sweese bowls are made of durable porcelain, a type of premium LEAD-FREE ceramic, chip-resistant, and more sturdy than stoneware.
The bowls are wide and shallow (9.2*2 inches), so the food doesn't get stuck, easy to spoon out everything with this shape. The shallow shape is also easy for you to hold the bowl firmly. And the shape is also great for pets as they are relatively shallow and easy for your cats/dogs to get their faces into.
All in all, these bowls are perfect for your kitchen, plus they also come in a variety of colors such as gray, navy, red, white, steel blue, and turquoise! So you can mix and match!
Trending Over On The Blog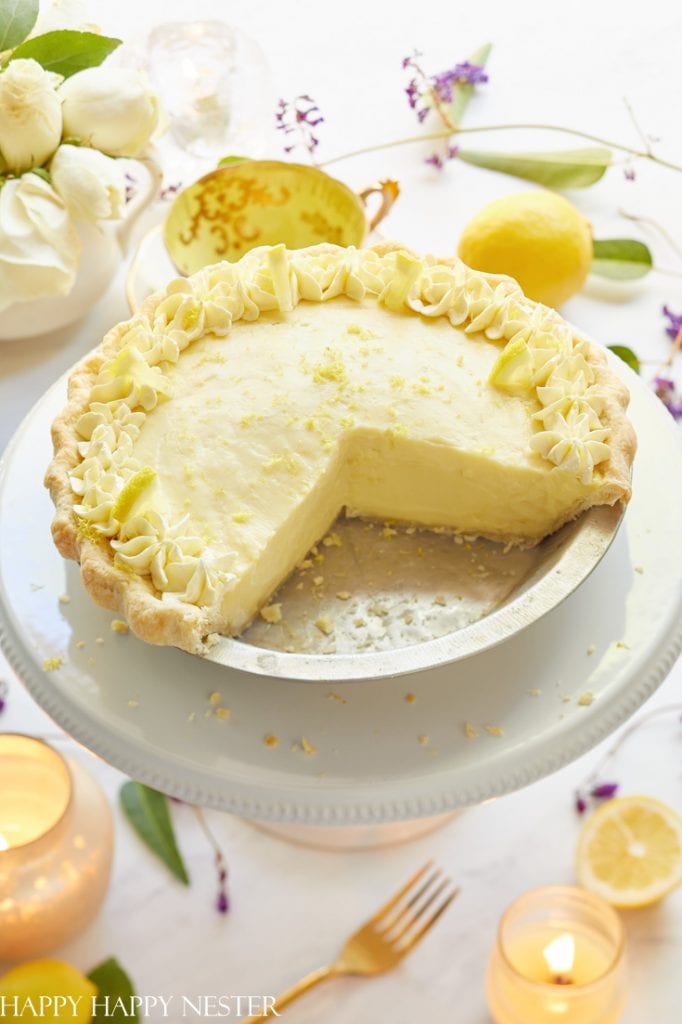 The Best Lemon Sour Cream Pie Recipe
I am a big fan of lemon desserts. I can't resist. If you're like me, you're in the right place. So to honor my love for lemon desserts, here is my lemon sour cream pie recipe!
Lemon fans, here is the dessert you have been waiting for! Check out one of my favorite rainy day recipes for a sweet lemon curd flavor, a mouthwatering crust, and the smooth flavor of sour cream. It's worth it.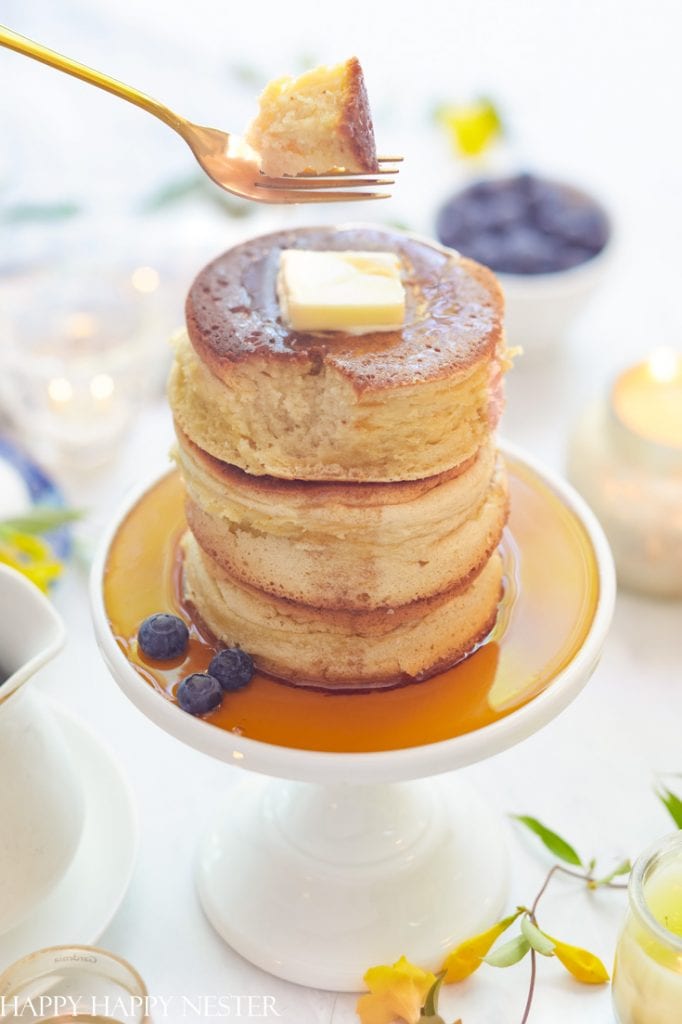 Fluffy Japanese Pancake Recipe
Have you ever heard of a fluffy Japanese pancake? Let alone, have you seen one? So, to sum it up, it's a super fluffy, sweet pancake!
The pictures don't do this recipe justice. Each bite makes you feel like you're floating on clouds!
Don't be fooled. This recipe is a difficult task but one that is well worth the time and commitment. Check out these fluffy pancakes for a new breakfast idea or dessert treat!
For all of those lemon fans out there, this one is for you. I present my lemon tart puff pastry recipe! This recipe is so easy to make. It honestly tastes like this dessert was made in a fancy bakery!
Of course, the key is to use fresh homemade lemon curd. But lucky for you, I have a lemon curd recipe that you can also make, or if you're short on time, store-bought will do just fine.
This recipe is the epitome of one of my favorite summer recipes. So if you love everything lemon and need a new dessert, this recipe is 100% worth it.
I mean, who would resist a sweet, fluffy, easy-to-make, lemony dessert? I wouldn't, and you shouldn't either!
---
This Week's Tip – Awesome Vegetable Storage

Our Favorite Store-Bought Dressing
This is my go-to salad dressing for my favorite salad recipes! If you've gotten bored with ranch, caesar, Italian… greek.. y'all know the drill.. then give this one a try! Sweet and tangy – a little goes a long way.
Whenever my family and I are on vacation or away from home, this dressing is the first on our grocery list. This vinaigrette dressing is truly full of flavor, perfect for salad, and inexpensive!
---
My Latest Obsession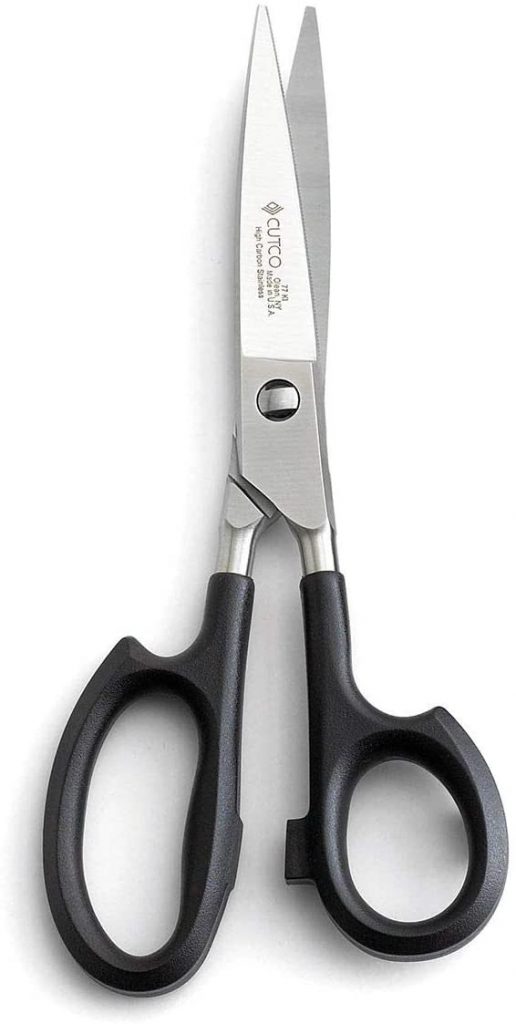 My husband and I love this brand of kitchen scissors. We bought them like 13+ years ago and they are still as sharp as the day we received them.
So, we use them a ton when cooking and my husband loves to bunch up lettuce in his hand and snip it into little pieces. It helps when making our delicious salads.
Also, when it comes to cleaning them, they come apart for easy cleaning and drying. Everything about these kitchen shears make it a great investment. My inexpensive kitchen shears are long gone since they lost their sharpness after the first year we bought them.
---
Well, this wraps up this week's Saturday Chitchat celebrating our salad recipes and more! So try out these delicious meals and let me know what you think of them. I always love hearing from you. Thanks for taking the time to come on over to the blog!
Have a wonderful Saturday!

Catch up on Saturday Chitchats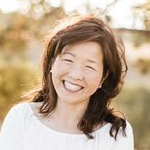 Latest posts by Janine Waite
(see all)